Whether you run an event management company or want to create pages on your website for a special event, there are great WordPress event themes that you can take advantage of. The goal of these WordPress themes it to make your event management needs as streamlined as possible. If you want to setup guest lists or want to inform people about the venue and other details, the best WordPress event themes have your back. To get as much publicity as possible it is important to make your website look presentable. There are plenty of themes available out there but getting the right theme can be difficult as there are thousands of options available for each category.
Why Do You Need Event Management Themes?
It is important to represent yourself as professionally as possible. Whether you are hosting a music concert or a business conference, having dedicated pages for your event makes things much easier for your audience. You want to make event information, the schedule and ticketing details as accessible as possible for everyone. There are quality themes available that let you integration social media and third-party ticketing features to make it easy for anyone to sign up and purchase tickets for your event in a matter of events.
If you are not sure where you should be looking for the best WordPress themes, here are the top themes for you to check out. These themes make things much easier for you as you do not need to get every single page developed from scratch. Drag and drop builder functionality and great support are two of the most important things you should be looking for and our list definitely delivers on that front.
Let's check out the templates below!
Top WordPress Event Themes
1. Conference Pro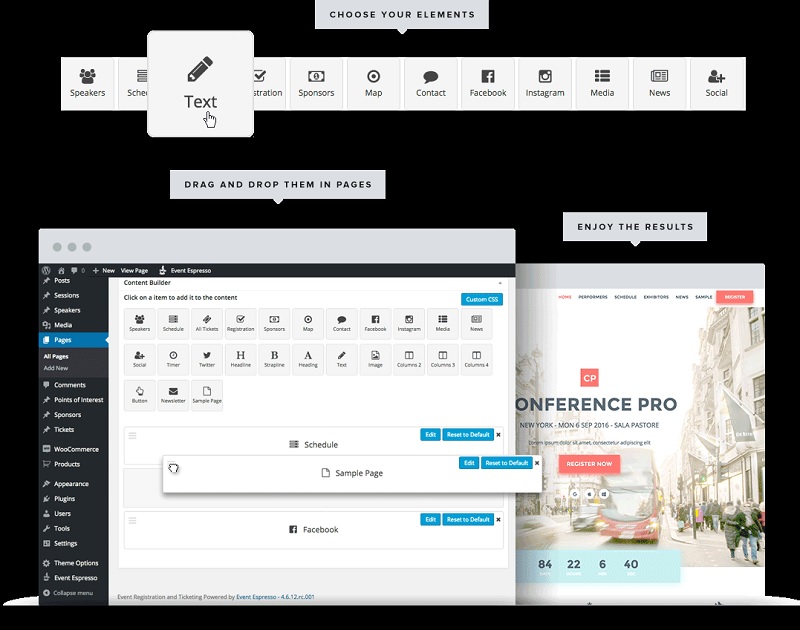 Conference Pro is a fluid and responsive theme that is designed specifically for businesses that host conferences. If you own a business that wants to present itself as professionally as possible, you should try the theme out. There are custom post types available with the theme that allows you to instantly customize the theme for your business. It also has great parallax and animation effects that you can use to showcase your upcoming conferences.
You can change the colors and text on the website via the theme live with makes things very convenient. The responsive design lets you convert your webpage for mobiles and tablets in an instant and the images are also automatically resized to look good on smaller screens.
Features:
Live Editing
Module-based editing
Eventbrite integration
…and more
2. Event Master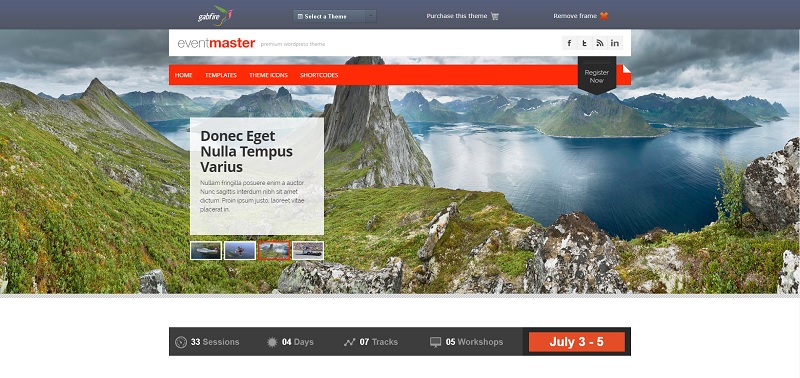 If you are looking for a multipurpose theme that allows you to boost your online presence for events, you should try Event Master out. The theme can be used for meetings, festivals, movie screenings, and other events.
You get access to a feature-rich control panel via the admin dashboard, allowing you to customize your pages to match your requirements. Colors and the layout of the theme is fully customizable and you will have no trouble figuring out the features thanks to the user-friendly interface.
Event Master supports the Gabfire media module to manage all of your photos and videos that you can add to your pages. You also get access to localization support in case you are running a multi-region website.
Features:
Infinite Colors
Bootstrap and Font Awesome Support
100% Responsive
HTML5 Video Support
…and more
3. The Keynote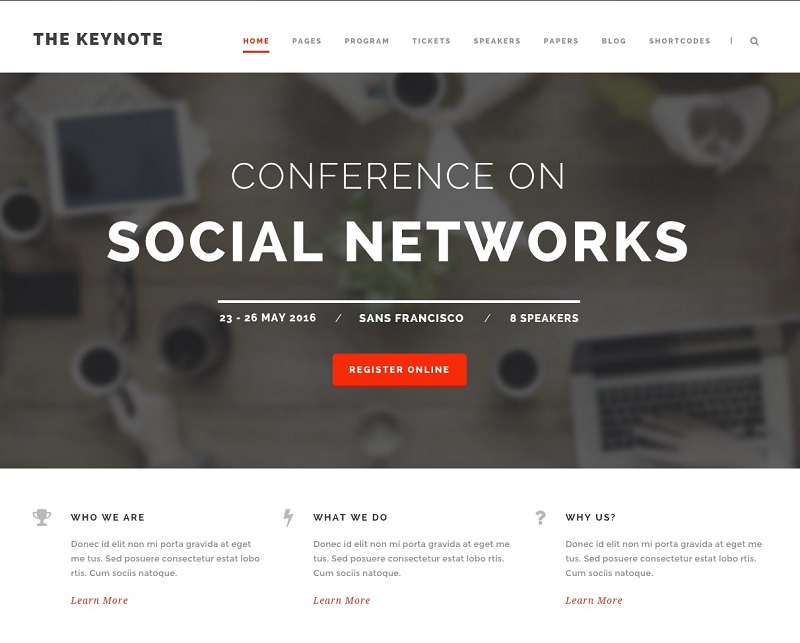 The Keynote is a very clean and responsive WordPress theme designed for conferences, events, meetings, and exhibitions. It has all the pages you would need to setup an event available by default in form of its pre-rendered pages. You can also add and customize your own pages to your liking.
The Keynote comes with PayPal integration, enabling you to sell tickets for your event via the payments partner directly to your audience. You also have support for third-party agents being connected to your page as well. You can setup ticketing for your event and receive payments without needing other paid plugins.
Features:
Parallax / Color Section
Custom Posts
Customizable Page Builder
…and more
4. Patterns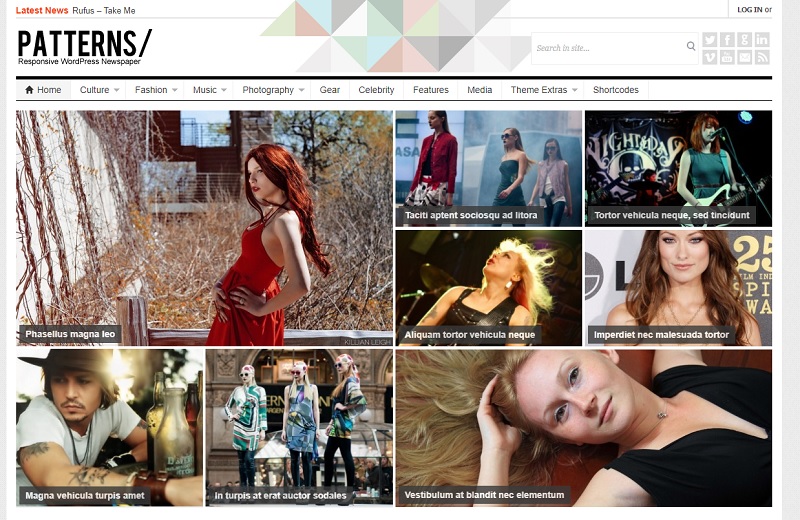 Patterns is a versatile theme that has a lot of design and development expertise behind it. In fact, the developers spent months to perfect every feature of the theme. While it is not specifically designed for just events, it has all the features that you would need to create a responsive event website and its pages.
Smart navigation tools and advanced controls allow users to make the page extremely user friendly. You don't have to spend hours customizing your website to get the perfect look as you can just pick up a number of premade page templates and add the small bits of customization that you need.
Features:
Single Post Image Slider
Advanced Control Panel
Smart Navigation
100% Responsive
…and more
5. OpenEvent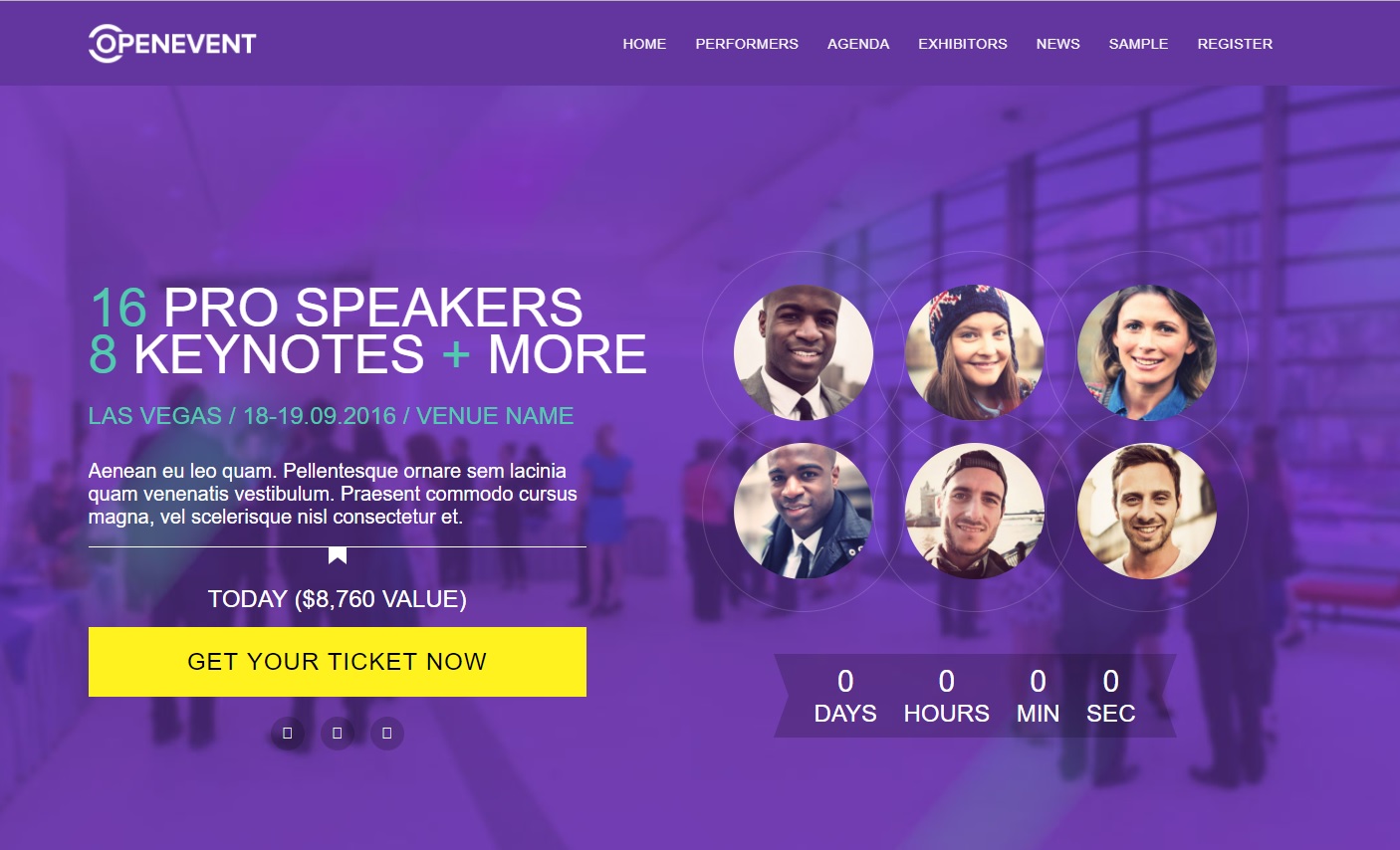 If you own an event management business or need custom webpages for your business, OpenEvent is one of the themes that you can install on your WordPress page. The theme lets you change colors and text live on the website and you will be able to see the output instantly on the editor. You can also live preview your phone and tablet pages while editing so you do not need to keep moving in and out of the editor which cuts down on the time required to create event pages.
There are predesigned ticketing pages to help you sell tickets faster. You can integrate payments services on the ticket page to take users directly to the payments portal after they enter details. You can highlight speakers who are attending your show to make your page more attractive.
Features:
Eventbrite integration
Facebook integration
Visual scheduler
Countdown widget
…and more
6. Conference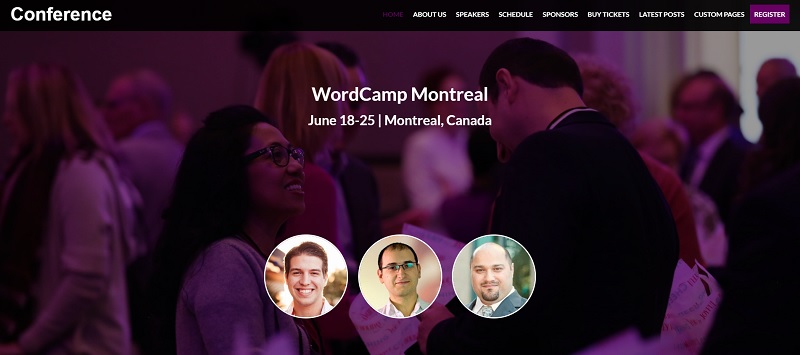 Conference is designed to be an all-in-one solution for your event management needs. The theme is unique and it helps engage your audience and draw their attention to exhibitions, events, and meetings that you want to host. The visual styling is very professional and the responsive design means that you only need to customize your page once to get it to work on phones, tablets, and PCs perfectly.
Some of the core features include a daily schedule widget that offers a visual representation to help your audience figure out the structure of your events. You can also showcase past and upcoming events, which is a feature that you usually do not get with most other themes.
Features:
Responsive design
Customizable logos
Multi-region ready
…and more
7. Eveny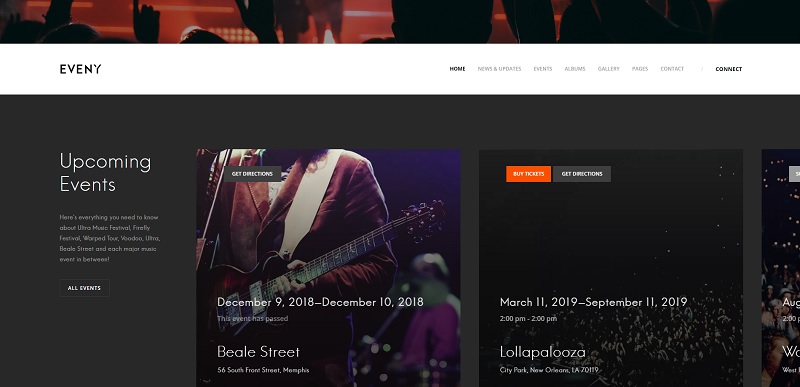 Eveny is an event theme that is designed specifically for music festivals. You could potentially customize it for other events like small shows and charity events as well. But the whole design is around solo artists and music bands who want to promote their events. There is plenty of customization available and it has a very casual and attractive design.
Customization is very easy even if you are not very comfortable with web design. All you need to do is choose the sections you want to add to your pages and you are good to go. The visual page builder is very easy to use even for new webpage owners. There are a ton of high quality widgets, animations and more that you can implement into the theme to make your pages look a lot more attractive.
Features:
Music integration
Tickera support
100% responsive
…and more
8. E-Event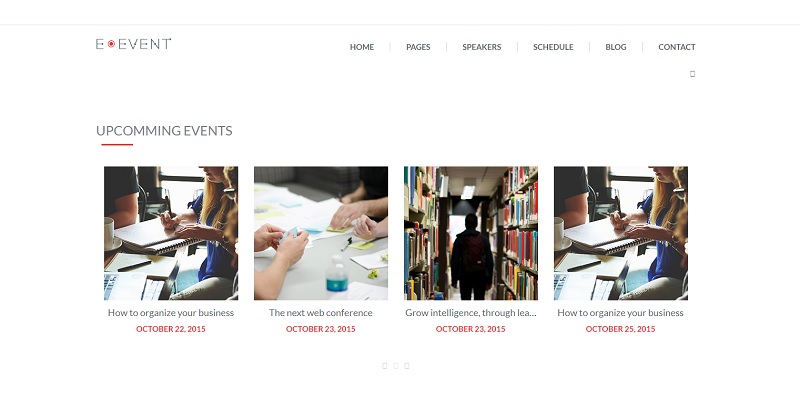 If you are in the search for the perfect theme for your event management needs, e-event offers a modern take on traditional event websites. All of the latest trends in the web development industry have been taken into consideration to make the pages stand out. To take full advantage of the theme you can use the visual page builder and customize the pages according to your needs.
The theme is fully responsive and allows you to manage multiple schedules and display a counter until your event goes live. You can integrate payment solutions to help your audience get their tickets directly from the website instead of having to visit third party sites.
Features
Events carousel
Events sorter
Schedule layouts
Fontawesome integration
…and more
9. Event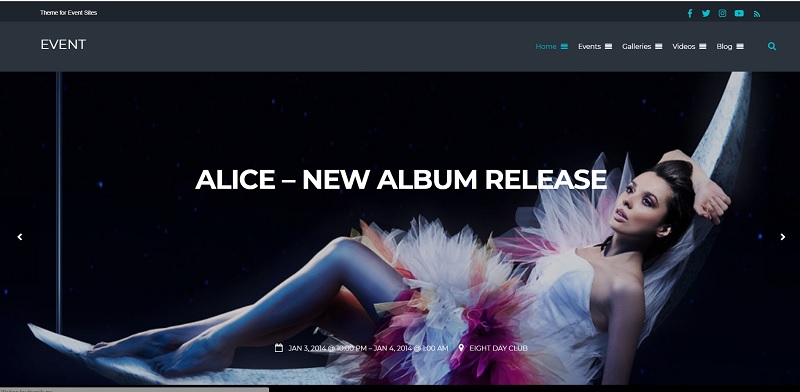 Event takes advantage of the Themify builder to create fluid, bold and responsive themes for events and entertainment websites. You get access to a host of customization options and there are multiple post-types to choose from. You can setup events with full ticketing support, showcase images and videos using the gallery functionality and more.
Despite the websites being very lightweight, the developers have implemented a large number of fancy effects including parallax scrolling. All of it is made possible by the Themify builder. You can add dynamic content to create the perfect pitch for your events to get as many attendees on board as possible. The website theme is fully responsive and you will not need to spend too much time coding for each and every platform.
Features:
Visual page builder
Woocommerce support
Fully customizable pages
…and more
10. Eventory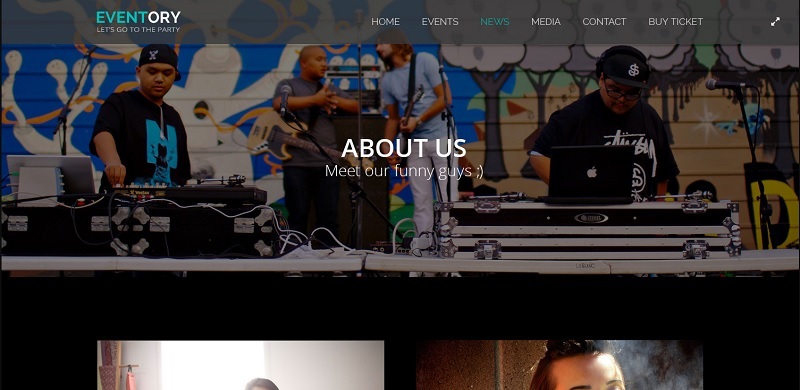 Eventory is one of the best and most professional themes that you can get for event management. If you are planning to host an event for your organization or happen to be an event management company, you can check out this theme that offers everything you can think of. People underestimate the importance of having a high-quality website and using a theme like Eventory can help you sell a lot more tickets than you would expect.
The theme helps you highlight the most important aspects of your event and display all the details in a single page. You can integrate animated schedules, graphics, ticket purchase widgets and more within the event pages. There is plenty of customization available and all of this is possible without even using a single line of code. The responsive pages can be created using a visual took to keep things simple even for those who do not have prior coding experience.
Features
Graphic slider
Ticket sales integration
Social media integration
Countdown timer
Event calendar
…and more
11. Eventum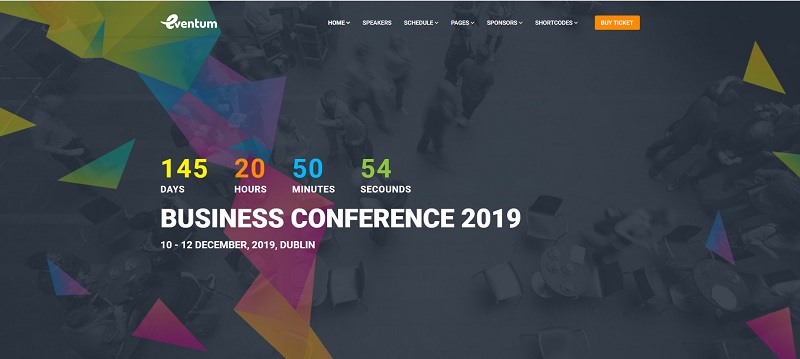 Eventum is one of the most popular WordPress themes available for those seeking to launch a new website focused on events. Eventum works well for both conferences and events. Whether it is a formal event or something casual, you can rely on the theme to deliver for all of your needs. Instead of relying on multiple plugins, you get everything in a single package with Eventum. There are seven unique page variations available to keep things interesting for users.
There are countless theme options available to give you the customization that you need. You also have access to a visual composter that lets you create web pages in a matter of minutes using short codes. The user-friendly drag and drop UI makes things very easy for users to get the perfect web pages without investing too much time into coding.
Features:
Ticket Sales Integration
Event Schedule
Video Slider
Mailchimp Integration
100% Responsive
…and more
Conclusion
These were some of the best WordPress event themes that you can get right now. While some of them are designed for specific types of events, most of them are versatile and can get the job done. One of the best things about these events is that even if you do not have prior coding experience, you will be able to design your pages using visual tools making them very accessible. Overall, you should look for ease of use and features when looking for the right theme.
If you end up getting one of the themes from our list, do let us know your experience in the comments below to help out our fellow readers who might be looking for the perfect theme for their event management needs.
You may also want to see our picks for the best WordPress countdown timer plugins to boost your product sales