Are you looking for an efficient WordPress custom post type that will help you create blog posts, pages, attachments and other elements for your website?
Are you wondering which WordPress custom post type will help you generate content; that will help you produce product descriptions, service testimonials, portfolio, and others?
WordPress custom post types and custom taxonomies is an interface that helps you offer diversified content formats to your site visitors.
So, it will help you get a post or page for whatever type of content you want. It will help you display your content type using template files. Moreover, you can also create custom taxonomies. These custom taxonomies will help you use categorizing and tags to organize your content.
Do you want to add custom post types and custom taxonomies to your site?
Are you equipped with all the knowledge and expertise?
Don't worry! If you are a newbie, and just stepped in this field; you don't have the detailed knowledge and freaking out!
This tutorial will help you at every niche;
So, are you ready?
Let's get this started…..
What Are Custom Post Types And Why Do You Need It?
WordPress is the best tool for holding great content; especially in posts and pages. So, if you want to showcase your content; in the form of words and pictures. Yes, you have got it right!
Custom post types are the one of the best platforms where you can present your wildest imagination to the world.
But before we going through the step-by-step tutorial, let's get to some basics. WordPress offers many post types and taxonomies.
Some of the Post Types:
Posts
Page
Attachment
Revision
Navigation menu item
Some of the Taxonomies:
Category
Tag
Link category
Post format
You must be thinking about why you need custom post types? If you are building a site on WordPress and want to produce something out of the box; you need to break the ice. You need custom post types.
Let's look into some of the reasons you need WordPress custom post type. If you:
are planning to keep more than 10 pages under a parent page
have created a deeply nested hierarchy
are using a specific post category regularly
need an extra field space or a particular template
want to separate your post types to other content types
are going to organize your page without changing its hierarchy
In short, if you don't want to clutter your site, or don't want to bang your head against those template files and themes; you need WordPress custom post types. You can create custom post types on various types of content; such as posts, courses, guides, tutorials, and multiple links.
Now, let's see how you can achieve that edge on your WordPress site.
Step by Step Procedure to Create Custom Post Types Using Custom Post Maker Plugin
If you want to add custom post type in your WordPress site, you have two option; manually or through a plugin. If you have the expertise, skill, and experience, you may adopt a manual coding methodology. Whereas, if you are a newbie, want fast results and detest hassle work; use a reliable plugin. There are many great custom post types plugins out there, I would opt for WordPress Custom Post Maker Plugin for this guide.
Why Custom Post Maker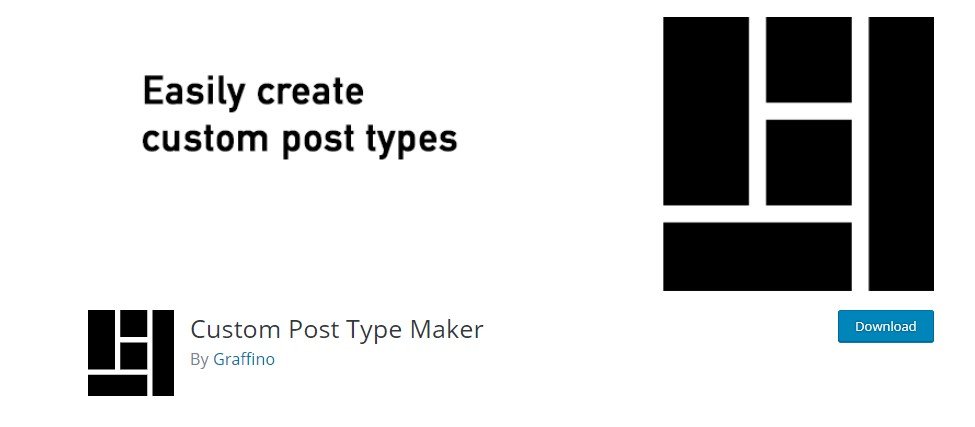 Let's look into some ways why Custom Post Maker is my preferable choice:
User-friendly
Requires no coding and saves users from a manual process
Save the time and energy of the user
Light weighted and enriched with various features.
An intuitive interface that allows users to create fields, adjust visibility setting and more options.
Compatible with any WordPress theme
Allows users to add their own dashboard for their custom post type content
And much much more…..
What do you think installing custom post maker is an excellent option to install?
If yes, lets head on.
I will elaborate on the steps and help you install custom post maker with ease.
Are you ready?
Step 1: Install The Plugin  
Go to the WordPress Dashboard> Plugin Menu
Chose Add New> Search Custom Post Type Maker
Click Enter
Click Install Now
Now, you have successfully downloaded it to your site.

Don't forget to Activate the plugin.
Step 2: Create a Custom Post Type
Once you have activated the plugin, you will be creating a new menu item titled "Post Types."

Go to Post Types> Click Add New Button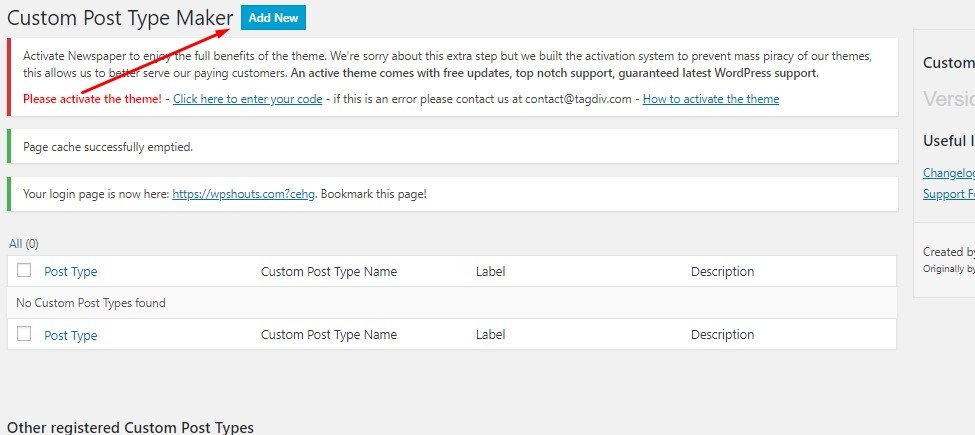 Now, you will be headed to this extensive custom post type page options. Fill in all the following details:
Custom post type name
Label
Singular name
Description
Public
Show UI
Has archive
Exclude from search
Capability type
Hierarchical
Rewrite
Custom rewrite slug
Query Var
Menu position
Show in menu
Supports
Build in taxonomies

These are a variety of option you need to set according to your need. So, suit yourself and fill in all the relevant details. Once done, don't forget to click the update button. Once you are done, you will be overviewing your created custom post type. It would be similar to this: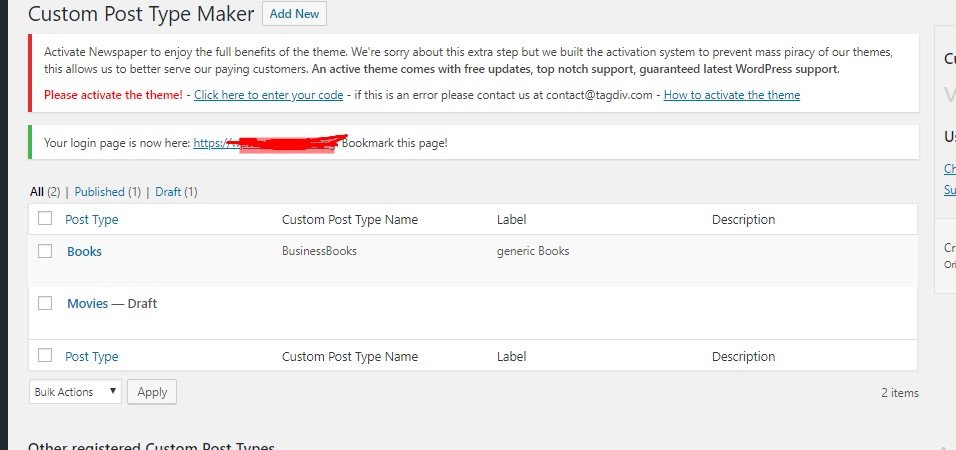 Step 3: Create Custom Taxonomies
Go to the Post Types> Taxonomies
Click Add New Button
Now, you will be directed to Add New Custom Taxonomy page. You need to fill in all the relevant details option of this page as earlier. Suit yourself and create a fantastic custom taxonomy your way.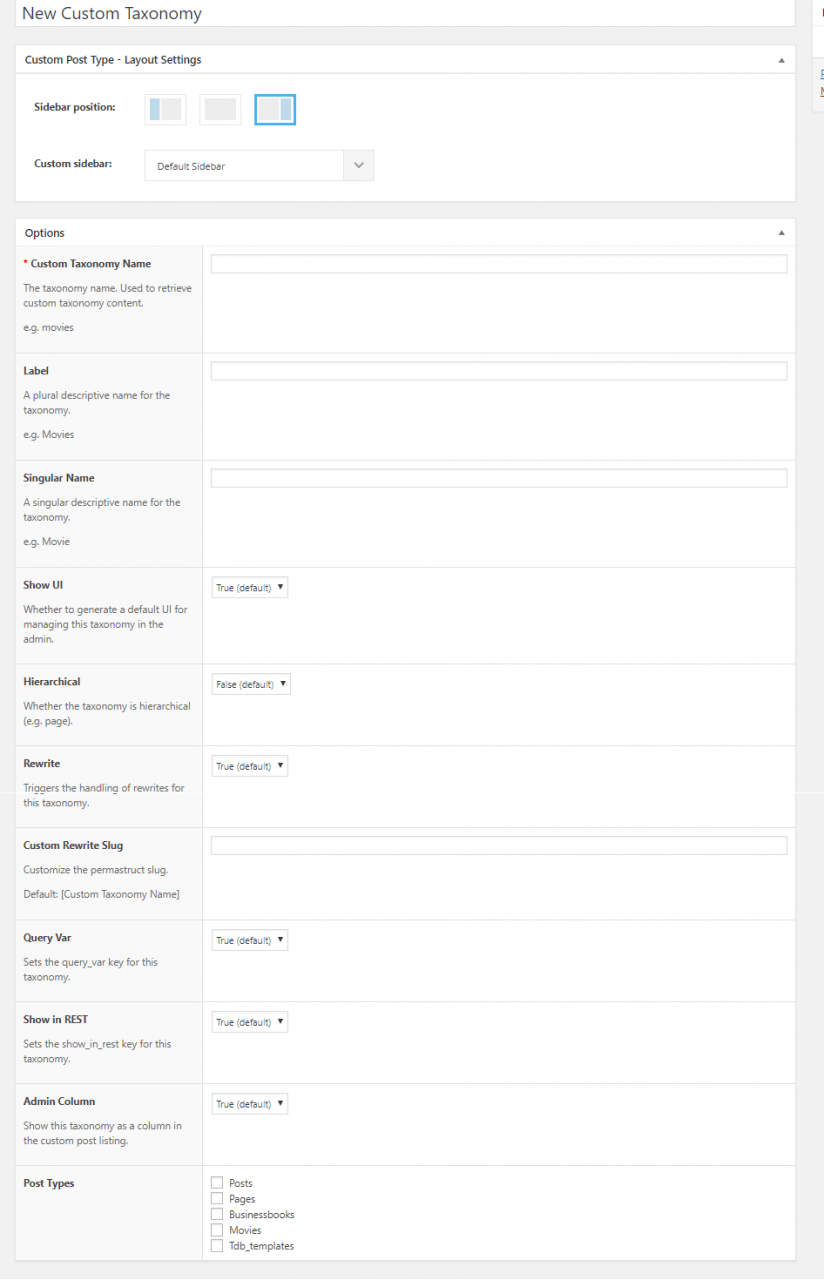 Fill in the following options:
Custom taxonomy name
Label
Singular name
Show UI
Hierarchical
Rewrite
Custom rewrite slug
Query var
Post types
Don't forget to click the Publish button. Now, the custom post type maker is ready to use. It's a simple plugin but highly effective. You have the power to create amazing websites, publish posts in customized formats at an advanced level with the niche of time and without any hassle. Isn't that what you wanted?
Let's head on to three other best custom post type alternatives you may rely on.
Another 3 Great Plugins of Custom Post Types and Custom Taxonomies
Custom Post Type UI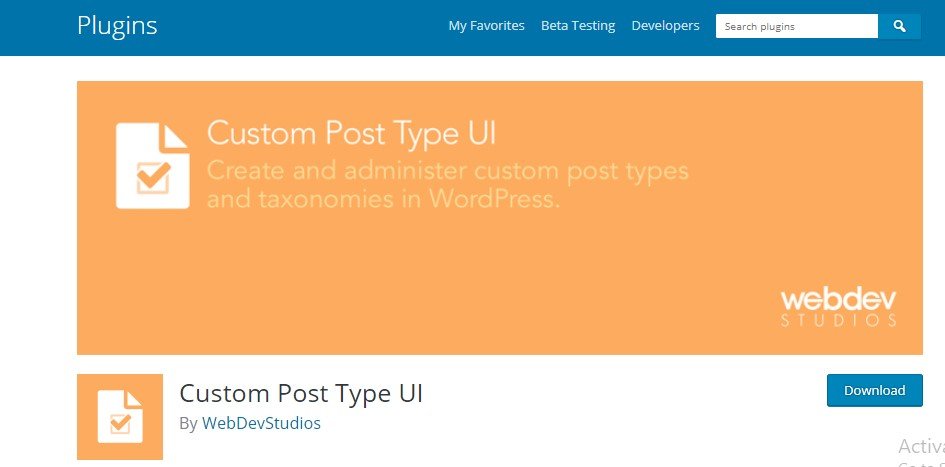 Custom Post Type UI is the most popular and reliable interface that can help you register and manage your custom post types and taxonomies for your site. It is offering the following services:
The free version helps its user log to them freely
Its extended version provides the best competitive services at only $29.
Provides an easy to use interface
Helps newbie's with no- coding experience
Allows its customers to add RSS feeds
Offers its customers to add new post types to the navigation menu from its plugin settings page.
So, if you want to register to them, log on to Custom Post Type UI.
PODS- Custom Post Types and Fields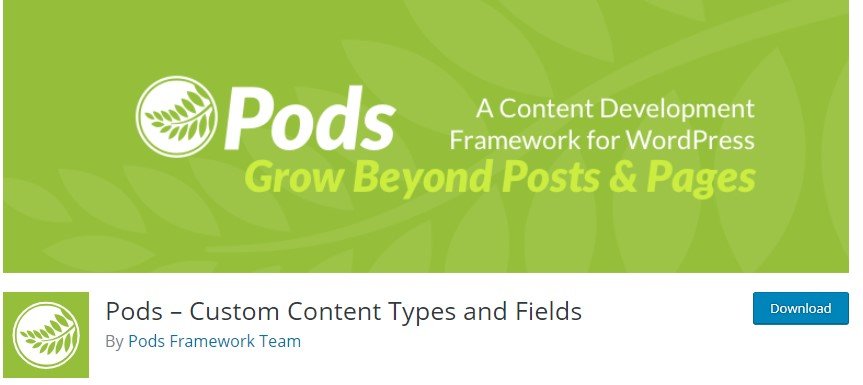 Custom post types and fields is another remarkable plugin that will help you resolve your custom content needs. It offers the following services:
Create and edit custom post types, taxonomies, field and extends WordPress objects
Offers shortcodes, widgets, code-free pods template for its users
The easy display on custom content option
Allows its users to create a connection between its various types of content
Provides user guide and support forum and slack chat option
Support multiple content types: custom post types, custom taxonomies, custom setting page and advanced content types
Want to get hooked with their services, click below:
PODS-Custom Post Types and Fields
Toolset Types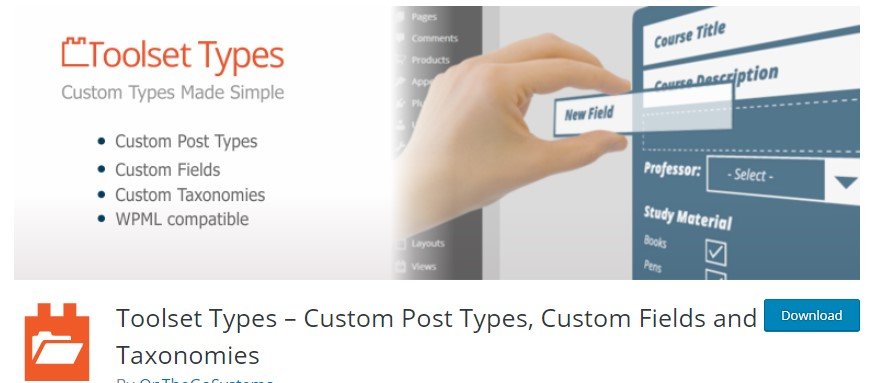 Toolset Types is another remarkable WordPress plugin that offers; custom post types, custom fields, and taxonomies. It allows its users to control everything under one roof. It has more than 200, 000 active installations and offers the following services:
They have released a new 3.0 type version
Complete documentations, powerful API and simple guidelines for newbie's
Advanced customer field option; customers can add custom fields for posts, taxonomy terms and users.
Access control for fields to its users.
Technical support forum.
Custom fields and post type plugin that allows its users to build multilingual-ready.
And much much more.
Want to avail their services, log onto Toolset Types – Custom Post Types Custom Fields and Taxonomies.
Final Thoughts
Custom post types and custom taxonomies are essential. They will not only help you add and manage your content and structure of your site. Instead, it will change WordPress from your blog to the content management system. This tutorial helped you learn how to add custom post types to your WordPress site using Custom Post Maker Plugin.
Now you may also want to enable/disable Gutenberg editor on custom post types.