Are you in search of reliable YouTube WordPress plugins? Do you want to add YouTube plugins to your WordPress site with ease?
If you are running a website or blog, you would probably need a specific budget to manage the promotional activities. After all, digital marketing is ruling the online platforms for increasing sales and customer interaction. Therefore, you always need a comprehensive strategy to manage your website traffic. If you are spending $77 to promote your website through Facebook; you are paying a large amount of money to give a push to your marketing strategy.
Do you think it is worth enough? Probably not, because the price is too high for a small advertisement promoting your website for five to six days. Nevertheless, the digital world has several other ways to promote businesses.
One such way is the use of YouTube plugins for websites. These plugins integrate Youtube videos into your website and divert online traffic from YouTube channels, gallery and videos. These plugins provide the ultimate convenience and promote your site for free. However, the question is:
Why You Need YouTube Plugins?
The WordPress websites contain details of products and services related to your business. You need to market these things on other digital marketing websites to increase customer reviews and sales. For this purpose, you can make promotional videos on YouTube and then integrate them with your website with the help of YouTube plugins. So, we have handpicked top YouTube plugins for you, and in this article, we will explain the features and benefits of these plugins.
Want to know more about YouTube plugins. Continue reading…
Top Free YouTube Plugins for WordPress
1. YouTube Embed Plus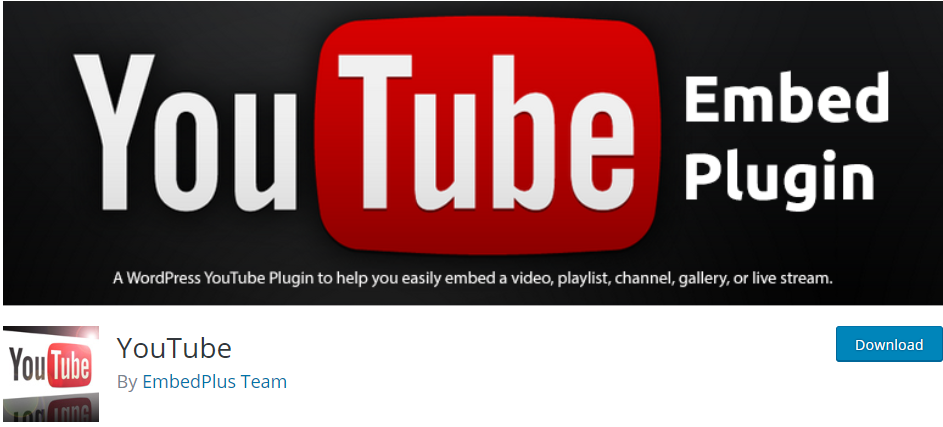 YouTube Embed Plus is one of the best WordPress plugins to advertise your YouTube channel and videos on your website. It offers multiple options for YouTube content promotion such as live stream and playlists. You can attract your users with videos and YouTube content that are relevant to your website. Besides that, you can also add your YouTube gallery to your website. So, it will be eye-catching for your users who can watch multiple videos on your website.
Features
2. Video Gallery – YouTube Gallery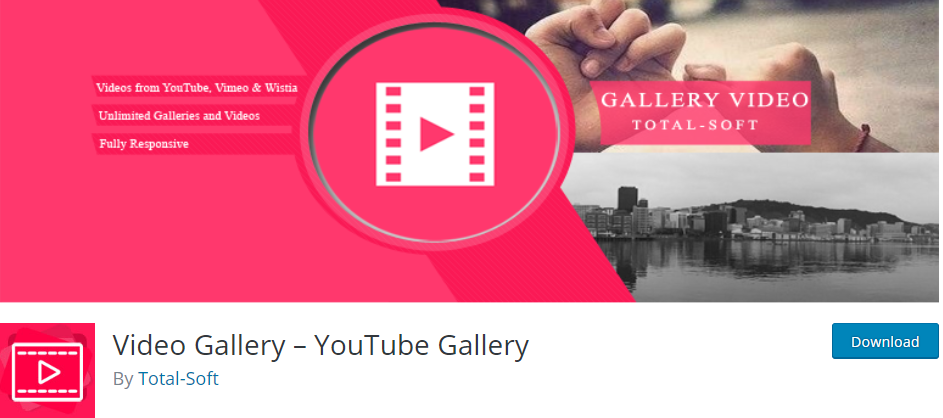 If you want to relate your YouTube videos with user search, then Video Gallery – YouTube Gallery is the right choice for you. It works with multiple video platforms such as Vimeo, YouTube and Wistia. So, you do not need to put extra efforts to link various video websites with your website. This plugin can do it for you. What's more? Whether own business or runs an entertainment website, this plugin can generate traffic and facilitate content promotion by videos. Furthermore, it also allows you to compose videos with immense editing options.
Features
Facilitate websites to display high-quality videos
Offers themes for video galleries
Allow users to use hover effects, pagination and video effects on sites
Enable users to control colours, size and alignment
Offers the option for adding, editing and deleting the galleries
Allows support on multiple video platforms
3. Video Gallery – YouTube Playlists, Channel Gallery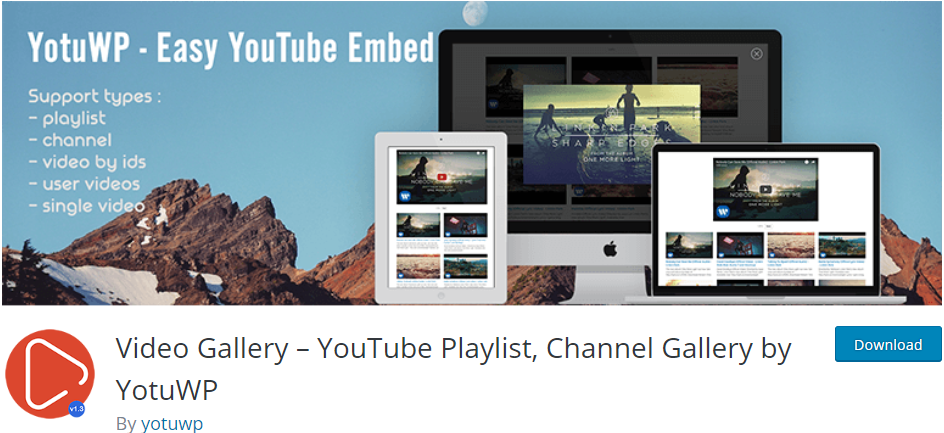 YouTube plugins come with different features and multiple options. Out of these, some features are accessible by installing various plugins. However, if you need a complete package for integrating YouTube content with your website, then you can install Video Gallery – YouTube Playlists, Channel Gallery. It offers numerous features that can make up a complete package for website owners. You can customize videos and make them attractive with this plugin.
Features
Enable users to add videos from channel, username, video ids and playlist
Offers customizable video player
Users can select popups for thumbnails and gallery title
Offers customizable buttons with colouring options
Simple and responsive layout
4. YouTube Embed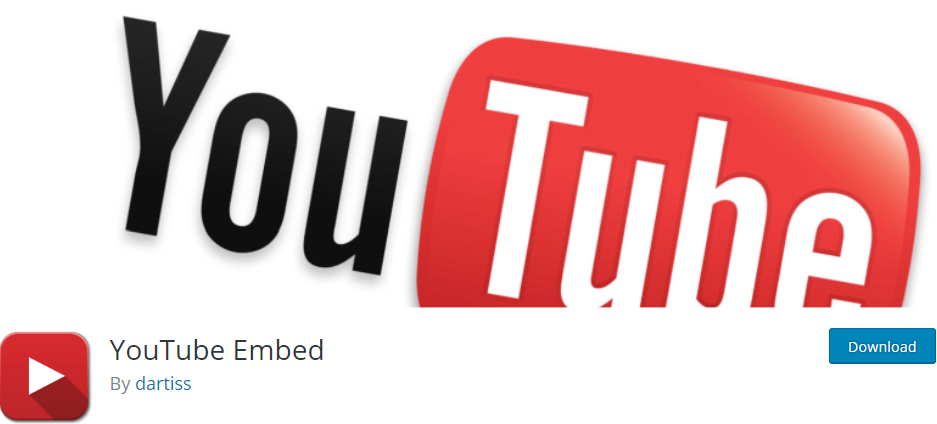 YouTube Embed offers YouTube video embedding on websites and simplifies things for you. If your website needs promotion and you have put introductory videos and content on your YouTube channel, then this plugin will work effectively to meet your needs. It directly caters the integration of YouTube videos on websites. It also offers compatibility with PHP 7 besides HTML and CSS. Most of the modern websites nowadays are using PHP codes. So, this plugin also meets the needs of modern websites.
Features
Users can build playlists or generate automatic playlists
Offers dynamic video sizing
Enable users to add metadata to videos with Google metadata compatibility
It is compatible with Video SEO and Video Overlay advertisements
5. YouTube Widget Responsive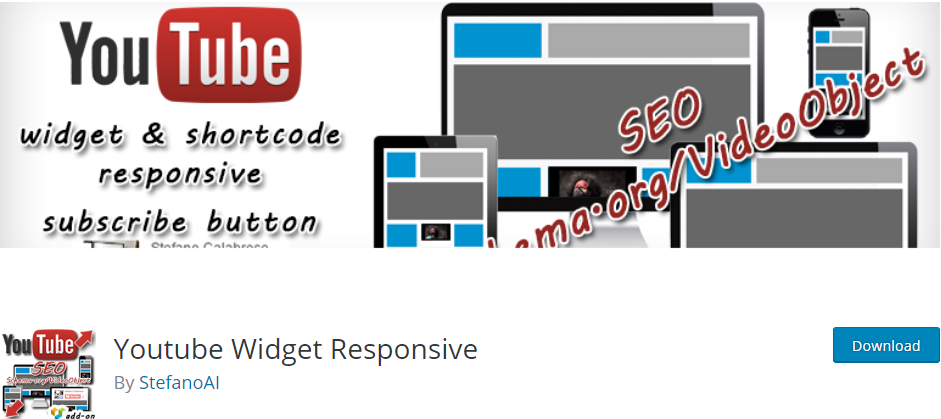 YouTube Widget Responsive is another YouTube plugin which adds widgets and shortcodes for YouTube inserting videos on websites. It adds your YouTube videos in a sidebar on your sites. It is an attractive approach for offering videos with details about your products. It facilitates the users as they watch a video while scrolling down your website for further information. It provides several options to customize the sidebar with integrated controls for video playing.
Features
Offers subtitle and auto-hide controls
Users can select themes for control bars
Enable users to utilize full-screen controls
Allow users to mute and turn on/off titles
Offers suggested video display
Users can see descriptions below the videos
6. WP YouTube Lyte

YouTube videos on your websites can sometimes bother the users. So, if you are well aware of the dynamics of user interfaces within your website, you need to use a plugin that plays the videos when they are best required or initiated by the users. For this, WP YouTube Lyte is the best plugin. This light plugin only plays videos 'on click'. It reduces the size of the video player and improves the performance of the website.
7. Simple YouTube Embed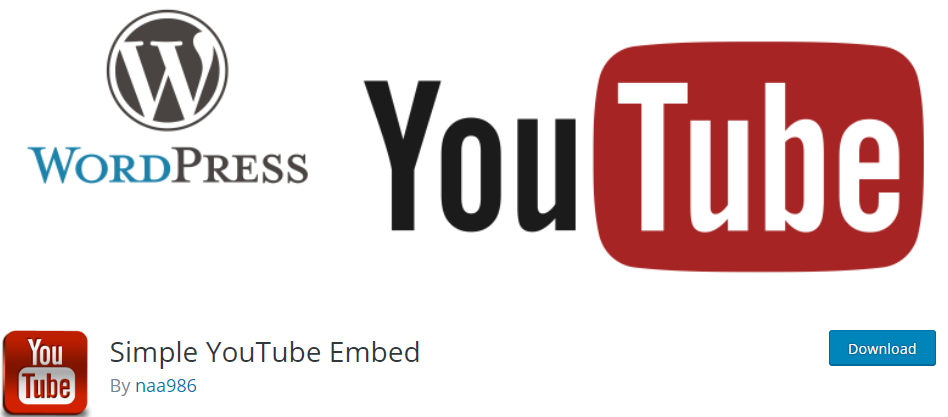 Simple YouTube Embed is a comparatively new plugin that has attained more than 8000 active installations with a 4.4-star rating. With the help of this plugin, you can easily embed YouTube videos on your WordPress site.
Features of Simple YouTube Embed
It has an easy to use interface
Allows users with various enable/ disable options; player control, video information. Full screen, and suggestion of further videos option
Offers users to embed a YouTube video with a high definition thumbnail image as a poster
Most importantly, it is an effective platform for newbies. So, if you want to embed your YouTube videos; don't worry. Simple YouTube Embed plugin will ease out the process.
8. YouTube Gallery – Best YouTube Video Gallery for WordPress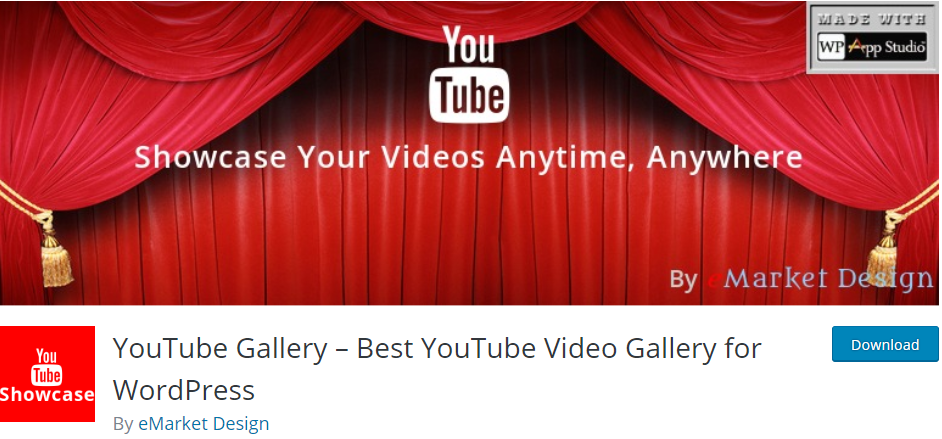 YouTube Gallery is another powerful YouTube plugin that can help its users display YouTube videos in their gallery or grid view on their WordPress site. This plugin is another new plugin that has attracted more than 7000 active installers with a 4.9-star rating. Want to know more?
Features of YouTube Gallery
Offers an automation process; inserting YouTube video ID will automatically create a YouTube video page
Offers two YouTube video gallery pages; YouTube video gallery and YouTube video grid gallery
Allows users to attain two sidebar widgets; features YouTube videos and recent YouTube videos
Enables a wide range of shortcodes
9. WpDevArt YouTube Embed, Playlist and Popup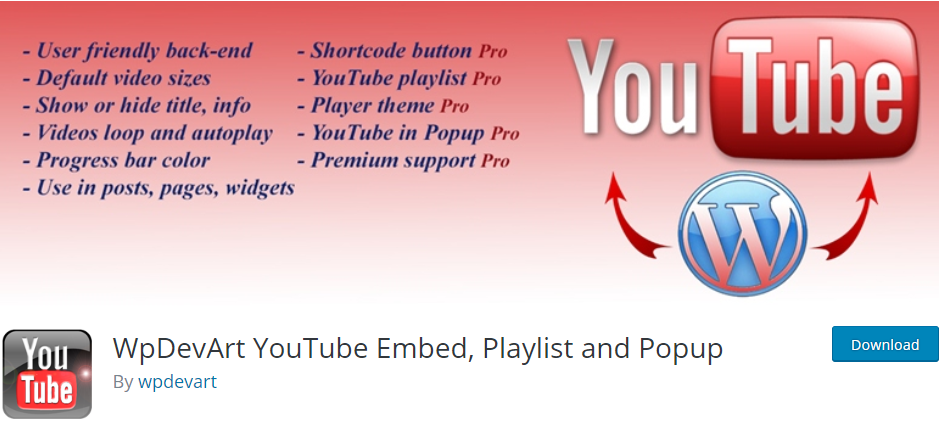 WordPress YouTube Embed plugin is our last recommendation that can quickly and conveniently add all videos to your WordPress site. The best thing about this plugin is that it doesn't require any coding knowledge. So, if you are a newbie, you won't face any ambiguity installing and using this plugin.
Want to know about its features?
Features of WordPress YouTube Embed
Allows users to add videos on pages, posts and widgets easily
Users can set a default option for player width, height, autoplay, loop, and full-screen button display.
It is not only easy to install, but also user-friendly at the back-end.
Offers users with various options; default players progress bar color option, autohide parameters option. Initial volume option and enable/ disable keyboard option.
That's not all! If you want to avail their additional features, get hooked with their premium version. It starts from a personal plan offering $ 12 to developer $ 40.
Wrapping Up
We have enlisted the best 8 YouTube WordPress plugins that can help you add YouTube videos to your WordPress site with ease. Similarly, it will help you improve your customer interaction in the online world.
Before you choose the plugin for your site; ponder over their features again. We have assisted you in compiling the best ones.
Now, you decide; choose the right plugin for yourself.
If you are handling plenty of video content, you may also want to check out our top picks for the best WordPress video themes for creating an online video portal.