The most basic form of navigation you can implement on your site is with a dedicated menu bar. Not only will it give users an idea about your site's content, but also allow for easy access. This is why we have put together a responsive menu plugin shortlist for WordPress websites.
Why Do You Need Responsive Menu Plugins?
WordPress navigation menus are basically theme features which may or may not be present depending on the theme you are using. Furthermore, the default menu system that comes along with most of the WordPress themes is very lackluster and rudimentary.
But all this can be easily changed by using a dedicated menu plugin. You will get access to a heap of useful features that will let you create rich menus for easy navigation. We have also made sure that the menus are mobile-friendly, so users on small screen devices won't face any problems.
Now, if you are interested in bettering your onsite navigation, here is our list of
 The 6 best responsive menu plugins for WordPress
1. Responsive Menu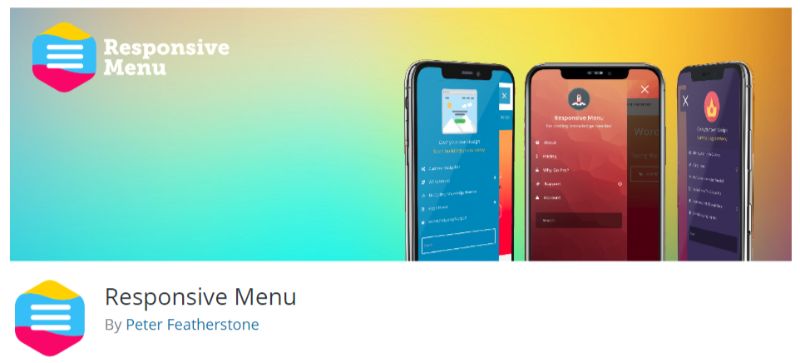 Starting off our list, we have Responsive Menu plugin for WordPress. The plugin lets you create highly customizable, gorgeous, mobile-ready navigation menus for your website. It comes packed with over 150 customization options to help you create over 22,500 different menus for user navigation. You even get access to different animation effects, and an option to add custom scripts for added functionality.
Once installed, the plugin will also give you access to an easy to use interface which you can use to create custom responsive menus in a jiffy. The plugin also comes in a free as well as paid version. Mostly all the important functionalities are available with the free version of the plugin whereas some advanced options are tucked away in the pro version.
Features:
Complete control over typography settings in the menu.
Option to show/hide buttons in the menu.
Support for background images, and CSS elements.
You can create sub-menus for better navigation layout.
Support for external scripts.
Option to animate menu items before opening them. (premium)
Integrated header bar. (premium)
15 button animation effects. (premium)
And much more.
2. WP Responsive Menu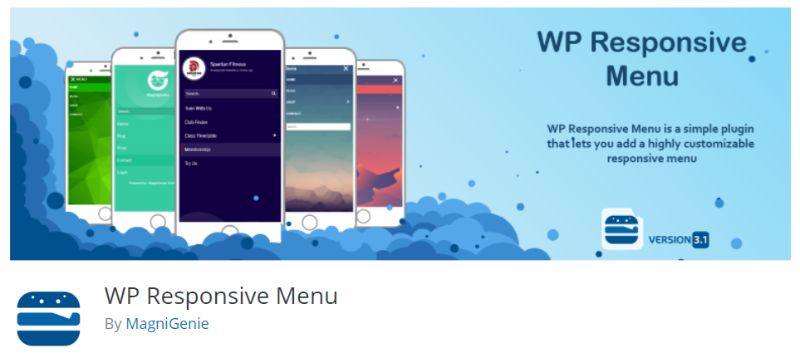 Next we have the WP Responsive Menu plugin for WordPress. It is a simple and easy to use plugin riddled with a boatload of features and functionalities that lets you create awesome mobile-friendly menus on your WordPress website. All options are conveniently tucked away inside an intuitive settings page, from where you can create a full-fledged menu in a matter of a few clicks.
You will get features and options that not only help you decide how the menus will look and feel, but also lets you tweak the menu open direction, incorporate support for touch gestures, and much more. And the best part is that all these features are available with the free version itself. A premium variant is also available which introduces many more advanced functionalities.
Features:
Easy to use interface filled with a lot of customization options.
Different display options to fit your site aesthetics.
Control over the direction in which the menu opens.
Support touch-screen gestures like swipe to close menu.
Integrate search bar in menu. (premium)
Add social media icons. (premium)
WooCommerce support. (premium)
And much more.
3. QuadMenu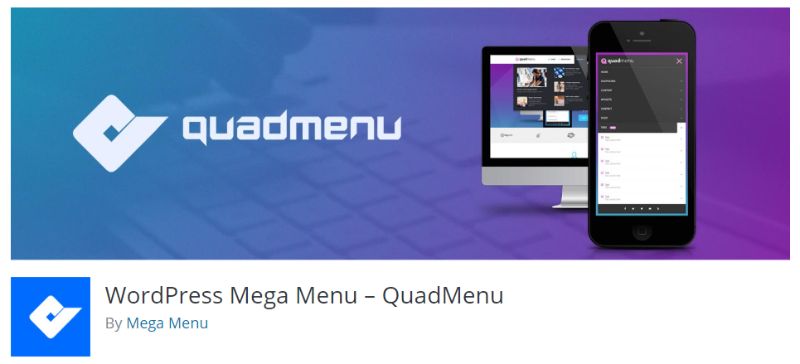 QuadMenu is a WordPress mega menu plugin fitted with a lot of useful features and functionalities to create powerful menus on your website. You can use the plugin to create anything from mega menus, tab menus, carousel menus, and even responsive mobile-friendly menus in a matter of few clicks.
The plugin also gives you access to four different layout variations for the menus including collapse menus, off-canvas menus, vertical menus, and sidebar menus. Drag and drop functionalities are also included to help you quickly add elements, columns, and widgets to your megamenus. And if that's not all, plenty more advanced features are also made accessible via the pro version of the plugin.
Features:
Allows you to create megamenus using drag and drop functionalities.
Comes bundled in with a lot of useful menu elements.
Support for WordPress widgets inside your menus.
Plenty of customization options.
Support for dropdown animation effects.
Support for 4 different menu variations – collapse, off-canvas, vertical, and sidebar.
Access 5 more menu types – tabs menu, login menu, register menu, social menu, and carousel menu. (premium)
And much more.
4. WP Mobile Menu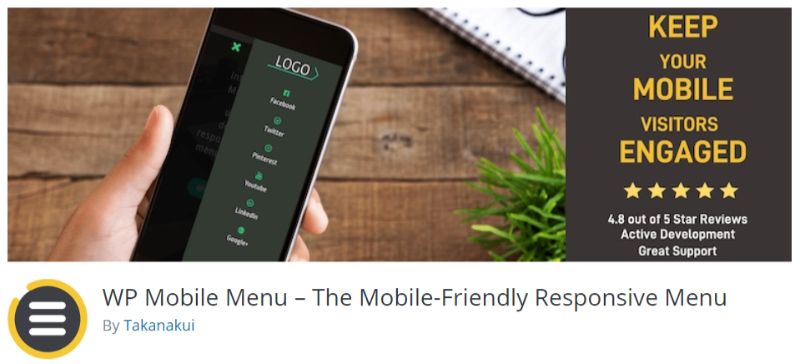 WP Mobile Menu is a powerful responsive menu plugin for WordPress with a lot of useful features that will improve site navigation for mobile users. With the plugin and installed and activated on your website, you will get access to a simple slideout menu which users can tuck in and bring out by simply swiping on the screen. This gives your users a seamless means for navigating through your website.
And speaking of seamless, the plugin also integrates loads of powerful customization options which helps you tweak the menu look and feel to match your site's aesthetics. And if that's not all, a premium version of the plugin is also available which will give you access to plenty more advanced functionalities.
Features:
3 layered menu levels.
You can upload a logo and also enable text branding.
Option to tweak background images.
Two different display types – slideout over content and slideout push content.
More menu display types – overlay full width, slideout from the top, and sliding menus. (premium)
Header live search. (premium)
Footer menus. (premium)
5 layered menu levels. (premium)
Support for animated icons. (premium)
And much more.
5. ShiftNav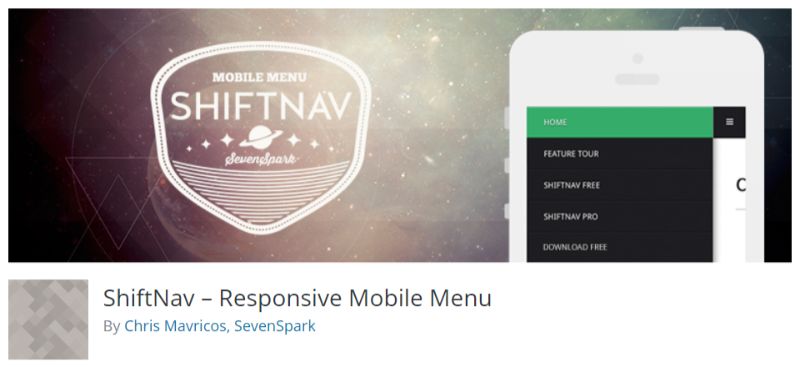 ShiftNav is an awesome responsive menu plugin for WordPress. It will integrate a very familiarly mobile friendly menu in your website that functions like native app off-canvas slide-out menus we see with popular apps like Facebook, Gmail, and the likes. And thanks to its intuitive collection of options and settings, you will be able to create these fully functional menus in a matter of few clicks.
Feature-wise, the plugin supports touch-based interactions and works with the WordPress menu system for seamless integration. In order to improve the user experience, you will also get access to features like CSS3 transitions effects for smooth animations as well as different skins for customization purposes. The best part is, the plugin allows for automatic integration and doesn't lead you through any headache.
Features:
Helps integrate native app-style off-canvas menus.
Supports WordPress menu system and automatically integrates to your WordPress websites.
Support touch-based gestures.
Supports CSS3 animation effects.
Option to add advanced content like search bars and maps directly in menus. (premium)
Support for sub-menus. (premium)
Unlock endless customization with loads of colorful skins. (premium)
And much more.
6. WP Mega Menu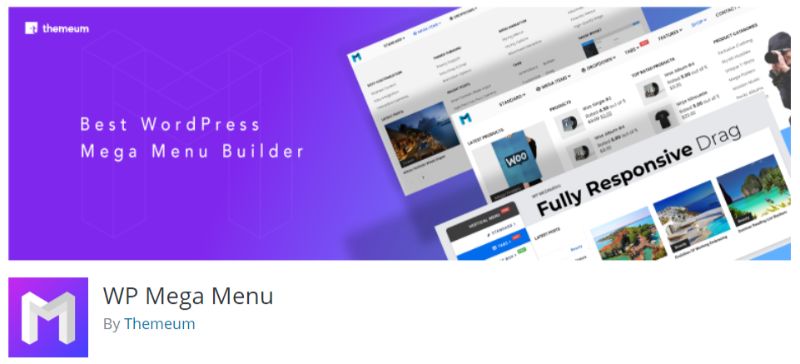 And now for our final responsive menu plugin, we have WP Mega Menu. The WordPress plugin can help you create stunning mobile-ready mega menus in a matter of a few clicks. In fact, you will get access to a whole arsenal of features including mega menu themes, a drag and drop interface, and customization options, to help you create rich mega menus for your website.
You can populate the mega menus with links, images, and even purchase links to products and services. Needless to say, the plugin is fully compatible with WooCommerce. And the best part is that all these content-rich mega menus will render flawlessly in small screen devices for seamless viewing.
Features:
A dedicated drag and drop menu builder panel.
Option to integrate widgets in menus.
Access to multiple themes and skins for customizing the menus.
Support for search bar in mega menus.
Social Media integration.
And much more.
In Conclusion
So these were our picks for the top 6 responsive menu plugin for WordPress. Do let us know if you found this read to be helpful and if you have used any of the plugins mentioned here, then leave a comment sharing your experience.
Furthermore, if you have used any other responsive menu plugin not included in the list, then also share your insight with your fellow readers. Your contribution will be highly appreciated and it might help a user find the perfect plugin for their own project.