The very first thing people normally consider after setting up a blog is how to drive traffic to your site. Have you heard about the effectiveness of WordPress push notification plugins?
Have you ever encountered notifications on your phone? If yes, then understanding the effectiveness of push notification plugins is not alien for you. A website push notification will help you send messages to your website visitors; thereby helping you drive traffic to your site.
WordPress is bombarded with push notification plugins offering free and premium versions. There for, this article will help you select the best plugins based on their creditability, reputation and its features. Before we start, let's see some of the reasons why you should install push notification plugins
Why Install WordPress Push Notification Plugins?
Push notifications encourages visitors to return; they can help you drive real time traffic to your site. A  visitor who visited your site and also opted to receive notification from your end will return to your site with the intent to purchase your product offerings. Therefore, push notifications will help you convert your goals and help your generate sales and revenues. Sending push notification can be a tiresome task; however if you choose a reliable push notification plugin then this process will ease out. These plugins help will you send push notifications to various devices. They also offer customized optin form and some also offer its users control over the messages sent.
Lets head on..
Top Free Notification Plugins for WordPress
1. OneSignal – Web Push Notifications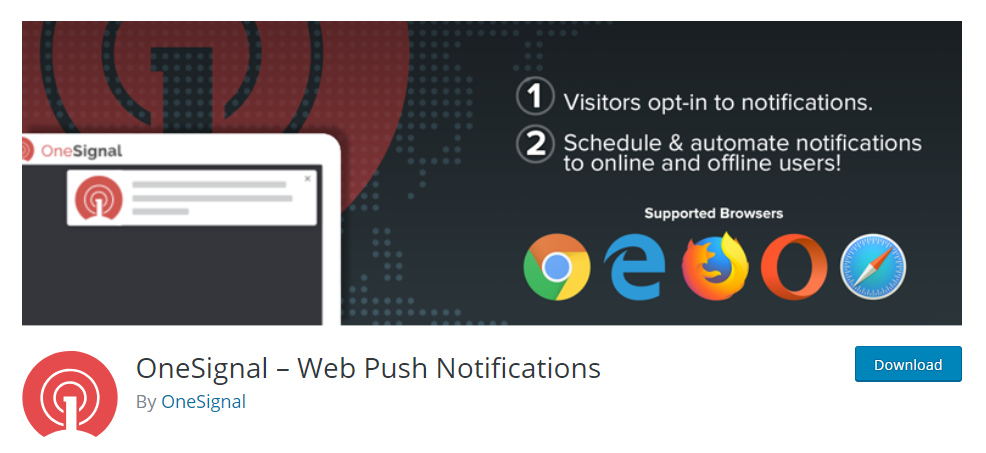 OneSignal – Web Push Notification is a popular wordpress push notification plugin that has achieved more than 100,000 active installers. It has an effective, efficient and an easy to use installation process. So, if you want to increase your user engagement; OneSignal will help you send push notification to your potential visitors. If your visitor opt-in to receive push notification; they will be notified about your product offerings, and every new publish post you make.
Features of OneSignal:
It supports Chrome, Safari, Microsoft Edge, Opera, and Firefox on both HTTP and HTTPS sites
Offers automatic notification to your visitors every time you publish a new post
Offers target segments; send notification based on visitors language, interests or any other attribute you like
Allows users to access opt-in customization option
Allows users to view real time analytics so they may easily view notifications being delivers in real time.
Offers A/B testing and chose the best effective message to your potential customers
Most importantly, it offers scheduled notifications option for its users. Within this feature the users can schedule notification on the basis of user time zone, or even at the same time they visited your site last. Before you head on to other recommendation, let me all last point; all the above features are free. All you have to do is; log into WordPress repository, and install OneSignal – Web Push Notification  for free.
2. Better Notifications For WordPress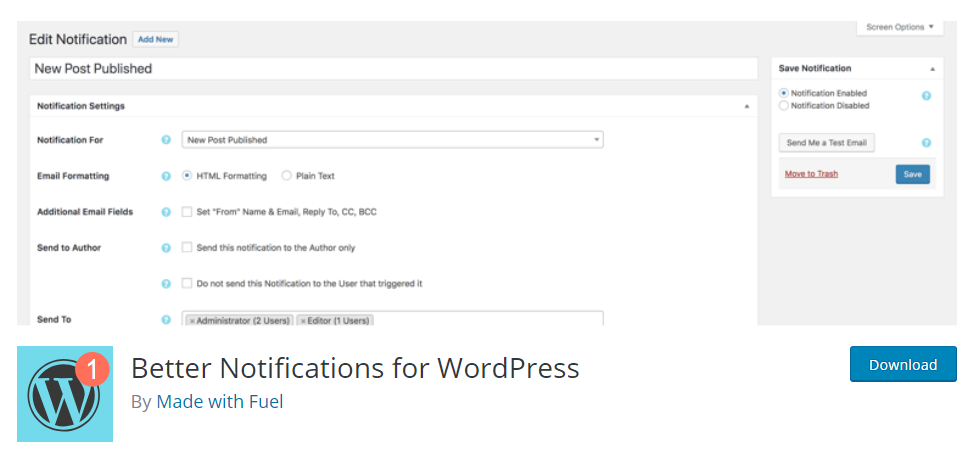 Better Notification For WordPress is standalone push notification plugin that is best for beginners and advanced users. So, if you want to customize your email notification; this plugin helps you use WYSIWYG editor and short codes. It has attained more than 200,000 active installations and 4.9 star rating. Incredible, isn't it?
Features of Better Notification For WordPress:
Offers customization option to its customers; users can choose to send notifications to individual users, multiple users, and all users in user role, multiple role or any other role you wish.
Offers various premium add-ons; subscription, custom fields, multisite, send to any email, global override, profile builder and reminders.
Allows users to set Notification in their admin, transactional, post/custom post types, pages, and posts.
3. Notification – Custom Notifications And Alerts For WordPress
Do you want to add custom notification and alerts to your WordPress site without any hassle? do you want to notify your users about the actions about your WordPress site blogs and posts? If yes, then Notification – Custom Notification And Alerts For WordPress will help you customize your message, incorporate merge tags and set notification in their WordPress admin within 5 minutes.
Want to know more?
Features of Custom Notification:
It is built with three components; trigger(WordPress action),  notification(email or push notification)  and merge tag(dynamic content)
It exhibits an easy to use interface
Offers default receipt types; email address or merge tag, administrator, user or role
Allows users to enable or disable default triggers on the setting page
Offers wide range of extensions; conditional, custom fields, review queue, scheduled triggers and many more
Users can use trigger specific merge tags and global merge tags
It is a comparatively new plugin that has attained only 5000 active installations but with a 4.9 star rating. Most importantly, it is a free plugin, so you can avail its benefits; especially if you are developer.
4. WPFront Notification Bar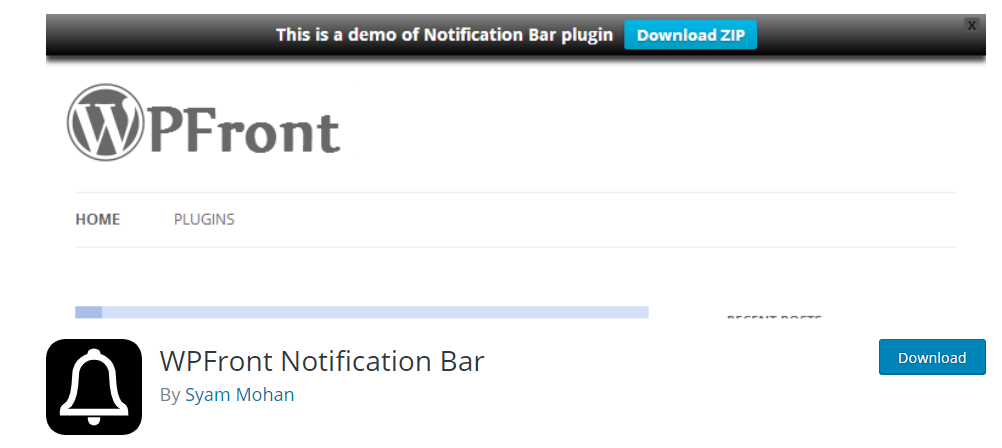 WpFront Notification Bar is another popular WordPress push notification plugins that has attained more than 30,000 active installations with a 4.4 star rating. The best thing about this plugin is that it will help you display notification about your promotion, news, or any new blog post with ease.
Features of WPFront Notification Bar:
Helps users display message with a button option; that will direct the visitor to your site directly.
Allows users with variety of customized options; position of the bar, set the height, and number of seconds before the bar appears.
Helps user display close button for the visitor, reopen button, scroll option
Allows users to select the pages/ posts and user role to display the notification
Offers wide range of customized color options
And much more.
So, if you want to know more about WPFront Notification Bar, or want to install this plugin. go to WordPress repository and download it for free. It is an incredible plugin that is offering extensive features for free.
5. WP Notification Bars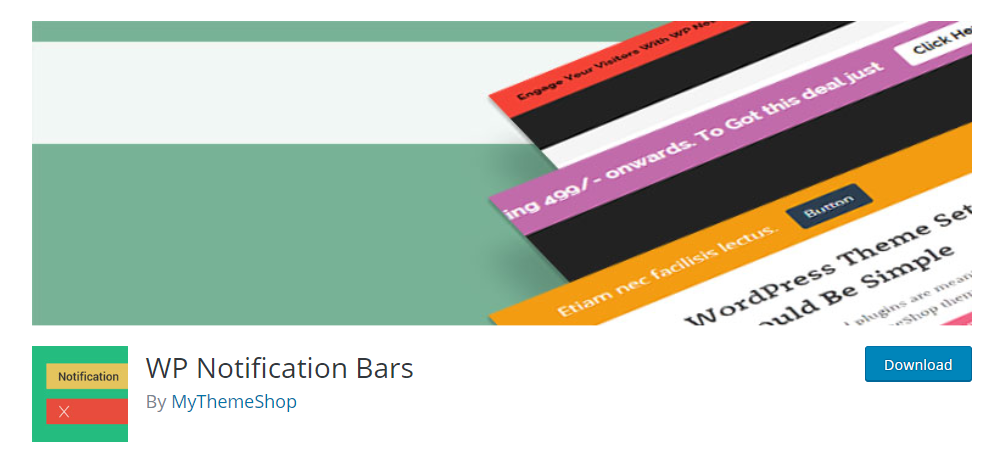 WP Notification Bars is another light weight but powerful plugin that has achieved more than 20,000 active installations. so if you are looking for a custom notification and alert bar WordPress plugin, then WP notification Bars is your ideal choice. it is perfect for marketing promotions, alerts, and can help you increase your CTR. Want to know more?
Features of WP Notification Bars:
It easily creates unlimited notification bars
It has an easy to use interface
Offers users with unlimited colors.
Users can add custom CTA button and custom code according to its need
Allows users to show on homepage/posts/pages
Offers users an option to show their blog [posts to only Google visitors or Facebook visitors
It has an excellent custom support; 24/7 and 365 days
Is there something else that you get for free?
6. Subscribers – Free Web Push Notifications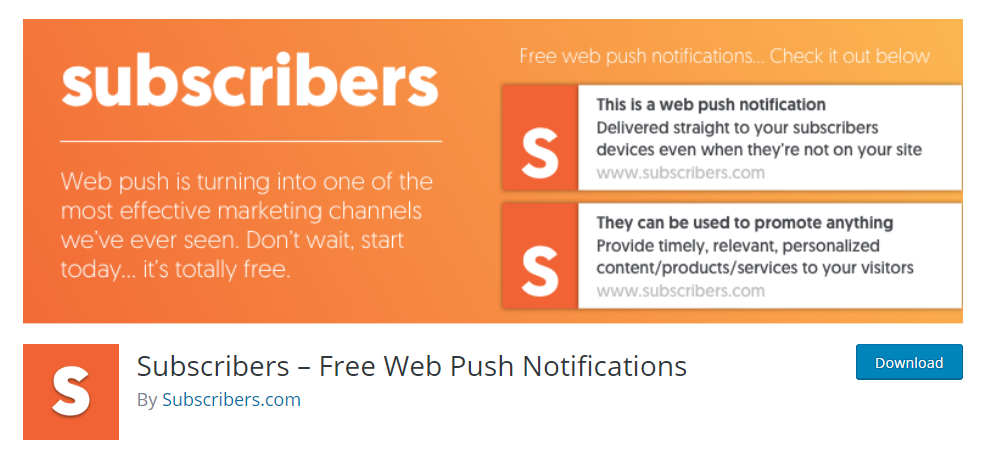 Subscribers – Free Web Push Notification is an easy to use web push notification plugin that can help users grow their traffic. So, if your visitors opt-in to receive push notifications; he/she will be notified whenever you publish a new post adds new comment, you offer sale, or any other promotional deals.
Features of Subscribers:
Supports chrome, and Firefox with android
Helps users communicate with their audience with ease
Allows users to send unlimited notifications
Easy to use interface
Most importantly, it is an ideal solution for those marketers who want to reach their audience and inform them about their sales, order status, special offerings, new content, or any events or new subscriptions they can think of. Thus, with the help if this this plugin you can attain real time traffic and convert your visitors into your customers.
Like it or want to check the other recommended plugins in the list?
7. Push Notifications For WordPress By PushAssist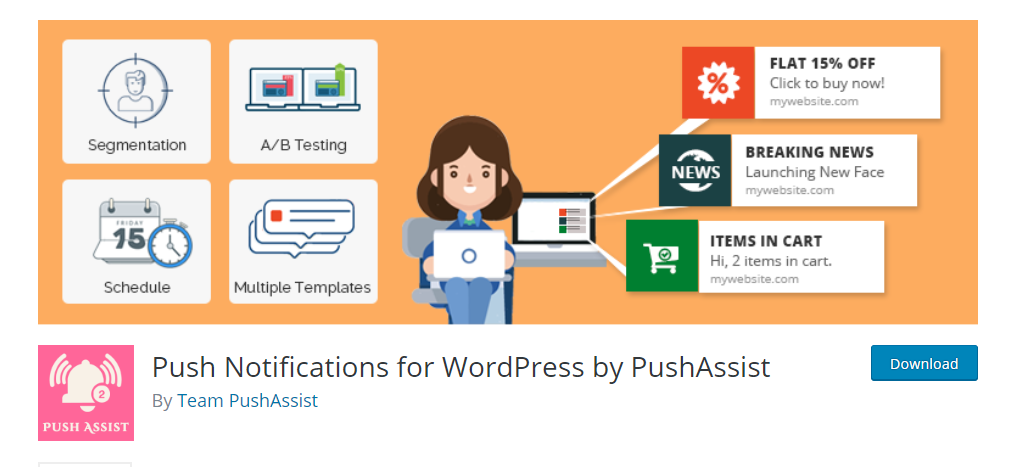 Push Notifications for WordPress by PushAssist  is another remarkable plugin plugin with an easy to use process system. So, if you want to engage your loyal customer with your targeted push notification; then Push Notifications is what you want.
Features of Push Notifications
Most importantly, this plugin is built with keeping on mind of those WordPress site owners, and marketers who do not intend to develop their own server-side back end. However, they can engage their customer, drive real-time traffic and increase their CTR without any hassle.
8. Push Notifications For WordPress Lite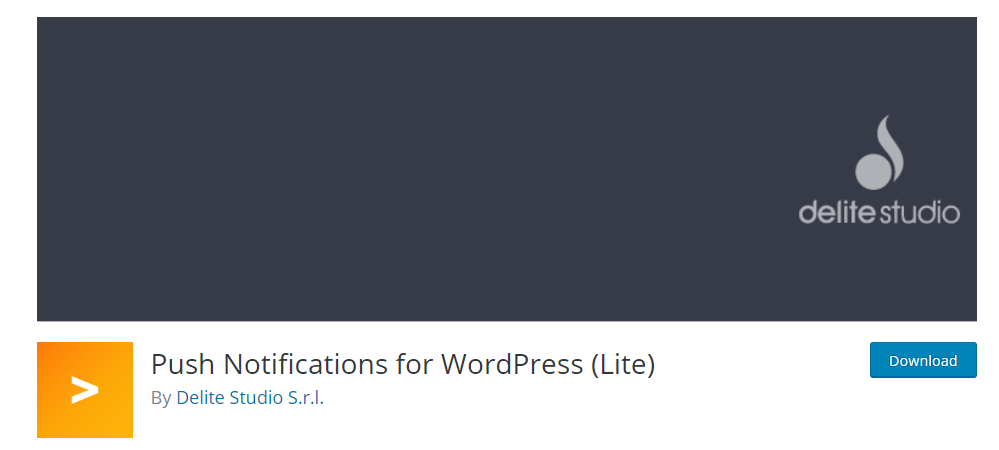 Push Notifications is another popular and high recommendable push notification. This plugin includes a built-in hub that allows WordPress to send push notification directly to its visitors. So, if you are a beginner; you can easily send real-time alert messages to your website visitors easily.
Features of Push Notifications:
Allows users to send push notification to IOS and android devices
Help users build beautiful and unique apps without developing server side back end
Offers 1000 notification per  platform
It supports apple push notification service and freebase cloud messaging
So, if you are beginner or own a small personal blog. Then, Push Notifications is the right choice for you. your notification can be sent straight from your site whenever you publish a new post. However, if you are operating an extensive blog post platform, then this plugin might not suit you very well.
Wrapping Up
We have enlisted the best 8 WordPress push notification plugins that will help you drive traffic to your site, re-engage your customers and help you cover marketing challenges with ease.
Which plugin was your favorite? Comment in the section below, and let us know if there is some other plugin you want to know about.
Now you have decided your desired push notification plugin and you are all set to add web push notification in your WordPress site.