If you want to grow your WordPress website or blog, then it is absolutely necessary that you add more and more content. However, the more content you publish, your older articles and posts will get buried under the weight. This is why you need to install a WordPress search plugin on your site to help users easily find the content they are looking for.
Why Do You Need Search Plugins?
A WordPress search plugin, when installed and activated on your website, will add a search bar or search form on your website. This can help users find specific content on your site, based on the keyword or phrase typed in the search bar.
As you can see, this is an excellent way to improve your site's user experience as well as navigability. And that's not all, having a search form on your site can also improve your SEO score. With all this in consideration alongside the fact that most WordPress plugins are generally super lightweight and easy to install, there is practically no reason why you shouldn't have a search plugin on your site.
And so, for the purpose of this read, we have put together a comprehensive list covering 8 best search plugins for WordPress websites. So without further ado, let's get started:
Top List of Search Plugins for WordPress
1. Relevanssi – A Better Search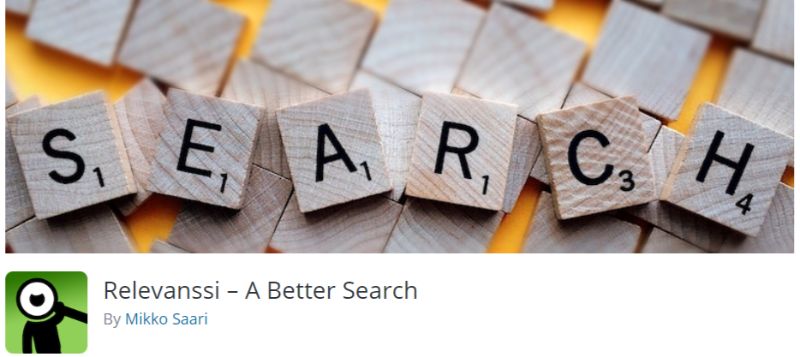 Relevanssi WordPress search plugin adds a more powerful and feature-packed search engine on your website. It introduces a lot of configurable options which lets you finetune the searching experience for your users. You will even get full control over how the search results are displayed to your audience.
Now, the plugin is available in both a free version as well as a paid version. The free version packs in an impressive amount of functionalities and is more than sufficient for the average blog or website. However, if you are looking for more advanced options to take your site's UI to the next level, then you can give the premium version a consideration.
Here is a look at some of the features offered by the plugin:
And much more.
2. Ivory Search – WordPress Search Plugin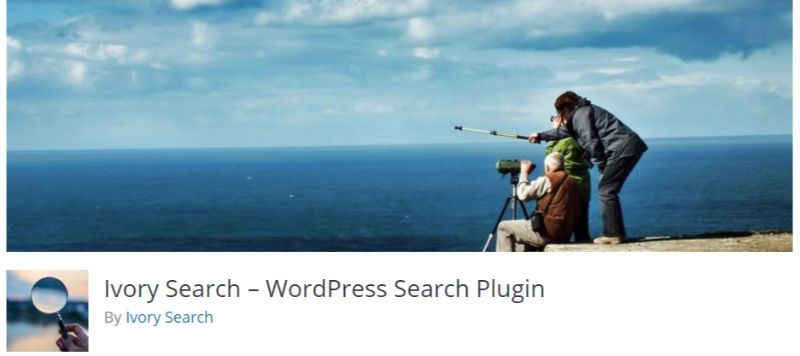 Ivory Search WordPress plugin introduces a bunch of advanced features and functionalities that let you create custom search forms on your website. You will have the option to create practically unlimited search forms and configure each of them individually to respond differently to audience search patterns.
The plugin also gives you complete control as to where you want to place the search form – including the site header, footer, sidebar, widget area, and even on posts, pages and custom post type. This is made even more simple thanks to shortcode support.
Let's take a quick look at the different features the plugin brings to the table:
Create unlimited search forms and configure them individually.
Configure the search forms so they search for specific content types.
Support for fuzzy matching – displays content that remotely matches the search term. (premium)
Support for keyword stemming. (premium)
WooCommerce integration. (premium)
Inherit's your WordPress theme's default search form styling options.
Shortcode support.
And much more.
3. Ajax Search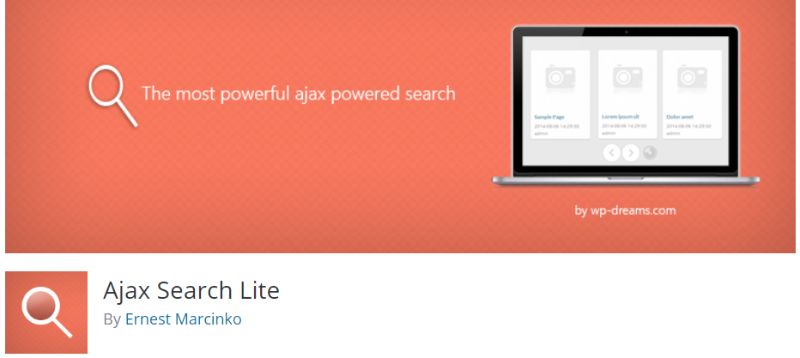 Ajax Search, as you can guess by the name, helps you integrate an Ajax-powered search form on your WordPress website. Once installed, the search plugin will incorporate a responsive search form backed up by a live search engine.
The search form will start generating possible search results as you start typing in the complete keyword or search term. It even comes with Google autocomplete and keyword suggestion functionalities to improve the user experience. Filtering options are also included that filters the search results based on category or post type.
Here is a brief overview of all the features the plugin has to offer:
8 different search form templates with color customization options.
Adds a completely ajax-powered live search engine.
Can help users search for posts, pages, custom post types, and even WooCommerce products.
Google analytics integration.
Advanced caching technology. (premium)
Adds 100+ customizable form templates and over 400 admin options. (premium)
Google keyword suggestion and autocomplete functionality. (premium)
And much more.
4. Better Search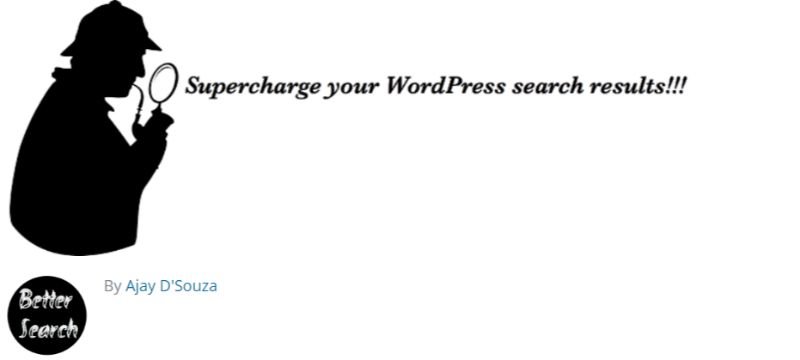 Better Search WordPress plugin allows your site visitors to quickly find relevant content by searching for the post title or content. With that being said, it can also be used to let users find specific pages and custom post types on your website. In fact, you will get access to a whole laundry list of options that will let you easily customize the output of the search forms.
Other notable features include the option to assign weights to either the content or title of your posts and pages, to fine-tune the search results in one direction. And to cater to the needs of more advanced users, the plugin also provides access to filters and actions to make the search more powerful.
In case you want to see its complete list of features then here it is:
Once activated, Better Search bar will automatically be integrated into your WordPress website.
Inherits the design style of your WordPress theme, but also offers plenty of customization options and search form templates to tweak the design manually.
Heatmap implementation which shows you the all the popular search terms on your site.
Plenty of control to finetune the search algorithm according to your needs.
Shortcode and widget support.
And much more.
5. ACF: Better Search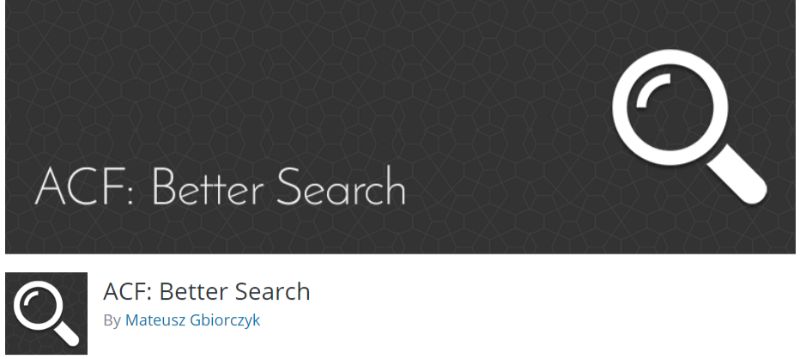 ACF: Better Search plugin for WordPress is an addon for the Advanced Custom Fields plugin. Once installed, it allows users to search for content specific to the additional fields added using the ACF plugin.
It is worth noting that the plugin enables the extra features to the default WordPress search engine, and if you have installed any plugin which replaces it, then the feature won't work.
Features:
Allows users to search for content based on additional fields integrated using the Advanced Custom Fields plugin.
6. Search by Algolia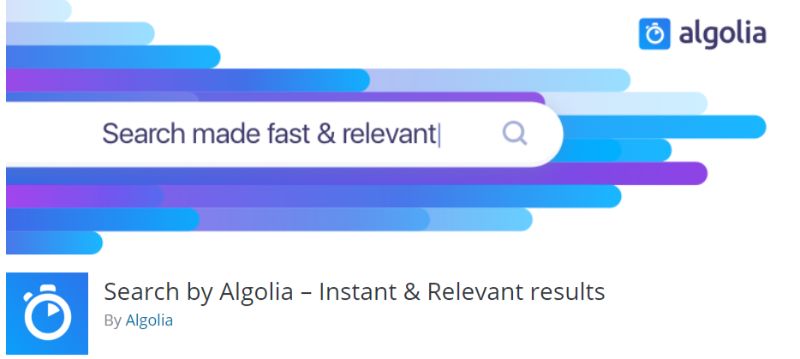 The search plugin from Algolia enables a powerful search form on your WordPress website which can retrieve relevant search results for your audience in a matter of milliseconds.
On top of that, the plugin also introduces useful features like type-tolerance, which means even if the user inserted a mistyped term, it will try and fetch relevant results. Also, being language-agnostic, allows the plugin to help service users as well as webmasters coming from different parts of the world with a different language of communication.
Here is a quick look at all the different features you get with the plugin:
Integrates a completely customizable search experience to provide better value to your users.
Incorporates a keyword suggestion and auto-complete functionality to help users quickly find relevant results.
Fetches results from deep corners on your site, in under 35ms on average.
Developer-friendly with options to expand on its list of features by using WordPress hooks and filters.
And much more.
7. Search & Filter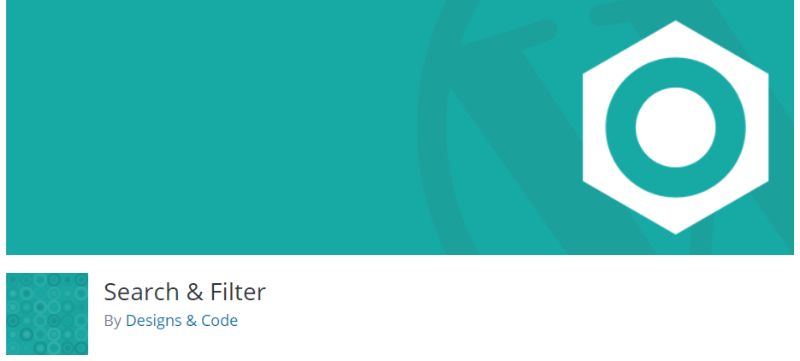 Search & Filter, as you get by the name, is a simple search and filtering plugin for WordPress websites. It replaces the default search form with an advanced search bar with dedicated options that allows users to find relevant results by filtering them for category, tags, post type, and so on.
What's unique about the plugin is that it gives you the option to remove the search functionality and allow users to simply use the filtering option to find posts and pages. It also gives you sufficient customization options in terms of which filterable options you want to display, and how you want to display it – in the form of dropdowns, checkboxes, radio buttons, and so on.
Features:
Filter search results based on custom fields, post metadata, post authors, post type, updated date, tags, and categories.
Use Ajax to display live search results.
Support for auto-complete search form.
Supports custom templates as well as a drag and drop editor.
Support for WooCommerce and Digital Downloads.
And much more.
8. Sitelinks Search Box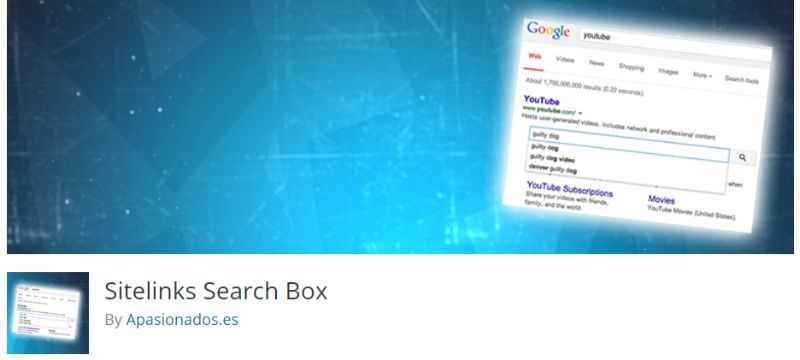 And now for the final search plugin on our list, we have the SiteLinks Search Box. Once installed and activated, it adds the JSON-LD schema.org markup for the "Google Sitelinks Search Box." The plugin will allow users to discover content on your site more easily through search engine results.
A user will simply have to type in your domain URL followed by the specific topic they are looking on your site. The content will be directly available from Google SERP.
Features:
Allows users to find your content more easily directly from search engines.
In Conclusion
So these were our top picks for the best search plugins for WordPress. Do let us know if you found the read to be helpful, and if you did, don't forget to write about which plugin you picked for your own website and why.
Also, users who have been using a particular search plugin for a long time now that has not been mentioned on the list are welcome to share their favorite ones as well. It might even help one of your fellow readers in their own "search".
To optimize navigability of your WordPress website, you may also want to learn and use these best responsive menu plugins.