Are You Planning To Connect Your WordPress Site With Facebook Business Page? Go Ahead. This Is The Best Chance To Attract Millions Of Customers. Moreover, There Are Great Chances That Those Visitors Might Become Your Potential Customers.
Creating an online presence on social media platform will help you increase your efficiency and grow your audience. Whereas, creating an online presence of Facebook will increase visitor engagement and help you drive traffic to your WordPress site.
Do you know? There are 2.32 billion monthly active users; among them 1.15 billion are mobile daily active users.
Facebook users are increasing at an increasing rate and there are great chances that they will increase in the near future too. According to the Facebook statistics, there has been a 9 percent increase in Facebook monthly active users and a 23 percent increase in mobile daily active users.
So what do you say now? Connecting your business page with Facebook will get you connected to millions of people. They might convert into your potential customers.
Facebook is an active, efficient and effective platform and handling all that content manually is not a good idea. So, if you want to drive traffic to your site and increase your efficiency at the same time, you will need a reliable and effective WordPress social automation plugins, like Blog2Social.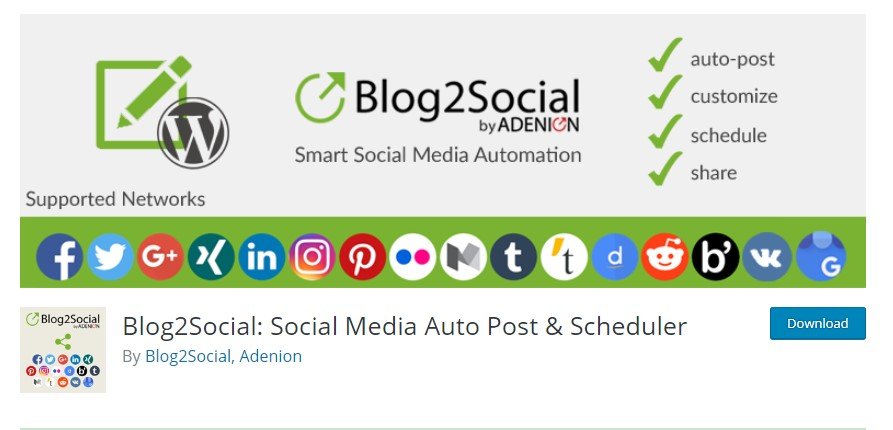 In this post, we're going to assess the credibility of Blog2Social plugin.
Let's get started.
Why Blog2Social Plugin Is A Need Today?
Blog2Social Plugin is a free and a premium WordPress plugin that has attained a 4 star rating and enjoys more than 30,000 active installations. With the help of this incredible plugin you can connect your profile and share your blog posts on not only Facebook but various social media sites. Twitter, Vk.com, Google+, LinkedIn, XING, Redddit, Pinterest, Flickr, Instagram, Medium, Tumblr, Torial, Diigo and Bloglovin are some other social media platform you can stay connected with. You can tailor your posts, manage all blog posts, select and share images and keep a track of your Facebook business page and other social media sites.
That's not all.
Blog2Social Plugin allows its users to re-share old posts whenever they want, and also help them generate hash tags automatically from their WP tags.
So, get connected with Facebook, attract millions of users to your WordPress site and earn high rewards.
Let's look into some of the features this plugin is offering to its clients when connecting to facebook business page.
Features of Blog2Social Plugin
It allows it users to auto-post their content on Facebook
It helps its clients customize their posts before they share it on Facebook business page and other social media sites
You may select the image and post it with the content you need to share on Facebook and other social media platforms
Allows it users to re-share old content according to their need.
Allows its users to optimize their posts with individual comments, #hashtags and handles
Offers the option to choose between image posts, link posts in default posting format.
Pros and Cons Of Blog2Social Plugin
Pros Of Blog2Social Plugin
Auto posting: Users can automatically post their latest blog posts to Facebook business page and other social networks. Their auto posting feature offers two options; you can share your social media posts either immediately after publishing or at scheduled times. Due to this, you can create your preferred schedule and set your predefined best times.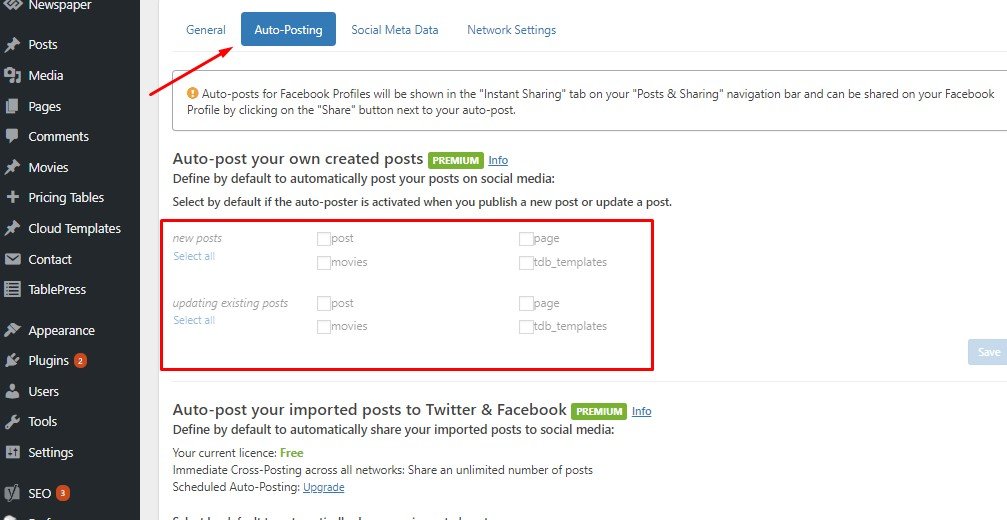 Custom sharing:  Blog2Social Plugin offers custom sharing screen to its users. With the help of this feature you can modify your content on various social media platforms. Therefore, if you want to post content on business Facebook page you can modify your message accordingly. Facebook users prefer short messages, so customize your message according to the needs of your customer.
Custom scheduling: Blog2Social Plugin also helps you customize your message. It helps you choose how many times you want to share the blog post on your Facebook business page. It offers three options; share now, schedule once or schedule post recurrently.

Select image: images create a positive impact on the readers mind and Blog2Social Plugin helps you grab that opportunity. This WordPress remarkable plugin allows you to select your blog post image, apply your selected image to another social media platform, apply your chosen image to all social platforms or helps you select and upload image from your media library.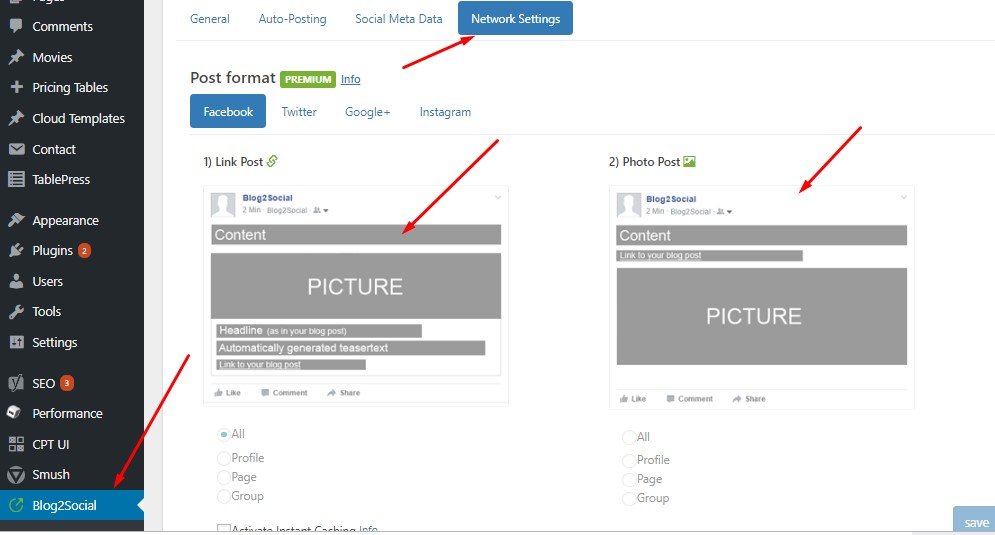 You can avail all these benefits with their free version. However, if you want to avail their full scheduling capabilities you need their premium services. Click here and look into some of the best features they are offering.
Cons Of Blog2Social Plugin
It fails to determine the placement of URL especially when the content message is edited. Blog2Social Plugin places the URL at the end of the message, so when someone edits your message it will appear something like this.
Blog2Social Plugin is not integrated with other apps. It does not entail a built in link shortener that would help users track metrics; such as Bitly or other link shortners.
Its premium plan is not cost effective. It does offer three pricing plan; smart, pro and business. But they are not competitive enough. Some of the other WordPress plugins are offering the same services within their free and basic version. Why would someone pay when they are already availing the similar services for free?
Wrap It Up
Facebook is one of the most powerful social network that is helping businesses flourish. With the help of Blog2Social Plugin you can get connected with Facebook business page and drive traffic to your site. Its features are just nailing it! Install this plugin, implement its features and attain numerous benefits.
Remember, Blog2Social Plugin is not just catering Facebook business page but it entails various other networks. Considering those social media platforms will help you target different groups engage various audiences.
Do you have any question about Blog2Social Plugin? Let us know in the comment section below!
After connecting to your facebook business page, you may also want to integrate social media feed widget on your WordPress website.