E-commerce solution plugins have helped millions sell their product and services quickly, effectively and efficiently. Just creating an online presence is not going to help you earn rewards. You need traffic, you need customers, and you need those sales that will help you acquire high revenues.
Ready to earn all this?
You need the right e-commerce plugin; it's crucial for your business and for your sales. A better platform not only wins the customer's heart but creates more opportunity for growth.
Within this article, we will help you choose the right e-commerce plugin. We are enlisting the seven best e-commerce solutions for your convenience.
So are you ready?
Top E-commerce plugins
1. WooCommerce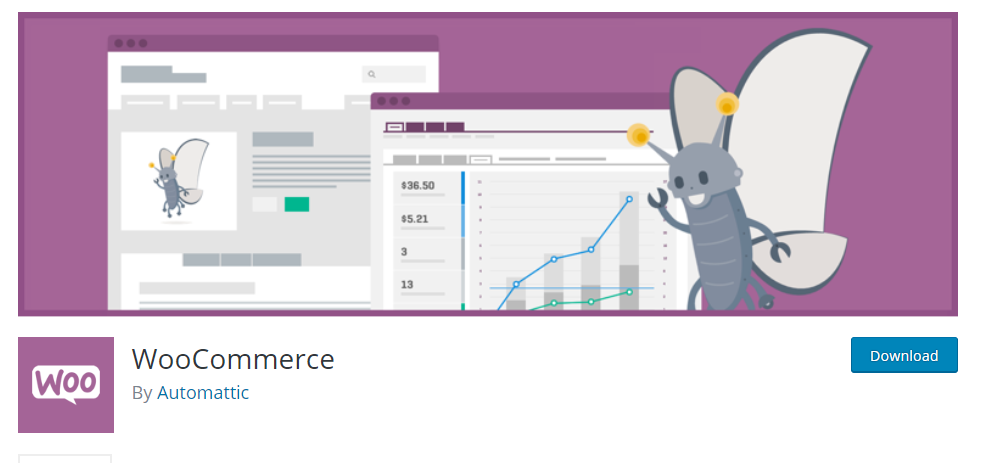 WooCommerce is one of the most popular e-commerce platforms that help its users sell digital and physical goods. It is a free plugin and helps in building and enhancing store within a couple of minutes. Let's look into some of the reasons you should choose WooCommerce.
Reasons to choose
It has more than 4 million active installations.
It can help you sell anything, anywhere; physical good, digital good, any share, size, product variation, multiple configuration affiliate goods and many more.
Helps you with shipping facility anywhere in the world; offer free shipping flat rate shipping or real-time calculations.
Offer a wide range of payment options; credit cards, PayPal, Bank transfer and cash on delivery.
Users have full control over their site; taxes, stock levels, customer accounts, modification in settings and design, enable /disable extension option.
Offers WordPress theme; storefront.
It provides full documentation that helps users build an online store with ease.
Most importantly, if you need any assistance or have an issue to resolve, their official forum is just winning it.
Here is our step by step guide on how to set up a woocommerce store on WordPress.
2. WP eCommerce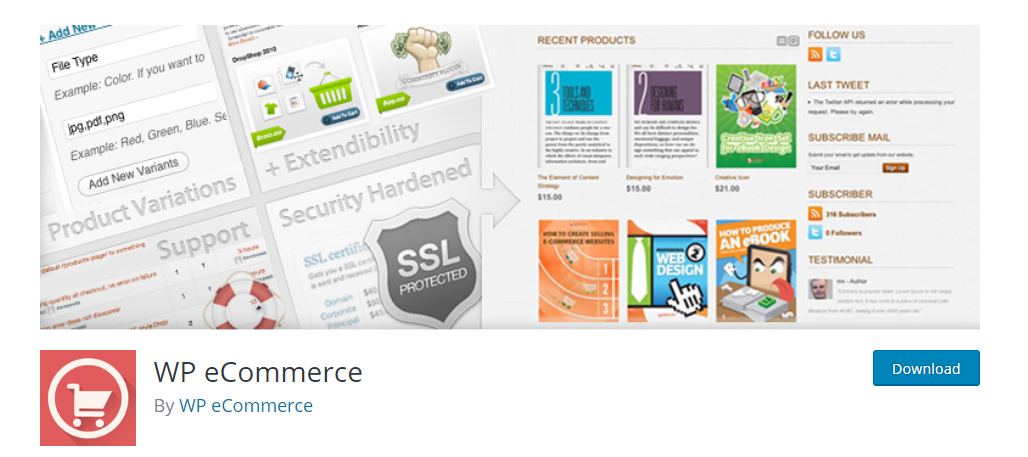 WP eCommerce is another remarkable e-commerce plugin that has helped entrepreneurs sell digital downloads physical inventory, subscriptions, and memberships.
This plugin has attained a 4.4-star rating and has achieved more than 20,000 active installations. Let's look into the reasons why it is getting so popular in the e-commerce world.
 Reasons to choose
Built-in tools to manage your orders and catalogs
Built-in marketing tool to help you sell fast
Offers a wide range of HTML and CSS customization options
Offers various payment gateway methods
Integrates with multiple WordPress plugins
It integrates with well-known couriers and has inbuilt shipping tool
Provides users with numerous hooks; so you can customize your site your way.
It is one of the oldest WordPress plugins, but there has been a notified switching rate observed among users. Users complain that it doesn't hold many extensions. Thus people lose their interest and opt for others in line.
3. MarketPress – WordPress eCommerce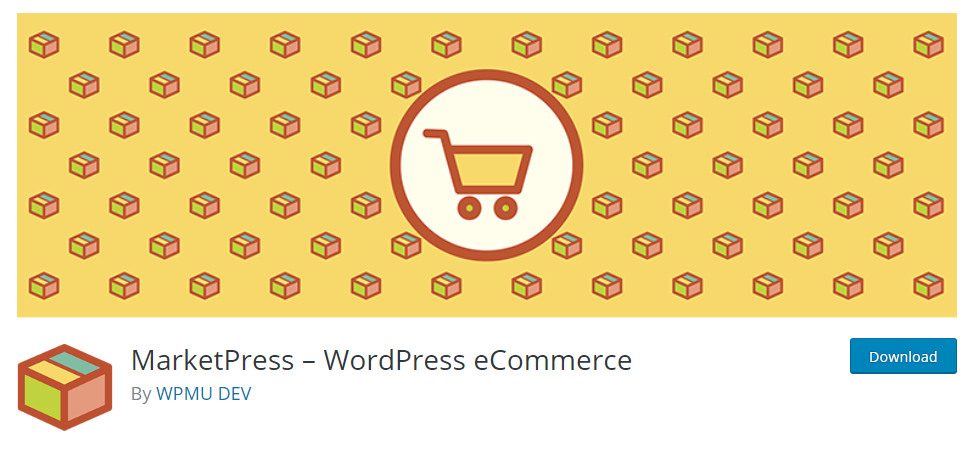 MarketPress E-commerce is another remarkable WordPress plugin that helps its users sell digital downloads, physical goods in all shapes and sizes. It offers various product range and instant download facility for its users, so users can avail everything under one roof.
It is the only premium online store that is offering its services for free. No extensions, no add-ons. Amazing right?
Let's look some more reasons why there is so much hype about MarketPress eCommerce.
Reasons to choose:
Offers 15 payment gateways and 120 different currency options
Provides a single page checkout
Offers coupons, discounts, and affiliate ready options
Offers customization facility without code option
It is multi-site and BuddyPress compatible
Fully integrated with Google universal analytics e-commerce tracking
Allows social media sharing; Pinterest, Facebook, and Twitter share buttons
Most importantly, it has an in-built automatic inventory management system. So, whenever you are running out of stock; the marketplace will inform you. Moreover, when the products are out of stock, it will automatically hide the products.
So what are you thinking?
Avail its features today. Click here and install this incredible e-commerce solution.
Unfortunately, MarketPress is facing criticism, since it does not hold any extension store. People are prune to add-ons and extensions, and thus they cannot digest that this plugin is not providing an extension store.
What do you say? Are add-ons and extension necessary? Let us know in the comment below.
4. WP Shopping Cart And eCommerce Store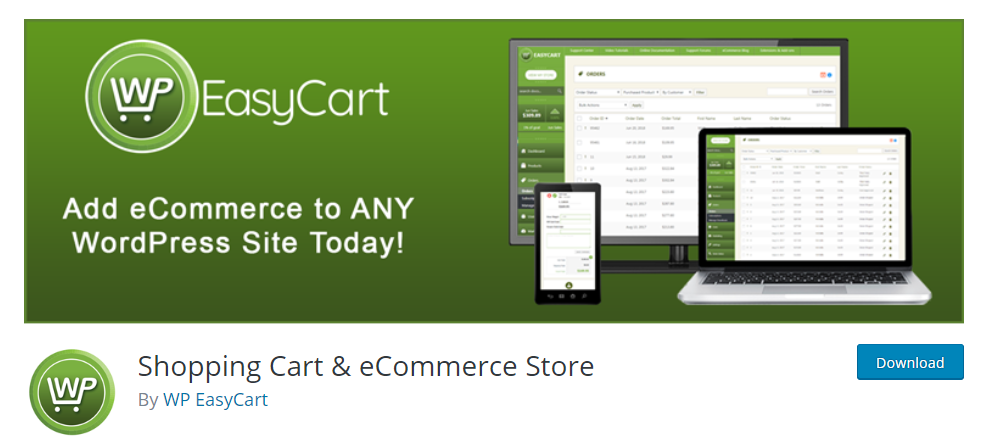 WP Shopping Cart and eCommerce Store is a comparatively new plugin that has not yet gained a lot of attention in the e-commerce world. WooCommerce, Cart66, Easy Digital are some of the known and popular e-commerce stores that cater to big businesses. However, there are no remarkable plugins available that cater to the needs of small business owners. Thus, this is where WP shopping cart and e-commerce stepped in. WP Easy Cart is built for small business owners. It runs on WordPress, provides a quick configuration process, and exhibits simple, easy tools. Thus, those newbies or non-developers if you want fast results, quick and simple computation; WP Easy Cart is the right choice for you.
Reasons to choose:
Offers unlimited products and tools like taxes, product variants and selling videos for free
Provides three different shopping cart edition; free e-commerce edition, professional e-commerce edition, and premium e-commerce edition.
Free shopping cart edition helps users manage orders within its WordPress; print sales receipts, packaging slips, add shipping notes, email customers and view order information.
It is an incredible SEO marketing plugin that helps users edit every product, menu, and category with SEO.
It's extensions are built with keeping small businesses in mind. Affiliate WP, mail; chimp, quick books, stamps.com and group importer are some of its extensions.
Offers excellent customer support that is backed by active forums, video tutorials, email, and phone representation
It has the easiest and simple interface that can help small business owners launch their site quickly, efficiently and effectively.
WP Easy Cart offers incredible shopping cart plugin, but its extension and premium offers are not convenient for small business owners. It premium version features are just amazing but at the cost of $69. Isn't that too much?
5. eCommerce Product Catalog Plugin For WordPress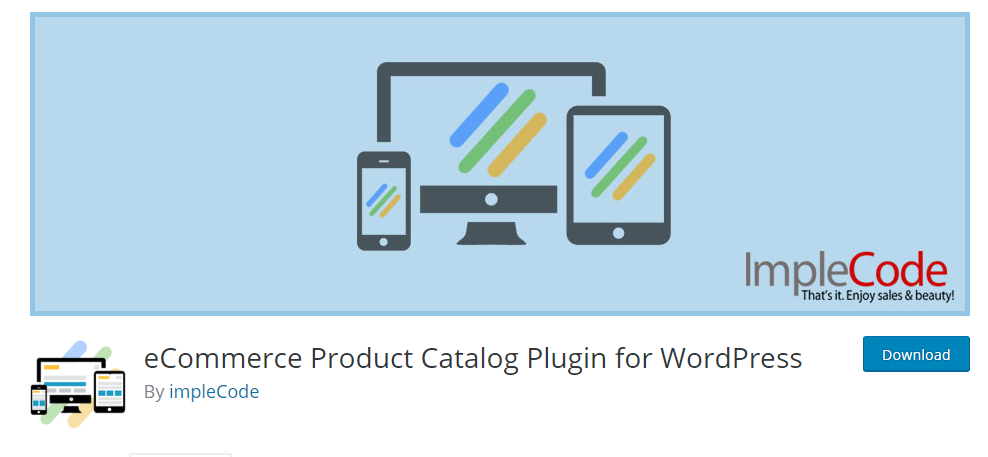 E-commerce Product Catalog is another recommendation you must adhere to. It has attained more than 10,000 active installations and has secured a 4.4-star rating from its users. Let's look into some of the reasons, this plugin can help you.
Reasons to choose:
It is suitable for beginners and developers; it offers high-quality code, beautiful designs, detailed documentation, and excellent customer support.
It is compatible with any WordPress theme and most of the WordPress plugins available
Offers an unlimited number of the product; the product display can be divided into several pages according to your will.
It is SEO-friendly; equipped with SEO optimized product pages, meta tags, schema.org rich snippet, product feed and much more
Offers 3 product listing templates and 2 product page templates
Provides user-friendly product categories
Compatible with major browsers
And much more….
Product catalog faces one drawback; it is not compatible with Yoast SEO.
If you want to know more about the product category, click here.
6. WordPress Simple PayPal Shopping Cart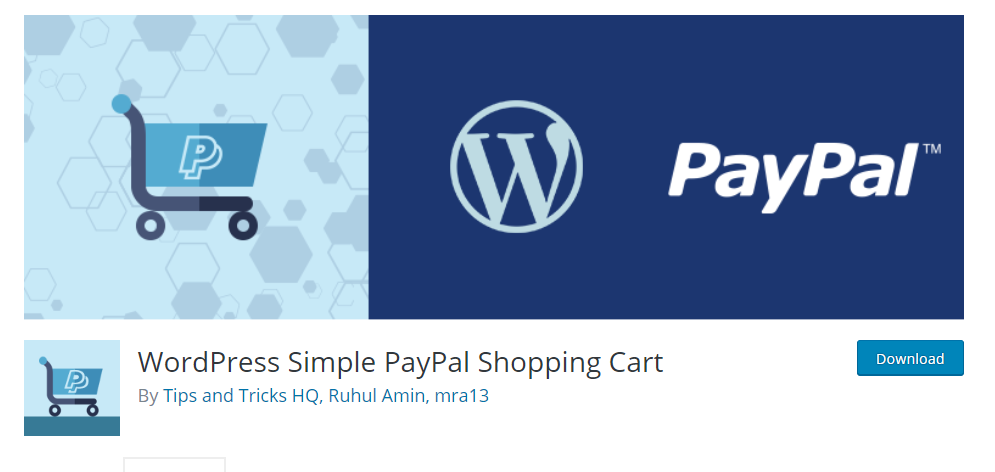 WordPress Simple PayPal Shopping Cart comes with a remarkable feature; ''Add To Cart Button'. So, if you want to turn your WP blog into an e-commerce site; just install this plugin. This simple PayPal shopping cart plugin will help you add a cart button on your site on any post or any page.
Now, would do you say? Want to know more about this shopping cart plugin?
Reasons to choose:
You can add/display the shopping cart on any post, page or sidebar anywhere you want.
The users can add, remove and view products in the shopping cart
It is simple, versatile and easy to use
Easily create products with shortcodes.
It is responsive if you are using with a responsive theme
It is inbuilt with lightweight solutions, so it won't slow down your site
Offers smart PayPal payment button option
Also allows photographers to their photos from the gallery.
Want to know some of its features?
This shopping cart plugin fails to provide detailed documentation. Thus, some users face obstacles while working with it.
7. Ecwid Ecommerce Shopping Cart
Ecwid E-commerce Shopping Cart is an incredible online store that is easy to use and is friendly to the new Gutenberg editor. Ecwid can be used on any website you like, and it offers far more built-in features than another WordPress plugin for free. On the other hand, if you look at its premium plan, they stick to a reasonable monthly plan. it is known as among the best WordPress e-commerce plugins. Want to know why?
Reasons to choose:
It offers a free plan for 10 products; beautiful installation process, and an easy interface
Mobile responsive
It can integrate with most website builders and content management systems
Excellent support system; offers phone, chat support and priority support
It automatically upgrades the plugin
Helps users sell from multiple sales channels
Provides a wide range of options; the mobile point of sales, online marketplaces, a regular pint of sales, eBay, and Google shopping.
Installing Ecwid will transfer all your store data to a different site, and synced it; so selling occurs at multiple channels.
Most importantly, it has attained more than 1 million sellers, operates in 175 countries, supports 45 languages and offers more than 40 payment options. So, what do you say?
Hit it or lose it?
However, Ecwid faces a significant drawback; its multiple store issues create ambiguity for specific users. They have to continually log in and log out different stores in their browser. Thereby creating frustration and irritation.
Wrapping Up
Generally, WooCommerce is a remarkable e-commerce plugin that has won its reputation in e-commerce solution. Whereas, the simple PayPal shopping cart comes up with a new shopping cart plugin feature that is attracting attention.
But, that doesn't mean they are my favorite or the right choice for you. Every WordPress plugin is recommended something new, unique and distinct. Set your pace, and chose that suits you best.
Hopefully, this article helped you. you may also want to check out our picks for top shop cart plugins.