Creating an online presence for your brick-and-mortar business is crucial if you want to survive in this digital day and age. But problems arise when you try to convey to your visitors where you store (or stores) are located. In this regard, if you are using a WordPress website, then installing a store locator plugin can be of excellent use.
Why Should You Use A Store Locator Plugin For WordPress?
A store locator plugin will help you integrate a functional map along with many more options to provide a visual representation of your physical business. And even if you are not a business owner, having a map coupled with store location functionalities can be an asset for yellow pages websites, and online directories for increasing their UI and UX.
And so, for the purpose of this read, we have put together a shortlist of some of the best store locator plugins for WordPress. So without further ado, let's get started:
Top Store Locator Plugins
1. WP Store Locator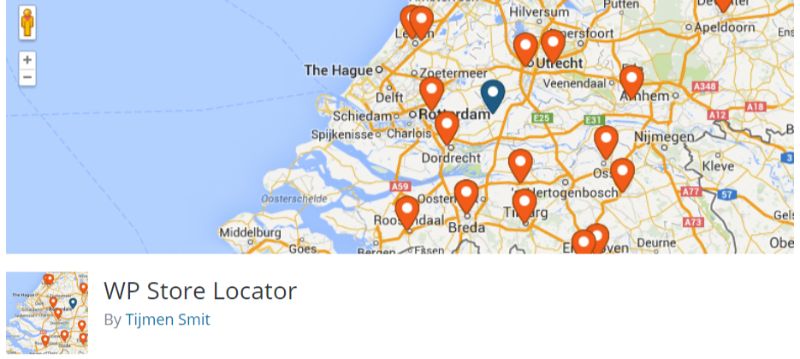 Starting off our list, we have the WP Store Locator plugin for WordPress. It integrates a powerful and easy to use location management system which you can use to display a map on your website. You will also get access to a bunch of options and settings that will let you tweak the appearance of the map, enter custom fields, filter results by radius, get driving directions, and much more.
As such the plugin is excellent if you are running a yellow pages website for local stores and businesses. Alternatively, you can also use the plugin to help users find different outlets of your multi-store business. In fact, the plugin allows support for an unlimited number of stores, with the option to add in a corresponding phone number, fax, email address, website URL, and so on.
Features:
Support for a wide variety of map styles.
Option to show Google maps with support for various languages.
Geolocation API built-in to track user location to showcase nearby stores.
Developer friendly with access to various filters and hooks to help add new features.
And much more.
2. Store Locator WordPress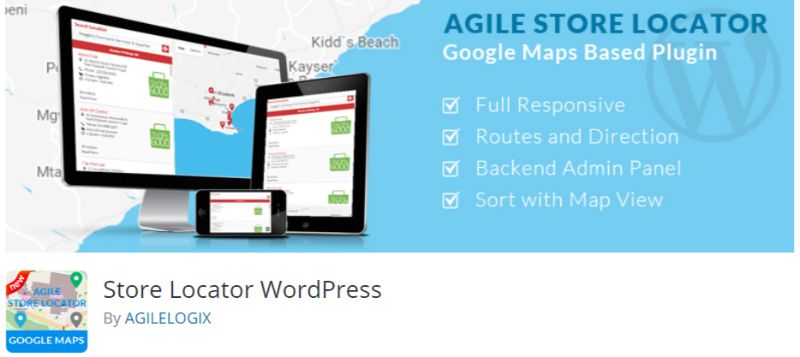 Agile Store Locator plugin for WordPress websites offers Google Maps V3 integration which can show users all of your stores in a particular locale. The plugin even includes a store and category manager which you can use add potentially unlimited stores and manage them seamlessly.
The plugin will also help users find the most relevant stores based around accurate geolocations and the corresponding inquiry. And all these functionalities are available for free with the basic version of the plugin. In case you want access to more advanced options, then a premium variant is available as well.
Features:
Helps integrate responsive Google Maps in your WordPress website.
Can help users find routes and directions to a particular store.
Option to sort map view.
Access to statistics to show data on user searches, popular stores, top locations, and so on. (premium)
5 different themes to customize the store locator. (premium)
And much more.
3. Store Locator Plus for WordPress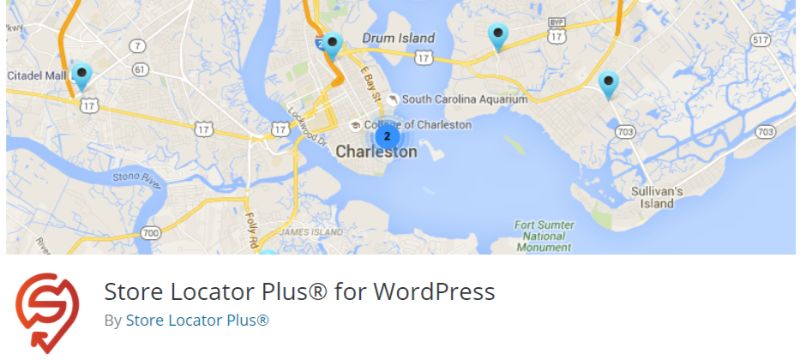 Store Locator Plus WordPress plugin is ideal for yellow pages and aggregator websites. You can use it to showcase tens of thousands of stores located worldwide and offer detailed information regarding each of these stores to your user base. The plugin also comes packed with plenty of customization options to help you tweak location search and directory building options.
In fact, you will get access to all necessary bells and whistles to create a powerful location finder and management system on your website – and that too for free! And in case you need to access a few more powerful tools and functionalities, then that too can be managed by installing premium add-ons.
Features:
Helps you incorporate a location finder functionality in your website.
Can be used to showcase potentially unlimited stores.
Developer-friendly: option to customize the look and feel of the location finder using custom CSS and HTML.
Premium add-ons to help you integrate enterprise location management and reporting functionalities and much more. (premium)
4. SimpleMap Store Locator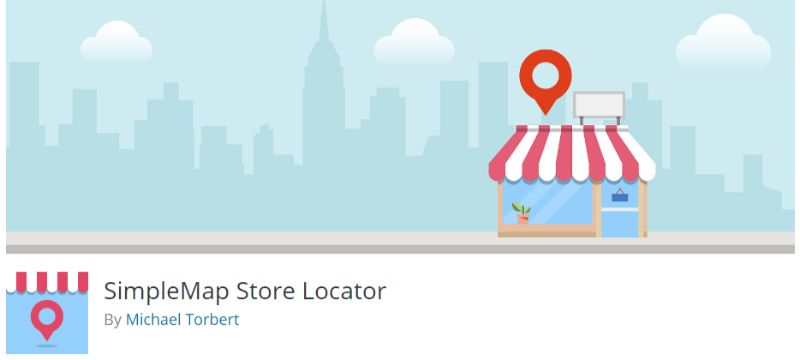 Simple Store Locator plugin can help you set up an SEO optimized international store locator on your WordPress website. Packed with plenty of customization options to tweak the layout, coupled with an easy to use interface, the plugin can help you to improve the UI/UX of your website. And at the same time, thanks to following all the best SEO practices, it can also help you rank higher on search engines.
Notable options include support for setting up an unlimited number of stores with dedicated options to manage the details for each location. On top of that, you will also get access to SEO settings that will help you insert metadata for each location. Appearance wise, the location finder will inherit the design and color scheme of your default WordPress theme.
Features:
Google Maps integration to show the location of different stores on your website.
SEO optimization options for different businesses.
Option to add details about different stores.
Maps can be added to any page or post type.
Design of store finder will be inherited from the theme in use.
And much more.
5. Locatoraid Store Locator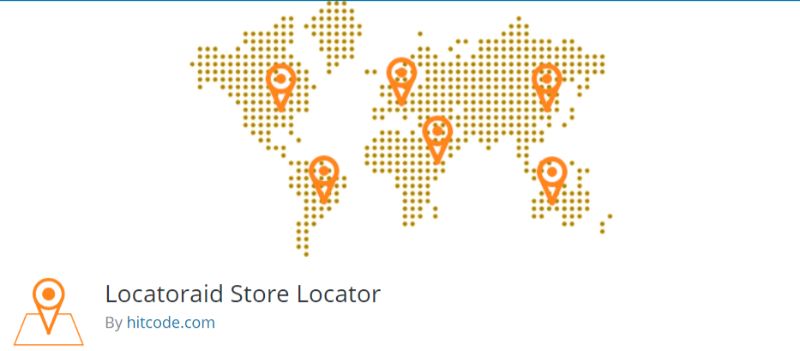 Locatoraid Store Locator plugin can help users find stores, dealer, hotels, restaurants, and different other business directly from a map interface on your WordPress website. This makes the plugin an ideal choice for local yellow page websites or directory websites. On top of that, the plugin is super lightweight and doesn't affect your site's performance or loading speeds.
Features of the plugin are divided between a free version and a paid version. For most average use cases, the free version of the plugin will more than suffice. However, if you are looking for access to more advanced functionalities, then you might want to take a look at the premium option.
Features:
Helps add mobile-friendly maps on your site to function as a store locator.
Custom maps styles with plenty of customization options.
Shortcode support with access to different parameters determining the look and feel of the maps.
Works for over 200 countries.
Add up to 10 custom field for each store or location. (premium)
Option to assign products to categorize the locations. (premium)
Support for custom map icons. (premium)
And much more.
6. Google Maps Bank : WP Google Maps Plugin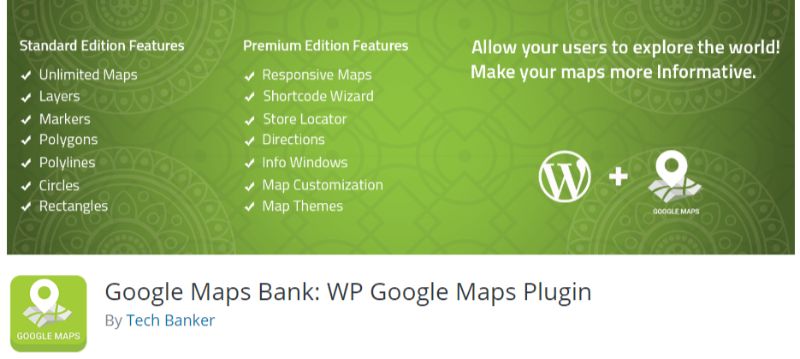 Google Maps Bank, as you can guess by the name, integrates a Google Maps API v3 on your WordPress website to help you create and display maps. The store locator plugin packs in a lot of advanced options that not only allows you to create unlimited maps to showcase different stores, but also make them more engaging by adding markers, polylines, circles, and even polygons.
The main feature highlight of the plugin is its access to a boat-load of customization options which lets you create attractive maps on your site. On top of that, you can use over 807 marker icons to highlight different stores and locations. You can even add an info-window to provide more information about each place.
Features:
Powered by Google Maps API v3.
Allows you to create unlimited maps and populate them with unlimited locations.
All maps created using the plugin are responsive and mobile-friendly.
Dedicated store locator options to allow users to search for stores filtered by address, radius, and even marker category.
Option to add more details about a place using an info-window.
Heatmap layers.
And much more.
7. 10Web Google Maps – Google Maps builder Plugin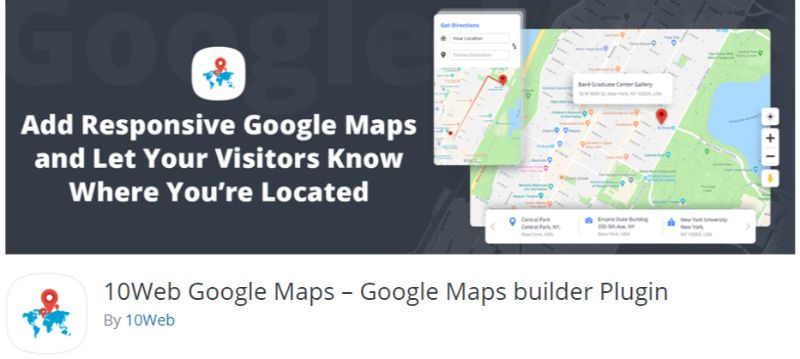 The Google Maps WordPress plugin by 10Web not only helps you add unlimited Google Maps on your website but allows you to create a dedicated store locator out of it. But with that being said, the main feature highlight for the plugin comes with its abundant collection of customization options including a dedicated map builder.
Using the map builder you can add different markers and customize the look and feel of the different maps on your website. You will even get access to a marker icon builder and theme support to personalize the maps even further. All in all, if you are looking to incorporate unique maps on your website, then the plugin is definitely worth a consideration.
Features:
Option to create unlimited responsive maps powered by Google Maps.
Access to a dedicated map builder with plenty of customization options.
Support for all different map types including road, traffic, terrain, and satellite.
Dedicated store locator functionality built into each map.
Can show directions to selected stores. (premium)
Support for skins and themes for added personalization. (premium)
Marker icon builder. (premium)
And much more.
8. Locations
And for the final store locator plugin for WordPress, we have Locations. It comes with all necessary bells and whistles to help you build a dedicated locations page on your site complete with a dedicated map and contact information. As such it is the perfect plugin for business based websites for showing users the location of your physical store(s).
You will get access to all the necessary fields to enter your business address, phone number, fax number, email address, and much more. Furthermore, since the plugin helps to create a dedicated location page on your site, design-wise it inherits your theme's default CSS settings. But with that being said, shortcode support is also included to allow users to simply integrate the map in any of the pages or posts.
Features:
Create a dedicated location page complete with a map and contact details.
Design and looks of the page are inherited from the theme in use.
Powerful location management tools which allow you to include extra fields to highlight your location.
Shortcode support to insert only the map in any of your pages or posts.
Store locator functionality. (premium)
And much more.
In Conclusion
So these were our picks for the 8 best store locator plugins for WordPress. Do let us know which ones you liked and plan to implement on your website. More experienced users are welcome to share their insight if they have used any of the plugins on the list. Your input will be highly appreciated and it might help a fellow reader with their decision.
Now you are all set to add your business address to your WordPress site.