Social Media has become an integral part of everyday life. Not only is it the place where most people hang out during their leisure hours, but it also proves to be an excellent marketing platform. This is why we will be looking at WordPress plugins that will help you integrate Social Media Feed Widget on your WordPress website.
Using it you can showcase everything new and happening on your social media profile. This can help increase your social media followers and improve social shares. Or it can help develop a more personal connection between you and your customers.
Whatever be the reason, this is surely something you should consider, especially standing in 2019. So without further ado, here is our list of the top 10 social media feed widget WordPress plugins:
Top 10 Social Media Feed Widget Plugins
1. Flow-Flow Social Stream
Flow-Flow gives you a powerful and user-friendly way to customize social media feed to your needs and specifications. With Flow-Flow you can aggregate, filter, and display multiple feeds on your WordPress website in minutes. WordPress Facebook feed along with Instagram feed, Youtube feed and other feeds can be all mixed in one social media wall that becomes a must-have section for e-commerce, personal brand and many other types of websites.
2. Feed Them Social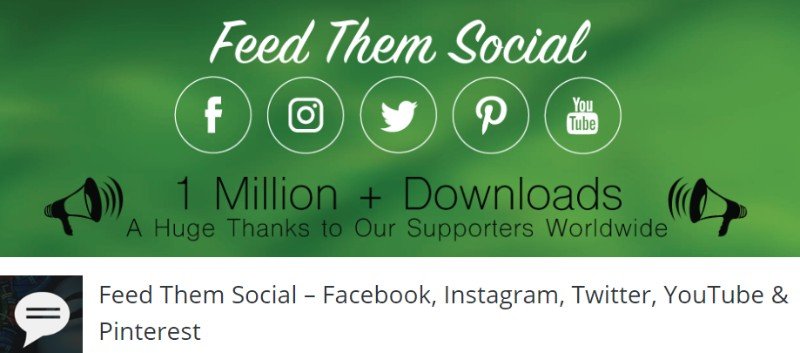 Feed Them Social is an easy to use free WordPress plugin which helps you integrate social media feeds on your website. And with over 1 million downloads, it is one of the most popular plugins for the job.
Feature-wise, it will help you integrate a social media feed widget for popular social media networks including Facebook, Twitter, YouTube & Pinterest. All necessary functionalities are bundled in for free, along with support for paid extensions in case you need advanced options.
Features:
Easy to install and setup.
Option to add unlimited social feeds as you like.
Add a like or follow button along with your feeds.
Support for premium add-ons for advanced functionalities.
Shortcode generator built-in.
And much more.
3. WP Social Feed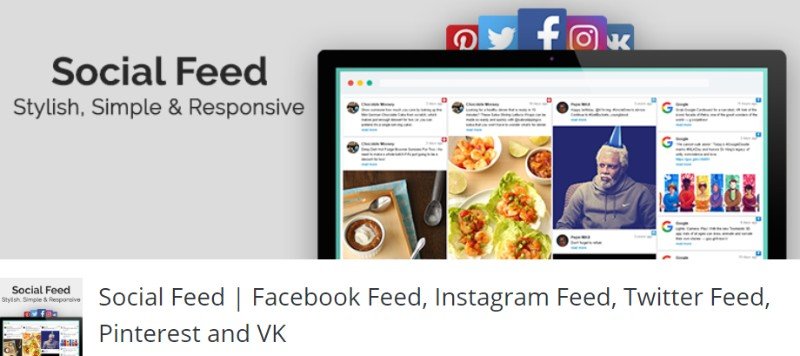 WP Social Feed allows you to seamlessly gather social feeds from your different social media accounts, and broadcast them on your WordPress website. With the plugin installed, you will be able to create a social media feed widget for your different social media accounts.
This includes the ability to display public Facebook pages, your Instagram account, your Twitter with Twitter hashtags, your Pinterest Boards & pins, and your VK account. And in case you think Widgets are limiting, then shortcode support is also provided.
Features:
Create potentially unlimited social feeds for your site.
Option to show/hide your display picture from the feed.
Option to specify a set number of posts to display on social feeds.
Present social feeds in a vertical style, blog style, or a Masonry layout.
Option to show/hide post date and even change post date language.
And much more.
4. 10Web Instagram Feed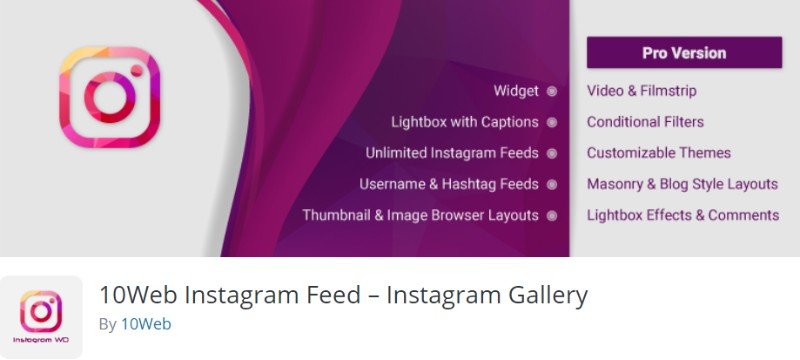 Here we have a social media feed widget that is only concerned with your Instagram. The 10Web Instagram Feed WordPress plugin offers a simple and concise way to showcase all your activity on Instagram directly on your website.
Now, the plugin is available in both a free version as well as a paid version. However, the free version offers a comprehensive array of features which should be more than enough for casual users.
Features:
Installs a customizable Instagram Feed Widget on your site's sidebar.
Option to showcase any number of Instagram feeds on a single page.
Supports masonry and blog layouts. (premium)
Functional lightbox with 15 effects. (effects are premium)
Premade theme. (premium)
In-depth metadata. (premium)
Supports infinite scrolling and pagination.
Allows users to download and share directly from the lightbox. (premium)
Mobile-friendly
5. Instagram Feed by Smash Balloon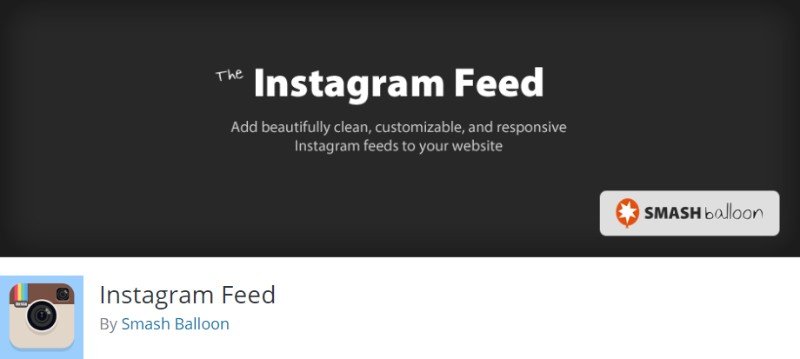 Instagram Feed by Smash Balloon is by far one of the most powerful and popular social media feed plugins for WordPress. As you can guess by the name, the plugin only functions to help showcase Instagram content on your website.
The plugin can help you showcase posts from your Instagram account either in a single feed or divide them into different feeds. You also get full customization control over how the feed looks and feels.
Features:
Option to set up multiple Instagram accounts simultaneously in the same feed.
Fully customizable with granular control over dimensions, color, image, spacing, and many more.
Option to add your custom CSS and JavaScript for further customization.
Supports both widgets as well as shortcodes.
Support for infinite scrolling.
Create a shoppable Instagram feed. (premium)
Access to masonry and highlight layouts for your feed. (premium)
Option to display the number of likes and comments on each post. (premium)
And much more.
6. 10Web Facebook Feed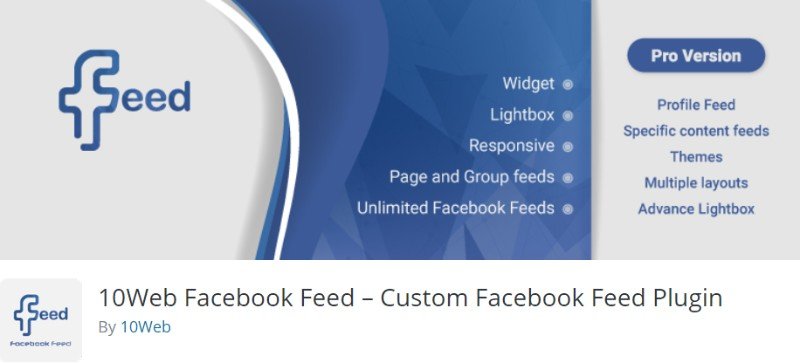 10Web Facebook Feed comes from the same team of developers who created the 10Web Instagram Feed plugin we discussed earlier. Likewise, the list of features is also shared between the two plugins.
Here too, you will have the option to display your Facebook feed either on a dedicated page or as a widget in your sidebar. Furthermore, basic and advanced features are also separated between a free and pro version.
Features:
Fetches all your Facebook posts and displays on your website.
Option to showcase feed in a page or as a widget on your sidebar.
New posts are added to feed automatically as they are published on Facebook.
Support for custom layouts including thumbnail, compact album, blog style, and masonry layout. (premium)
Lightbox (premium)
Option to add share buttons in posts. (premium)
Mobile-friendly
And much more.
7. Custom Facebook Feed by Smash Balloon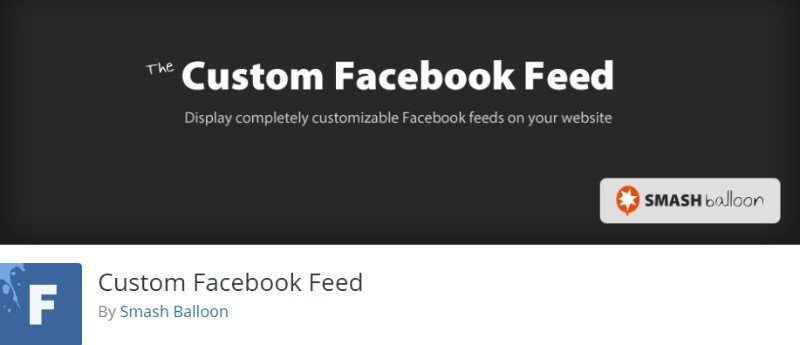 Custom Facebook Feed WordPress plugin allows you to integrate customizable Facebook feeds on your website which is completely crawlable by search engines. You even have support to display as many feeds you like from different public Facebook pages.
Besides this, customization options are also plentiful. You can tweak the feeds' look and feel to completely match your site's aesthetic. And best of all, you can do all this for free. A few more advanced options are also accessible, but you will have to buy the pro version.
Features:
Ability to fetch and display posts from any Facebook page.
Completely customizable withtons of styling options and custom CSS.
SEO friendly feed – can be crawled by search engine bots.
Supports photos and videos. (premium)
Option to show likes,share counts, reactions, and comments on each Facebook post. (premium)
And much more.
8. Custom Twitter Feeds by Smash Balloon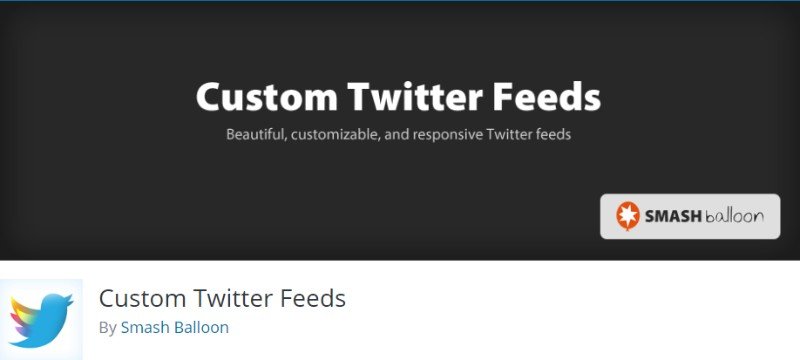 Being developed by the same team, Custom Twitter Feeds WordPress plugin brings over pretty much the same set of features and functionalities as that of our previous plugin. You will get all the necessary options to display a customizable Twitter Feed that is search engine crawlable.
You will have access to all necessary options to tweak the Feed to match your theme's design and style. It is also compatible with Twitter hashtags to help you fetch different posts for your feed.
Features:
Display any Twitter post from public profiles, your own account, or specific hashtags.
Option to set up different feeds to showcase on different pages or via widgets.
Option to insert posts from different sources into the same feed. (premium)
Support formasonry layout. (premium)
Lightbox (premium)
Plenty of customization options. By default, the feed will inherit the theme's styling.
And much more.
9. Facebook Feed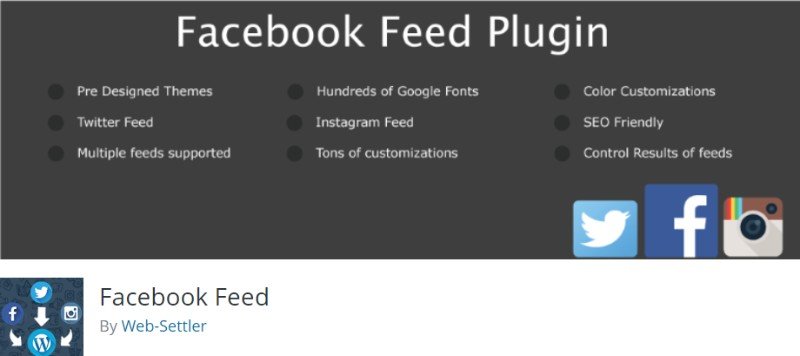 Despite its name, the Facebook Feed WordPress plugin will help you set up a Facebook, Instagram, as well as Twitter,  feeds on your site. However, the main feature highlight for the plugin is that updates from all social networks can be easily integrated into a single feed.
Other notable features include a vast array of customization options, an easy to use interface to manage all feeds, shortcode support to easily place the feed anywhere on your site and much more. A premium version is also available in case you want access to even more advanced functionalities.
Features:
Supports Facebook, Twitter, and Instagram Feeds.
Option to showcase posts from all three social media networks into a single feed.
Completely customizable.
Ability to hide personal details and security details from the feed.
Four premade themes for the Facebook Feed. (premium)
Control over what content is shown in the feed. (premium)
And much more.
10. Feed & LikeBox For Facebook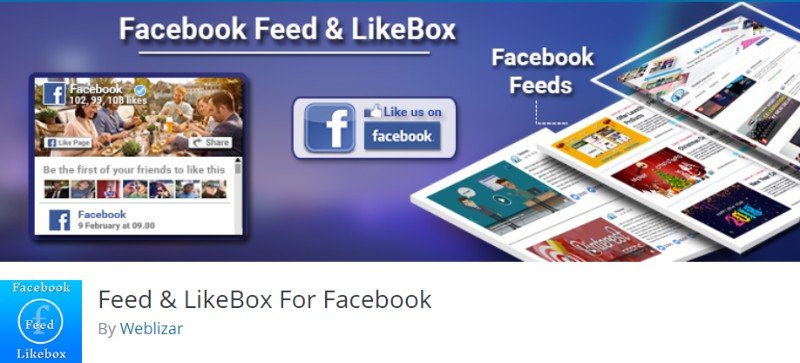 And for the final option to set up a Social Media Feed Widget, we have Feed & Likebox for Facebook plugin. It uses widgets as well as shortcodes to set up a customizable Facebook feed, complete with a custom lightbox on your website.
You can show a Facebook feed from any public Facebook page which will get automatically updated as soon as any new content is published on the page. You can even make the user experience more immersive by going with the pro version of the plugin packed with many more advanced functionalities.
Features:
Customization control over Facebook feed.
Facebook feed is crawlable by search engine bots.
Support for unlimited posts per page/post. (premium)
Option to show complete Facebook feed on the website. (premium)
Over 9 different lightbox (premium)
An array of different Loading and Hover effects. (premium)
Support for lightbox widgets. (premium)
And much more.
In Conclusion
So this was our list for the 10 best social media feed widget for WordPress. Do let us know if you found the read to be helpful, and which plugin you picked to help integrate a social media feed on your website.
Also, users who are familiar with the plugins, mentioned above, are encouraged to share their experience in the comment section. The same also goes for users who have used other similar plugins. Your contribution will be highly appreciated, and it might help your fellow readers decide on which plugin they want for their own project.
You may also want to connect your Facebook Fan page to your WordPress site.