Booking an appointment at a salon or making a reservation in a local restaurant had been a long awaiting process; but not anymore! Due to WordPress booking plugins, now booking an appointment or and making a reservation online is neither fancy nor technical. Instead, they are simple, easy to use and handy booking plugins.
All you have to do is setting up a WordPress site if you don't have one yet, and install a WordPress booking plugin. Then it will transform your WordPress site into a fully-functional online reservation booking system. These WordPress plugins are effective, efficient and will create an outstanding reputation of your business among your customers, visitors, partners and competitors.
Want to achieve this niche?
Please take a look at our best WordPress booking plugins that will help you manage online appointments and reservation booking effectively. So restrain yourself from all the hassle, tension and look into our recommended booking plugins.
Let's dive in and know all about these WordPress booking plugins in detail.
Top Free WordPress Booking Plugins
1. Amelia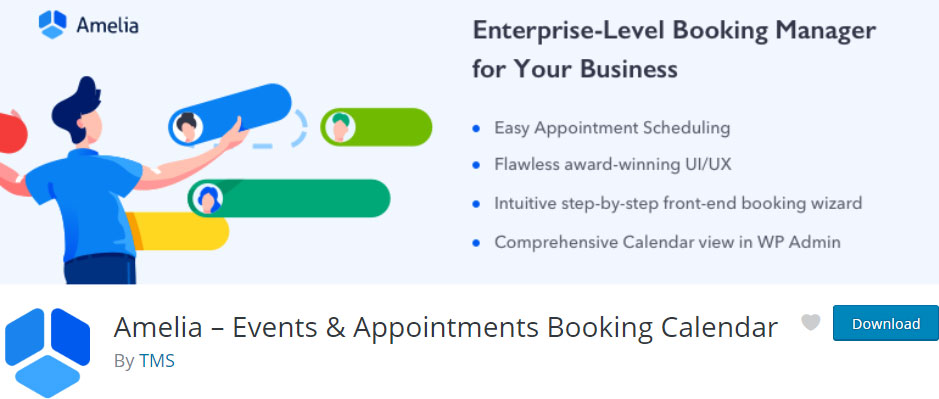 Amelia WordPress booking plugin is one of the most popular booking plugins around and that is for reason. Amelia offers a free version which might be suitable for solo players and small business. This free plugin is suitable for both appointments and events, with it you can automate the process of appointment scheduling with the award-winning design of booking forms that you can easily paste on your page with a shortcode. It is very popular for client scheduling (therapists, doctors, lawyers, gyms, photographers, yoga instructors, and many others) and event scheduling (conferences, recurring classes, events, parties).
The feature-rich premium version is available as a yearly subscription license or lifetime license. If you want to automate the booking process on your website for appointments and/or events this is a solution that will make no mistake and help you earn more happy customers.
Key features:
Insightful Dashboard with Approved and Pending appointments, Average Booking and Revenue
Add, edit and reschedule appointment form the backend
Email notifications for approved and pending appointments and events (More options available in full version)
Fully responsive design
Colors and customization
2. Booking Calendar
Booking Calendar is one of the oldest, yet still one of the most popular and reliable plugins even today. The core plugin is free and offers a wide range of features that an average business would need. So, if you are offering online services and want your customers to make an online booking within minutes; then booking calendar comes up with a clean and smooth interface. It provides a wide range of versions along with hundreds of features. It can automate the booking for your service. It is competent for resource scheduling (hotel and room bookings), equipment rentals (cars, computers, technics, etc), patient scheduling (doctors, parlour, and many more), meeting scheduling, event scheduling, client scheduling (photographers, salons, lawyers, and others), or any other reservation.
Want to know more?
Key features:
Easy to use booking admin panel where clients can manage booking in the admin panel
Offers booking calendar blocks for Gutenberg editor so that booking forms can add into pages
Allows users to import Google calendar events to their booking admin panel
Offers sync booking option
Offers fully responsive designs and prevents double booking
Users may customize the calendar legend and configure booking form
And much more….
Download Booking Calendar Today
3. Salon Booking System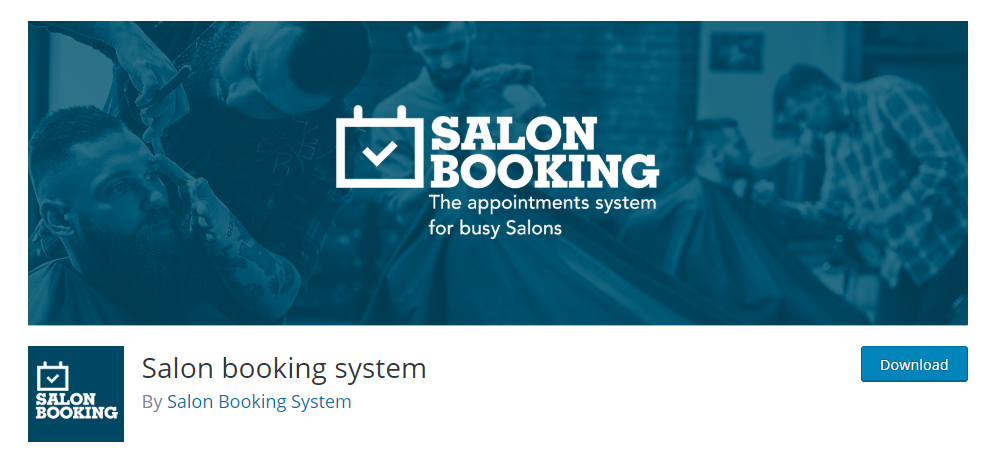 Do you own a salon, spa, car shop or a therapist clinic? Do you want to incorporate a Salon Booking System on your WordPress salon site? Then, this plugin is the perfect solution that provides high-end reservation system for a single person for the same day. It provides an intuitive backend booking calendar administrator for the incoming reservations.
Key features:
Sends users email, SMS and Whatsapp notification
Offers three booking methods; basic, advanced and high end
Provides a wide range of payment gateway options; online payments, pay later, percentage or fixed amount, automatic cancellation.
Stripe and PayPal gateway methods.
Enable users with numerous checkout options; enable guest checkout, force guest checkout, log in with a Facebook account, advanced discount system, and adding custom fields.
And much more…
Download Salon Booking System Today.
4. Hotel Booking Lite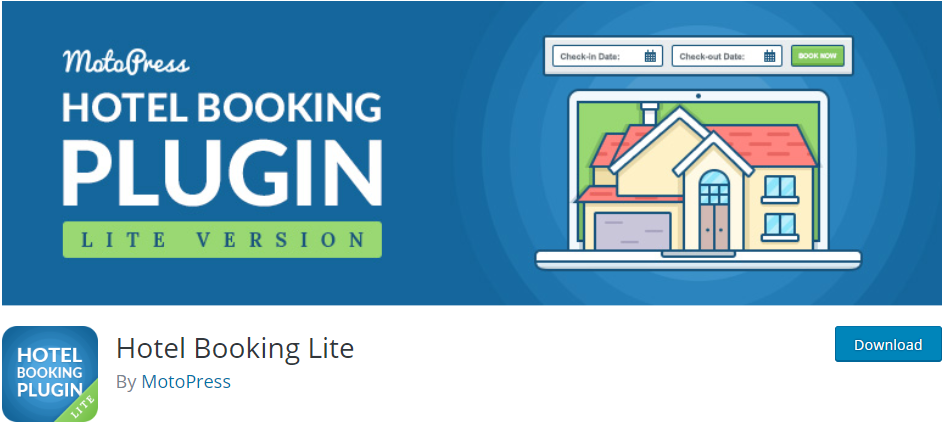 Hotel Booking Lite is a WordPress tool for all hotel owners who want to easily and quickly manage their online business. With this plugin it is possible to create accommodation listings, provide images and descriptions of each room, add taxes and fees, set a flexible pricing system, custom rules and more! 
Hotel Booking Lite enables you to receive payments either online via PayPal gateway, or offline. Providing you have some issues, you may always contact the technical support who will help you.
5. WP Simple Booking Calendar
WP Simple Booking Calendar is a simple WordPress plugin serving those who need a simple solution. This plugin only shows customers availability for your holiday home. It simply displays a booking calendar widget that shows the availability of the booking days. It also accepts bookings through a user-friendly interface that is multilingual support. Remember, this plugin doesn't allow online payments, so you have to accept offline payments.
However, if you avail their premium version, you can sync your booking calendars with third-party vacation rental apps like Airbnb, booking.com and Flipkey. Due to this sync, all the changes in the website booking calendar will automatically redirect to your third party accounts. Their premium version also offers an unlimited number of booking calendars, helps users display a legend near the calendar and provides a display tooltip with info. Moreover, their feature hide booking history from visitors, responsive calendar themes, and multiple calendar overviews option is our favorite.
Download WP Simple Booking Calendar Today!
6. Appointment Hour Booking – WordPress Booking Plugin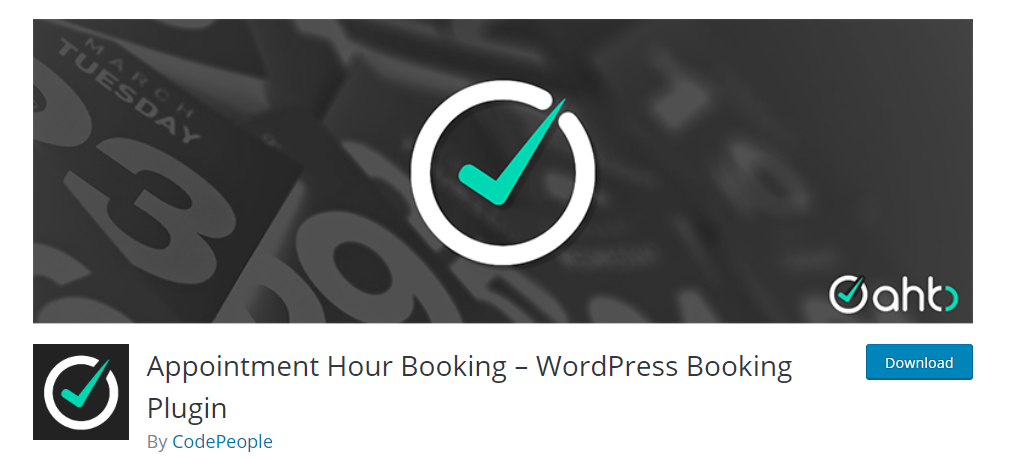 If you want to create booking forms for appointments with a start time and a defined duration; then Appointment Hour Booking is the best solution. This plugin is highly useful for booking medical services, personal training sessions, and booking rooms for events.  It entails any other services booking where start time and defined duration needs to set over a schedule. This plugin avoids double-booking, so if you are facing the hassle during your booking services; then avail Appointment Hour Booking. Its core features offer easy visual configuration of calendar data and schedules, supports the restriction of default, maximum and minimum dates, and many others. However, we like their form validity and anti-spam captcha protection, manual and automatic CSV report features.
However, if you require a visual form builder for creating booking form fields, or want to connect your booking form with a payment process; then avail their commercial version. They offer a wide range of add-on for integrating with additional services; MailChimp, Salesforce, WooCommerce and others.
Download Appointment Hour Booking Today!
7. Booking Calendar, Appointment Booking System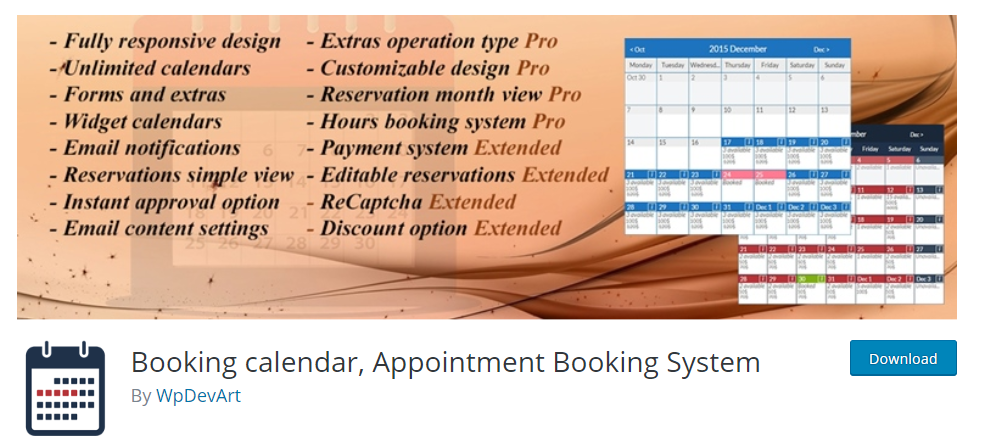 Appointment Booking System is a free, user-friendly booking plugin that can help users reserve booking and appointments for their WordPress site within minutes. It allows users to create a scheduling calendar for any booking services. It offers unlimited booking forms and widgets for reservation calendars. It provides users with a wide range of customized options where users can format the date, reservation field, set the time and much more.
Its free version offers thin features, whereas if you are looking for some extra ones; look into their pro version. Their pro version offers editable reservations and discounts tools. We like their maximum and minimum day reservation option, Google recaptcha, and multiple site license option. Their pro version costs $ 60 for a full payment system for a single website. It business version offers $ 90 for five site license and $120 for unlimited site license under the developer version. So, what do you want; free, personal, business or developer?
Download Appointment Booking System Today!
8. Pinpoint Booking System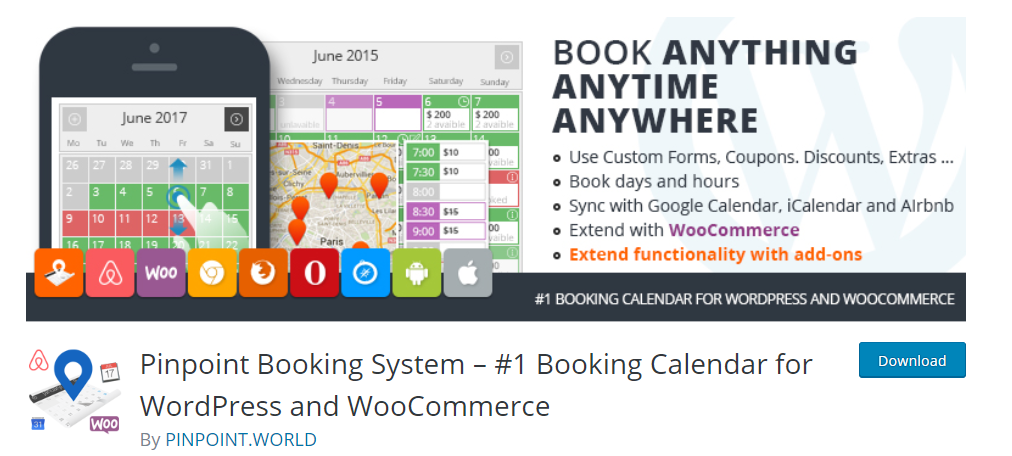 Pinpoint Booking System is another easy and simple to use booking plugin. It makes online booking rent accommodations, schedule services, book events, and making an online reservation for your WordPress site. It offers an amazing and unique AJAX booking calendar with a clean and friendly interface.
Are looking for a simple, effective, powerful and flexible reservation and booking system? There you have it! Pinpoint works great for small and big businesses and also for entrepreneurs. It offers a booking calendar where you can book days, hours and minutes according to your needs. It can also sync with Google calendar, iCalender and Airbnb. Pinpoint booking system is multi-lingual and multi-currency support. However, if you desire additional features; you may look into their premium version and add-ons.
Download Pinpoint Booking System Today
9. Advanced Booking Calendar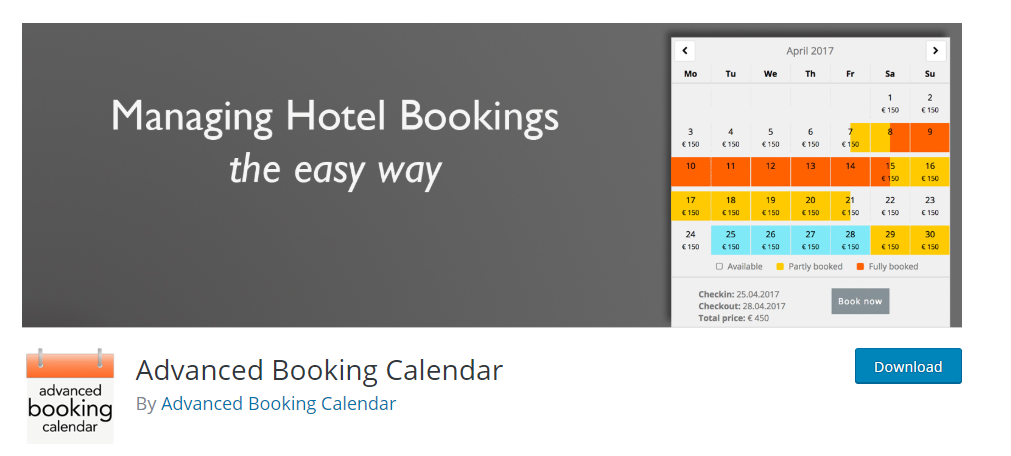 Advanced Booking Calendar is a fully responsive backend and frontend booking system made for hoteliers. So, if you want to integrate a modern online reservation system in your hotel; you have good news. It offers an automated booking system, booking calendar, and a booking form making your life easy and organized. It also provides an analytical function for identifying high seasons and helps you find the best price. It integrates with your own Google universal analytical account.
Is there something else simple booking plugin would offer? However, it's pro version offers loads of additional features; PayPal and stripe payment gateways, discounts, custom fields, export booking, MailChimp integration and much more for 65€ for one year.
Download Advanced Booking Calendar Today!
10. WP Hotel Booking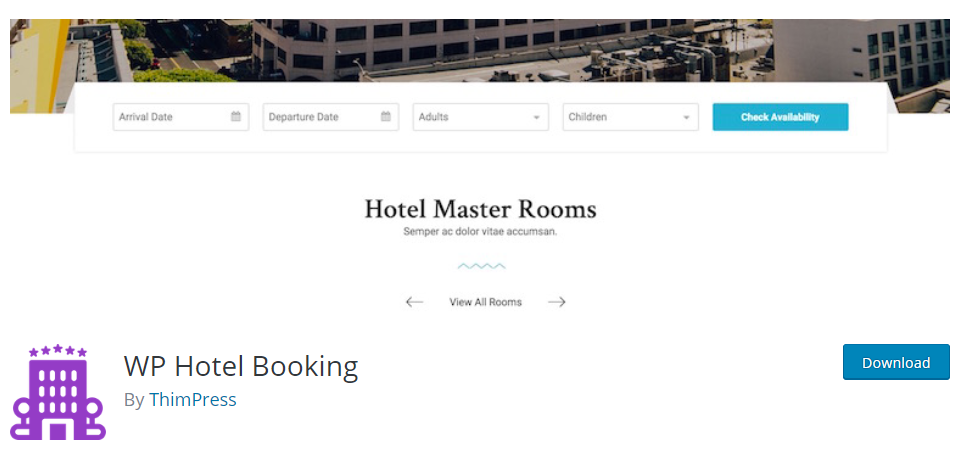 WP Hotel Booking is another recommendable hotel booking/ reservation plugin within our list. It is a complete hotel booking system that offers numerous hotel WordPress themes. Currently, it is offering hotel WP – Hotel WordPress Theme and Hotel Sailing Theme. However, it allows and welcomes developers to develop unique WordPress hotel themes. This plugin provides room management, booking management, customer management, coupon management and much more. It also enables four payment gateway methods; offline payment, authorize.net, PayPal and stipe.
However, to gain additional features avail of their free add-ons.
Download WP Hotel Booking Today!
11. Booking Ultra Pro Appointments Booking Calendar Plugin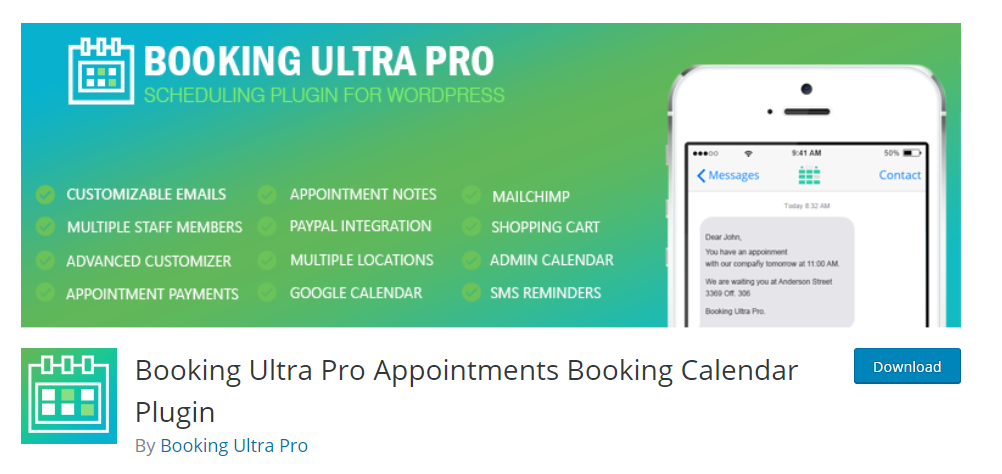 Booking Ultra Pro allows your customer to book appointments directly from your site. It creates a seamless customer booking experience, attracting new customers and retaining the existing ones. This plugin also allows users to run promotion; so you may directly promote your offering to your customers. So, you are directly offering the booking power at your client's hand. It is easy to use, offers customizable services and gives liberty and freedom to your employees. Ultra also offers excellent customer support via email and various optional add-ons for additional features.
12. Awe Booking – Hotel Booking System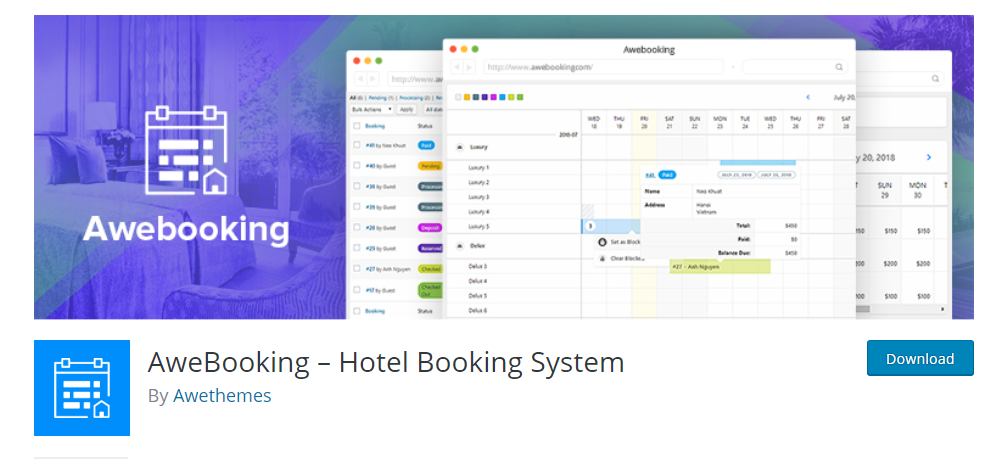 Awe Booking is another booking plugin for hotel, hostels, motel and hoteliers that require accommodation services. It offers an easy to use interface and helps users quickly and easily set their booking system. The core plugin provides all the essential features that can help you create an effective booking system. However, their premium version offers online payment, booking form builder, enhanced calendar, recaptcha, integration with MailChimp, icalender, simple reservation option and much more. You may also avail their premium add-ons and themes; they are worth the money.
Wrapping Up
Managing an online appointment is a crucial need for all businesses. Therefore, incorporating a robust booking plugin is necessary. We hope this article helped you find the best WordPress booking plugin for your website. If you have any queries regarding any plugin, we are always there to assist you.
Do let us know which plugin you choose for your site? Are you opting or a free plugin or a premium one?
Now you are all set to add a booking system for your online service in WordPress.