Free WordPress Website Backup and Migration Plugin
All in one Free WordPress backup plugin, securely backup your WordPress website to the leading cloud storage providers: Dropbox, Google Drive, Amazon S3, Microsoft OneDrive, DigitalOcean Spaces, FTP and SFTP. Migrate your WordPress site to a new domain with one click.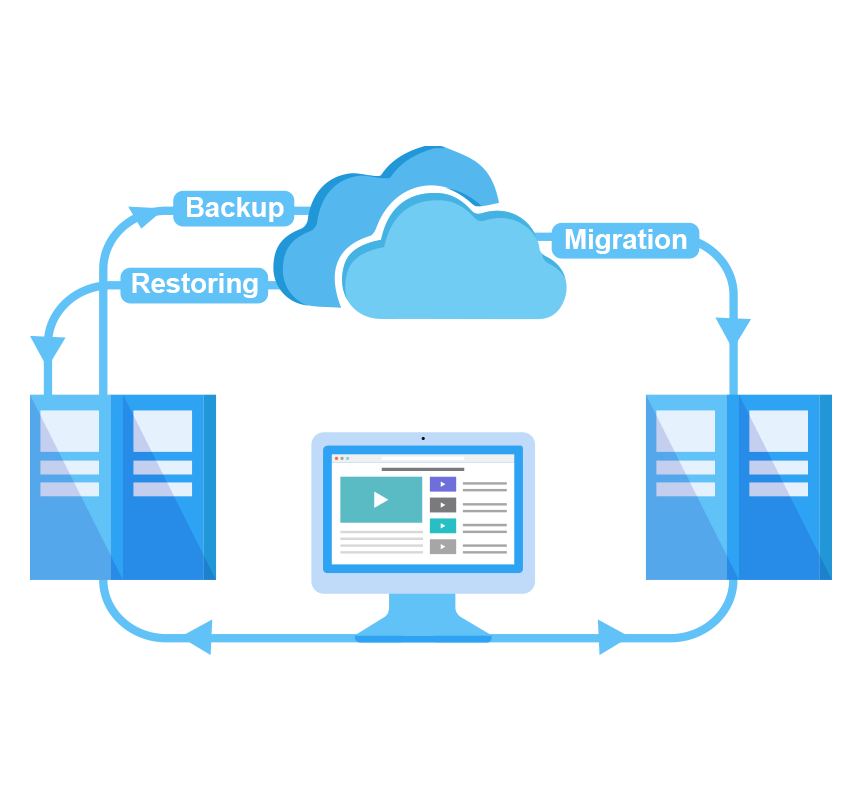 Core Features
 WPvivid Backup Plugin prepares you for the worst possible events that will require a quick restore of your files.

Setup and forget, the plugin will do the rest automatically backing up your website.
Cloud Storage Supported
We support the top rated cloud storage providers and are working hard to keep adding more.







Why Use WPvivid Backup Plugin

Easy to Use
Create or restore a backup or migrate your website with a single click.

Full Control
Set a size limit for each file. Files exceeding the size limit will not be backed up.

Large Database Support
Successfully  tested on up to 2GB database size.

Optimized for any host
Improve you backup success rate by creating backups based on your host limits.

Backup Limits
Freedom to set up to how many backup copies you want to keep on your servers.

Backup Splitting
Ability to split your backups into as many parts as you need, comes in handy if you have size limits.

No Limit of Backup Size
The only limits are your cloud storage and hosting account sizes. We do not limit you.

Backup to Localhost
Ability to create local backups.

Clean Temp Files
Cleanup all the temporary and junk files created during the backup and restoration process.

Schedule Automated Backups
Multiple backup schedule frequencies: every 12 hours, daily, weekly, bi-weekly, monthly.

Backup what you want
You are free to choose what to backup; the entire site, files or just the database only.

Download Backup
Want a local copy on your PC? Download your backups from your web server or cloud storage to your local devices.

Instant Email Report
Get Notified by email on the status of your back up after completion.

Log Files
The plugin keeps a trail of activities during the backup and restorations so you can easily troubleshoot it. If you need our help we shall ask you to send us this file.

Responsive Design
It works on all devices, phones tablets, PCs.

Here are answers to the typical questions we get.
In case you still have any queries, then drop us an email or a tweet.
How many cloud options does it support? Are they free to access?
Out of the box we support Dropbox, Google Drive, Amazon S3, Microsoft OneDrive, DigitalOcean Spaces, we also support FTP, SFTP methods which you can use on any other remote storage provider supporting these methods. We are working hard to add more soon.
Yes, all the cloud access is free.
Will there be updates, will they be free and how can I update to the latest version?
Yes, we are dedicated to creating a secure and robust solution and will regularly update the plugin. These will be available totally free and can be easily applied through your WP admin area once they are available.
Will the plugin work on my host?
If your website is running on WordPress then yes it will.
The plugin has been extensively tested on the shared and dedicated hosting plans from the leading website hosting providers like Godaddy, Siteground, and many others.
Will you charge for these existing features?
No, on the contrary we'll keep adding free cool features like website migration.
Does the plugin also migrate my site? Is the migration free?
Yes, it allows you to migrate a WordPress website to a new domain or host with a single click.
Yes, it is free to use.
Is the restore feature free?
Yes, absolutely. With no limits, no strings attached.
Do you provide support for the free version? Where?
Are there any tutorials I can follow to get started?
Can it back up large databases?
It totally depends on your definition of 'large', we've tested up to 2 GB database without any issues.
Will you release a premium version? What can I expect from it?
Yes, it is in the works. You will be notified when it is released. Expect add-ons for advanced users.
Try it now, or Get in touch