Do you want to create a business directory for your site?
If your website is powered by WordPress, you can easily achieve it by using a WordPress directory plugin. Like most of great plugins in WordPress plugin directory, directory plugins work excellent with no cost at all.
Choosing the right WordPress directory plugin is a crucial and sensitive task. There are several free and premium options available. Thus, making it hard to choose the right one. However, for your convenience, here is our top picks for the best WordPress business directory plugins.
So, are you ready?
Top Business Directory Plugins
1. Business Directory Plugin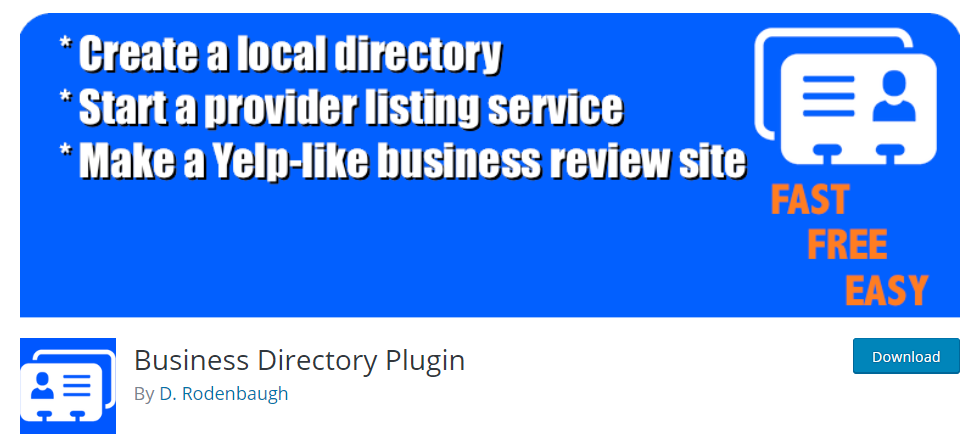 Business Directory Plugin is a free WordPress plugin that can help you create a business directory with ease. With the help of this plugin, you can retain your customer and attain more revenue through various possible channels. However, if you want to avail extra features, you need to purchase its premium version.
Features Of Business Directory Plugin
And much more…
If you want to view the detail features of its free and premium version. Log on to Business Directory Plugin.
Now let's look into some reasons why you may avail this plugin
Reasons To Avail This Plugin  
Its free version offers a wide range of features that are highly effective and efficient and serves a purpose for many
The core plugin supports payment plan.
Allows users to make customizable directory submission forms according to their desires
Allows big business to upload a CSV
Offers a wide range of image options
Allows front end submission; so avoids hassle and backend modification.
2. Geo Directory – Business Directory Plugin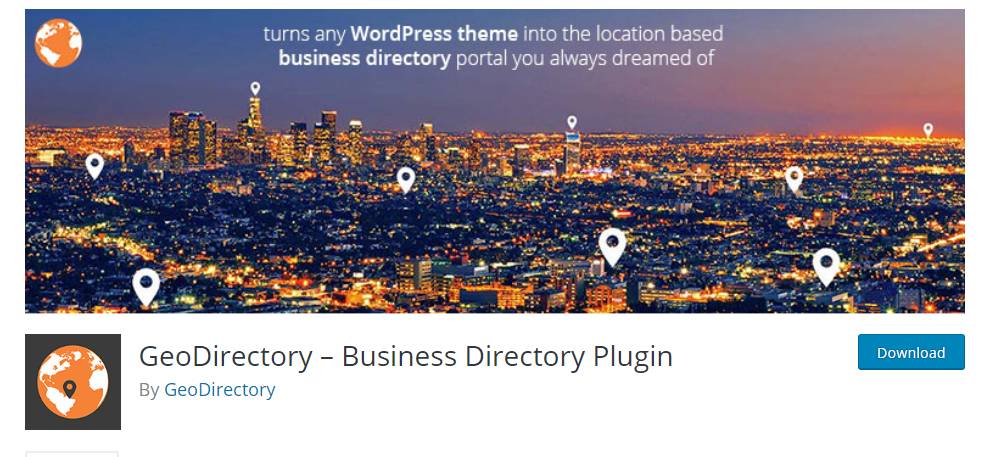 Geo Directory is another remarkable WordPress business directory plugin that helps business create a location-based business directory with ease. Just log on to Geo Directory and take full advantage of its features and benefits.
Features Of Geo Directory
Allows users to create a local directory based on a single location
Provides a front-end form that enables the user to submit anonymously
Its optimize database structures offer theme compatibility admin page
Enable user to use shortcodes for core elements, such as; add a listing, popular post view the related listing and many more.
Offers Google Analytics Widget and Yelp-like best of the widget
and much more…
Let's look into reasons why is there so much hustle and bustle about this plugin??
Reasons To Avail This Plugin  
It has a highly optimized database structure that helps user's scale on the international level
It is light weighted, flexible and efficient
Turn any WordPress theme into the powerful, fast directory
It is a multisite compatible plugin and works excellent in building a network of directories and installing on multiple client sites.
Offers front-end form for users so they may submit listing with ease.
Offers users to edit listing with a drag and drop editor.
Isn't that amazing?
All this is free but if you want to avail extra features like Google maps affiliate WP integration, list management and various other. Then, you need to purchase their premium add-ons starting from $ 19.
3. Directorist – Business Directory Plugin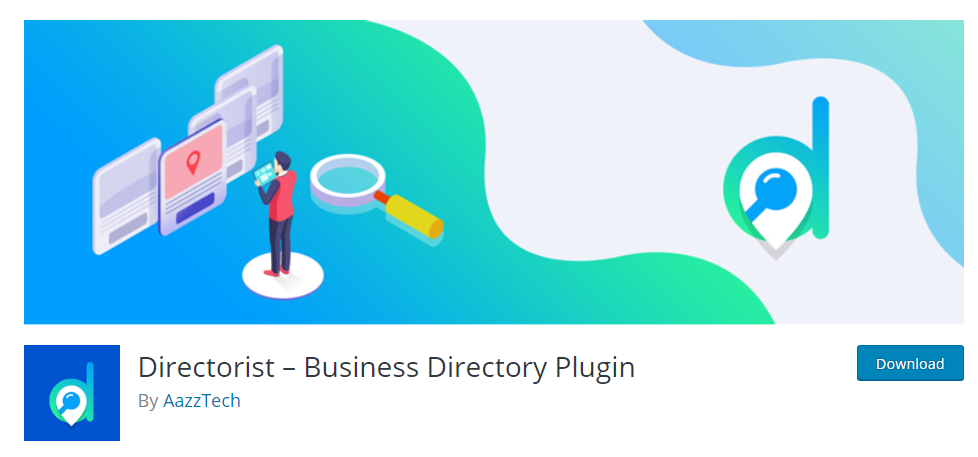 Directorist is highly useful for creating a directory or classified website. It has recently updated itself by introducing a wide range of features. Let's look into some of the features it is offering to its users.
Features Of Directorist:
Offers monetizing feature
The easy front-end and backend listing submission
Add-ons support
Customize slugs for each directory page
Offers a wide range of listing option; ratings, reviews, video, owner contact form, and listing filter
and much more…..
Reasons To Avail This Plugin  
It is 100% responsive; your site can be used from any device
Offers unlimited custom fields
It is best for newbies since it is easy to use and requires no coding language
Provides its customers with a clean and easily understandable setting panel
Offers three monetizing option: paid listing, feature listing and claim listing (premium extension).
Offers users to customize the plugins according to its needs
It is applicable for any business directory site or classified site
Allows users to set an expiration date for listing; default expirations date or forever validity option
Users can control the email notification system
4. Advanced Classified And Directory Pro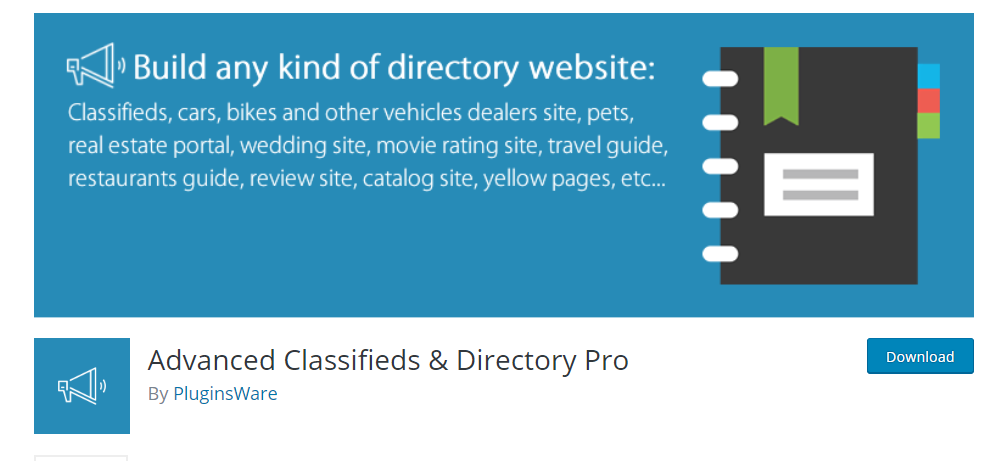 Advanced Classified And Directory Pro is one of the most flexible business directory plugins in the WordPress repository. So, if you want to integrate its services in any site; you have it here. It supports any kind of directory; rating sites, classified sites or even travel guides.
Let's look into some of the features of this plugin
Features of Advanced Classified And Directory Pro
Offers nested categories; where you can organize your listing into unlimited categories and unlimited category levels.
Offers unlimited custom fields so users can accommodate any business area it likes to advertise
Offers 3 configurable location based setup; country, Google map integration or unlimited locations
Offers customizable layout options where users have full control to choose what and how to display front end
Users are allowed to integrate their personal panel, where it can manage, renew, delete the listing, set a wish list and view payment history whenever it desires.
Offer advanced search widget where the users can filter search results by the keyword, category, location, custom fields, and price range
Features listing and fee plans are the two revenue options it is offering to its customers
Offers payment plugins through offline payment, PayPal (premium version) and stripe (premium version)
Reasons To Avail This Plugin  
Its free version offers a wide range of services that are effective and efficient
It has an active email notification system; thereby informs users about significant happenings.
Offers an unlimited number of custom fields for any business
Offers unlimited location access
Uploading of images and videos are supported by all listing pages.
Create detail categories for better sorting and filtering features
Offers highly intuitive search tool
Allows users to create detail classified ads using various field formats; such as radio, checkbox, text area, and input box.
5. CM Business Directory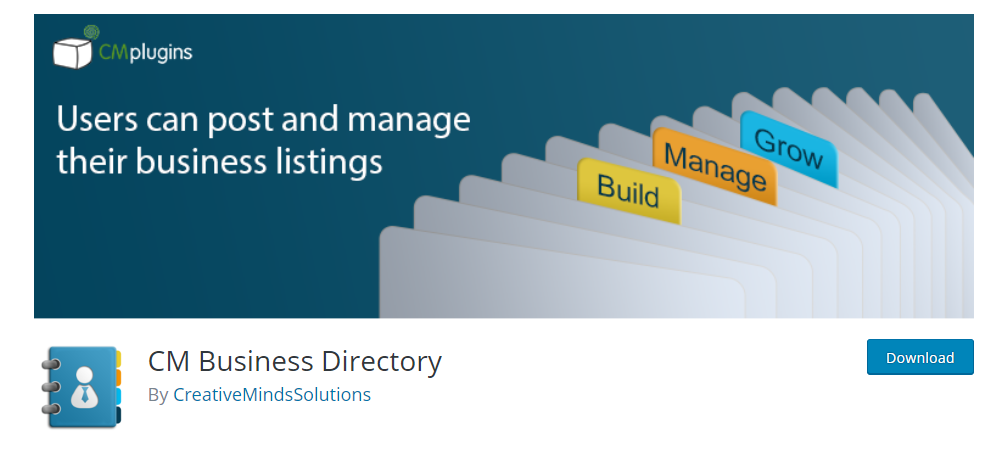 If you want to create a local; online directory of business listing similar to Yelp, Yahoo, Or Yellow Pages. Then, the CM Business directory is the ultimate business directory you need.
This WordPress plugin supports payments, Google maps, and advanced search options that can help you create a professional business directory with paid directory listings.
Let's look into some of its features
Features Of CM Business Directory
Helps to create directory categories
Allows users to display their businesses in catalog list format
Enables users to create a separate business page for each business
Users are permitted to include a business logo, business description, and pitch
Allows users to search directory
These are some of the basic features of this business directory plugin, but if you want to avail further extensions and features. Avail their premium version starting from $39 pro edition, $ 59 pro community and $ 79 pro payment. Whereas, if you want to avail additional functionality you may install their business directory additional add-ons for $29.
Reasons To Avail This Plugin  
Easy to use; helps users start any kind of local business directory with a few clicks
Highly versatile as it allows users to build a staff listing page or niche classified websites
Users can search and filter directory listing by keywords, category and zip code
Help user's display directory listing on an interactive map with CM map locations plugin integration
Allows users to add products to display under each business listing.
6. Simple Business Directory With Maps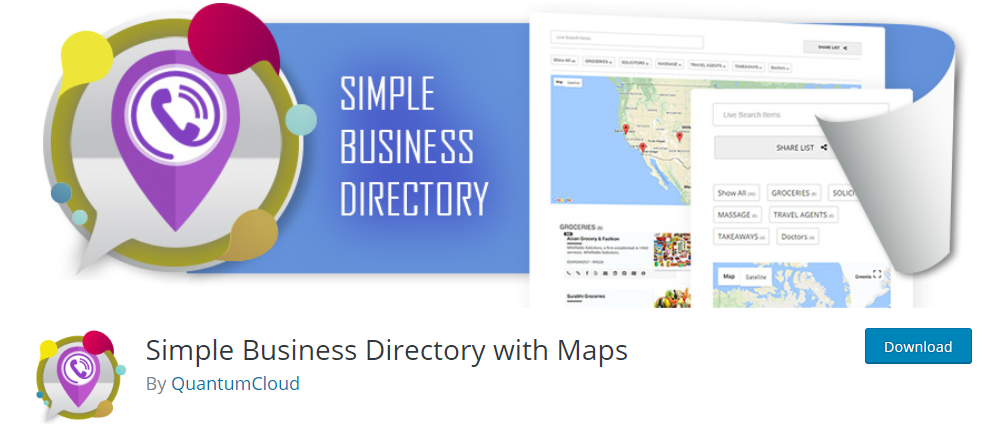 Simple Business Directory With Maps is my last recommendable business directory plugin. It is one of the versatile listing directory plugins in the WordPress repository. It helps users create an innovative and elegant business directory in their WordPress site within a couple of minutes with Google maps.
Features of Simple Business Directory With Maps
4 great looking responsive templates
Unlimited business listing
Offers embedded option for your directories
Allows users to display single list or all lists
An easy and quick shortcode generator
Reasons To Avail This Plugin  
Offers a shortcode generator block for Gutenberg editor
It works with and without maps
It is a unique, powerful, and flexible business directory plugin
Allows users to create directories from 50-500 listing of any type
Helps to create a local business directory, staff directory, employee directory, vendor directory, partner directory
Simple user interfaces that can help users manage, add and style their address book and contact directories with style.
And much more…..
If you want to get hooked with its advanced features avail its premium version. Click here and view its features in detail.
Wrapping Up
Within this article, we have enlisted some of the best free and paid business directory plugins that can help you create a business or personal directory with ease. So, choose one of them and create a stance in the online world. If you have any question about business directory plugins, comment in the section below. We will be more than happy to assist you!
Now you are all set to create a business directory on your own project.