Optimizing your WordPress website for search engine traffic is the key to establishing online success. If your site doesn't follow standard SEO practices, let alone all the tips and tricks shared by industry leaders, your chances of generating organic traffic is very low. However, this crucial problem has a very simple solution and can be easily addressed by installing a WordPress plugin.
Why do you need WordPress SEO plugins?
WordPress SEO plugins come packed with a lot of useful tools and functionalities to help you better your SEO score. It gives you access to useful statistics, helps you add metadata to your content, allows you to create XML sitemaps, helps get your site indexed by web crawlers, and much more.
Without installing these SEO plugins, WordPress lacks the native support of features to give you any intuitive means for handling all these important tasks. This is why it is always important to install a competent SEO plugin to help you out.
And so, for the purpose of this read, we have put together a comprehensive list of the 10 best WordPress SEO plugin. So without further ado, let's get started:
Top list of SEO plugins
1. Yoast SEO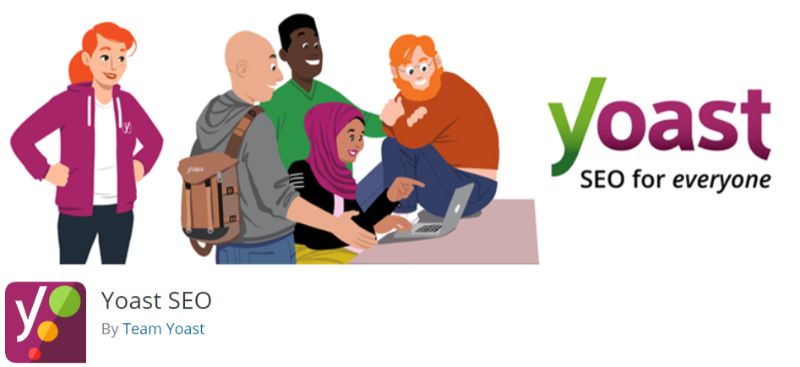 Yoast SEO is by far the most popular WordPress SEO plugin in the market with over five million active installations. The plugin comes loaded with a plethora of different features and functionalities, all geared towards helping you achieve a better rank on the SEO ladder.
Starting from keywords optimization to helping you add metadata, and even creating XML sitemaps for your website, the plugin covers all possible corners. The free version of the plugin alone is sufficient to handle all basic SEO needs of a website/blog that is just starting out. However, if you need more advanced functionalities to tackle the competition and reach SEO supremacy, then a premium version is available as well.
Features:
And much more.
2. All in One SEO Pack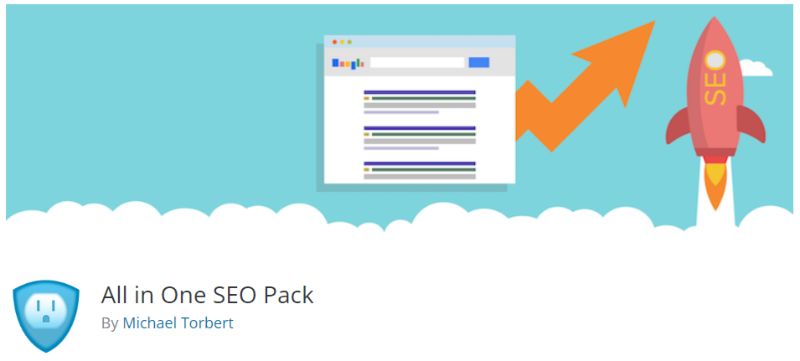 All in One SEO Pack is another popular WordPress SEO plugin that racks over 2 million active installations worldwide. The plugin is designed to function right out of the box, which makes it super convenient for beginners and users new to WordPress. However, for advanced options, all options are available at their disposal and can be fine tuned to meet their needs.
Feature-wise, you basically get a complete tool set of options and settings to help improve your SEO game. Many repetitive features are also programmed to function automatically which can help save a lot of time and effort.
Features:
Easily create XML sitemaps and submit to Google and Bing.
Advanced canonical URLs to ensure unique contents.
Automatically notifies Google and Bing about updates made to your website.
Automatically optimizes titles for search engines.
Automatically generates Meta Tags.
SEO optimization support for WooCommerce enabled websites.
Pro version is available with many more advanced functionalities.
3. The SEO Framework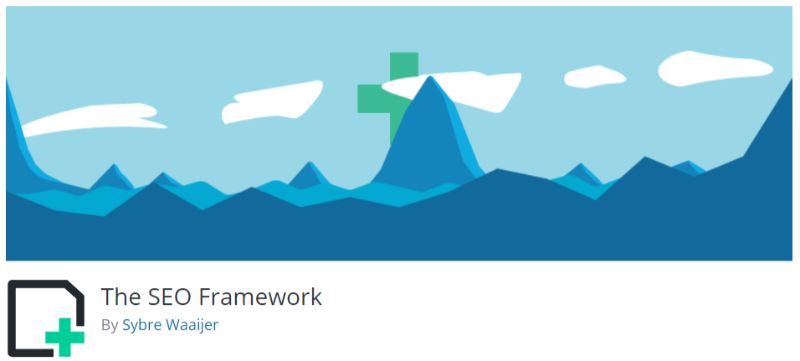 As the name suggests, The SEO Framework gives you access to a complete framework of tools to help you optimize your WordPress website for search engines. It is designed to function right out of the box and comes with all the popular settings preconfigured. This makes the plugin extremely beginner friendly.
Feature-wise, you get access to an extensive list of features to help you improve your SEO presence, boost social sharing, options to optimize metadata, and even guide you through all the best SEO practices. A dedicated feature called the SEO Bar is also implemented which can help you create better content that is preferred by search engine algorithms.
Features:
And much more.
4. WordPress SEO Plugin – Rank Math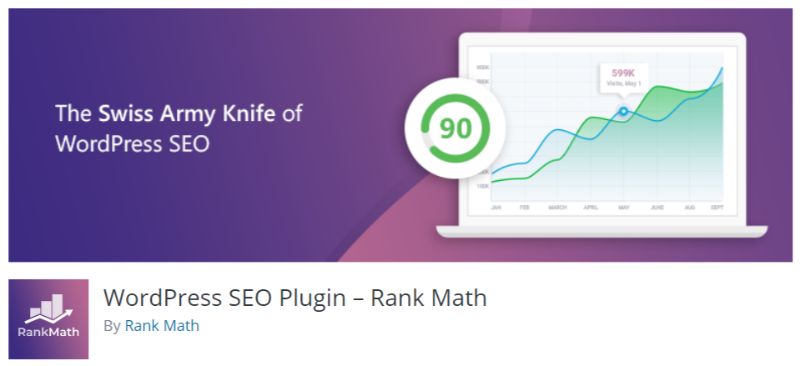 Rank Math WordPress SEO plugin comes loaded with a bunch of useful SEO features and functionalities to help you boost your place on the SERP. It comes fitted with smart automation features to help streamline the entire process so you can rank faster and quicker.
And in case you are new to SEO and WordPress, then it even throws in a setup wizard, so you can properly configure the plugin without any unnecessary confusion.
Features:
Supports post optimization for up to 5 keywords.
Google Search Console integration.
Google Keyword Ranking.
LSI keyword tool integrated.
Advanced SEO analysis tools.
Deep content analysis test.
Internal linking suggestions.
Setup wizard.
Option to automate repetitive tasks.
And much more.
5. SEOPress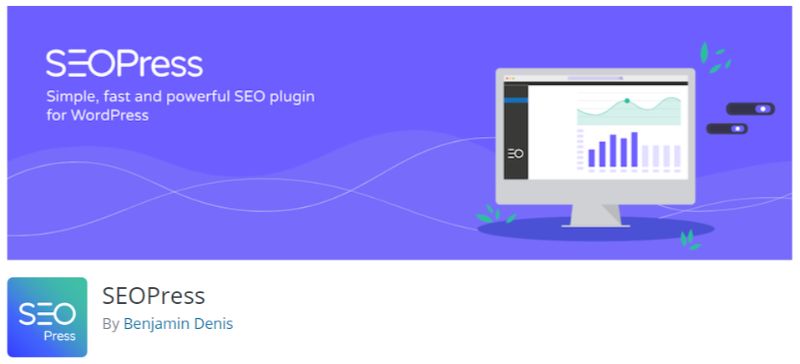 SEOPress WordPress plugin helps integrate tools and functionalities to help you boost your SEO score and increase organic traffic. Some of its features are also geared towards helping you better social sharing activities as well.
Once installed, the plugin will help you create both HTML sitemaps and XML sitemaps, optimize your site with breadcrumbs, help integrate schema.org, manage 301 redirects, and much more.
Features:
Option to create your own custom XML & HTML sitemaps.
Support for image XML sitemaps.
Helps with content analysis and SEO optimization of posts and pages.
Meta robots.
Support for Video XML sitemaps. (premium)
Breadcrumbs optimized with Schema.org. (premium)
404 monitoring. (premium)
WooCommerce SEO optimization. (premium)
And much more.
6. SmartCrawl SEO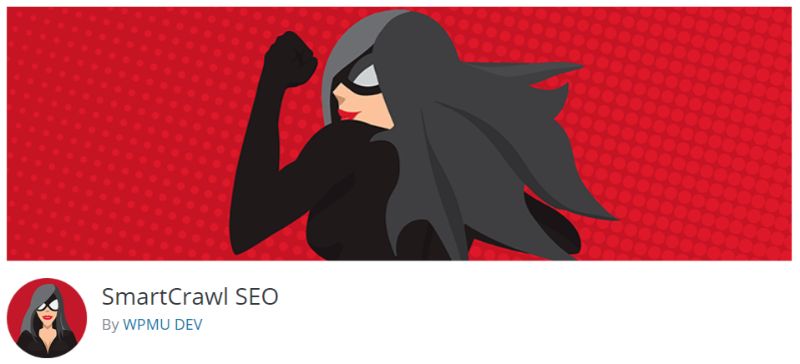 SmartCrawl SEO offers the complete package to help you boost your SEO ranking without fidgeting around with a plethora of confusing settings and options. All its options are designed to guide you through the variety of steps involved in improving your PageRank and domain authority in Google.
Some of its notable features include one-click setup, automatic sitemaps, real-time keyword and content analysis, and so on.
Features:
One click setup wizard.
Smart page analyzer which scans pages for readability and keyword density.
SEO audit & crawl.
Integration with MOZ SEO tools.
Open Graph integration.
And much more.
7. Squirrly SEO 2019 (Strategy)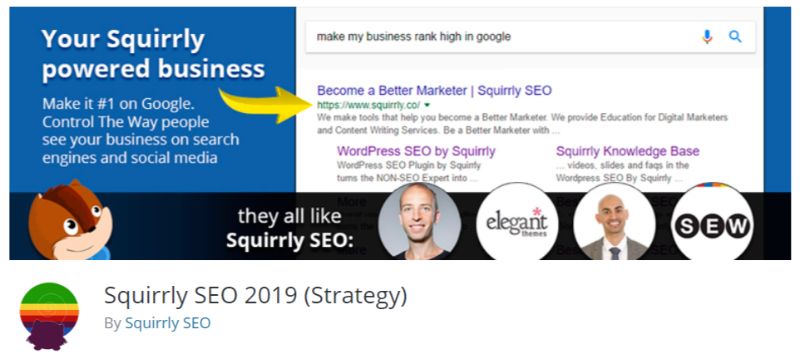 Squirrly SEO functions like a digital SEO consultant for your website. This WordPress SEO plugin can guide you through the process of optimizing your site content for readers and search engines alike.
With the plugin activated, you can start writing/editing your site content and it will give you a literal "green light" to let you know if everything is 100% seo optimized, and if not, where you need to make the tweaks.
Features:
Functions like an in-house SEO expert to help you improve on-page SEO.
Analyzes your content and guides you to optimize it properly.
Automatically generates XML sitemaps.
Squirrly Snippets allows you to control and customize meta descriptions.
Gives you access to copyright free images to use with your content.
And much more.
8. Premium SEO Pack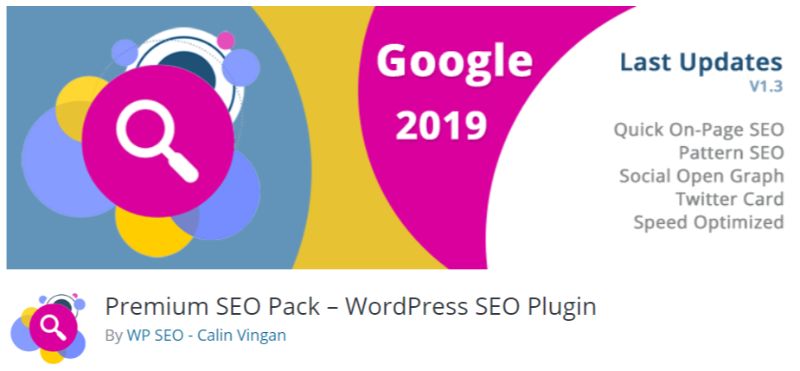 Premium SEO pack helps you understand the overall SEO score of each of your posts and pages and helps you improve them for better ranking on the search engine ladder. You will get access to all necessary features to help you improve your on-page SEO game in a snap.
It is also equipped with tools and options to improve traffic coming from social media channels.
Features:
Helps you understand the SEO pattern of each of your post type and custom post type.
Helps improve titles, descriptions, keywords, and canonical metas.
Option to enable noindex and nofollow for each post type.
Works with WooCommerce and other e-commerce plugins.
And much more.
9. BoldGrid Easy SEO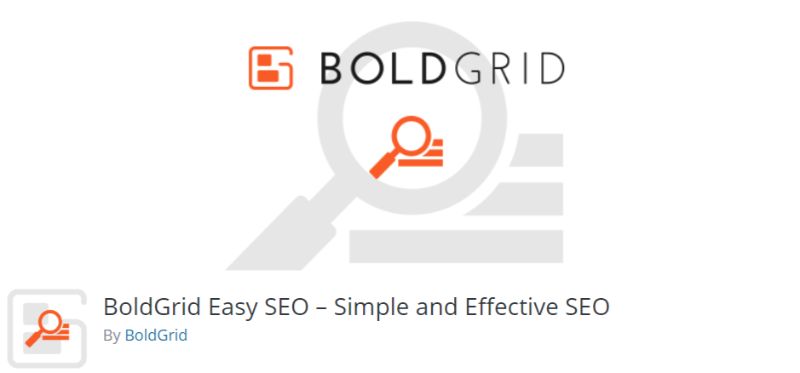 BoldGrid Easy SEO is designed to help you create SEO optimized content and therefore rank higher on search engines. It works by analyzing your page content in real time, and then makes recommendations based on the best SEO practices.
All you have to do is set a keyword or keyphrase, and the WordPress SEO plugin will automatically start working to improve your on-page SEO.
Features:
Analyzes content and helps reach optimal keyword density.
Optimizes your page titles and descriptions for search engines.
Option to choose if you want to set a page/post as noindex or nofollow,
Canonical URLs to help avoid duplicate content.
And much more.
10. SEO by 10Web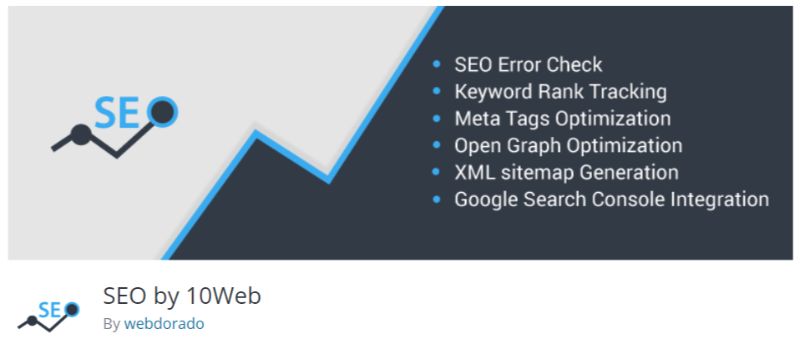 And for the final WordPress SEO plugin on the list, we have SEO by 10Web. It boasts plenty of advanced SEO tools and functionalities tucked away inside an easy to use interface to help beginners reach high search engine rankings.
The plugin will help you integrate Google Search Console, provided content analysis, help insert metadata, and much more.
Features:
Helps with content analysis in real-time so you can create SEO optimized posts and pages.
Helps add meta information to your content.
Open Graph integration for better social media performance.
Google Search Console integration.
Improve SEO with Mozscape API integration.
Option to specify SEO manager user roles.
And much more.
In Conclusion
So these were our picks for the top 10 WordPress SEO plugin in the market. We hope you found this read to be helpful, and do let us know which plugin you are considering to use on your WordPress website.
On this account, if you have prior experience with any of the above-mentioned plugins you are welcome to share your insight in the comments below. Your contribution will be highly appreciated, and it might help your fellow readers with their own decisions.
You may also want to see our picks  for the best SEO tools to help you get higher rank on the SERP (Free and Premium)