You might have heard the saying on how "content is king," and "attention is the new currency". So if you are putting all your focus on creating stellar content, it might disappoint you if the readers' attention is side-tracked because of your flashy site design. This is where a minimalist WordPress theme comes into the picture. Once installed, these can help you create a website layout that is both clean and beautiful at the same time ensuring the readers' attention is fixated on your site's content.
Why Do You Need Minimalist WordPress Themes?
Your website needs to have a stunning design as well as captivating content in order to engage the visitors' attention. However, if the design becomes too flashy then it can distract attention away from the main content. In this regard, using a minimalist WordPress theme ensures that your site looks clean and professional, but at the same time, keeps readers captivated with your site's content.
As such, a minimalist WordPress theme uses plenty of whitespaces with minimal graphics. Color variations are also kept to a minimum. The layout is oriented in a way such that the visitors' eyes are steered towards your featured or highlighted content. The minimalist design also increases the readability of a website by a huge margin.
Now, just by installing a minimalist WordPress theme, you will be able to import all these features and functionalities straight into your website without any issues. This is why we have put together a list covering the best minimalist WordPress themes on the market.
So without further ado, let's get started:
Top Minimalist WordPress Themes
1. Camila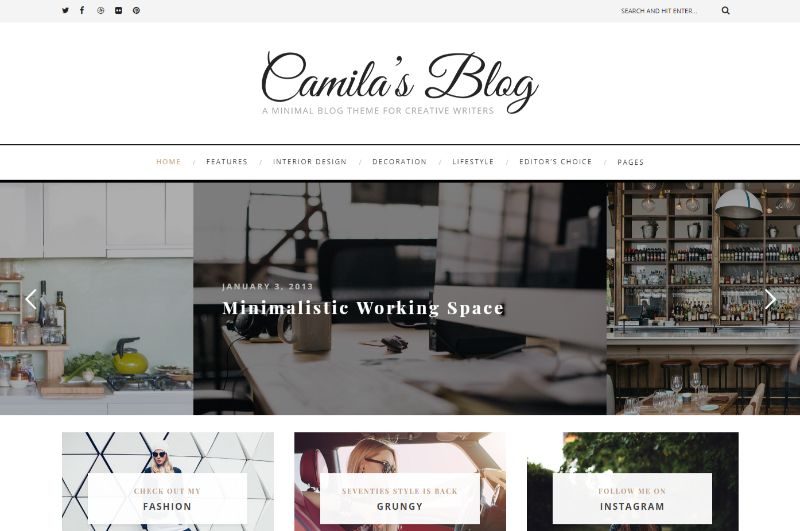 Starting off our list of minimalist WordPress themes, we have Camila. It is a clean and simple blog theme boasting a lot of whitespaces so that the reader's attention is always on the content at hand. But with that being said, you do get plenty of customization options and design variations to help you create a unique layout for your blog.
Features:
And much more.
2. Kleanity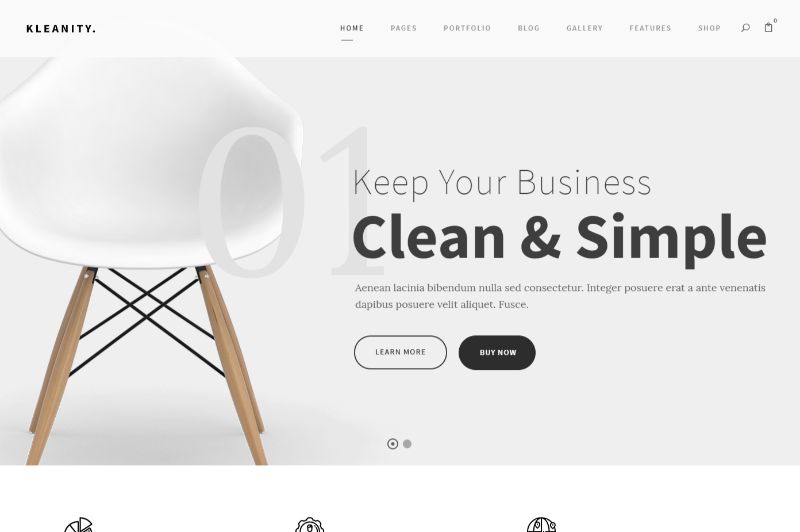 Kleanity minimalist WordPress theme is designed towards professionals to function as a portfolio theme. Its modern and classy design makes it the perfect platform to show off your work to your prospect clients. But with that being said, design options are also plentiful giving you a great deal of control over the different design elements and layout styles for your website.
Features:
And much more.
3. Munding
Munding minimalist WordPress theme is dedicated towards bloggers with a special focus on mixed media and typography. Video bloggers as well as photo bloggers, can also use the theme without a shred of a problem, thanks to its multi-content type support. Social media integration is also incorporated to help you reach out to wider audiences.
Features:
And much more.
4. Gallery Pro by StudioPress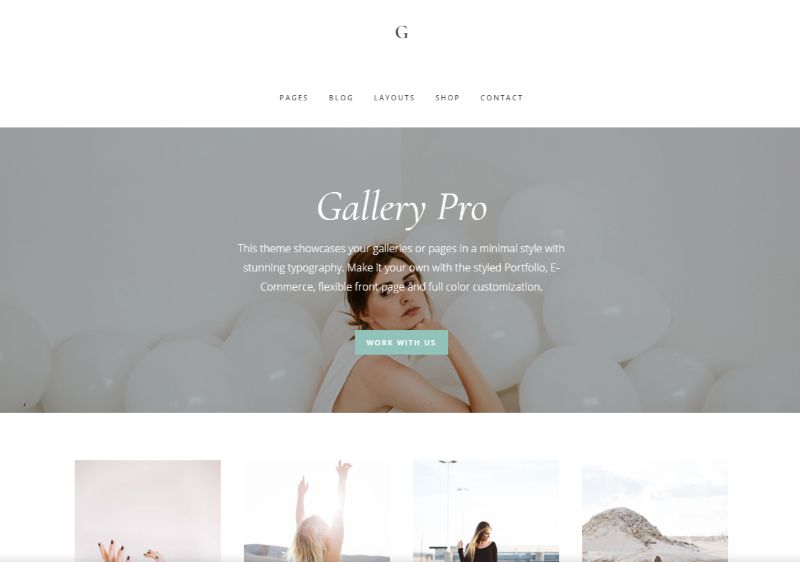 Gallery Pro is a classy minimalist WordPress theme built on top of the powerful and highly customizable Genesis Framework. The theme sports a wonderful combination of full-stretch gallery images paired with beautiful typography. You will also get access to loads of pages, layouts, and customization options for added design variation.
Features:
And much more.
5. Revolution Pro by StudioPress
Revolution Pro minimalist WordPress theme offers the perfect platform for photobloggers to showcase their photography or image-based content. However, you still get access to different homepage variations for different niche websites, including Agency, Lifestyle, personal Branding, Photography, and Small Scale Businesses. Its intelligent use of whitespaces paired with ample padding gives your content room to breathe and appear more mesmerizing and engaging to your user base.
Features:
And much more.
6. Easel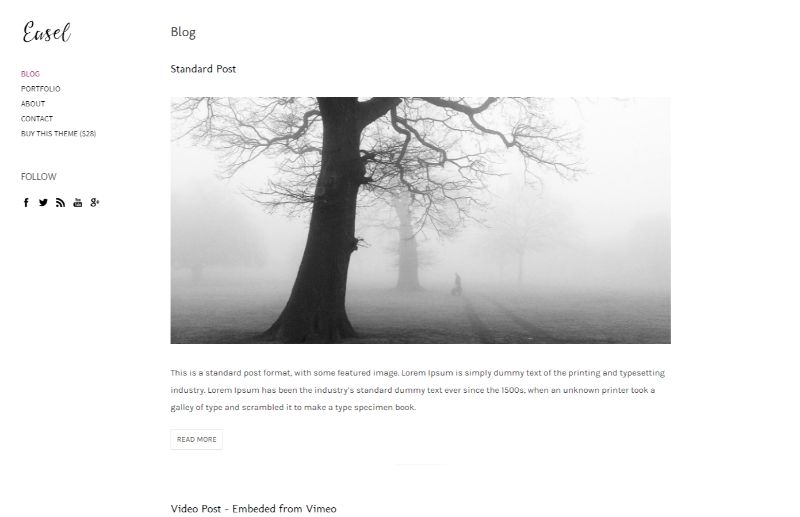 Easel minimalist WordPress theme targets artists, photographers, and bloggers; anyone who will benefit from a clean and minimal design layout to showcase their work/stories. The theme is super elegant and comes with a modern finish. Customization options are also plentiful, allowing you to make all necessary adjustments to the overall look and feel of your website.
Features:
And much more.
7. Meltony
Meltony is a multipurpose minimalist WordPress theme built on the powerful Elementor drag and drop page builder plugin. This ensures that almost every aspect of the theme can be tweaked and customized according to your desire making this one of the most flexible minimalist themes in the market. You also get access to 4 different blog layouts to help you showcase your content according to your discretion.
Features:
And much more.
8. Read WP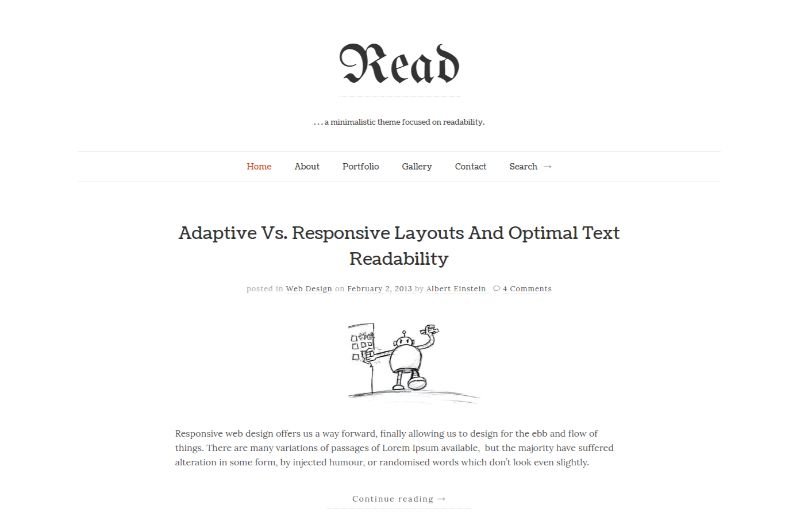 Read WP minimalist WordPress theme is designed with the main focus on writers who share stories on their WordPress blog. The theme's design and layout put maximum focus on the overall readability of the website. Customization options are also plentiful allowing you to make your own custom adjustments as well.
Features:
And much more.
9. BlogMaster Pro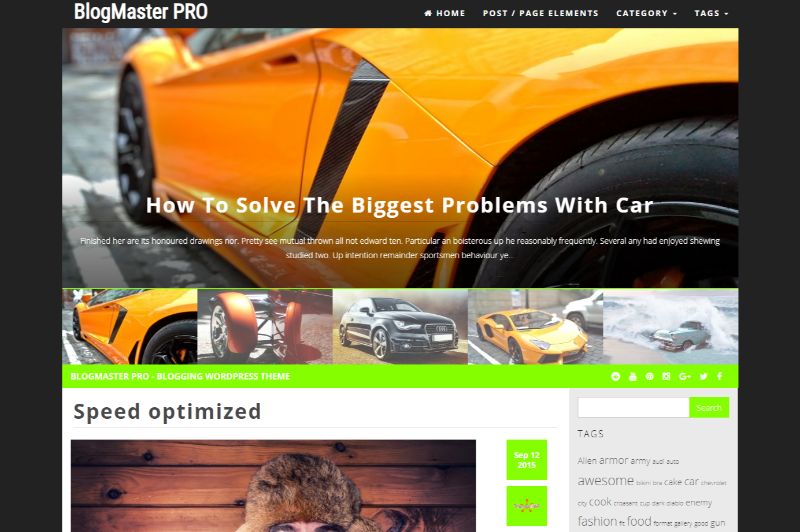 BlogMaster Pro, as the name implies, is a minimalist WordPress theme particularly curated for blogs. But with that being said, the theme boasts a highly flexible and customizable layout to help you tweak the overall design in any way you like. Schema.org integration is also provided to help you with proper SEO optimization for your content as well as your website.
Features:
And much more.
10. Minimalist by VisualModo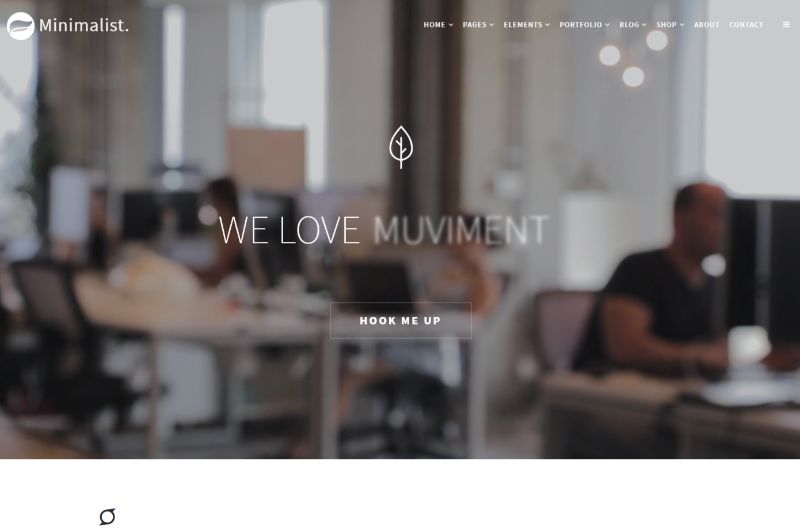 Minimalist WordPress theme by VisualModo offers a clean and simple layout style targeted at portfolio websites and bloggers. However, the Bootstrap framework powered theme does hold plenty of customization options to make it suitable for other niche websites like business sites or corporate websites which also can benefit from a classy and modern looking layout.
Features:
And much more.
11. Minamaze Pro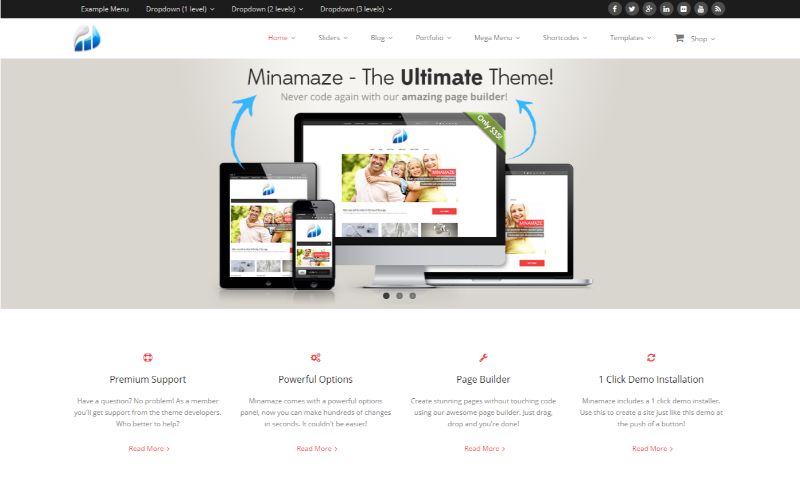 Minamaze Pro minimalist WordPress theme is perfect for setting-up your clean and simple website. The theme design is very generic, as such, it can be used by a variety of niche websites from basic blogs to company websites. WooCommerce integration allows you to even sell products by integrating a dedicated e-store on your website.
Features:
And much more.
12. Minimum Pro by StudioPress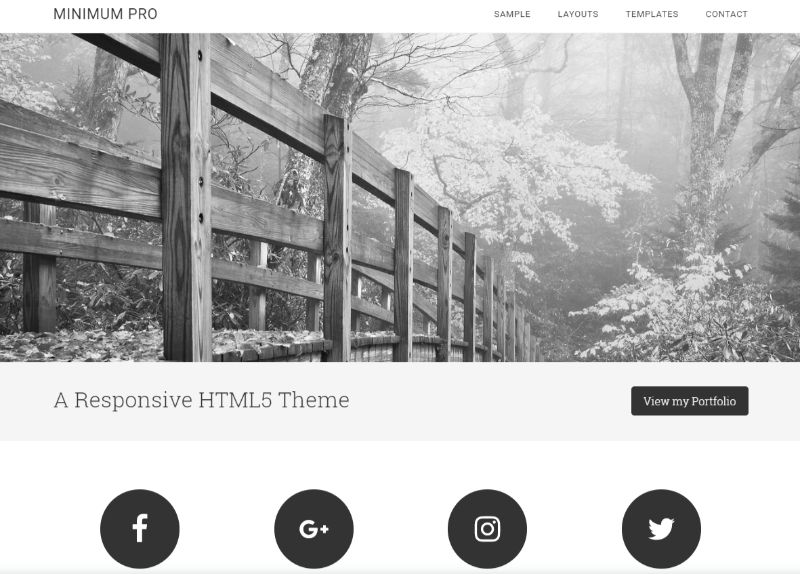 Minimum Pro, as you can guess by the name, is a minimalist WordPress theme with a focus on delivering a clean layout design with loads of whitespace to contrast with your content. All in all, the theme is perfect to develop your portfolio website or a company website. However, it can also be used to create a personal blog with some minor tweaks.
Features:
And much more.
13. Min Theme by OrganicThemes
And now for the final minimalist WordPress theme on our list, we have Min Theme by OrganicThemes. Design-wise it is very clean and can be used for almost any type of niche website where the content is the center of focus. Furthermore, if you have to orient the design to suit your specific niche, then that too, can be handled using its laundry list of customization options.
Features:
And much more.
In Conclusion
So these were our picks for the best minimalist WordPress themes in the market. We hope you found this to be helpful and you got some good themes to build your own professional website. As you can see, these themes can help you showcase your content in a distraction-free layout making it perfect for portfolios, blogs, and similar website niches.
Now, if any of you have experience using the themes mentioned above (or any other minimalist WordPress themes) then do write about your insights. Your comment might even help a fellow reader who's finding the perfect theme to highlight his/her work.
You may also want to check out our picks for the best fashion WordPress themes for generating awareness about latest fashion trends.