Are you in search of the best Google map widget plugins for your WordPress site? Do you want to locate your business for your customers? Do you want your customers to find you easily? Are you planning to integrate an interactive map for your business success?
To be precise; you should locate yourself for your customers. No one would make an effort to find you when your competitors have already provided complete information about them through Google maps.
Do you know Google maps API offers an embed code? Customizing and pasting that embed code will help you locate your business on Google maps. However, this embedded code fails to deliver customization option, features, and various setting options.
So what do you say? Do you want to stick with the Google embedded code or wish to avail a wide range of features, customization services, and various other options?
Google map plugins are not only interactive but useful for your business and users. Moreover, you will be able to add locations, markers, directions, routes and much much more.
So, want to know more. Continue reading!
Within this article, we have enlisted the best free Google map plugins you can install.
Top Google Map Widget Plugins
1. WP Google Maps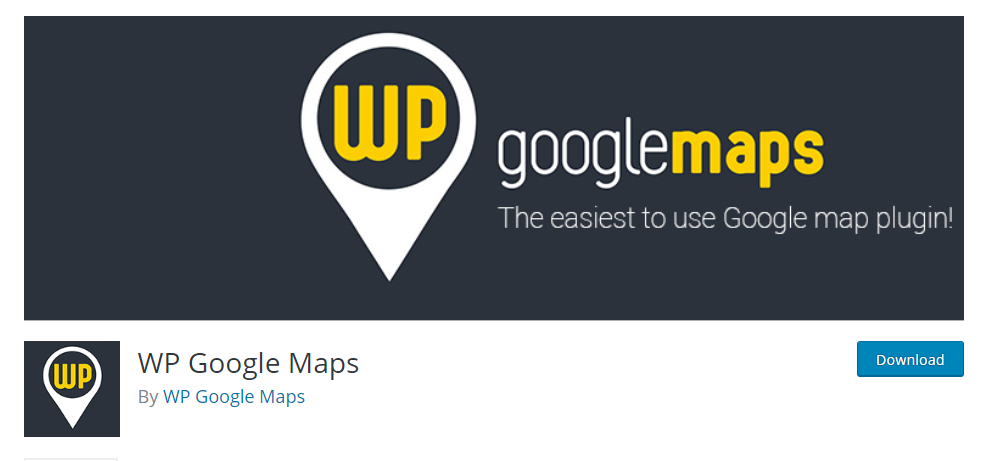 WP Google Maps is one of the most popular Google maps plugins. It's lite version has attained a 4.4-star rating and enjoys more than 400,000 active installations. With the help of this plugin, you can easily customize Google map to your WordPress post, a page with a simple shortcode. So, no more coding, no hassle, no more fuss.  It is super easy to use and helps you create as many map markers you need.
Let's look into some of its features
Features of WP Google Maps
It offers responsive maps
Google map street view supported
Map widget, store locator and full map functionality
Google map autocomplete and transport layer option
Compatible with cloud flare, and caching plugins
Integrates latest Google maps API and open layers API
And much much more….
The best thing is; you can create your own customized Google map and add as many markets you like within 30 sec.
How's that?
WP Google Maps Pro version allows high-quality markers are integrating locations, description, store images, business categories, links, and direction. Want to know more about its pro version, click here.
2. Google Maps Widget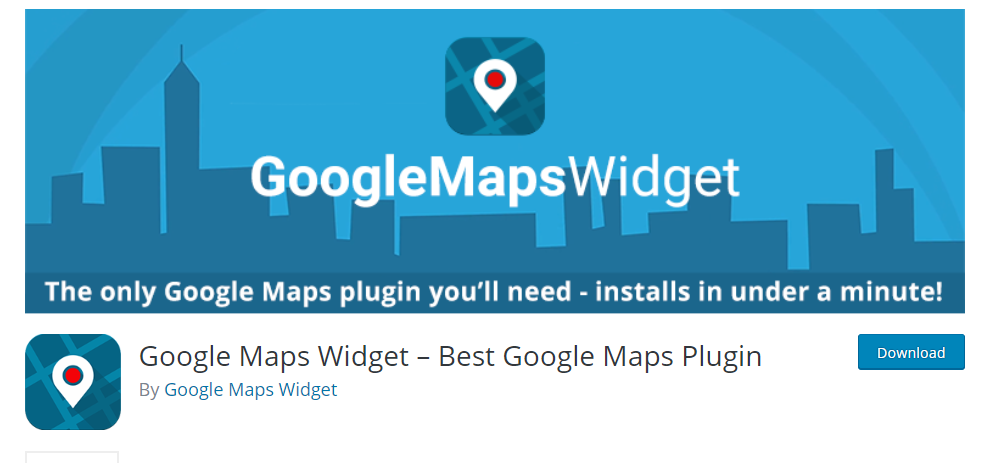 If you are looking for a specific plugin that can help you add Google map to your widget areas. Then, Google map widget is the best plugin to do this job. Google map has one primary intention in mind; to help users build a Google map widget.
Let's look into some more features:
Offers two Google map widget option; title and address
It uses Google maps static map API; so loads requests faster than other plugins
Provides a wide range of Google map customization options; zoom levels, size, map type, pin marker style, color, text and much more.
Allows users to expand the view of their map.
And much more…
Their pro version allows greater flexibility and more features. Most importantly, it enables pro users to use a shortcode and display Google map on any page, post or custom post type.  Users can also add unlimited pins with custom makers and descriptions to thumbnail and interactive Google maps. So what do you say? Free version or Pro?
Click, install and create a perfect map with thumbnail and lightbox in minutes!
3. Google Maps Easy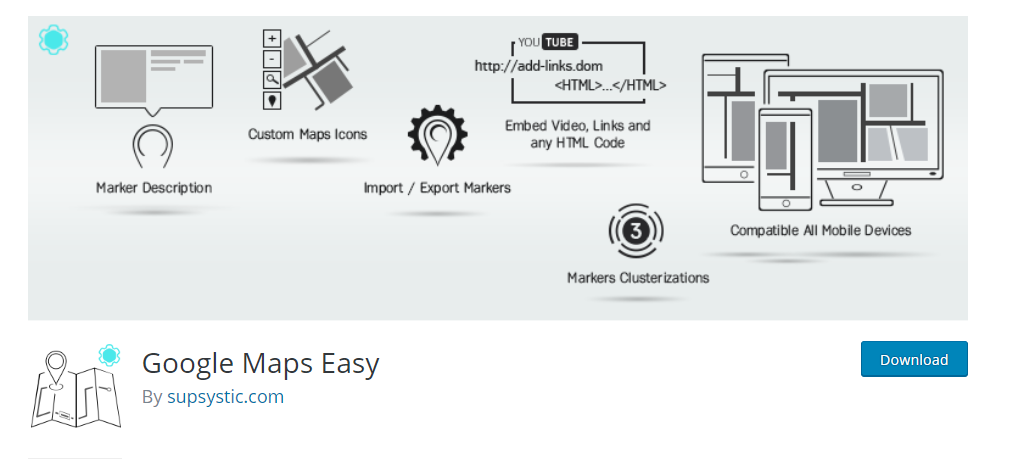 Google Maps Easy is a plugin that blends usability with an excellent quality set of features. It helps users create Google maps within a minute. It allows users to integrate Google map markers with any media; video, image, links, text description.
Features of Google Map Easy:
Offers an unlimited number of map markers and location
Fully responsive
Allows users to add Google map with a  shortcode
Helps to display Google map on the contact page, routes, real estates, delivery areas and much more.
Wanna know more of its features? Click here.
4. WP Google Map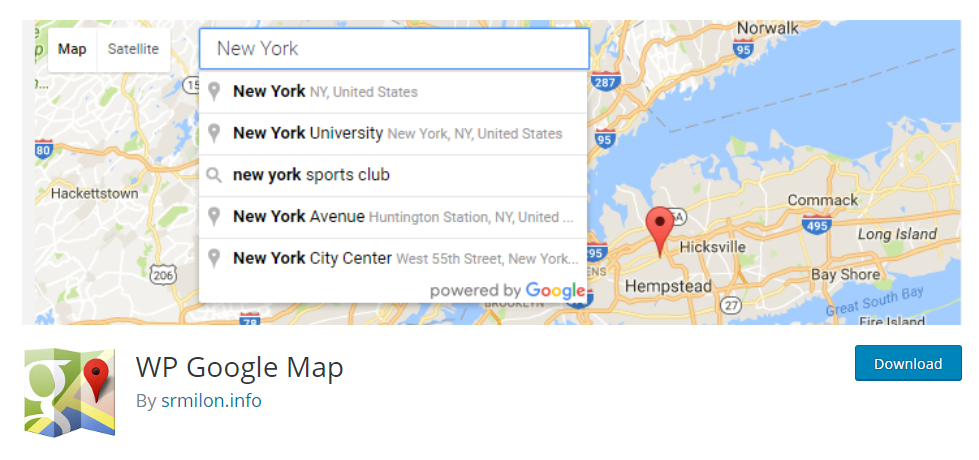 WP Google Map is another awesome plugin that helps users add a custom Google map to their site. it is user-friendly, easy to use, requires in coding. It is best for beginners and newbies. It offers a wide range of customization options. Let's look into its features:
Features of WP Google Maps
Offers automatic Google map location identification
Users can easily add a widget using a shortcode
Offers fully responsive maps and is supported by UTF-8 font coding
You can use it on a single page, single post, sidebar, footer, header or anywhere you like
Offer 15 zoom levels.
These were some of the features of its lite free version, but if you want to avail their plugin-lite version (premium), click here.
5. WP Google Map Plugin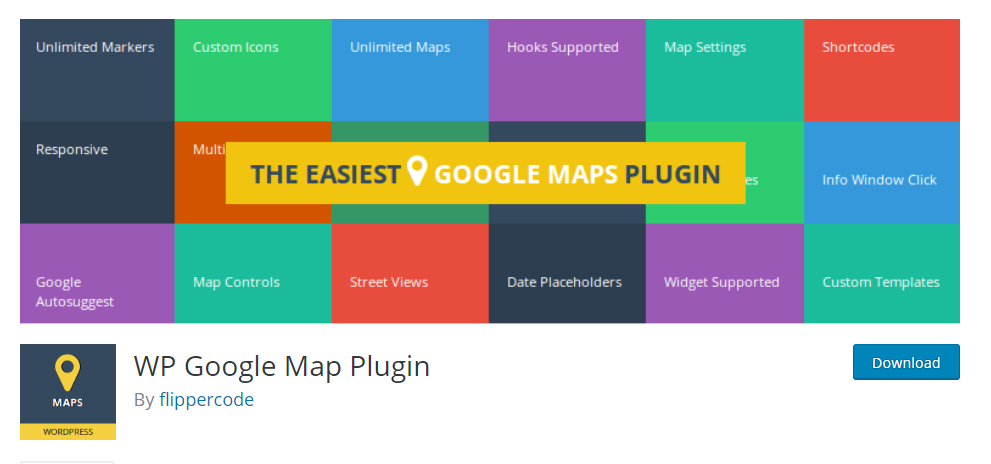 WP Google Map Plugin in well known for its interactive feature. So, if you are in search of an interactive Google map; WP Google map plugin is your essence here. With the help of this plugin, you can create beautiful maps with a wide range of custom information. Let's look into some of its features:
Features of WP Google Map Plugin:
Creates fully responsive maps in seconds
Creates Google map shortcodes and display responsive Google maps on pages, widgets and custom templates
It also can create unlimited markers and assign markers to Google maps.
Add unlimited locations to a single map with various information
Display map on posts or pages using shortcodes.
Add colorful markers, save multiple locations and create a  map showing those locations with custom markers
What else do you want?
Give a snippet view to its wide range of free and premium features. Click here.
6. Google Maps Plugin By Intergeo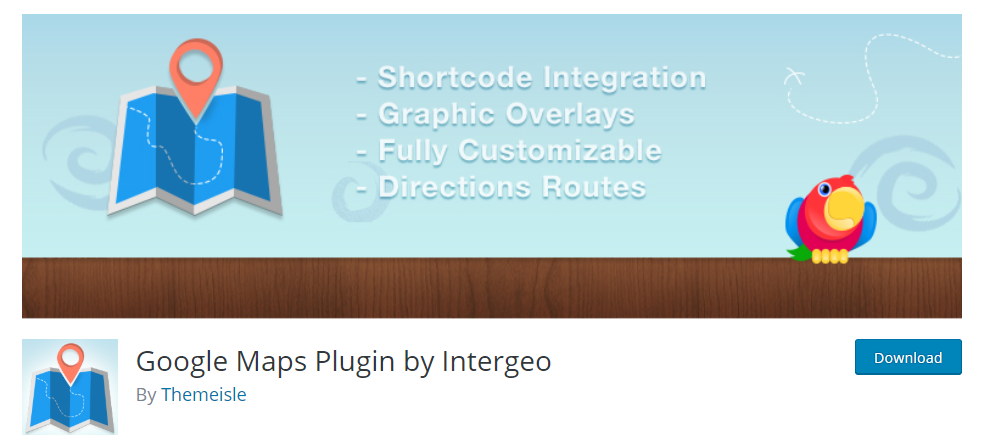 Google Maps Plugin by Intergeo is a free WordPress plugin built with beginners in mind. With the help of this tool, you can easily create new custom maps using the UI map builder. So, if you are looking for a map builder functionality plugin; you have it here. It has a simple and easy interface that offers you full control over your map.
Let's look into some of its features
Features Of Google Map Plugin
Quickly creates Google maps in your site
Maps can be easily edited and  saved with new setting option
Users can use clone a map setting and increase the speed of the creation process
It also allows its users with an attractive library; so users can browse all maps in the system and delete unnecessary maps
To know more, click here.
7. Simple Google Maps Shortcode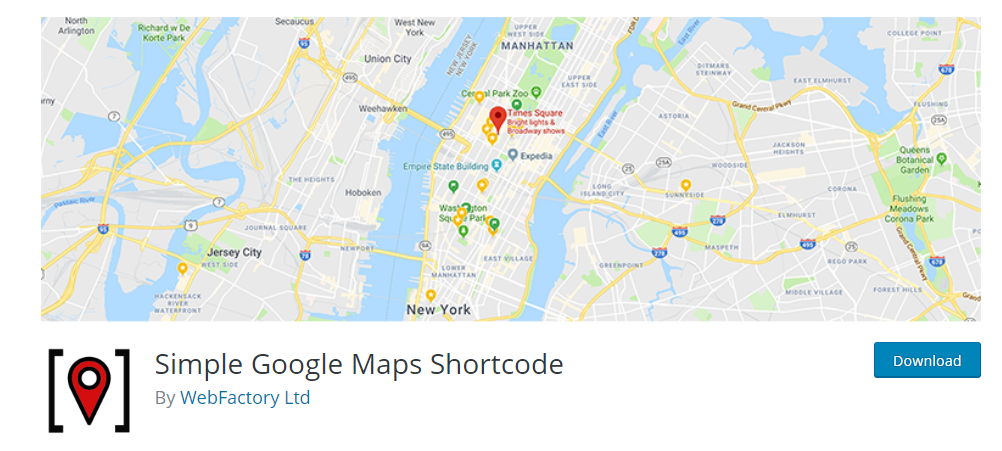 If you are looking for a Simple Google Map Shortcode; you have it here. With the help of Simple Google Maps Short Code, you can easily and quickly enable a shortcode and use it for embedding google maps. You can use this shortcode on any WordPress post or page.
The best thing about this plugin is that it causes no impact on your site speed or performance.
Features of Simple Google Map:
Change the width and height of the map with its width and height parameter
Allows users to enable/disable the scroll wheel and map control option using a shortcode.
8. Google Maps Builder (No More Available)

Google Maps Builder was one of the best Google maps plugins. It allowed you to build and edit your map using an intuitive builder feature. With the help of this plugin, users can easily add unlimited markers to their maps; through a 'point and click system.'
This plugin allowed users to have full control over an extensive set of default map option; zoom level, street view and map style. Moreover, it enabled users to a wide range of marker option; they just have to integrate the plugin with map icons.
Map builder offered a free and premium version starting from $58. It's premium version maps builder pro-offered more significant features such as mashups, layers, custom markers and much more.
Unfortunately, this plugin is no more available for download, since it was closed on March 27, 2019. So you may not be able to avail its services anymore. Hard luck!
Let's look into other options.
9. 10web Google Maps
10web Google Maps is another flexible Google map plugin that helps you add unlimited maps to your site. it comes up with an intrinsic feature, 'packed free version.' Allowing users to attain unlimited no of responsive maps, geo-location feature, store locator, layers, unlimited markers and much more everything for free.
Let's look into some more features
Features of 10Web Google maps
Its intuitive builders help users customize their maps and preview the changes with a live preview option.
It has an intuitive and user-friendly interface
Offers a wide range of customization options; zooming levels, map center address option, center longitude, and latitude option
Allows users to import and expert Google map attributes from one map to another.
Offers marketing listing options
And much more…
10. API KEY For Google Maps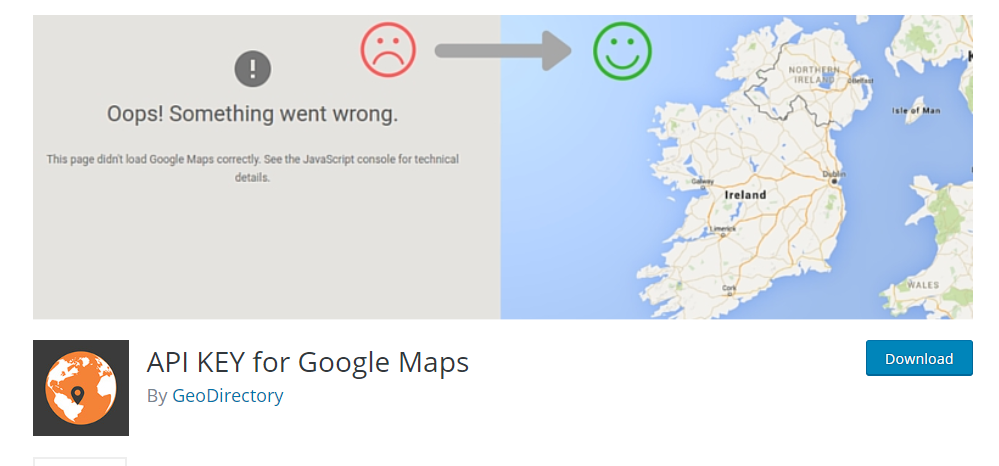 My last recommendation; API KEY For Google Maps has attained more than 100,000 active installations and has achieved a 5-star rating from its users. This remarkable plugin comes up with a single set of mind; to integrate Google API KEY to any theme or plugin.
They have a simple interface, quick and an easy procedure. Go to API KEY For Google Maps, download this plugin. Activate, go to settings > Google API KEY and enter your key.
Yes! That's it
Within seconds you can add API KEY to any theme or plugin, to all the places you want right in front of your site.
Wasn't that amazing?
However, it will not work if Google API has not been added or fails to meet the WordPress standards.
WRAPPING UP
That's it! We have enlisted the most useful, handy, efficient and effective WordPress Google map plugins. All the plugins mentioned above holds a distinct unique quality that makes it useful for many. So, now you can integrate location and maps to your site within minutes.
What's your favorite Google map plugin? Share your thoughts in the comment section below.
Now you're all set to add your business address on your WordPress site.