A modern website without a proper contact form seems unimaginable. Yet WordPress, the CMS(content management system) which powers over 30% of all websites on the World Wide Web, doesn't offer any in-built solutions to set up a contact form on your website.
But luckily, WordPress does offer access to a slew of awesome plugins that can help you set up a functional contact form on your website. All these options can lead to paralysis of choice.
Now, for the purpose of this read, we will be going over some of the most popular and powerful contact form plugins the CMS has to offer. The plugins offer access to a lot of useful features to help set up a working contact form so that readers/customer can stay in touch.
And so, without further ado, here is our list of:
10 Best Contact Form Plugins for WordPress
1.Live Forms – Easy Drag and Drop Form Builder Plugin for WordPress

Starting off the list, we have WordPress Live Forms Plugin by W3 Eden, Inc. It offers an elegant way to build and manage any type of form simply using Drag and Drop Method. Whether you want to build a contact form, subscription form, client review form, payment form or a form for managing your product support section, Live Form – Visual Form Builder Plugin could be a best choice for you. Live Forms – Visual Form Builder plugin also will give you the capability to assign and manage support agent to each of your forms. Agents can manage and reply support ticket from front-end easily without any admin access.
Features:
Visual Builder
Extensive Data Validation
Detailed From Stats/Analytics
Form Entries
Lots of Actions and Filters Hooks to increase its extendability
Conditional Logic (PRO)
Captcha Protection (PRO)
File upload (PRO)
Accept Payment with payment field (PRO)
Build awesome donation/fundraising form easily (PRO)
Offer free download on form submission (PRO)
2.Contact Form 7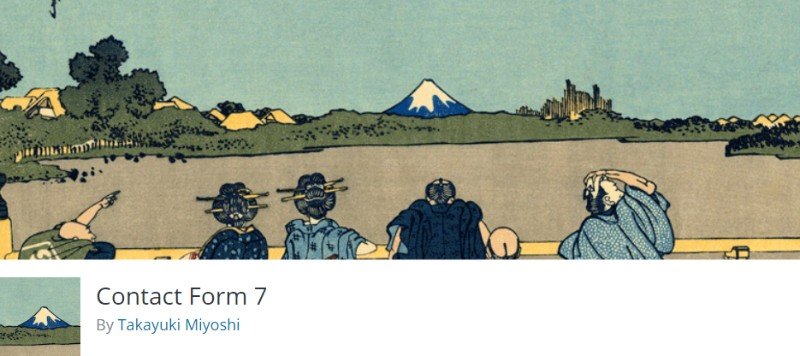 Next up, we have Contact Form 7 – one of the most popular contact form plugins for WordPress with over 5 million active installations. So what's the reason behind its success and popularity? Well, despite the fact it's free to use, the plugin is extremely flexible.
You have the option to custom the form as well as mail content using simple markups. However, this makes it somewhat less intuitive and more catered towards the coders and developers. Regardless, with some coding know-how, you should be able to create your own form template.
The plugin also throws in support for third-party add-ons to help you expands its list of features and functionalities. But alas, it is somewhat limited at its core.
Features:
3.WPForms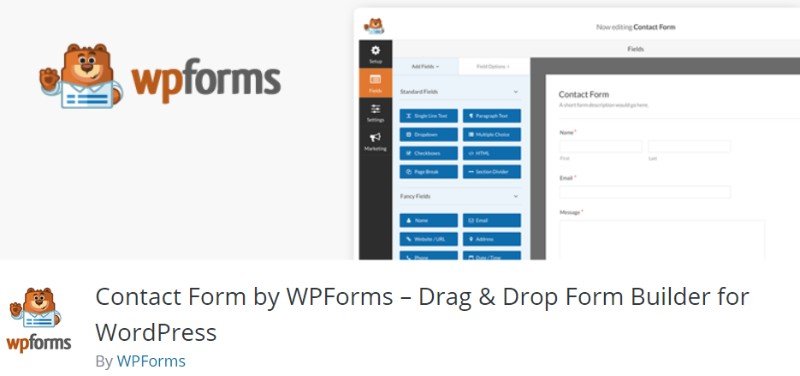 WPForms is another popular contact form plugin for WordPress websites. However, the reason behind this one's popularity lies in its ease of use. It is by far one of the most beginner friendly contact form plugins for the CMS but also stuffed with a lot of useful features.
The plugin comes in both a free version as well as paid version. The free version provides users with all the basic features and functionalities to help set up their WordPress website. Whereas, if you want access to more advanced functionalities it is recommended that you go for the Pro variant.
Features:
4.Form Maker by 10Web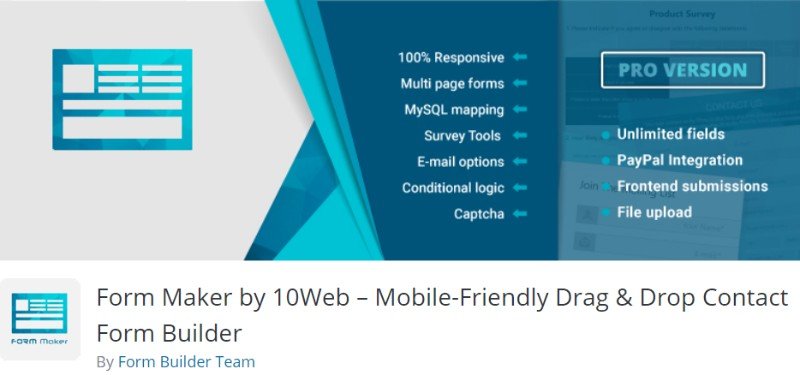 Form Maker is another great form builder plugin for WordPress which you can easily use to create contact forms for your website. It offers a simple and intuitive drag and drop interface to help you create a working contact form for your website.
This plugin also comes in a free and paid version. As always, the free version gives you access to all basic tools to help you create an awesome contact form. However, if you want access to more powerful features like frontend submissions, allow users to upload files, and even accept payments, then you will have to go premium.
Features:
An intuitive drag and drop form building interface.
43 different form-field types for creating advanced and powerful forms.
5 prebuilt form templates, so you don't have to build from scratch.
15 amazing customizable themes.
CAPTCHA support to fight against spammers. Option to block users based on IP address is also available.
Conditional Login supported.
5.Formidable Forms
Formidable Forms is another well-known name in the WordPress community. The plugin will give you access to a graphical interface with drag and drop support to help you start creating different types of forms, including contact forms.
The main feature highlight of the plugin is that it allows you to take any form-input and display it directly on your site's front-end. This makes it highly flexible and an excellent tool for user-generated content.
Features:
Drag and drop UI with support for front-end post submission.
Many premade form templates and styling options to streamline the creative process.
Multi-Page form supported.
Option to take payments directly.
6.Ninja Forms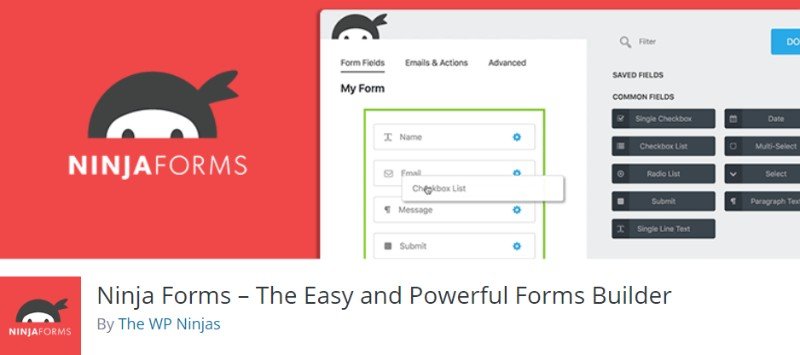 Ninja Forms is by far one of the most feature-rich form builder WordPress plugins that come along with a free price tag. You will get the basic drag and drop form builder interface to get you started.
On top of that, it is riddled with a bundle of useful features that is more than sufficient to help you create a powerful contact form for your website. And in case you want more advanced functionalities, plenty of paid add-ons are available to meet your needs.
Features:
7.Contact Form by WebDorado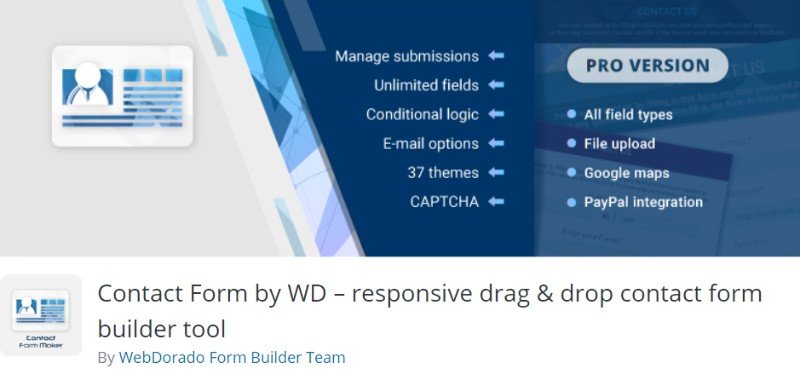 Contact Form by WebDorado offers a simple and easy to manage backend interface to help you create contact forms for your WordPress website. The plugin supports drag and drop gestures alongside support for different form fields to create simple as well as complex contact forms.
Now, many of the features found with this plugin are similar to what you get with Form Maker by 10Web as discussed above. However, you will notice some subtle difference as discussed below.
Features:
Pagination support.
Option to break form into sections.
Custom email messages to user and admin.
Detailed parameters for each field type.
Data validation before form submission.
Conditional login supported.
8.Advanced Contact Form 7 DB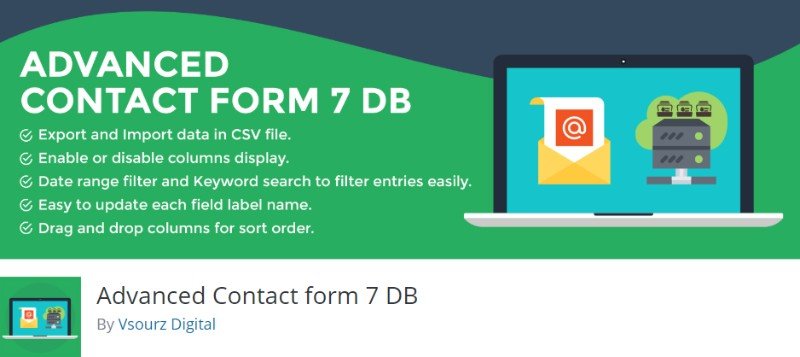 This is an add-on plugin meant to work on top of Contact Form 7. With the plugin installed, you will be able to store and access every submission through Contact Form 7 from directly your WordPress database. This can help you properly manage and organize all your user-provided data.
Features:
Advanced filtering options to find user-generated data.
Option to export/import data in CSV, Excel, and PDF file.
You can display Contact Form 7 database info to users using shortcodes.
Option to edit or update each record.
9.Contact Form 7 – reCaptcha v2
The current version of Contact Form 7 on the market is v.5.1.1. With Contact Form 7 v5.1, the developer dropped support for reCAPTCHA v2 along with the [recaptcha] tag. This resulted in increased spam for some users. If you are facing similar issues, then this plugin can help.
Once installed, it will add reCaptcha v2 back to Contact Form 7 v5.1.1, which is apparently more effective at fighting off spam.
Features:
Replaces reCAPTCHA v3 on Contact Form v5.1.1 with reCAPTCHA v2.
10.Contact Form Builder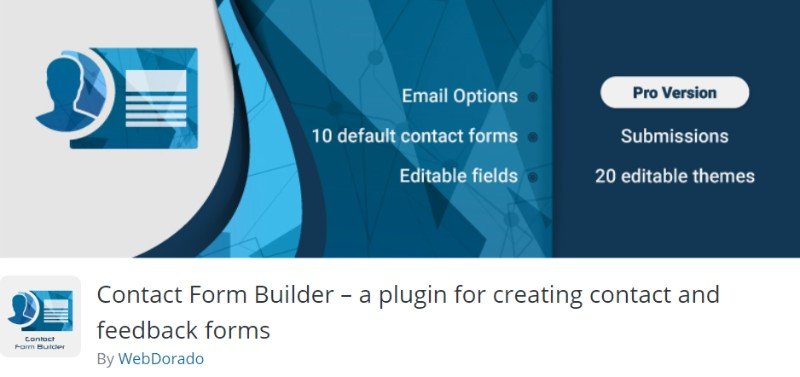 Contact Form Builder WordPress plugin comes with all necessary features and form fields to help create a functional contact form or feedback form for your website. An easy to use drag and drop interface is provided to help you create new contact forms, or edit any of the ready to use contact forms provided in the box.
Once you have created/edited a contact form to your liking, you can easily embed anywhere on your site using shortcodes. And since the plugin uses the existing CSS files of the WordPress theme, the contact form will automatically match your site's design and aesthetics.
Features:
10 ready to use form templates out of the box.
Form submitting notification via text or email.
Shortcode integration.
reCAPTCHA support to fight spam including the option to block IPs.
In Conclusion
So these were our picks for the top 10 contact form plugins for WordPress. Do let us know if you found the read helpful and which plugin you picked to use on your website and why.
Also, if you have used any other notable contact form plugins not mentioned here on the list, then do write about your experience using them in the comments below. We as well as your fellow readers will love to hear about your insight.
For next, you may also want to create a newsletter form to start your email marketing campaign.