Do you know adding pricing tables in WordPress sites can convert your visitors into your customers?
Have you ever come across a website that presents its pricing plan in form of an attractive pricing table? Would you get attracted to such a site's offering? Or would you get attracted to a site that presents it pricing strategy in form of words.
What would your response be? Would you be attracted to it?
Which site do you think is selling its point in a better manner?
Pricing tables are informative, concise and sell their point fast.
So, if you are attracted to them, so well your customers.
Hence, are you planning to add pricing table to your WordPress site?
If yes, good going! You have made the right decision.
But, are you now worried how to add pricing table in your WordPress site?
Are you thinking about coding?
Don't! it's a lot a hassle.
Pricing tables create an immense impact on consumers buying decisions. So. If you want to boost your conversion rate and increase your sales. You need an effective pricing table. This tutorial will help you add pricing table using responsive pricing table plugin. This tutorial includes the following things:
So, let the journey begin…..
What Are Pricing Table Plugins And Why You Need Them?
Pricing tables can also be called as comparison table. Since, it is the best way to compare price of different companies in one go. Pricing tables not only entails the price packages but also communicates values and benefits to its customers. So, within your pricing table you are offering value to your customers. You have a great chance to grab your customer.
Pricing tables is the need of WordPress site owners. If you want to compete effectively and competitively in the global market you need it.
Let's see some reasons why adding pricing tables in your WordPress site is important:
Great way to compare similar products
Gives you an opportunity to provide your customers a quick visual comparison
Anchor your own pricing strategy
Sell your product or service in a better way
Increase the value of your product or service
Informative, precise and attractive
And the list goes on……
We are quite sure that you do adhere the need of pricing table; but if you don't want to waste your time, energy or effort. We recommend you to add pricing table within your WordPress site with the help of a plugin. Don't go for manual or coding methodology.
It's not only time consuming but with manual procedure you will be able to design only a simple pricing table (in case you are highly talented). But for newbie's; popular and free WordPress plugins are best. These plugins benefit you with their advanced options, and features. Thus, you will be able to produce your original pricing table your way.
Your look, your style, your idea! Isn't that what you desire for?
There are various pricing table plugins available for your WordPress site, and choosing one is crucial. I am not being biased here, but among all this tutorial focuses on Responsive Pricing Table Plugin. Its features, pricing and an overall package really excites me. So, within this tutorial i will explain how you can add Responsive Pricing Table Plugin in your WordPress site through a step by step procedure.
Ready to learn?
Let's start……
Step by Step Procedure to Use Responsive Pricing Table Plugin
1.Install The Plugin
The first essential step you need to make is: Install the plugin

Oh yes! How could you forget that!
2.Create a Plan
Go to your WordPress dashboard
Go to Pricing Tables>Add New

You will be viewing a table like this: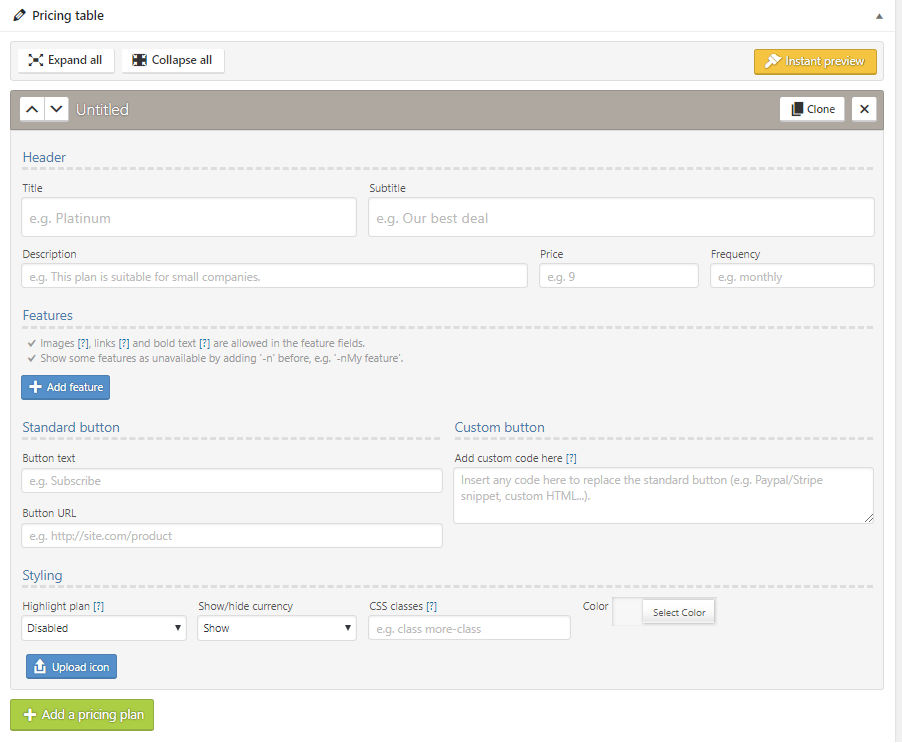 Fill in all the relevant details
Title
Subtitle
Description
Price
Recurrence
Small icon
A feature list
The text; for your call to action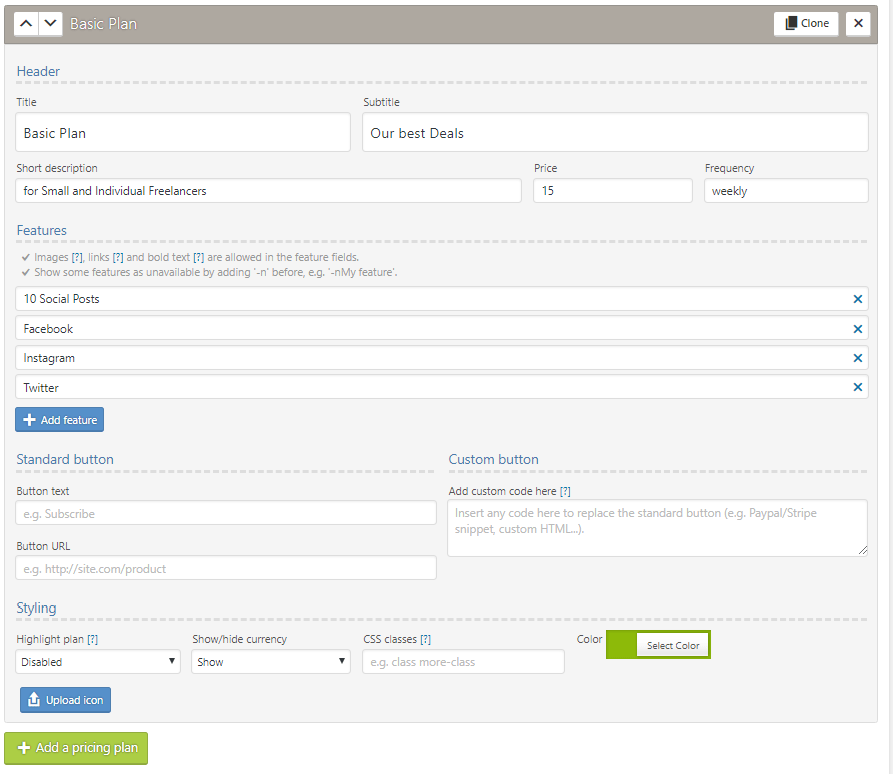 This is how we have filled the form
You may chose a unique title and description and skip subtitle if you want. We missed it
Next we have set the price and recurrence box (remember: this is our test price, you may change it according to your product or service)
Upload an icon in small icon option
Now list the features of your product/services( you can bolded some content by using <strong> tag)
Insert text to your button and chose your desired color.
Let's see the result now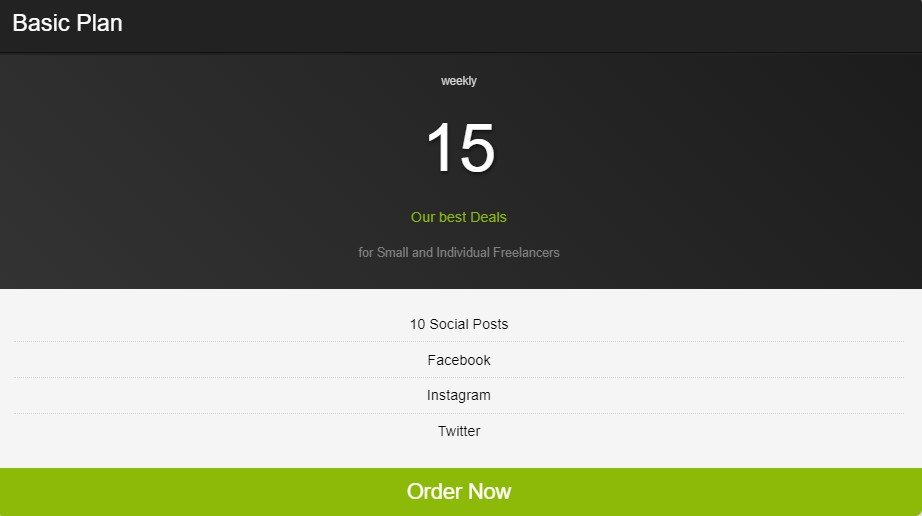 This was simple? Isn't it
Now you can repeat the process and add as many plans as you want.
Generally, there are three, but some also opt for four. I have entailed three plans; basic, business and enterprise. You may chose the name of plan according to your wish, this is just a test plan.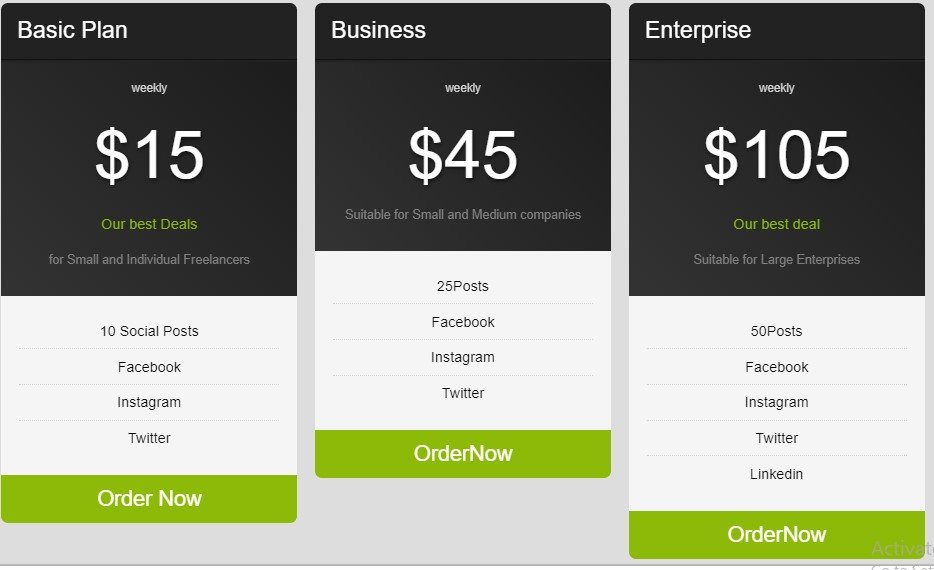 So far easy?
Choose A Feature Plan
Feature plan lets one of your pricing plans stands out. There is always one plan that provides benefit to the company. So, if you want any one of your plan can help you win sales, feature it. Present it in such a form that would enforce the visitor to purchase it.
So, to avail that option
Check Recommended Plan Option above plan features
Update table
Check results
Your chosen recommended plan is larger than the rest and creates an immense impact.
Wanna look?
Is it standing out?
3.Insert Your Pricing Table To Your Site
Now that you have to customize your pricing table you need to insert it into your WordPress site.
To achieve that; follow the guidelines:
Go to Pricing Tables > All Pricing Tables
Check the pricing table you want to insert
Copy the Short Code
Now paste the short code where you want your pricing table to appear (above testimonials, in the pricing page or anywhere else)
Now, lets discuss some other pricing tables that tare competitive and are providing the best services.
3 Best Alternative Pricing Table Plugin
1.Easy Pricing Tables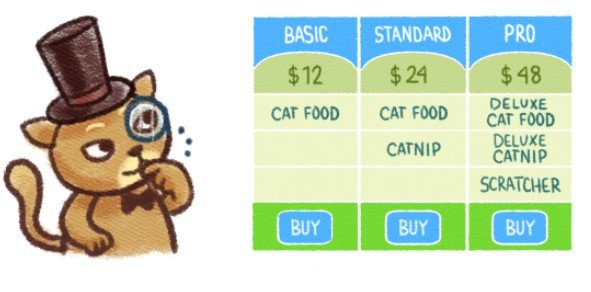 Easy Pricing Tables offers its users to create and publish beautiful attractive pricing tables on their WordPress site. It is not only compatible with WordPress but enjoys more than 30,00o active installs. It offers both free and premium version. The free version offers the following services:
Responsive tables
Drag and drop reorder option
Custom CSS
So, if you want to create your table copy that short code and paste it anywhere you like. Yes you have it.
But if you want to avail their premium version; it is enlisted with further features:
Ten beautiful pricing table designs
Fully-Customized pricing tables
Email support
Google analytics integration
And much much more…….
2.Pricing Table By Supsystic

Supsystic is another popular WordPress pricing table that help newbie create responsive pricing tables without programming or coding skills. It is offering the following features:
Drag and drop builder option
Unlimited pricing tables, columns and rows
Preset templates
Column images, videos and icons
Schedule columns
Switching toggle
Custom header, feature list and button styling
Hover animation
Comparison price tables
So, if you want to create amazing pricing table; Supsystic could be one of your preferred choice. You can easily choose a template, edit it, add content on it, adjust it according to your wish and publish it on your site. Supsytic is free WordPress plugin that can create a Stance within your audience.
3.WRC Pricing Table

WRC Pricing Table is another remarkable WordPress pricing table that exhibits clean CSS3 technology, responsive and very easy to use. So. If you are newbie, WRC pricing table could be of great help. They offer free and premium version.
It free version includes the following features:
3 ready-made template of the pricing table
Responsive for all devices
Unlimited background colors
Unlimited rows and column
Sortable column and feature items
Css3 tooltips and ribbons
Tick & cross icon supported
The premium version includes the following features:
13 readymade templates
Copy of any existing pricing table instantly
Import/export pricing table from another site
Pricing toggles
Hide empty features
And much much more…..
You can find more options from our hand-picked list of the 8 best pricing table plugins.
Final Thoughts
I hope this tutorial helped you learn how to add pricing table in your WordPress site. Comment in the section below if you have encountered any problems when walking through the steps in the article.
We would also recommend you to read our step-by-step guide of building a business directory on your WordPress site.