Do you want to create a multilingual site in WordPress? Creating a multilingual site can help you reach a wider audience. A wider audience means more traffic and hence higher conversion numbers. A multilingual enables you to connect to a global market.
If you are running a site with WordPress, by default it does not support multilingual websites. However, with the help of a plugin such as Polylang you can easily create a multilingual website. You don't need to have any coding skills as the plugin is easy to use and has all the features that you would need to create one.
There are 2 methods of translating a website, you can do it manually or you can use machine assisted translations. The plugin allows you to choose between both of these methods. Depending on your needs, you can use any of these methods. However, manual translations will definitely be more accurate and better perceived than automated ones. You should consider integrating multilingual capabilities from the very beginning. Manual translations can be a bit tedious, especially if you have a lot of content. For automatic translations the plugin uses the Lingotek service, which is a translation management system.
Why You Need to Create a Multilingual WordPress Site?
If your business or website is targeting a wider global audience in different regions you may need to translate your website in relevant languages. A good example is educational institutions targeting international students. Multi-national organisations are another good example of a situation in which a multilingual website will be useful. Ecommerce websites that are selling in different countries might also find multilingual websites useful.
Step by Step: How to Create a Multilingual WordPress Site?
Step 1: Installing Polylang plugin
Login to your WordPress dashboard, under the plugins menu click on add new. Search for Polylang, install and activate the plugin. 

Step 2: Setting up the Polylang plugin
Adding Languages for your site
After activating the plugin you will find a new menu item in your dashboard: Languages. Click on it to set up the languages which you want to use for your website.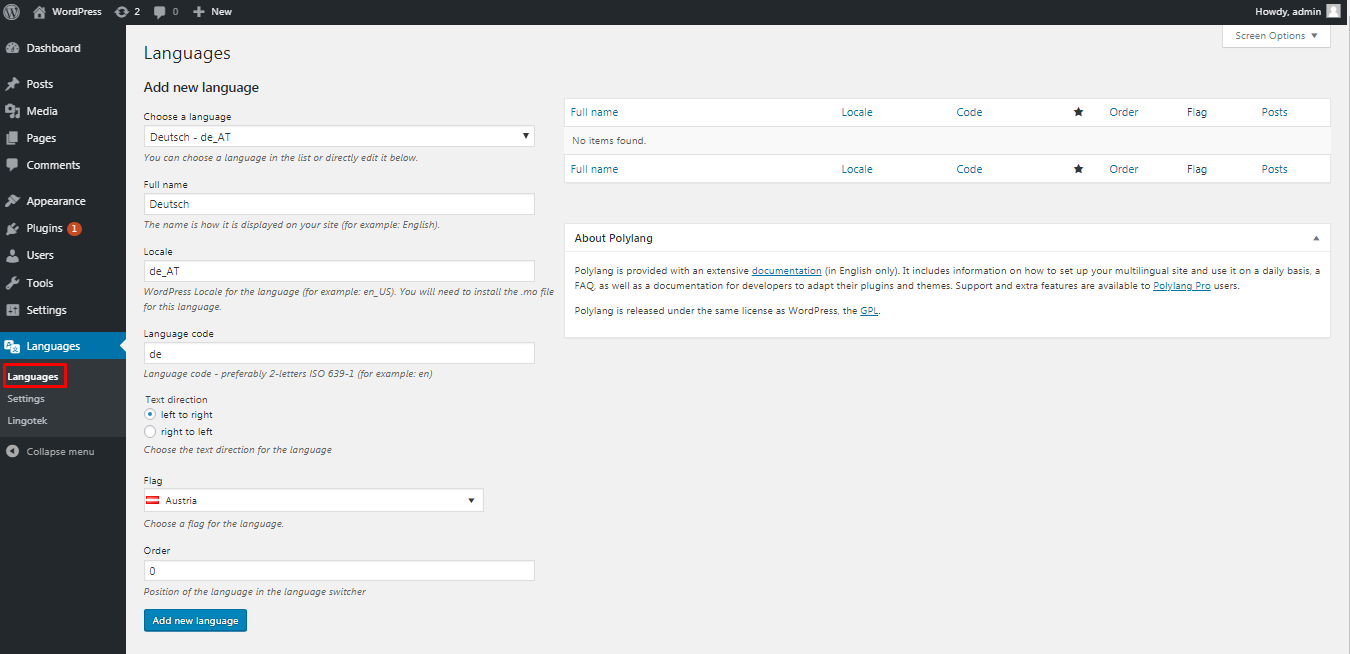 To add a new language simply select it from the drop down and click on add new language. The plugin supports RTL languages as well. You need to add the default language as well.
After adding the languages the next step is to translate the site title, description and changing the date and time format. Click on the string translations menu.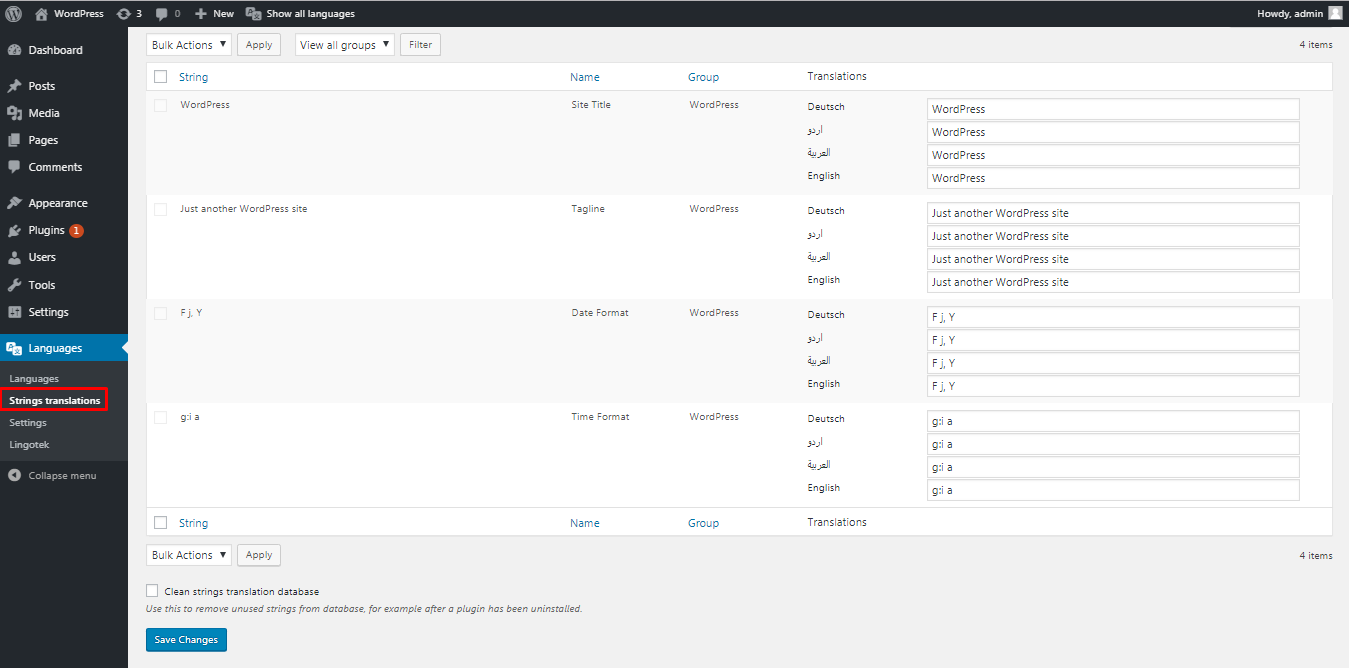 Simply change the Site title, the tagline and the time and date format as per each language.
Configuring Polylang Settings
The next tab under the languages menu is the settings tab. Here you can configure various settings such as URL modifications, enable or disable browser detection, enable or disable media translations and various other settings. You can modify these as per your requirements. 
The last tab on the plugin is Lingotek. Lingotek is a translation management system that can automatically translate your website, you can also request for professional translation services. As discussed earlier you need to be slightly careful with the automated translations.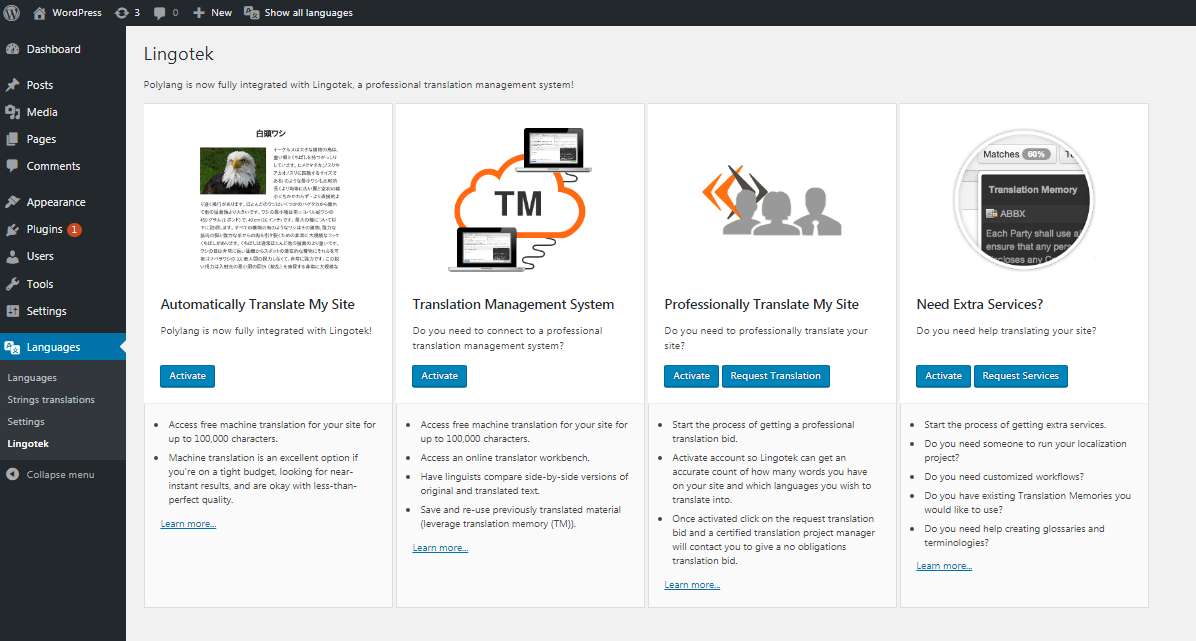 Step 3: Creating Multilingual Pages or Posts
When adding a new page or post, it will be added in the default language. In the right hand corner you will also see other translations that you can add. To add a translation click on the + sign next to the language in which you want to add a translation. You can add translations for each language available.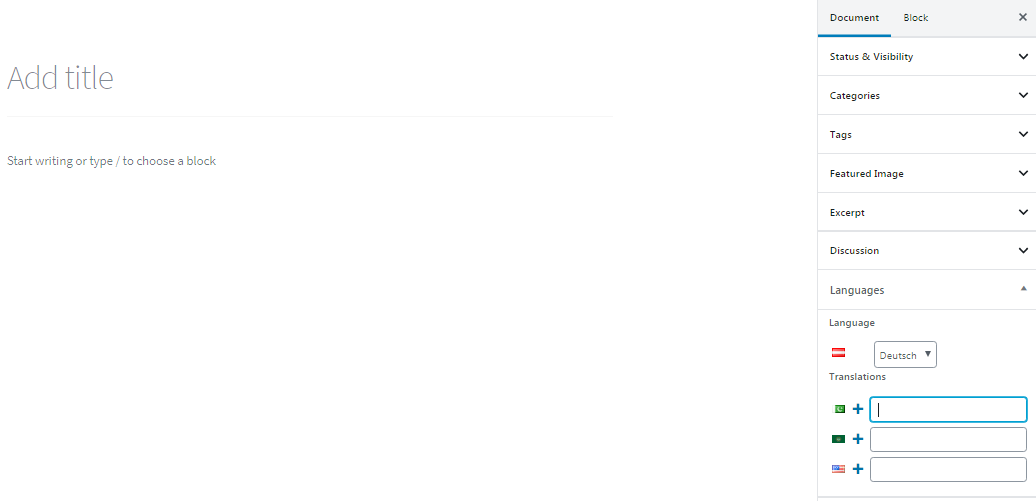 Step 4: Allowing Users to Switch Languages
The plugin uses a widget which allows users to switch languages. You can the widget anywhere in the widget sections of your theme. Go to appearance > widgets and add the language widget to any widget area.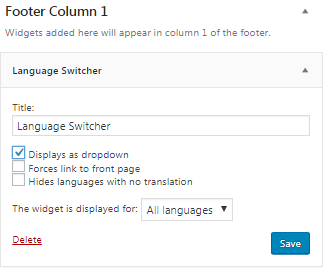 You can also add a language switcher to the navigation menu. In your WordPress dashboard under appearance, click on Menus, you will find the language switcher menu that you can add to any navigation menu.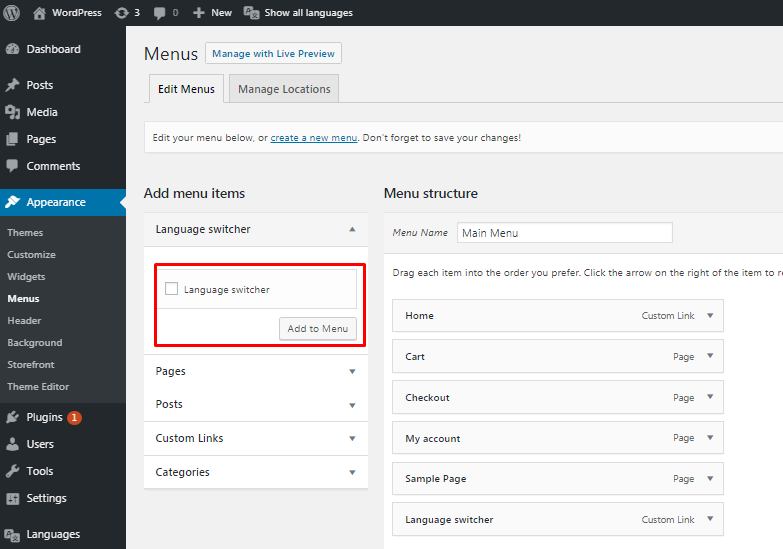 Conclusion
The plugin is one of the best solutions out there for creating a multilingual website. It has all the features that you would need to create one. The plugin is free and you might only spend money when you use the professional translations service. This is not necessarily a bad thing as your content will be of higher quality. The only downside to the plugin is it is developed by a single developer and that means, there is a chance updates might not be regular or timely. For more alternatives, you can check out our handpicked list of the best free translation plugins for WordPress.