Integrating Instagram To Your WordPress Site Is An Effective Yet Crucial Task You Need To Adopt. Whereas, If You Are Planning A Social Media Campaign, Instagram Plugins Or Widgets are Your Need.
Creating a social media campaign on Instagram is gaining popularity in the online world. If you own a small business or run a large corporation, Instagram can help you improve your user interaction. Especially after Facebook owns Instagram, it has become more productive, efficient and can help you attract more traffic.
Have you made your mind to run an Instagram social media campaign? If yes, then you need a known and efficient WordPress Instagram plugin. It will help you integrate Instagram to your WordPress site. WordPress bombarded with free WordPress plugins that will help you display photos from Instagram account to your WordPress site and display them on the sidebar or footer pages of your website.
So, if you want to display your photos to your WordPress site, this article will help you choose the best WordPress Instagram plugins. Some are awe-inspiring ones but chose the one that suits you best.
Top Instagram Plugins for Your WordPress Site
1. Instagram Feed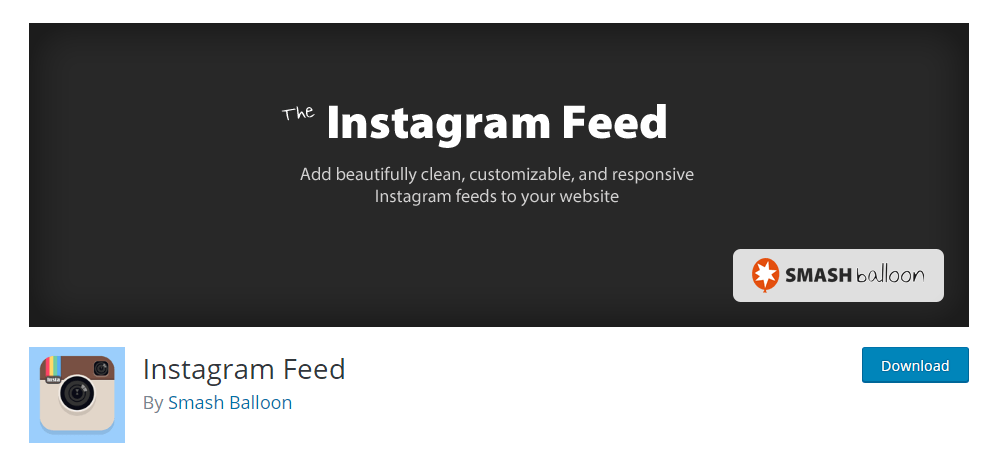 Instagram Feed is one of the most popular WordPress plugins that enjoys more than 800,000 active installations with a 4.9-star rating. With the help of this plugin, you can easily display your Instagram posts from your Instagram accounts either in the same single feed or multiple different ones.
Features of Instagram Feed;
Simple to use and easy interface
Responsive on all gadgets
Offer customizable options; allows users to customize width, height, number of photos, columns, image size, background color, image spacing and much more.
Offers users to display Instagram feeds on the same page or different pages
Allows users to customize their Instagram feeds using built-in shortcode options
Will enable users to view captivating headers at the top of their feed
And much more…..
2. 10Web Instagram Feed – Instagram Gallery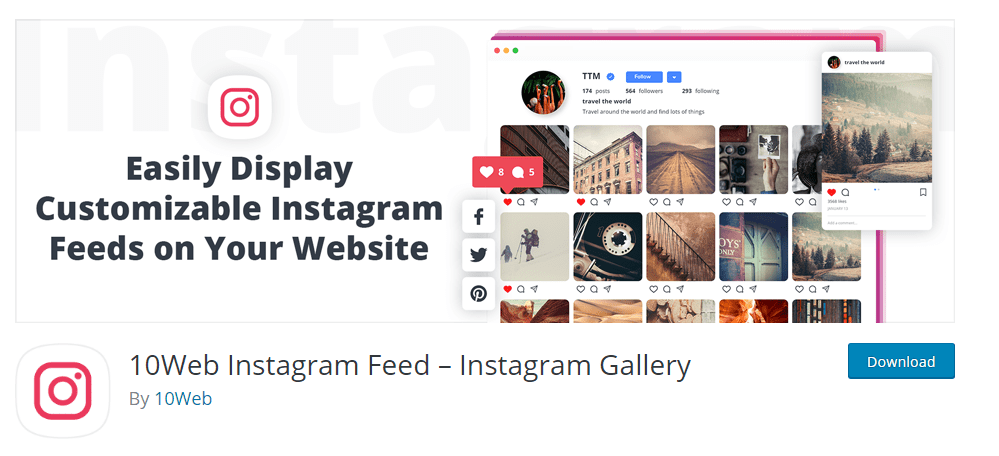 10Web Instagram Feed is another powerful and popular WordPress Instagram plugin. It has attained more than 90,000 active installations with a 4.8-star rating. If you are in search of a customizable, free and responsive Instagram plugin for your website, then 10web Instagram Feed is your ultimate choice. This remarkable plugin is offering a wide range of free and premium features.
Features of 10Web Instagram Feed;
Allows users to present images from hashtags to their Instagram accounts
Help user display an unlimited number of feeds on one page
It offers customizable layouts, functional lightbox, and customizable themes.
Helps users display Instagram feeds on their site's sidebar.
Allows users to publish feeds easily in one click.
Offers excellent customer support system.
All the above features are available in their free version. Whereas, if you want to get hooked with extra features, avail their premium version. Their premium version offers mixed and multiple feed option, fully customizable themes, 15 lightbox transition effects and much more, starting from only $ 25.
What do you like, premium or free version?
3. Feed Them Social – FaceBook, Instagram, Twitter, YouTube & Pinterest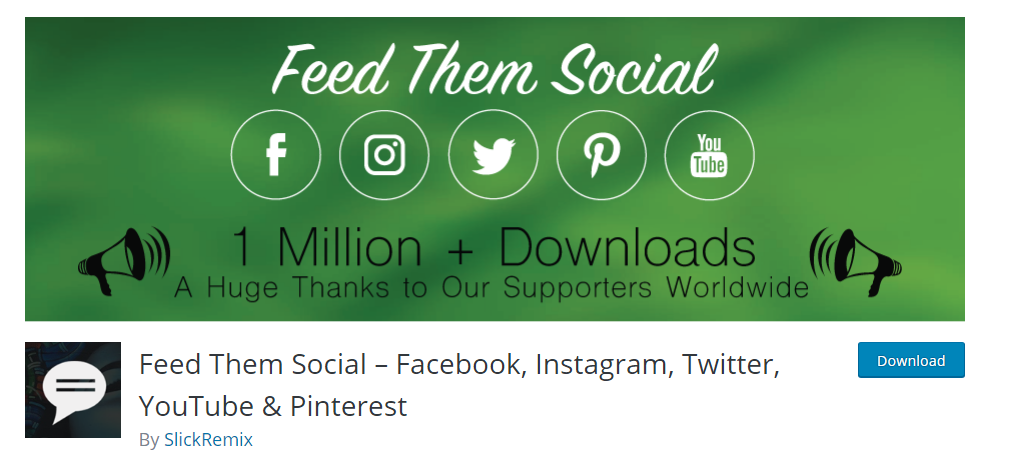 Feed Them Social is a free and a simple WordPress Instagram plugin that not only works with Instagram but Facebook, Twitter, and Pinterest. With the help of this plugin, you can display your content from a wide range of social media networks on your site. This plugin supports Instagram feeds; Facebook feeds, albums, groups, events, Twitter feeds, and Pinterest boards, pins and latest pins.
Ready to look over its features?
Features Of Feed Them Social;
Simple and easy to install
Allows users to add as many social feeds they desire for
Offers responsive social feeds and customized font colors
Helps users generate shortcodes for any feed with their super simple shortcode generator.
Excellent customer support system.
If the above features suit you in the best manner, then head on! However, if you want to avail some additional extensions. Feed Them Social's extensions start from $ 50 only.
4. Photonic Gallery Lightbox for Flickr, SmugMug, Google Photos, Zenfolio, and Instagram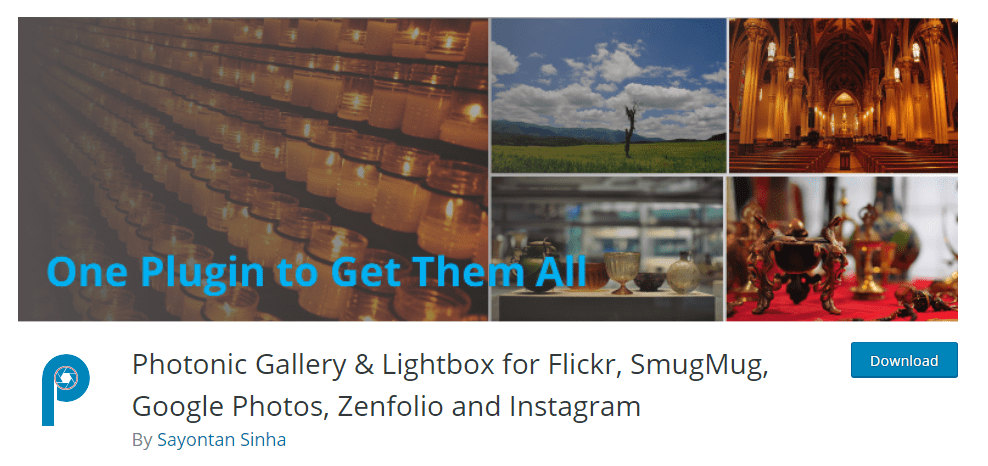 Photonic Gallery Lightbox is another powerful and versatile Instagram plugin that can help you increase your social engagement, save time and help you display your content your way. Photonic Gallery Lightbox enjoys more than 10,000 active installations. It helps users enhance their content and generate an astonishing look and feel of their gallery with style. It supports Flickr photos, Albums (photosets), Google Photos, SmugMug, Zenfolio,  and Instagram photos.
Want to know its features?
Features of Photonic Gallery Lightbox;
It offers built-in support for commonly used lightbox scripts, such as color box, fancy box, image lightbox, light case, light gallery, etc.
It supports Flickr photos, photosets, galleries collections, single photos, and authentication
It supports Google pictures and albums.
It supports SmugMug's user tree photos, albums, and, folders.
It supports Zenfolio concepts; photos, photosets, groups, and group hierarchies
Offers beautiful layouts and interactive editing options
Impressed, or want to look at other options?
5. Enjoy Instagram Feed With Widget and Shortcode on WordPress Website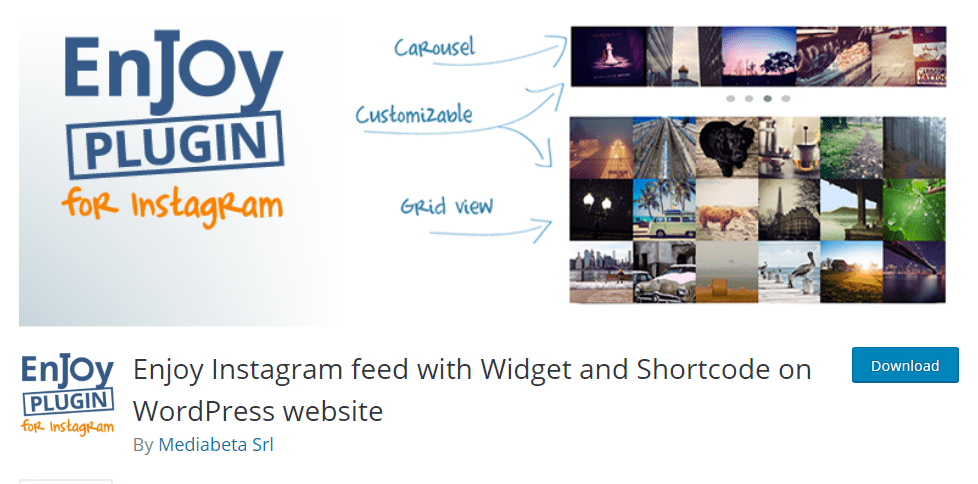 Enjoy Instagram is a fully responsive plugin that helps users embed Instagram photos in their posts and pages. Moreover, it also offers a widget option that will help you easily display Instagram content in your site's sidebar. So, if you are developing an urge for this plugin, let me give you good news. You can select an unlimited number of photos and display it at one time.
Want to know its features?
Features Of Enjoy Instagram;
Allows users to post photos through hashtag-based Instagram feed and profile based Instagram feed
Offers a wide range of customization options; customize Instagram, pictures, columns, and rows
Offers wide range of lightbox options
Fully Responsive and easy interface
Allows users to add Instagram carousal feed and Instagram grid feed with a shortcode.
And much more.
It also comes with a premium version offers more shortcodes, display options, customized services, improved CSS and JS loading and better management.
6. Instagram Gallery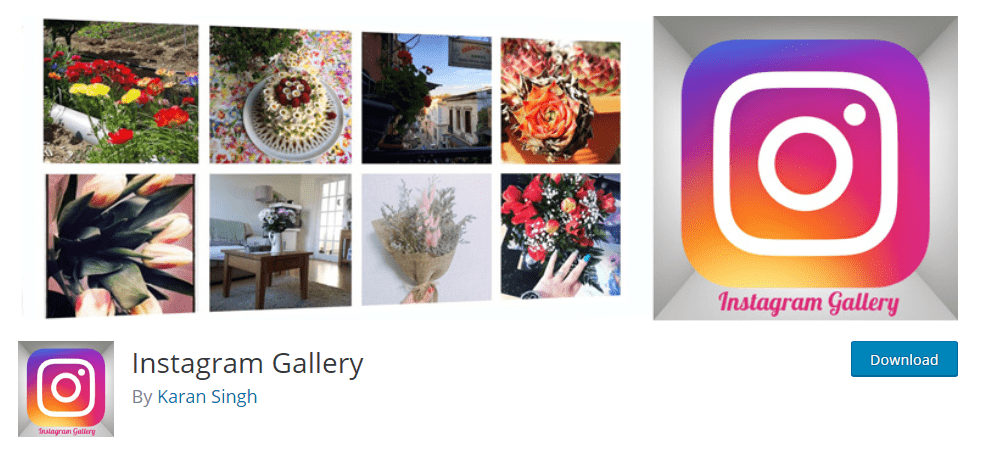 Instagram Gallery is another popular and free Instagram WordPress plugin. With the help of this plugin, you can quickly and easily display your Instagram images to your WordPress website. Instagram Gallery enjoys more than 40,000 active installations, due to it's easy to use interface.
It offers a quick and straightforward procedure:
Just display pictures from your Instagram account as gallery or carousel slider.
Paste your Instagram access token
Configure the gallery setting
Now, your pictures are visible on your WordPress site
Could it be simpler?
Most importantly, Instagram Gallery is compatible with IE 10+, Safari 6.1+, and all other modern web browsers.
7. Instagram Feed – Instagram Gallery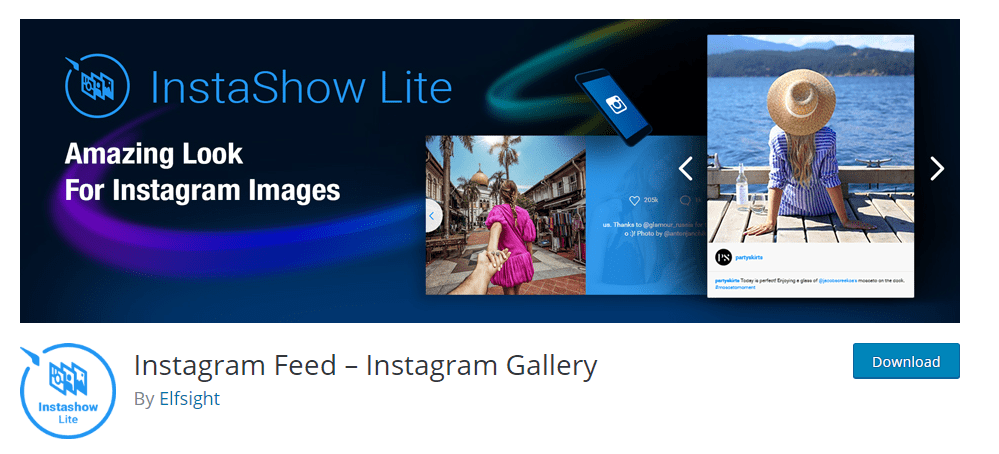 Instagram Feed is a robust WordPress plugin that connects your Instagram account to your site in the most convenient manner. It is one of the most popular plugins since it attains more than 10,000 active installations. It is user-friendly, allows users to select an unlimited number of columns in their widget, and offers a wide range of other features.
Features Of Instagram Feed;
Fully responsive and automatically adjust to any screen size
Allows users to choose 1 of the three source options; username, tag and photo URL
Offers two navigation control options
Offers custom animation option
Most importantly, this plugin is updated regularly, and users notified about it through their admin panel.
8. Instagram Widget by WPZOOM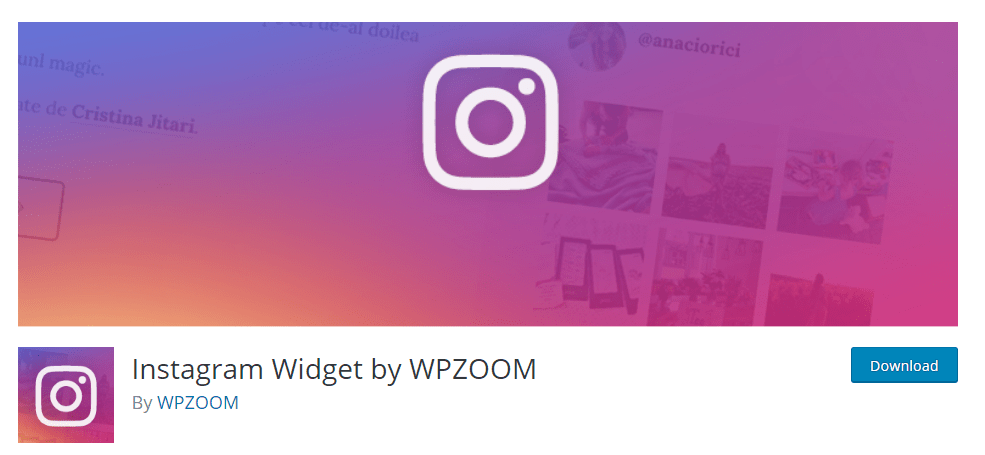 Instagram Widget is another fantastic plugin that needs your attention. With the help of this plugin, you can display public feed anywhere you want and customize its design using CSS. Most importantly, it has attained a 4.9-star rating with more than 200,000 active installations.
It offers a wide range of modern and latest features that can help you add an Instagram feed to your site with ease. It is popular, active, efficient and most importantly, it's free. Would you give it a try?
Wrapping Up
These are our top picks of the best Instagram plugins, let us know which plugin did you love the most in the comment section below. If you want to integrate more social networks to your WordPress site, check out our hand-picked list of best free social media feed widget plugins for WordPress.