Are you building your website or making major changes that will affect the overall look of your website during the process.
You don't want people to see the mess before perfection.
In that case you would want to create a coming soon page that would put your WordPress into maintenance mode.
Lucky for us there are many great plugins in WordPress with which you can easily extend your sites features for free, which includes creating a coming soon page.
By installing a coming soon plugin you will easily setup a maintenance mode for your website and if activated all your website traffic will be redirected to the coming soon page as you continue to build your website.
Besides just showing the page, the page can be designed to be lead capturing tool, with forms that for some plugins can be integrated to email marketing applications.
There are two possibilities of putting your WordPress into maintenance mode using a coming soon page.
First, you can use your theme
Ok this is a stretch, but most themes lately come with maintenance mode pages already pre-installed, before you look for a plugin to do this, at least explore your theme for this.
Typically the maintenance mode setting is found in the Theme Options. The location of the Theme Options is unique to each theme, you will want to check the documentation of your theme for that.
Inside Theme Options, usually on the Menu you will see Maintenance mode. They may not use the same words but you will know. Click it, enable and choose the page. In case you need to, you can customize it. Save the settings and your will have been able to create a coming soon page to put your WordPress into maintenance mode.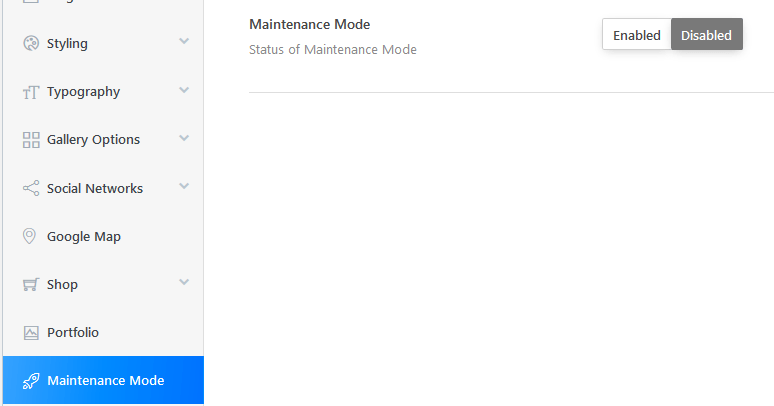 Second,Using a popular coming soon plugin
If you check your theme and find that there is no in built Maintenance Mode page, you don't have to worry, WordPress has very many plugins that will enable you to create a pretty decent coming soon page within minutes.
We have listed some of the popular plugins here that will get you started fast without touching any line of code, unless of course if you want to.
Popular coming soon plugins;
1.nifty – Coming Soon, Under Construction & Maintenance Page

On top of our list is nifty, this is one of the completely free plugins that will give you features that other plugins offer with a premium subscription.
You will be able to create an awesome coming soon page with this plugin easily.
Some of its features are
2. Coming Soon

If you are looking for a search engine optimizable page, then this popular coming soon plugin would be what you would need.
With this plugin you have the standard page title and Page Description
And then there is an option to set your SEO Title and SEO Description which are not publically visible but can richly be optimizes with your keywords for search engines.
The Pro version of the plugin lets you to connect to 8 email marketing applications, high quality designs templates, responsive design and more features
3.Coming Soon Page & Maintenance Mode by SeedProd

The free version of this plugin will enable you to create simple coming soon page for your WordPress website.
The appearance of your page is fully customizable and responsive.
The Pro version provides you with a lot more features for your page.
4.CMP – Coming Soon & Maintenance Plugin by NiteoThemes

Here is another free popular coming soon plugin.
Totally customizable to your colors and logo, or if you desire, use any of their prebuilt themes to get you started fast.
Besides the great features it has, one feature that pulls me often is the ability to enable the coming soon page on only specific pages or user roles and more ways. This is handy when you are editing or creating a new page and you do not want people to access it just yet. The application of this Whitelisting feature can be left to your imagination.
5.IgniteUp – Coming Soon and Maintenance Mode

Igniteup comes with four free templates that you can use to create your fully responsive maintenance page right away.
If you are building a website for a client you are able to show it to them with a secret URL or adding their IP Address to a whitelist.
Its forms can also be easily integrated to Mailchimp and Mailpoet email marketing applications.
One important thing to note if you intend to use IgniteUp coming soon plugin is that you have to be using the default WordPress admin settings. If you have modified or hidden the default admin section it will not work for you.
Your backend should use – yourdomain /wp-admin URL to access the backend rather than a custom login url.
6.Site Offline Or Coming Soon Or Maintenance Mode

Another great coming soon plugin I have used building website for our clients. Site offline is easy to use and fully responsive with a countdown timer, background image, optional sections and plenty more features. The pro version has even more features.
Final Thoughts
Now you can create a coming soon page to put your WordPress website into maintenance mode.
Almost all plugins available in the WordPress plugins repository have free options what will give you a basic maintenance page, if you need more functionality or features most of them require you purchase a premium version of it.
In this list, we have two plugins- nifty – Coming Soon, Under Construction & Maintenance Page and CMP – Coming Soon & Maintenance Plugin by NiteoThemes – that are completely free with features that others offer on their pro versions.
By enabling the forms you can turn your coming soon page into a lead capturing machine or just get your visitors contact information so they are informed when the website goes live.
During the reconstruction of your site, you may also want to make it GDPR-compliant with one of these top GDPR plugins.