It's one thing to write and have great content on your website. It is another thing for that content to be discoverable and easily shared by your visitors.
One great way to make your content discoverable is to make it easy for your readers to share with their followers on the different social networks they are in by adding social media buttons within your posts or on sidebars.
In content marketing as a part of any Digital Marketing strategy, earned media is probably one important channel in the marketing efforts of large corporations. Almost all marketing campaigns created by these corporations have an element of earned media, an element where that enables the target audience to engage with the content and market it too.
With a WordPress website, we can pretty much achieve this with a social share plugin.
There are many free social share plugins at your disposal, but for this article let us learn how we can add social media buttons to our website with Mashshare.
Mashshare is a free social share plugin which comes with social media buttons that enable your readers to share your content to different social media networks.
The free WordPress plugin you download from the WordPress plugin repository only has Facebook and Twitter social media networks. To get the other social media buttons, like Pinterest, LinkedIn, and many more, you will have to purchase the premium version of the plugin.
But, that does not limit or underscore the weigh that Mashshare carries as go to social share plugin to increase engagement on your website.
There are many free social share plugins out there, many will give you more than 100 buttons for social networks, but, there is just a thing about Mashshare social share plugin.
Few plugins have the high-resolution quality social media buttons that MashShare ships with.
Its share counter is another plus feature, engagement can easily be furthered when people see the popularity of your articles.
then I also love the fact their buttons are responsive, meaning they will fit and look right on whichever device your visitor will use to read your articles.
How to install Mashshare social share plugin in WordPress.
First, we shall install the social share plugin from our backend.
1.Login to the backend of your WordPress site and head to the plugins section; In the search bar, type in Mashare.

2.From the search results, look for the big blue M – socials media share buttons. Click install, and then Click Activate.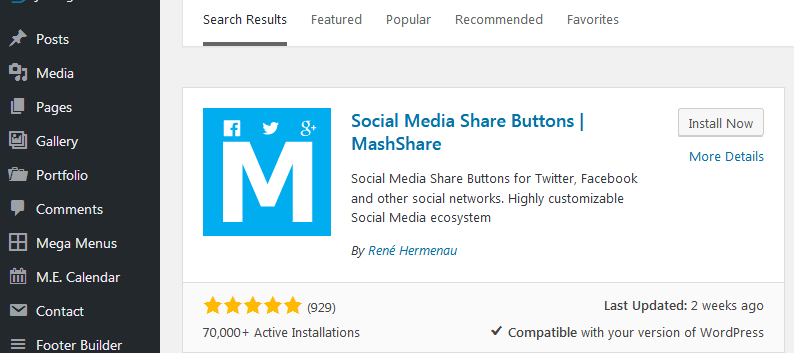 Once you activate the plugin, Mashshare buttons will automatically be added to your WordPress posts. The social share buttons are placed on top of your posts.

If all you wanted was to add the social media buttons on to your post, then this is the far you need to go.
You have installed a social share plugin and added social media buttons to your website.
That's how easy it is to add a social share plugin to your website.
But, Of course, you can do a lot more with these plugins. You can customize the size of the buttons, change the positions and location the buttons are displayed, and a lot more.
It does us right to see how further we can go to get the best out our social share plugin.
3.Typically, for that, we go to the settings of the plugin; From the menu, down below, in our case you will see Mashshare, Click Settings.

4.From the settings page, we can customize the buttons and define the settings we need.
With the MashShare, social share plugin settings, you can
Configure the share count, you have the choice of using MashEngine that collects shares by direct request to social networks or using a GDPR compliant service of com that is free for up to 10.000 daily requests for Facebook, Pinterest, Stumbleupon, and twitcount.com for Twitter.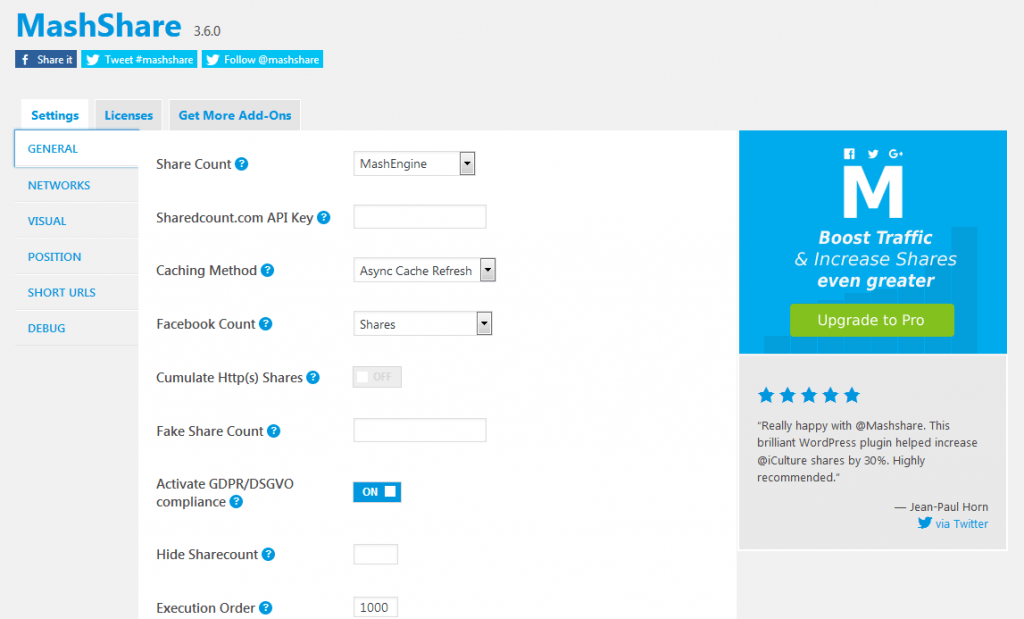 From the Networks tab, you manage the social networks you want your visitors to share content to.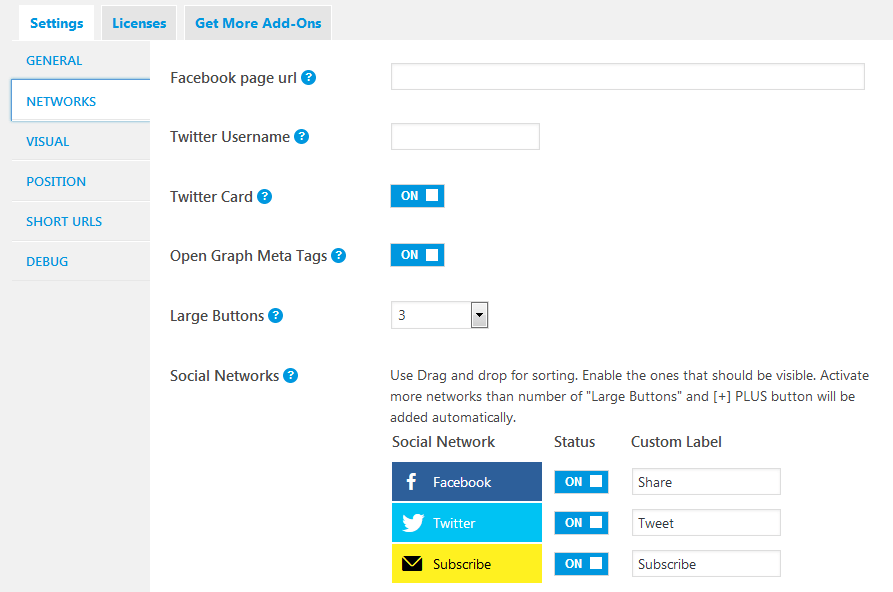 The visual tab is the area to design your buttons. This probably one of the best features that this social share plugin affords you.
You are not stuck to the default designs that the plugins ship with.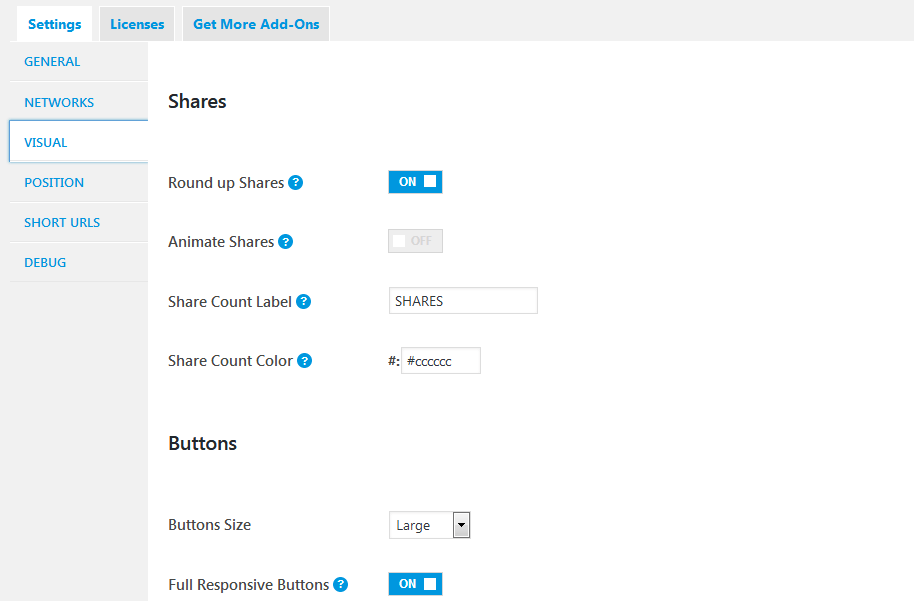 Experiment in this section until you get the appearance that fits your site's overall look and feel.
From the position tab, you can choose what pages the social media buttons will be displayed.
By default MashShare social share plugin is enabled only on the posts, and on the top of a post.
From this section you are can as well select other content types besides the posts and where the buttons are positioned. You want them on the bottom, inline, you can define that here.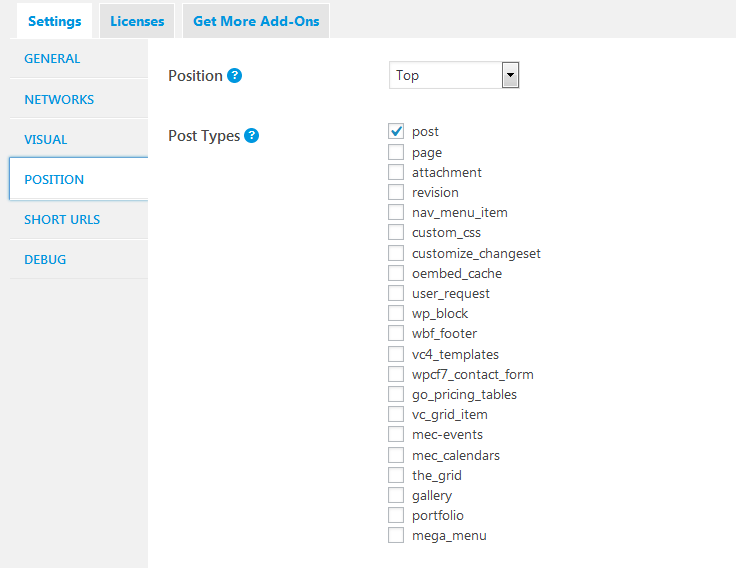 If you desire to shorten the URL that is shared, then the short URLs tab is the place to do it from. MashShare uses Bitly, a shortening and link management platform. You need a Bitly account to configure this. It is free in case you are wondering.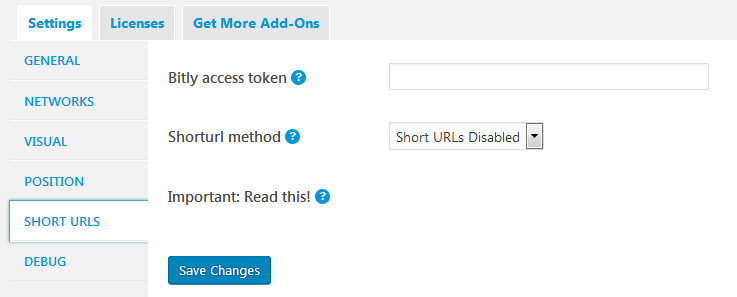 Mashshare social share plugin, like most freemium plugins, allows you to extend the functionality of the basic free plugin with tools and features that are enviable.
Mashshare has 13 extra add-ons, two available for free that you can add to your website;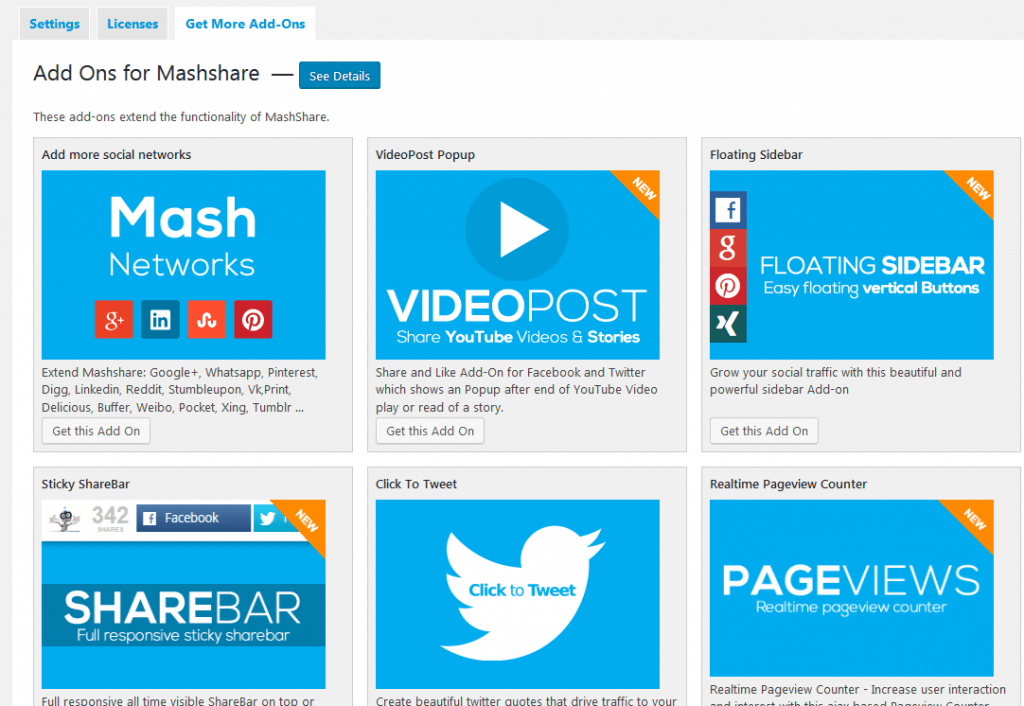 As you have seen, adding a social share button to your website is not that a hard task. MashShare like other plugins will work once installed and activated.
With a social share plugin like MashShare, you have the flexibility of customizing the buttons, choosing where on your website you want to place the social media buttons and do a lot more.
The free version of MashShare, as we saw previously is limited to only Facebook and Twitter. If you wish to have your content shareable to other social media sites too, you will have to part with €19- €39 for the premium version unlocking other extra features.
If that is within your content marketing budget, then sure, go ahead, purchase the premium version and it will be worth it.
If that's not within your budget, or if you rather explore the other Social sharing plugins available in the WordPress plugin directory, then here a couple more very solid options for your website.
Other Social Sharing Plugins
I could bet you a dollar; for as long as you have been browsing the internet, you have seen the AddToAny social share plugin buttons on some website.
AddToAny is one social share plugin whose existence can be traced back to the days when the very first social media sites sprouted.
AddToAny social share plugin is totally free and the best part is you get features like counters, floating share buttons that most plugins offer only their premium subscribers.

2.AddThis
This is another very popular social sharing plugin that is totally free; you will be totally spoiled for choice if you pick this for your website with buttons for more than 200 social media networks.
AddThis social share plugin's buttons are used in more than 15 million websites.
You can have the standard buttons or floating buttons which you can totally customize with your brand colors.
If you desire, you can sign up for a free account to get analytics and insights of how your content is performing based on the networks it is shared on.

3.Easy Social Sharing
Easy Social Sharing plugin developed by ThemeGrill certainly is worth a shout out here. With a social share counter and easy to use social media buttons adding social media buttons can never get any easier.

4.Shareaholic
Shareaholic is more than a social share plugin. The features you get from the free WordPress plugin are more than enough to let your content be easily shared across multiple social networks.

There are hundreds of other plugins out there that will enable your visitors to share your content.  These are just a few handpicked free options that you can start with.
Almost all of these plugins offer you not just the buttons, but a counter where you can easily make sense of how your visitors are engaging with your content.
When you are able to create content that your audience loves, you gain more traction if you empower them to engage and market it for free.
Final Thoughts
It takes a minute or two to install a social media plugin and configure it for your site, but the perks of increased exposure of your content are a lifetime.
You have spent a great deal of time and money creating content that people actually love. So why not let them share it.
Now you learnt how to create social share buttons on you site, you can also share all your posts automatically on all your social medias.