The internet has become the primary source of all types of information, including the trending news. As such, there are plenty of news based websites giving users access to the latest headlines in par with their television counterparts. Now, if you want to create such an online presence, we recommend that you make use of a WordPress news theme to build your website.
Why Do You Need A WordPress News Theme?
News websites require a simple and clean UI so that visitors can focus on the content and not get distracted by the design. Furthermore, you will need a layout that facilitates showcasing as much content as possible to the users, so they can quickly glance over all the latest headlines and news articles.
By installing a WordPress news theme, you will get access to all the above mentioned design choices at the push of a button. On top of that, these themes also comes with many niche specific features such as sliders to showcase featured posts, or dedicated membership portals so that readers can create accounts on your website.
And so, for the purpose of this read, we have put together a short list covering some of the best WordPress news themes in the market to help you create the perfect news based website.
So without further ado, let's get started:
Top WordPress News Themes
1. Mission News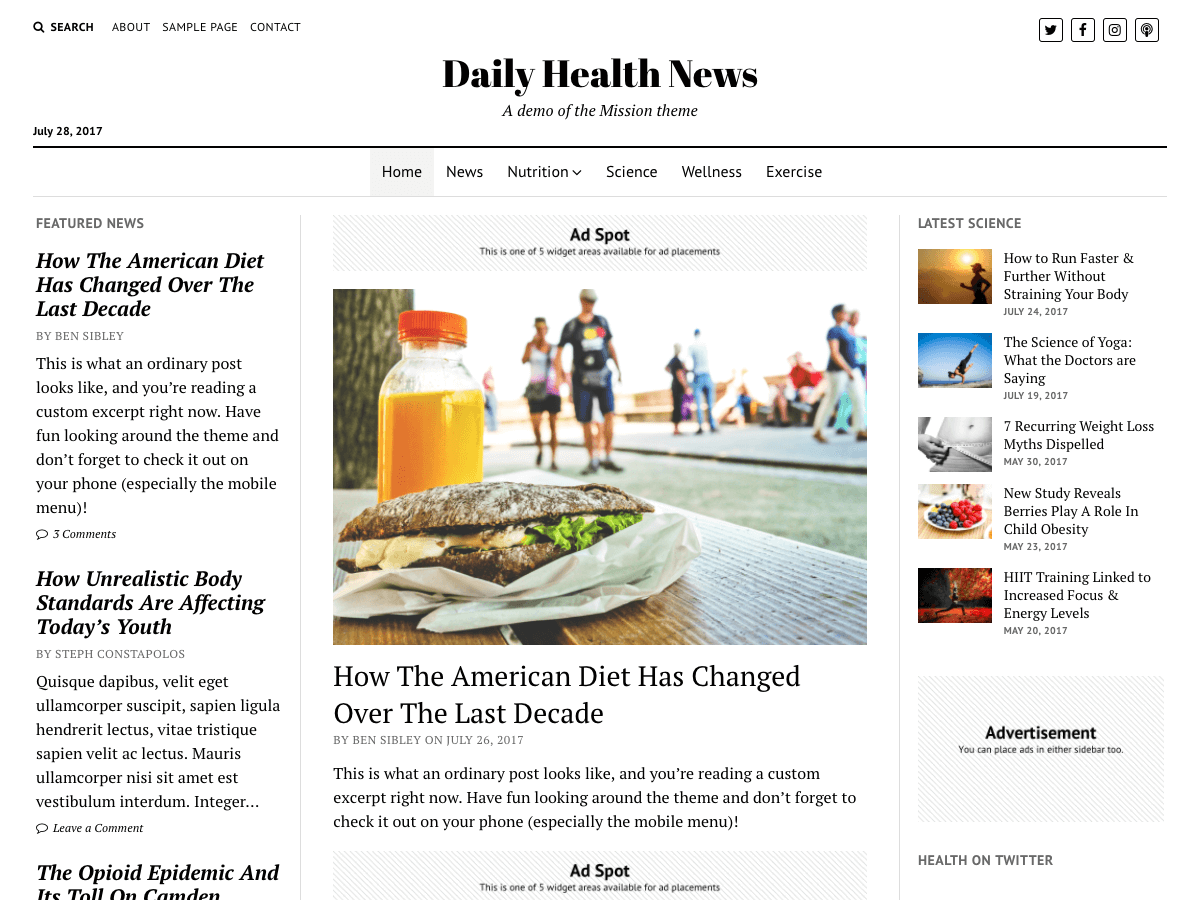 Start off our list of the best WordPress news themes, we have Mission News. It will give your site a classic newspaper design and provide you with tons of customization options. This flexible theme includes nine different layouts all of which adapt seamlessly to mobile devices. As a responsive theme, you can entrust this news theme to present your content beautifully to your visitors regardless of how they view your website.
Features:
50+ social media icons.
Global search bar.
Beautiful mobile menu.
Recent Posts Extended widget.
Nine layouts.
Page-specific layout controls.
WooCommerce compatibility.
Elementor compatible.
And much more.
2. Massive News
For our second WordPress News Theme, we have Massive News. It follows a clean and simple design style inspired by the trending minimalistic design language. The entire layout follows a grid based structure where all the content is intuitively arranged so the readers can get access to all the important stuff at first glance.
Features:
Different layout variations with options for 2, 3, or 4 column layout.
Loads of customization options tucked away inside a powerful theme customizer.
All demo content included with one-click import feature.
Advertisement support with plenty of ad spaces.
And much more.
3. Newspaper
Next up, we have Newspaper, one of the best selling WordPress news themes on the market. It is essentially a multi-purpose news theme as it comes with loads of demo websites for different news websites covering all topics. The theme gives you access to all the necessary design elements and layout variations to help you build the perfect news website by using a live editing tool.
Features:
A huge list of lightweight demo websites for different types of news websites.

Drag and drop page builder to help you tweak the layout.

tagDiv Cloud Library that contains 1300+ pre-made design templates

Header & Footer builders.

WPML compatible.

Google Ads and AdSense ready

.
And much more.
4. Advanced Newspaper
Advanced Newspaper WordPress theme allows you to create a powerful e-newspaper website with a focus on readability and navigability. The layout is structured in such a way that users will get to see all the important headlines and latest covers as soon as they hit the homepage. Customization options are also plentiful, which allows you to brand your website to reflect your publication.
Features:
Based on the powerful and highly customizable Bootstrap framework.
Different homepage templates and post templates to help you setup your website.
Slider integration to help you showcase feature content.
Advanced control panel makes customization a piece of cake.
Comes with the Gabfire Media Module with support for video as well as image based content.
And much more.
5. MH Newsdesk
MH Newsdesk WordPress News theme offers you a minimal yet dynamic design layout where almost every aspect can be tweaked and customized according to your whim. You can also add/remove a sidebar area, allowing you to switch between a full width layout and a boxed layout.
Features:
Flexible layout which gives you complete control over the site structure.
Plenty of customization options to tweak different design elements.
Fully widgetized.
Custom widget support.
Translation ready with RTL support to help you reach out to a global audience.
And much more.
6. News Pro by StudioPress
News Pro from StudioPress is built using the Genesis Framework, making it one of the most powerful and customizable WordPress News themes on the list. The theme is perfect for all sorts of content from text to video & audio. Design wise, however, it is pretty simple, boasting a lot of whitespaces so that the readers' attention is always on the content at hand.
Features:
Based on the powerful Genesis Framework.
Loads of customization options conveniently tucked away inside the theme options panel.
Plenty of readymade landing pages for added variety.
Threaded comment section to promote user engagement and opinion sharing.
Sidebar support with widget areas.
And much more.
7. Newspaper by ThemeJunkie
Newspaper WordPress News theme, coming from ThemeJunkie, boasts a design layout similar to traditional newspapers we buy from the store. This makes it an ideal pick for newspaper publishers who already have a basic printing press, and want to establish an online presence. Customization options are also plentiful, allowing you to tweak the design according to your liking.
Features:
Multiple content layout for added flexibility.
Plenty of customization options.
Mega Menus support.
Powerful slider to help feature all your highlighted content.
Dedicated blog layout.
Widget support.
And much more.
8. Prime News
Prime News WordPress News theme is designed particularly for news and magazine based websites in mind. The layout features multiple sections to help you showcase a wide variety of content collected from different sources. This makes the theme perfect for creating a powerful news aggregator website.
Features:
Customization controls allows you to tweak almost every aspect of the design from colors, fronts, and logos, to different design elements.
Sliding sidebar panel to add extra real estate.
Multiple slider styles to give you different options to showcase your featured content.
Dedicated video sections.
Infinite scrolling support.
Widget support with a dedicated instagram widget.
And much more.
9. 4News
4News WordPress news theme is specifically designed to help you showcase a variety of news from a single news portal. Built using the powerful Elementor plugin, the theme is highly customizable. You are also given access to various page layouts and blog layouts for added design variations.
Features:
Designed using the powerful Elementor drag and drop page builder plugin.
Comes with a variety of page variations and layout options.
Multiple blog layouts.
Support for video based content. Comes with a dedicated video player.
Custom post type for review-type content.
Dedicated pop-up manager to help you attract the readers' attention.
And much more.
10. Status Magazine WordPress Theme
Status is primarily designed for magazine based websites, but it is also suited as a WordPress news theme. Its list of features including the vast customization options and flexible layout allows you to tweak the design according to your liking. Furthermore, the theme supports every content type, allowing you to deliver a rich user experience.
Features:
Flexible layout with support for 1 – 4 column structure.
Loads of customization options including primary and secondary accent color selection.
Support for audio, video, image gallery, and standard post type to help you create a rich content experience.
org supported.
Custom Widget support.
And much more.
11. Jannah News
Jannah is an extremely well known WordPress News theme with dedicated content marketing functionalities. It also comes with a variety of different demo websites to help you create a niche specific e-news portal. BuddyPress and bbPress plugins are also included into the mix to allow for membership and user account creation.
Features:
Over 20 premade demo websites.
Built-in page builder to help you tweak the site layout.
Loads of customization options gives you control over different design elements.
Video content support along with a dedicated video playlist.
bbPress and BuddyPress integration.
WooCommerce integration.
Email Marketing options included.
Custom widgets built-in.
And much more.
12. Newsmag
Newsmag WordPress news theme boasts the perfect set of design and functionalities to help you create the go to platform for online news and magazine portals. You will get your hands on all the necessary tools to help you design your website just the way you like it. Option to publish different content types is also included.
Features:
Loads of unique demo websites to choose from.
Powered by the tagDiv Composer page builder plugin.
Flex Block to help you design and customize almost every aspect of the layout.
Loads of customization options tucked away inside an advanced theme options panel.
9 different post styles for adding design variety to your content.
Premium widgets to help you showcase more information to your readers.
An intelligent ad system helps you monetize your website.
WooCommerce integration.
And much more.
13. Vibe
Vibe is primarily designed for online magazines and blogs, but it can also be used as a WordPress news theme if you like. Design wise, it is a bit more flashy than traditional news themes, but if that is the style you are going for, then Vibe will not disappoint. The theme also bundles in loads of premium plugins to add extra features and functionalities into the mix.
Features:
A sleek modern layout with a full-width header image.
Support for parallax header image.
Comes with a modern blogging layout.
Stunning page transition effects to help increase engagement.
Loads of premium plugins bundled in for free.
WooCommerce integration.
And much more.
14. First Mag Pro
First Mag Pro is a multi-niche magazine theme for WordPress websites. It features loads of design variations and customization options to help you create the perfect website for your magazine, blog, or e-news website. Plenty of monetization options are also included in the form of an in-built e-store and a powerful advertisement management system.
Features:
9 different homepage blocks for design variations and flexibility.
2 awesome sliders and 1 carousel to help you showcase your featured content.
Loads of customization options.
Optimized performance, thanks to JPEG compression and Lazy Loading images.
Dedicated advertisement management system.
An in-built review system.
WooCommerce integration.
And much more.
15. News Reporting Theme by Gavick
News Reporting from Gavick offers a WordPress News theme boasting a simple and minimal layout divided into grids showcasing as many news articles and headlines as possible. On top of that, you get access to an Ajax-powered search system, tabbed sections and slideshows to help users find the content they are looking for, as quickly as possible.
Features:
Plenty of customization options to control different aspect of the theme design.
Multi-column layout allows you to showcase a lot of articles and headlines.
Tabbed sections and news slideshow to help UI/UX.
Dedicated plugin to pull latest articles and news automatically to your homepage.
Ajax-powered search functionality to help users find their desired content.
Widget support.
And much more.
16. Pressroom
And now, for our final WordPress news theme, we have Pressroom. It is a highly configurable and flexible theme developed to help build news based websites as well as online magazines and review sites. As such, it supports a variety of options to help you create and publish rich content for your readers.
Features:
Option to choose between a boxed layout and a wide layout for your website.
Loads of customization options, courtesy of the advanced theme options panel.
Visual Composer drag and drop page builder plugin built in.
Multiple options for blog layouts and post layouts.
Ajax powered contact form.
Support for multiple menus and sidebars to display more information.
WooCommerce integration.
Translation support.
And much more.
In Conclusion
So these were our picks for the best WordPress News themes in the market. We hope you found something useful and that the read helped you find the perfect theme with the right design and features to help you create your desired news website.
On this note, users who have prior experience with any of the above mentioned themes (or any other news theme for that matter), are welcome to share their opinions and insights. Your comments will be highly useful to your fellow readers and it might even help them fixate on which news WordPress theme to use for their own project.
That's it! Now you may also want to check out our hand-picked list of the best WordPress magazine themes for online magazine and news sites.