Are you a blogger? Are you thinking of starting a blog? Are you looking for ways to monetize a blog?
If you answered yes to the first question, then, do you know you can make real money from your blog?
If you answered yes to the second question, then thinking of how to monetize a blog at the initial stages of starting a blog is one great decision you get to make.
It will save you a lot both in terms of time and effort later.
If you answered yes to all the questions, then, awesome, that is what this article is all about.
We are going to show you several methods you can employ today to monetize your content and website.
We shall cover five broad categories;
Sponsored Reviews
Freelancing or Providing A Service on Your Website
Build A Product to Solve a Given Customer Requirement
We will delve deeper into these in a moment, but before that, we need to get something out.
If you are embarking on this journey, drive this deep into your head, blogging is not a get rich quick.
I know the internet is littered with millions of ideas that promise you to fast money.
Blogging isn't anywhere close to that.
I would easily argue that less than 10% of blogs turn into profit.
Starting a blog is easy, you can even start one today at no cost, head to blogger, wordpress.com or other free blogging platforms and you will be a blogger.
That doesn't mean that you will start smiling your way to the bank tomorrow.
You need to get some things straight from the beginning.
Get your niche right.
Monetize your content/traffic/blog – what we cover today.
If you have the budget to put into these, you can outsource most of these aspects but if you are like some of us in our early days – with a dream and excitement of blogging and no money – then know to accomplish this will involve time, sweat and tears.
If you have made peace with that, then let's get started, grab a coffee or beer and follow along.
1. Pay-Per-Click Advertising
Several years back at the budding years of blogging, Pay-Per-Click (PPC) advertising was like the "only" option one had to monetize their blog.
So What is Pay-Per-Click Advertising?
PPC is an online marketing form where advertisers pay publishers a fee for every click to an ad or media that drives traffic to their website.
As a blogger you can run your own PPC platform or signup to the several platforms that solely focus on recruiting advertisers and connecting them to publishers – that is you the blogger in the equation.
On top of every lists or guide on how to monetize a blog is joining a Pay-Per-Click network, here are some that we think work great.
The Best Pay-Per-Click Networks
1. Google AdSense
On top of the PPC food chain is Google Adsense.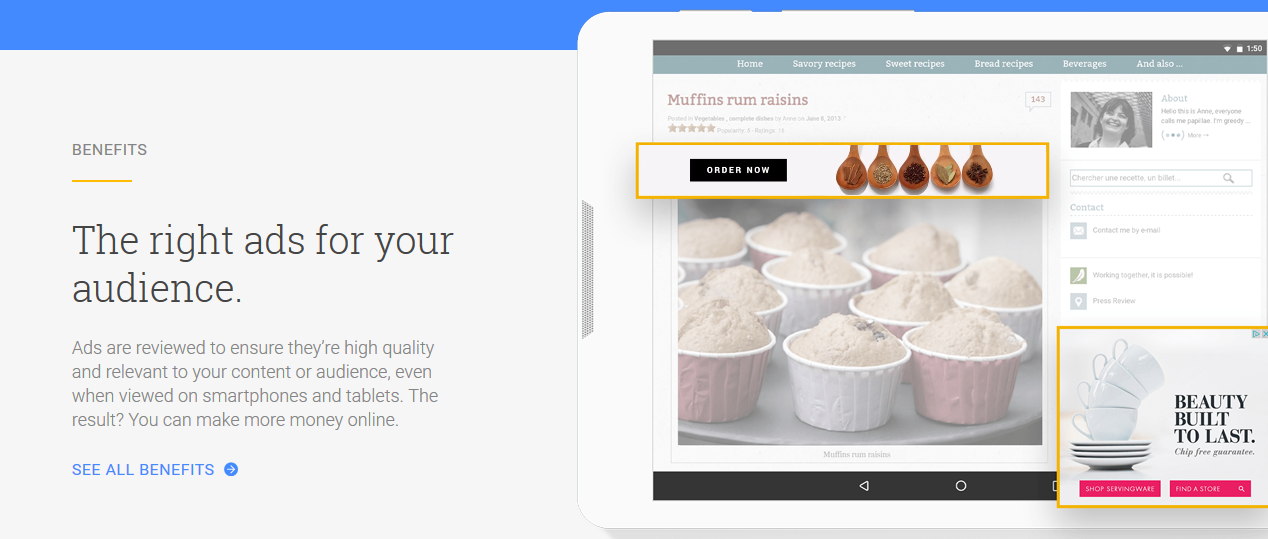 Google's business model is built around advertising.
The free tools and great products we have come to enjoy and depend on are all geared towards a form of advertising.
If anyone has been to the internet then 99.9% chances they have seen or clicked an ad served by the Google Content Network.
Signup:
Joining the Google Adsense program is easy,
You need a Google account. If you are using youtube,Gmail or any other Google service, then you already have one.
You need to have unique content on your blog that complies with their program policies. Read these policies thoroughly before you create an Adsense account.
A telephone number and a postal address related to your bank account to receive payments.
With an account set up with Google AdSense you can start to monetize your blog in several ways;
Payments:
Payments are made between the 21st and 25th of the next month once your account meets the $100 payment threshold.
If in April you meet the threshold, then the payment is issued in May.
2. Infolinks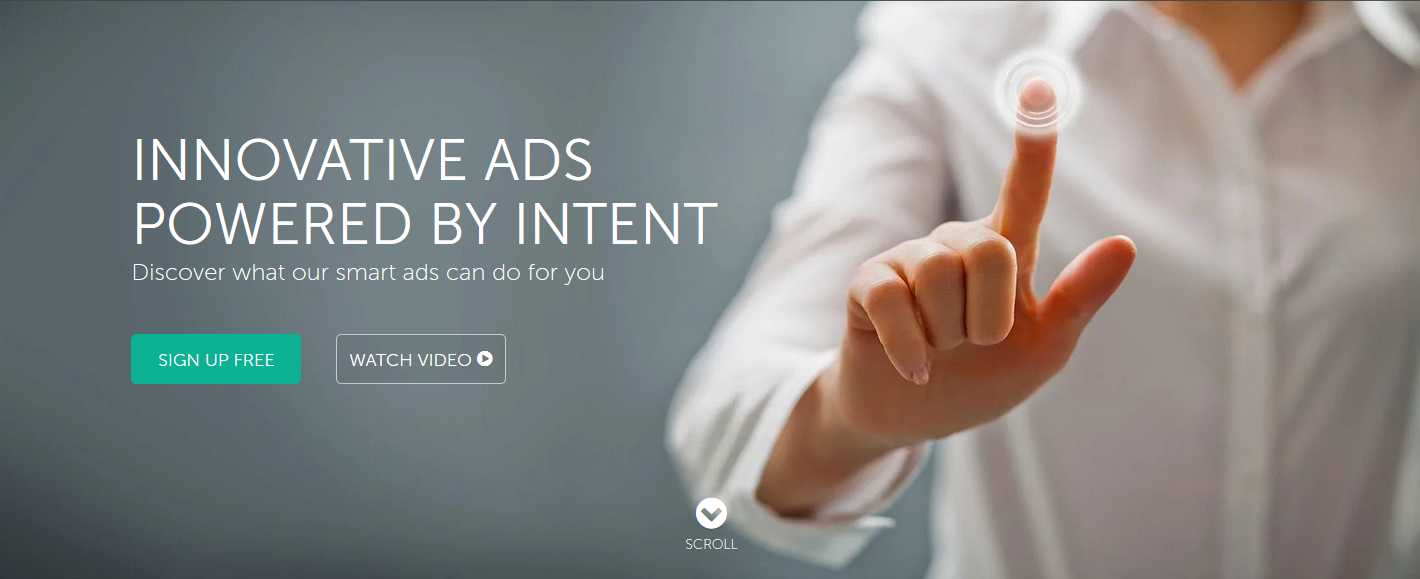 Infolinks is the third largest publisher marketplace serving over 1.5 billion ads to 240 million-plus unique users monthly on over 100,000 websites around the world.
Getting started with Infolinks:
You are required to fill a form on their website.
Your application is reviewed within 48 hours
Once approved you can add the Infolinks script to your website.
Ads are immediately served.
The more visitors engage with your ads by viewing or clicking them you earn.
Ad Formats:
Infolinks can be used in your blog in 5 ways,
The InScreen ad also known as the "interstitial ad," is an ad unit that is shown "in-between" a website's pages.
The ad is active when three conditions are met:
Entrance – when a user is entering a website. It is activated before they enter the website.
Internal Pages – when a user navigates to another page on your website, before they are taken to that page they are shown the ad.
Exit – when a user is leaving a website to an external link, they are shown an ad.
InFrame ads – are displayed in the unused and empty spaces of a website. That is usually on the right and left sides of a website.
InFold ads – one of the best-performing ad formats info links has, displays ads above the page's fold. Ads only appear when needed, and a few seconds later it shrinks to headline.
InTag ads – create a one or two-word cloud of relevant keywords on a webpage.
InText ads – inserts links to keywords on a webpage automatically.
Payments:
Infolinks pays publishers through several payment methods. ACH, eCheck, Payoneer, PayPal payments and Bank wire transfer.
The Minimum threshold to qualify for payment is $50 for ACH, eCheck, Payoneer and PayPal while the Bank wire transfer is $100 or $1000 for some selected countries.
If you qualify, payments are sent to your preferred payment method within 45 days of the end of the month.
3. Bidvertiser

Bidvertiser is a formidable alternative to Google Adsense.
Unlike the typical CPC advertising platforms that use a contextual way to show ads, Bidvertiser uses a bidding system, with the highest bidder's ads displayed on your website.
This is great as you are guaranteed to get the highest possible revenue for your ad real estate, the only side effect, is that the winning bidder's ad may not be relevant to your website.
Approval to the network is instant, and within minutes you should start displaying ads on your website.
Payments:
The minimum payment threshold is $10 for PayPal and Payza payments.
The other available payment methods are Bank wire transfer and checks.
4. Chitika

Chitika is another easy to join advertising platform.
Besides the contextual ads, Chitika has in-text ads.
Linx – that works like Infolinks,
Hover and Highlight – when a visitor highlights text relevant ads shown.
Payments:
The minimum payouts for Chitika are $50 for Payoneer and publishers who make over $10,000 there is Bank Wire Transfer.
5. Vibrant Media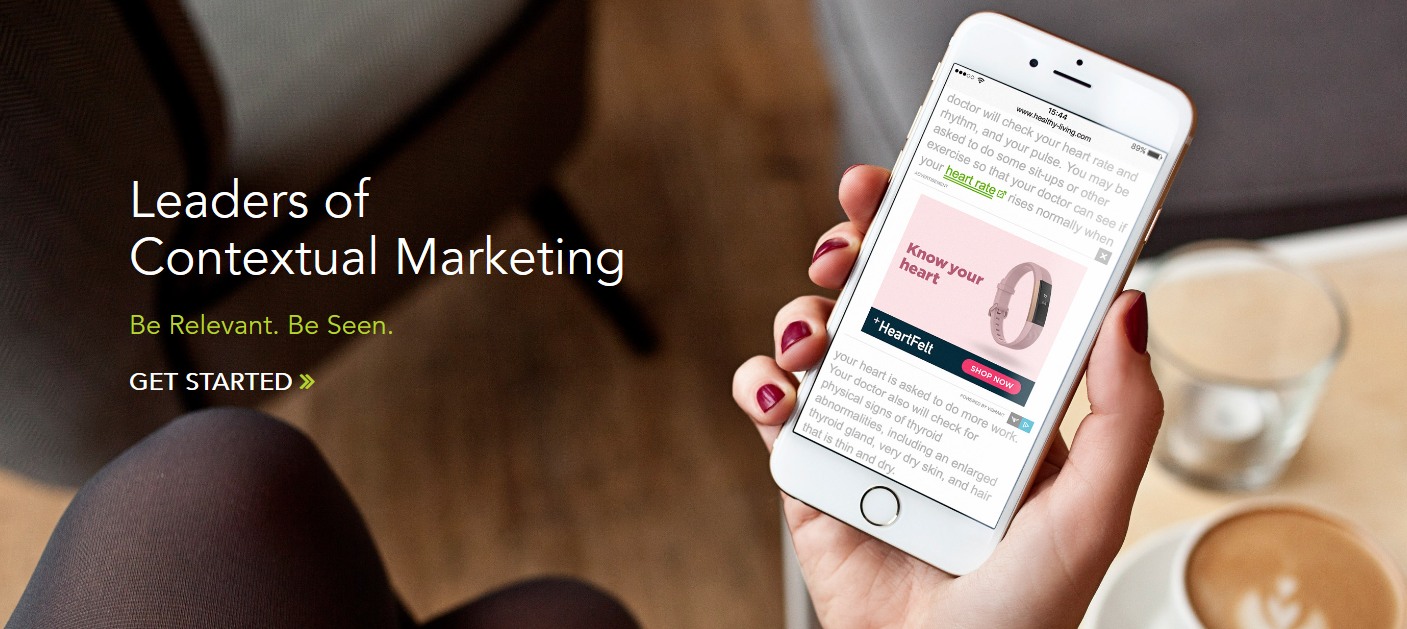 Another contextual ad platform you can use to monetize your blog with confidence is Vibrant Media.
Vibrant Media offers inArticle and inImage ad formats.
Vibrant InImage ads are a sleek way of adding quality images to text.
They are of a high quality and related to the article making it feel natural as part of the article.
Their payouts start at $50 with PayPal and Bank Wire Transfers.
Applications take up to 48 hours in review before approval to start displaying ads on your website.
6. Blogads
Blogads is not a CPC ad network but, it provides high traffic websites a great way to monetize their blogs.
Blogads connects bloggers with advertisers.
Advertisers decide which blogs they want to run their ads on.
On a bloggers site, a skyscraper widget is added that displays an array of ad formats including images, text, and links.
Blogads works for highly focused websites with an engaged audience to attract advertisers.
Joining it is therefore is reserved for websites that have huge traffic.
7. Buysellads

Buysellads not only supports native display ads, but it also adds to its portfolio sponsored content and email ads.
A few paragraphs down, we will introduce you to sponsored reviews, another way to monetize a blog.
Most PPC ad networks do not accept the placement of ads in emails; this separates Buysellads.
As a publisher, it is always great to work with multiple channels.
Like Blogads, Buyselladds is an intermediary between advertisers and bloggers.
A blogger lists their website on the network; an interested advertiser decides who to work with .
Buysellads uses a revenue share model, with them taking 25% of the revenues bloggers earn from their network.
As a matchmaking service, admission to the network is not easy.
A blogger has to demonstrate their worth and relevance to potential advertisers before they are admitted.
Pay-Per-Click advertising is the fastest and probably the easiest way to start monetizing a blog.
It, however, works best for websites that receive a huge volume of monthly traffic, think 500,000 plus monthly page views.
The only way to consistently get these views is by having a website that dominates search engine results.
Low traffic blogs, however, will struggle to make a decent amount of money out of it, and that is why we introduce you to other ways you can monetize your blog.
2. Affiliate Marketing
What is Affiliate Marketing?  
Wikipedia defines Affiliate marketing as a type of performance-based marketing in which a business rewards one or more affiliates for each visitor or customer brought by the affiliate's marketing efforts.
Simply put, affiliate marketing allows you the owner of a blog or website (affiliate/publisher) to market the product or service of a company or individual (merchant/advertiser) and in return for an action completed say a sale or registration you the affiliate earns a commission.
Here's an example of a blogger monetizing their blog with affiliate marketing by promoting forex trading related services.
Unlike Pay-Per-Click where you earn based on the engagement and clicks on ads you place on your blog, with affiliate marketing you earn when an action is completed and verified.
By its nature, you make more money with affiliate marketing as you can easily find merchants offering 50% revenue share of the sale price, so if a product goes for $100 you can get $50.
So where do you get the products to promote?
Some merchants or companies allow you to promote their products directly.
However, the most popular way to easily start promoting products on your blog is accessing the products from companies (CPA Networks) that are intermediaries between the advertisers and publishers.
When you sign up with these networks, you get a link with a unique tracking id for each product you promote.  That way, only you get the commissions for actions completed.
Here are some that you can signup with to and get started right away.
The Best Affiliate Marketing Networks
1. Codecanyon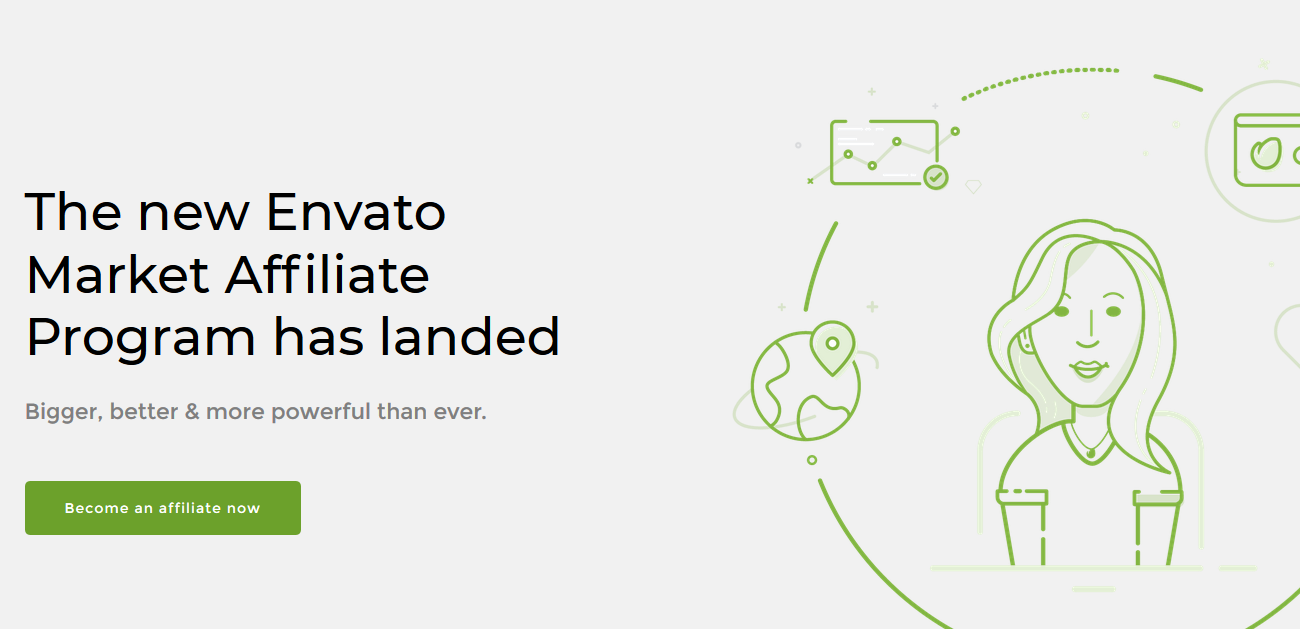 Condecanyon part of the Envato Market is one of the largest and popular marketplaces for all kinds of digital products.
They have a large collection of items that almost any blog can promote, from WordPress themes to 3D files.
For any sale completed from traffic you send to any Envato Market property you earn 30% commission.
To get started, you need to create an account with Impact Radius, once approved on the Impact Radius platform you can get links to products you want to promote on your website.
2. Commission Junction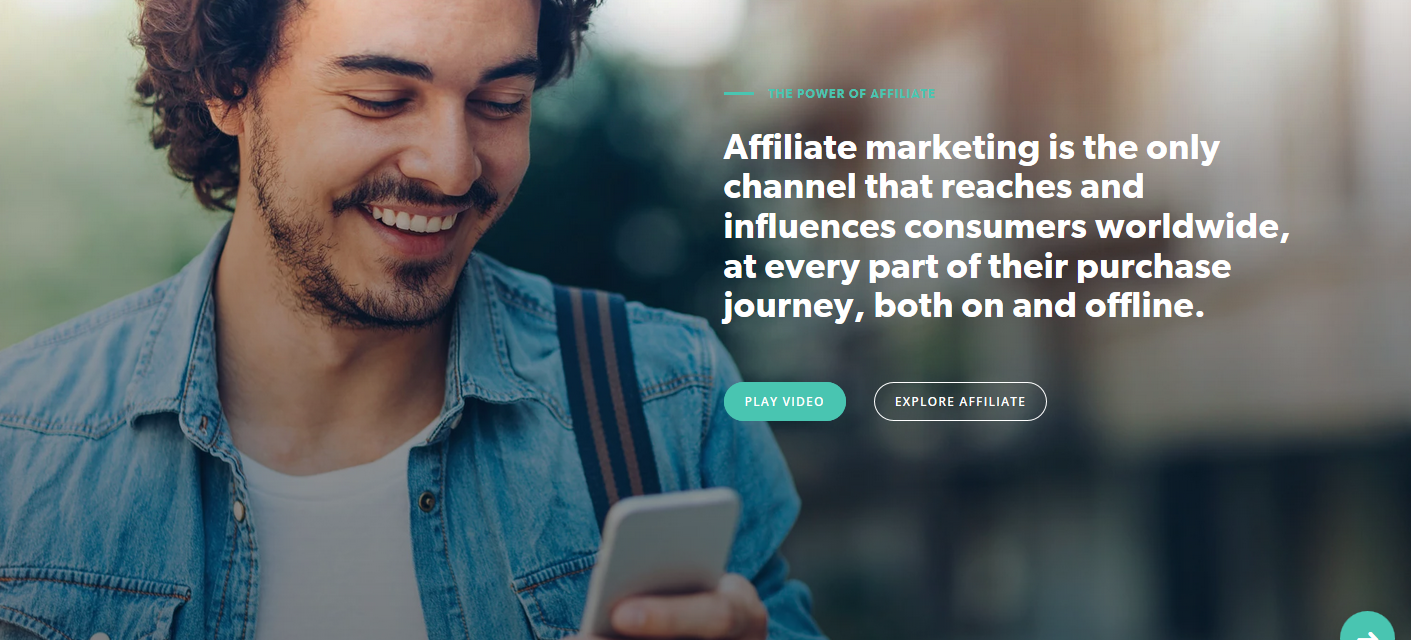 Commission Junction (CJ) has been in the affiliate business for decades. As one of the oldest networks CJ attracts the best merchants offering affiliates a variety of products and services to promote across industries and sectors.
CJs minimum payout is $50 for checks and $100 for direct deposits.
Payments are made between the 10th-25th of a month when you qualify for a payment.
3. Rakuten Marketing

Formerly known as Linkshare, Rakuten Marketing opened its doors in 1996, making it one of the oldest affiliate networks.
Joining the program to start promoting products involves two steps;
First, create an account with the platform
Secondly, once approved, apply to participate directly with an advertiser.
Go through their informative roadmap to joining Rakuten Marketing here.
Rakuten Marketing does not have a minimum payout threshold per se, but it pays affiliates when they receive payments from advertisers — resulting in unpredictable payouts.
4. Clickbank.com
You cannot talk about affiliate marketing and not mention ClickBank.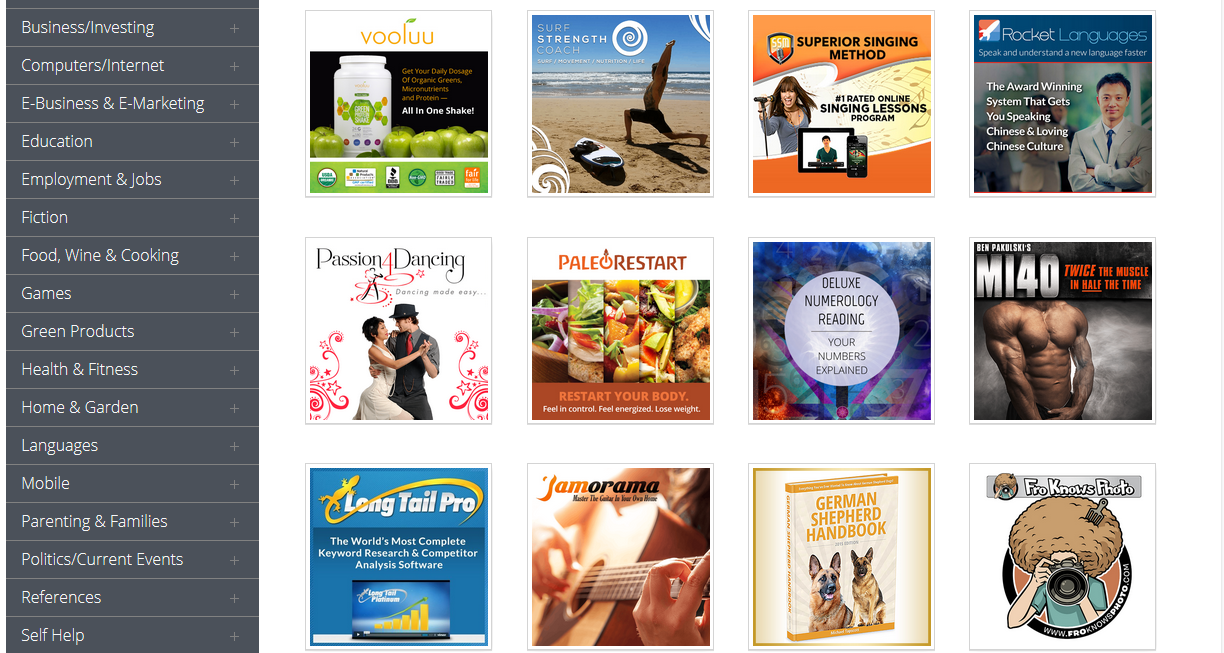 Clickbank has thousands of digital products in their marketplace that one can promote.
From its inception, it is focused on digital products. It is the home of all sorts of eBooks that complement any blog.
As their major products are digital products, they have some of the best and sometimes ridiculous commissions.
Clickbank supports these payment methods;
Direct Deposits
Wire transfers
Payoneer
Check
The minimum payment threshold to receive payments is variable from $10-$1M, though the default is $100.
Payments are made out on a Wednesday either once a week or after every two weeks.
5. Amazon Associates
Amazon hands down is the largest e-commerce site.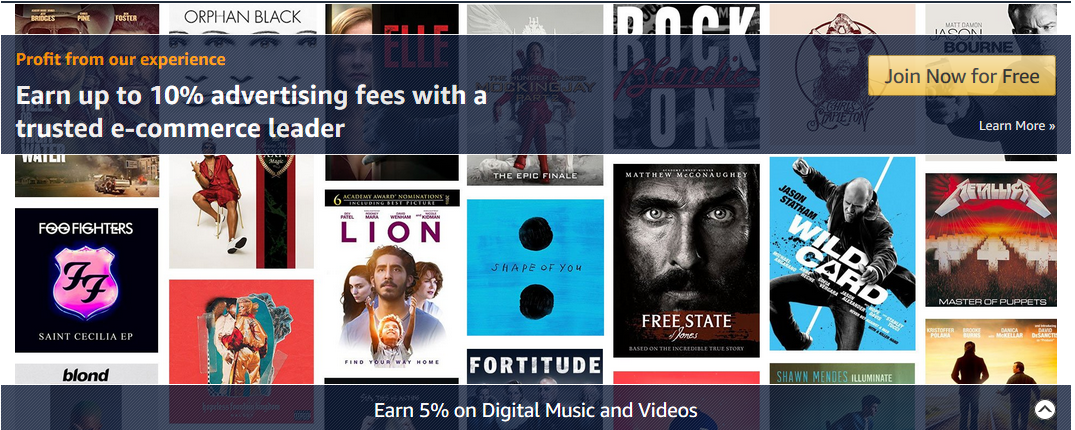 This billion dollar company provides you as an affiliate an opportunity to get a share of this revenue by promoting products on their platform.
Besides the huge volume of products one can promote, there is no need for any other approvals from advertises to promote particular products.
Amazon has built a brand that people trust,  making it easy for people to complete purchases.
Depending on the category you promote, you can earn up to 10% of every sale made.
Check out the standards fees schedule here.
Amazon affiliate network payment threshold is $10 for direct bank deposits and Amazon Gift cards. $100 for check payments.
Commissions are paid out 60 days after they are earned.
If you made the threshold for payment in April, you should expect payments for sales made in June.
6. MyCommerce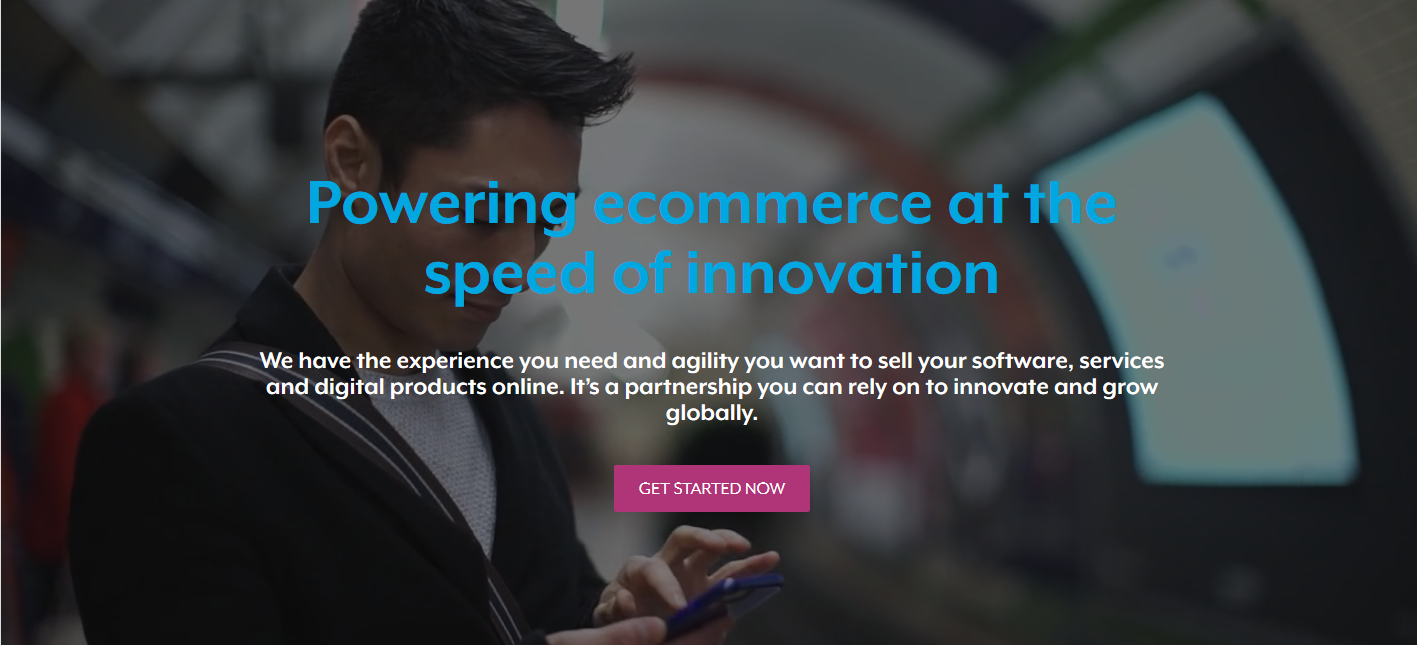 MyCommerce is platform popular for developers who want a place to sell their software and digital products.
The affiliate programme is run on Radius by Impact platform.
Payments are made out once a month for the previous month's earnings.
They support several payment methods including;
Paypal
Direct Bank deposits
Payoneer
Bank Wire Transfer
Check
The minimum payment threshold is $25 for Direct Bank Deposits and PayPal, $100 for wire transfers and $50 for checks.
These are just a handful of affiliate networks you can join to start monetizing your blog. There are thousands more out there.
The fastest way to get approved with any affiliate network is a demonstration that;
Before and even after approval to an affiliate network, it is very important to read and review their programme policies thoroughly.
3. Sponsored Reviews
Blogs monetized with sponsored reviews have the potential of bringing in huge returns compared to running pay per click ads on the blog.
As an authority in your domain, you can become an influencer who companies want to work with.
What is a sponsored review?
If you took a minute and go through our blog, you will find we have a plethora of articles talking about different products and plugins related to our niche.
As a blogger, you probably are doing the same; you are writing and reviewing other peoples products.
A sponsored review is the same thing, you write about a product, the only difference is this time you are paid for it.
How to start a sponsored review service?
The fastest and easiest way to start a sponsored review on your blog is signing up to websites that connect bloggers to companies or individuals who need reviews.
Here are some of them.
And many more.
To succeed with influencer marketing or a sponsored review service, your blog has to have top-notch content.
Advertisers are also interested in knowing your level of influence. How many monthly viewers do you have? What is your reach on social media?
From day one that you create your blog, think of these, it becomes easy as time goes by to leverage your performance with influencer marketing.
Besides earning money from the sponsored review, you are also creating content for your audience, so let it flow into your overall content theme.
If you take this route, partner with advertisers whose products have some relevance to your audience.
Since you are putting your reputation on the line, work with only products you trust.
Depending on your country, there is a regulation that requires a blogger to mention that the post is sponsored.
4. Freelancing or Providing Service on Your Website
There are many things one can do for a service to monetize their blog.
Unless your blog dominates search engine results or you have a huge budget for promoting your blog, it may be hard to earn a considerable amount of money from only running ads and affiliate marketing.
Whereas providing a service on your blog allows you to dictate how much you charge for every piece of work you do.
This is something you cannot do with affiliate marketing.
How to decide what service to offer on a blog?
What does a successful entrepreneur do?
He identifies a problem and creates a solution for it.
Start with your passions.
The easiest way to start providing a service is by looking into your passions, the things you love, the things you can do for free without getting paid for.
If you are passionate about creative thought and writing, then you can create a writing service on your website.
If you love dogs, what problems are people in your locality or across the internet facing that with your passion you can sit down to figure out a solution for?
What skills do you possess?
Tied to your passions in a way, look into your educational training.
Could the skills you have gained over the years be a solution to someone's problem?
You are a developer: how many people do you think need developers?
You rarely go wrong creating a service around what you are already familiar and knowledgeable in.
What services or events are in season?
Some great services you can offer to monetize your blog could be right on your doorstep.
Keeping your ear to the ground on the trends and seasons easily disposes you to services that people are willing to pay for.
Your area is a tourist spot, and at a particular time of the year tourists around the world flock into your region, consider creating content around these events and services to go along.
I can guarantee you one thing, 90% of local companies do not know how to rank their websites, as a blogger that is what you do daily, you are promoting and promoting.
You have an advantage over most of the local companies, so, if you can get your blog to rank high for some of these events, you can become the middle man, collect the leads and sell them to local companies who do the work.
Or you can start a business yourself taking tourists around.
For certain services and skills, you can promote or join freelancing platforms.
The popular freelance platforms are;
Upwork.com
Freelancer.com
Fiverr.com
Envato studio
People per hour
Among many others.
I know you may be wondering if I can provide a service on these platforms, why do I need a blog?
You actually do not need a blog to complete work on these platforms, but, as a blogger and an entrepreneur, some things should come first to you.
That is your freedom and control.
Freelance platforms are fickle since you do not own their platform your tenancy on them may be short term.
Do a quick search online, and you will read of horror seller experiences on freelance platforms.
So, being there helps you build a portfolio that you showcase on your blog.
In any case, you may need to promote your listings on these platforms, a person who drives traffic to their listings through their blog is better off, since you own the clients.
5. Build A Product (Software or Web APP) to Solve Given Customer Needs
The ultimate goal for any blogger is to make passive income out of their blog.
Creating or building a product that you can market and sell on your blog moves you away from the dependence of third parties for your success.
If you have successfully provided a service on your blog, then there is no reason to not venture into creating a product.
All internet marketers making millions of dollars annually have a product or products to their names.
If you realize, one way or another you are already promoting someone else's product for pennies of the profits.
If you make a decent income promoting another person's product, how much more would you make if you retained 100% of the products you create and promote on your blog?
How to come up with a product idea?
The perfect product is as a result of careful thought, planning and understanding of your audience.
As you interact with your audience, you can get an idea of their pain points, and from that, you can create something that solves that problem.
The best example to give is our flagship product WPvivid backup plugin – as guys who work a lot on WordPress websites, we find ourselves in need of creating backups or restoring websites fast.
The market may have similar products, but our focus has been on an easy and multi-cloud storage backup option for our clients.
This highlights something; you sometimes may not need to come up with a mind-blowing invention, look at the tools you use daily, how can you improve it?
If you can think of one or two ways, bingo, you have a product idea.
Your product idea can be a training course on how to do something; it can be an eBook. I hope you get the idea.
The most important thing about any idea is that it has to solve a problem for your audience.
Ask your self, why would they want to buy it?
Building the product.
You have the idea. I hope you have validated the idea and found it worth investing in, now you build the product.
There are two ways around this:
Create it by yourself. You are a developer or a writer; you could build your software or write your eBook or course yourself.
If you have the budget for it, the alternative route you can take is to outsource its development.
I'll let you in on a secret, ghost writers wrote some of the best seller books you have read or heard about.
Go to any of the freelance platforms we have mentioned, earlier and you will find someone who can create your product.
Outsourcing your product development leaves your room to think of launch and marketing.
Promoting the product.
Often this is the challenge of every marketer.
Start by building hype for your new product over a period of time.
This is where having a mailing list comes in handy.
Besides, selling directly on your website, you may think of recruiting affiliate marketers. There are several WordPress affiliate membership plugins that can help you build your affiliate network.
Or become a merchant or advertise on some of the Affiliate marketing networks we discussed earlier.
Problogger.com created a great series several years back on creating products to monetize blogs that I believe are still relevant today.
Conclusion
We have gone through 5 different ways you can monetize your blog.
This arms with knowledge of the path to take.
Something important to consider while trying to monetize a blog is your business model.
What is your plan, which of these methods fits into your long term financial and income generation plans?
CPC, Affiliate marketing may be the fastest and probably the easiest ways to start making money from a blog, but do you think they have the capacity to be sustainable in the long term?
These two, methods depend a lot on the volume of traffic you drive to your blog and the one reason I am not a fan of either is you have no control.
These big companies are flexible with their regulations and platforms. The products that make you huge commissions can be cut off, or commissions slashed overnight.
For a budding blogger, the ultimate and most profitable way to monetize a blog is to create a product that solves a problem.
Then build your business model around it.
This is not only sustainable but also has a way of providing you with the intangible satisfaction that you have created something.
You have the control and power over the future and direction of your business.
But even with a product, the best way to monetize a blog is to diversify your monetization methods.
Do not get so attached to one single method. Each method has its peculiar benefits.
To lay the ground for engagement, think of blogging as a marathon, not a race.
It requires A LOT of patience. A lot of hard work. A lot of commitment.
But the benefits that it provides the diligent are well worth every bit of effort.
Next up, you may want to learn how to SEO a new WordPress site from scratch.