Reviving your old posts on your WordPress site and sharing them on social networks can promote your content and drive traffic to your site.
Your best posts that helped you attain heavy traffic may be ending up in your archives. You need to post them again; it might bring you some organic search traffic. Searching for those old posts and posting them manually can be a challenging task, and reaching those old posts, tweets is a hassle and involves a lot of time. Do you have time to scroll down every post you have made on Facebook? Do you have the capacity to search for the best tweets you made in your twitter account 2 years back?
Revive Old Post plugin, one of the reliable WordPress plugins that can automatically share your old posts. This remarkable plugin will bring together your old posts and help you manage your legitimate social media schedule. To create a stance in the online world or creating a bang on social media platforms is no more an easy game, you need to share relevant content consistently, keep your customers enact with your new promotions, features, and others,  You also need to attract your customers and appeal to them and retain them.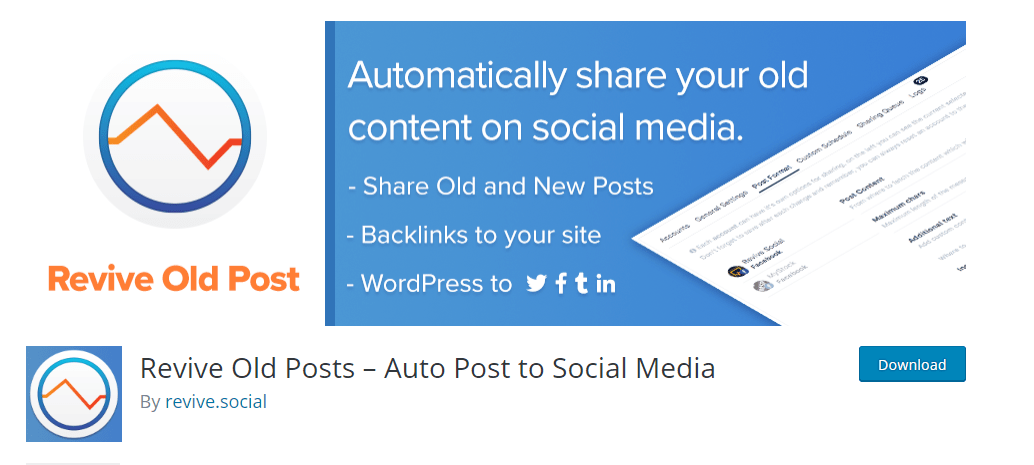 Be vigilant! Save your time, your energy and your effort and invest it efficiently by integrating an incredible WordPress plugin. Yes, you are right! Revive old posts WordPress plugin is the right one you are looking for!
Let's look into it on detail. This article will entail all the relevant information you need about revive old posts. Want to give a look?
Continue reading.
Features Of Revive Old Posts Plugin
Revive old posts plugin is one of the remarkable WordPress plugins that can help you share your new and old posts on various social media networks. It is straightforward to install and best for beginners. So, all those newbies if you are in search of a reliable plugin that can help you ease your problem. Then, this plugin is the right one for you. It is free and is offering various features; install it today and enjoy unlimited benefits.
Whereas, if you are a developer; this tool still holds the pro version offers a host of new features that can help you improve your social traffic.
Now, look into features this incredible plugin is offering to its user.
Free Version Features
Share old and new posts on Facebook, Twitter, and LinkedIn
Allows its users to choose the number of posts and time between posts
Users can use hashtags to focus on various topics
Allows its users to exclude categories and specific posts
Compatible with URL shorteners
It enables users to create backlinks to its site.
Are you attracted to the features it is offering?
You will be mesmerized with its premium version features.
Want to give a snippet preview?
Pro Version Features
Allows you to share posts on its multiple social accounts
Offers custom UTM tags and custom share messages
Offers magic tags for custom share messages and additional texts option
It supports custom post types, LinkedIn, Tumblr and Pinterest.
Custom scheduling
Easily share your images and video from your media library.
So which one do you like better? Free or pro version?
If you want a comparison of the critical features of the free version and pro version. Then, the table below is your life saver. Compare below and chose the right version for yourself.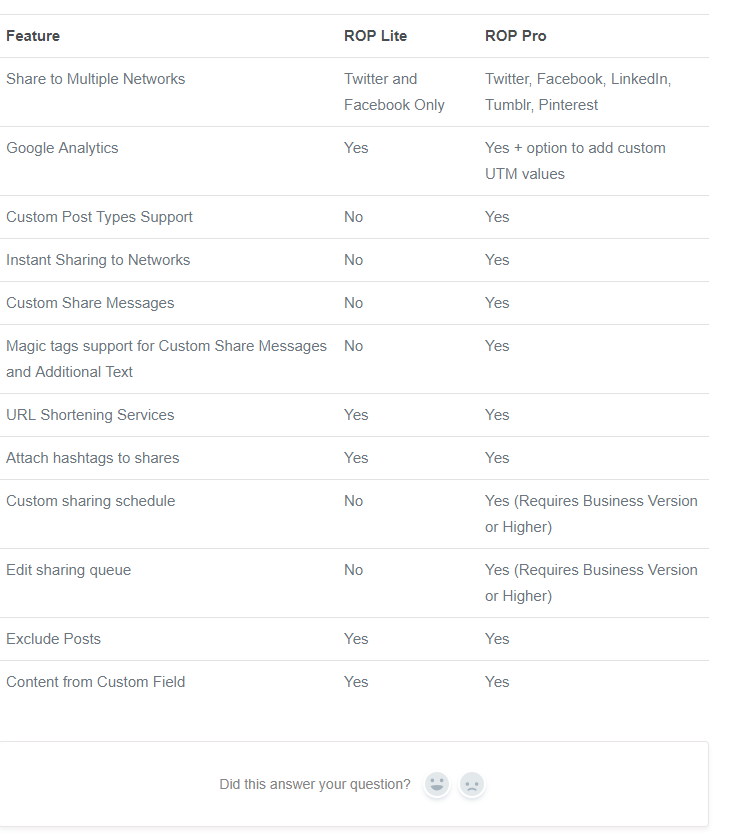 Pros And Cons Of Revive Old Posts Plugins
Pros of Revive Old Posts
1. Connect to three different social accounts in a minute
Revive old posts allows you to connect to Twitter, Facebook, and LinkedIn within a few seconds. Click on the main tab and choose your setting your way.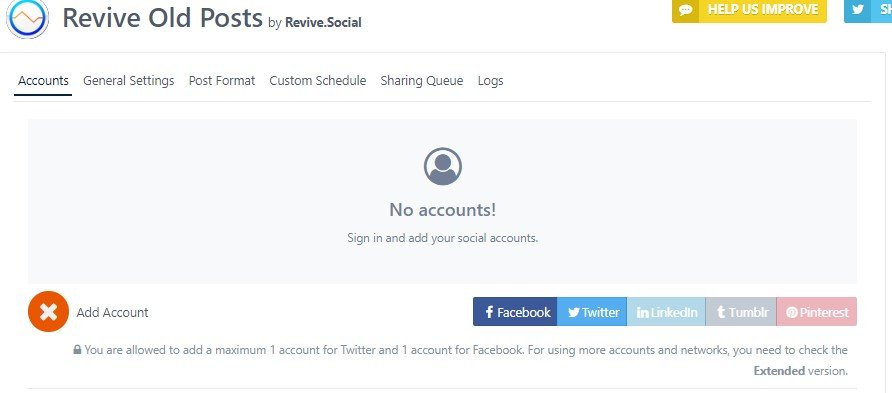 2. Helps you manage time and number of posts you want to share
If you go to their general setting page, you can easily choose how many times you want to post your content. It offers its users with various sharing option, such as:
The minimum interval between shares
Minimum and maximum  age of post to be eligible for sharing
Number of posts to share
Share old posts more than once
Post type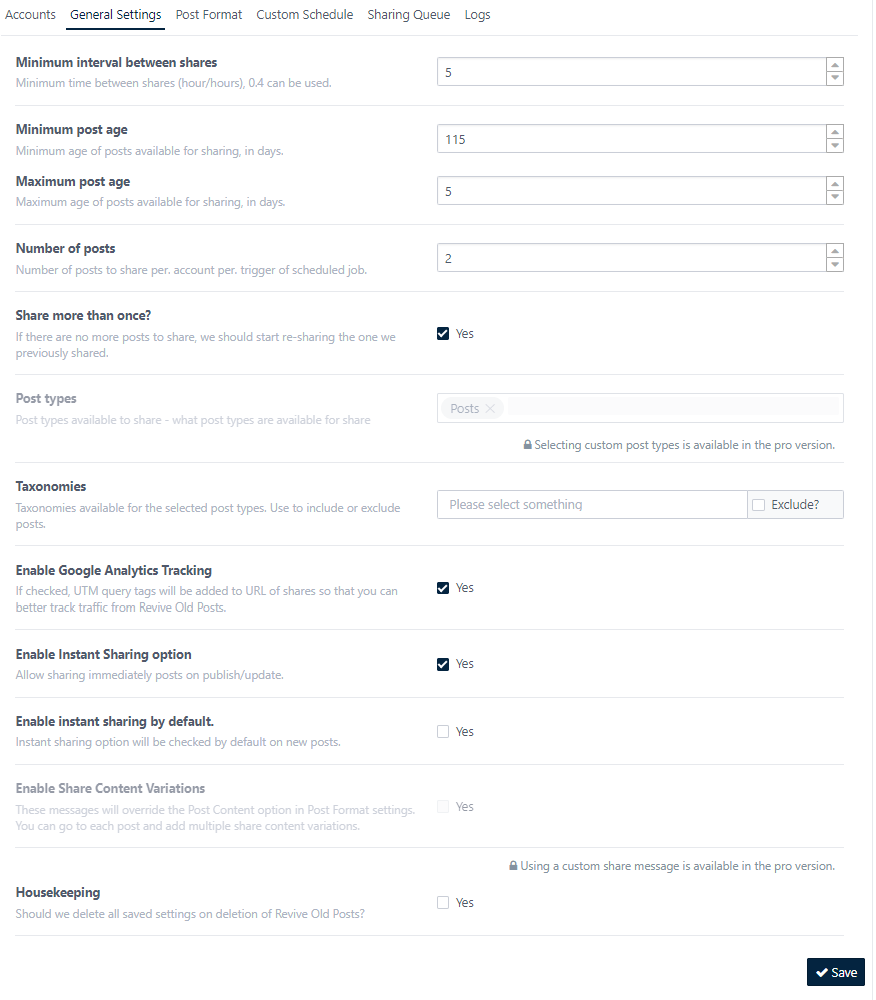 Chose your setting and within a minute get connected to your social media accounts.
Isn't that amazing?
3. Offer its users to format their posts
Format your posts your way.
You may include a hashtag or username in the tweets.
Use a URL shortener to shorten your tweets
Customize your page using post length customization and additional text inclusion option
Offer its users to navigate to Twitter, Facebook, and LinkedIn freely.
4. Custom scheduling and pro features
If you want to avail custom scheduling features, you need to pay for their pro version. Once paid you will be directed to custom scheduling page.

Now you can choose the interval time, the minimum time between shares and even select posts you want to send throughout the week.
Cons Of Revive Old Posts
Doesn't offer many features
Revive old posts is comparatively new WordPress plugin; thus it is not providing a diverse range of features. Even though it is offering the basic essential ones that are important, but it is failing in delivering a competitive edge. Therefore, to reach that exalted position, it needs to enroll in more feature.
Wrapping up
It is true that Revive Old Posts is not offering a wide range of features. In a way, it's okay. Since it's saving you from clutter. Whether you opt for its free version or premium. This plugin is catering well to the needs of the customers and helping newbie and developers both revive their old posts on various social media platforms. It can help you create a stance in the online world, help you build social media presence and help you share your content automatically.
Let us know in the comment section, which version is your favorite? Free version or premium version?
Now you have learned how to revive your old posts on social medias, you may also want to connect your Facebook fan page to your WordPress site.