Translating your website content from one language to another can take weeks if not months, depending on how much content you have. However, if your site is powered by WordPress, then the entire process can be streamlined into a matter of a few minutes. By installing a translation plugin on your WordPress website, you can instantly translate it to different languages at the push of a button.
Why Do You Need To Install a Translation Plugin on WordPress?
Your online website is accessible to the entire world. People from different places who speak different languages can become your potential customers or audiences. However, the language barrier can cause potential problems in effective communication.
This is where a WordPress translation plugin comes in. When installed and activated, the plugin will allow you to translate your site's content to a different language at the push of a button. So even if you are writing in English, you can cater your content to non-English speakers by translating it to their native tongue.
Now that you understand the potential for these plugins, welcome to our short comprehensive list of the 10 Best Translation Plugins for WordPress. So without further ado, let's get started:
Top Translation Plugins for WordPress
1. Weglot Translate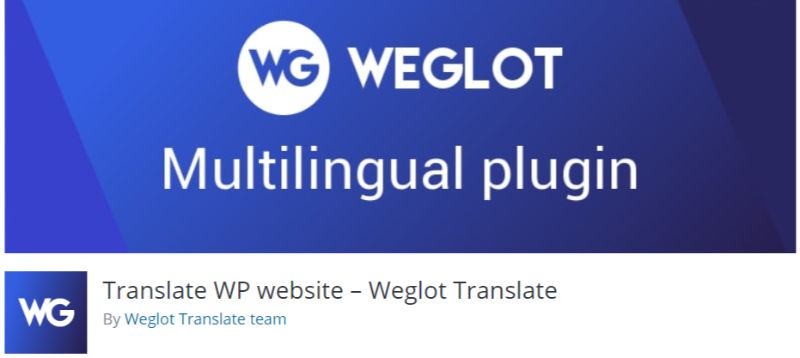 Starting off our list of the best WordPress translation plugins, we have Weglot Translate. Weglot Translate is a powerful WordPress translation plugin which will automatically detect the default language on your website and translate it to any language you want. It is one of the best free means to make your site multilingual and cater to a global audience.
With that being said, the plugin isn't completely free. Small websites consisting of less than 2000 words can use the plugin to translate its content to one other language. But if you need to translate to more languages or your site consists of more than 2000 words, then you need to go premium.
Features:
The plugin will translate every single string on the page.
Support for over 60+ translations.
Gives you access to a unique dashboard to manage all your translations.
Access to professional translators in case you need quality, to the point, translations.
Translations follow the best practices for multilingual websites.
And much more.
2. Loco Translate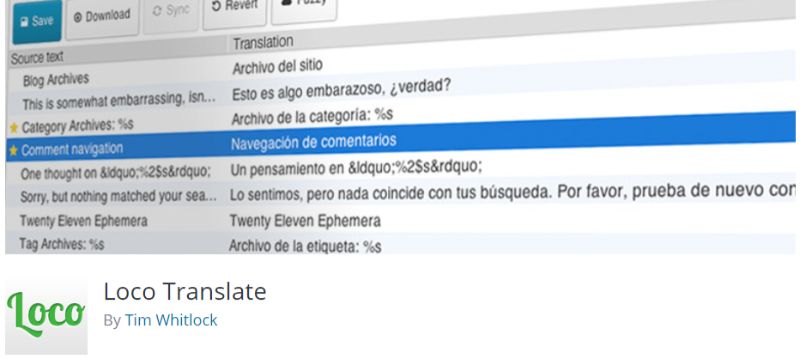 The next best WordPress translation plugin we would like to introduce is Loco Translate. Once installed, it will incorporate a translation editor straight into your WordPress backend. You will also get access to tools that let you quickly create or update language files attached to your themes and plugins.
Besides these, if you are a developer, then you can benefit from the built-in localization tools. It can help you extract strings and generate templates.
Features:
Built-in translation editor.
Option to create and update language files of your WordPress themes and plugins.
PO source view with clickable source code references.
Built-in WordPress locale codes.
And much more.
3. GTranslate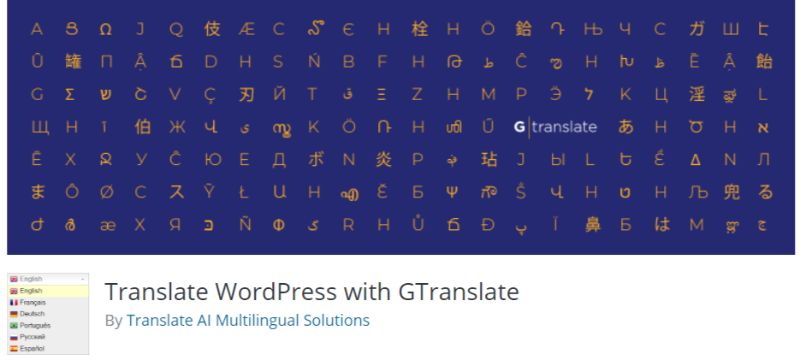 GTranslate WordPress plugin gives you access to Google's own automatic translation service to help translate your site and make it multilingual. You will get support for around 103 popular languages spoken by 99% of all internet users.
Now, you get access to this functionality with the free version of the plugin. In most cases, this will satisfy the needs of the majority of blogs and websites. However, if you need access to more advanced functionalities, then a premium version is available as well with a richer collection of options.
Features:
Integrate's Google automatic translation service on your WordPress website.
Help you translate pages, posts, categories, tags, menu, widgets, themes, and even other plugins.
Neural machine translation with human-level quality. (premium)
AMP Translations. (premium)
WooCommerce support. (premium)
And much more.
4. TranslatePress – Translate Multilingual sites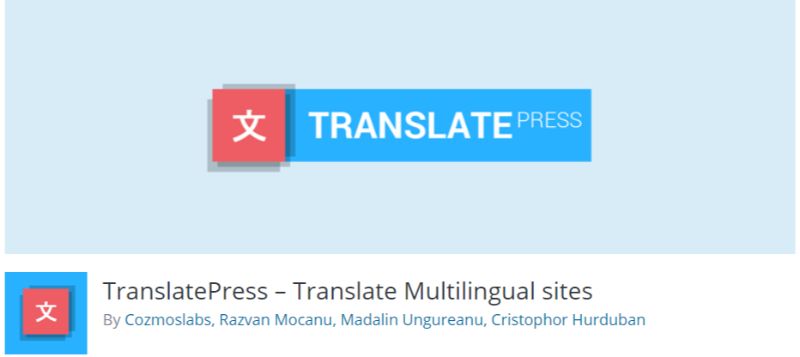 TranslatePress gives you a front-end intuitive interface to help translate your website and help make it multilingual. The translation plugin can help you translate content on your shortcodes, forms, page builders, and even WooCommerce elements.
This is basically the tool you go to if you have all the translations ready, but want a simple and quick means to implement it on your website. One more thing to note here is that the plugin follows a GPL licensing and is self-hosted. This basically means you will all the translation of your site, forever.
Features:
Gives you access to a front-end editor interface to incorporate translation to your site content.
Easy integration with Google Translate so you can enable automatic translation.
Gutenberg editor support with access to a Translation Block functionality.
Support for shortcodes to place language switchers anywhere on your site.
Access to powerful paid add-ons to integrate more advanced options. (premium)
And much more.
5. Genesis Translations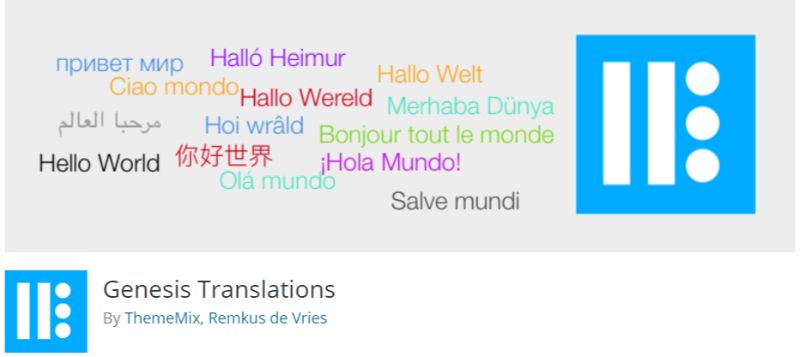 The Genesis Translations WordPress plugin helps you to translate the popular Genesis framework into the language of your choice. It offers a simple plug and play solution, so you don't have to go into your theme's functions.php file and tamper around with .mo or .po files.
But with that being said, it worth noting that if you are not using the Genesis framework, then the plugin isn't of much use.
Features:
Helps you translate the Genesis framework in a matter of few clicks.
6. Transposh WordPress Translation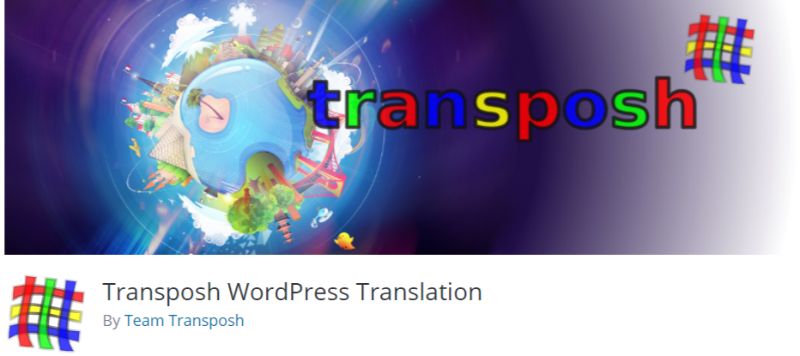 Transposh WordPress Translation plugin brings together the best of both worlds – automatic blog translation and human translation. As we all know, automatic translations are not always accurate and sometimes can generate awkward results. And on the flip side, human translations of an entire blog post is a tiring and never-ending process.
But here, the plugin will automatically translate the blog post and then give you access to an in-context interface to add manual edits where the translations went wrong.
Features:
Automatic translation functionality supports for over 117 languages.
You can set auto-translation such that it can be triggered by the user or the browser.
Can help you translate blog posts, pages, link tags, meta content, tiles, and even hidden elements.
BuddyPress integration.
And much more.
7. Polylang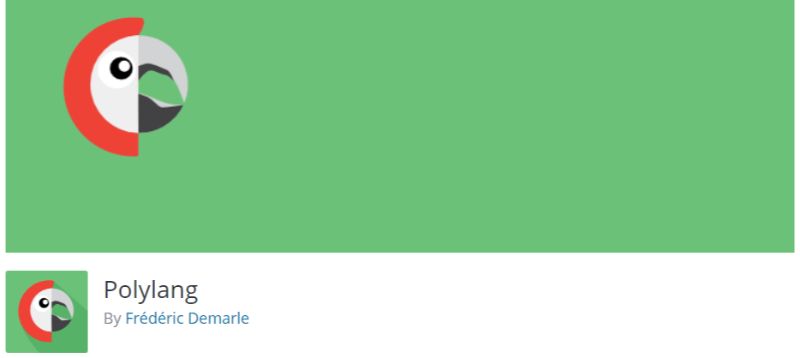 Polylang translation plugin helps you create multilingual websites at the push of a button. All you need to do is concentrate on creating posts and pages to populate your website. Once done, you can use the plugin to translate each post and page, along with the tags and categories to any language.
It supports different WordPress language packs which you can download and install to increase the scope of the plugin. You will even get support for RTL language scripts to truly create a global multilingual website.
Features:
Can help you translate posts, pages, media, categories, post tags, menus, widgets, custom post types, and even RSS feeds.
The translated language can be set either by the content or using the language code in the URL.
Option to assign different languages based on different domains and subdomains.
Premium version is available for extra advanced functionalities.
And much more.
8. Lingotek Translation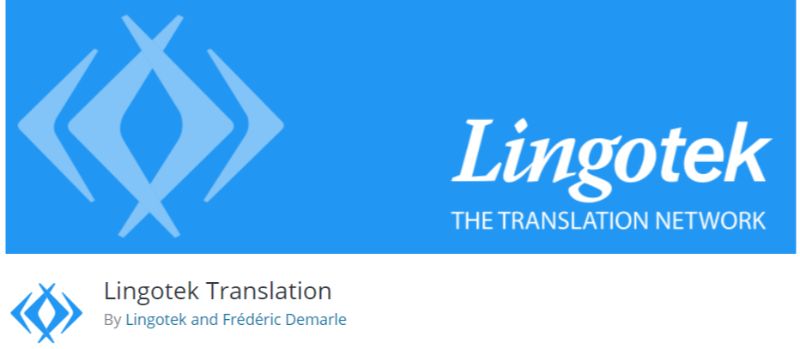 Ligotek Translation plugin for WordPress gives you access to a cloud-based localization and translation system to help you create, and maintain multilingual websites. Some of the notable features of the plugin include support for machine, professional, and even community-based translations. This can streamline the process of launching in a new market while maintaining lingual consistency.
The machine translation functionalities are performed automatically and are one of the most time-saving methods. It is powered by the commercial API for Microsoft Translator and can help you translate up to a hundred thousand characters. On the flip side, if you want access to more accurate translations then you can take the help of professionals. But it will cost you some money. And lastly, there is the community-based translation where you can save money, and gain accurate translations, but it will take a bit of a long time.
Features:
A complete cloud-based translation management system.
Option to translate your content to as many languages as you like.
RTL support.
And much more.
9. Google Website Translator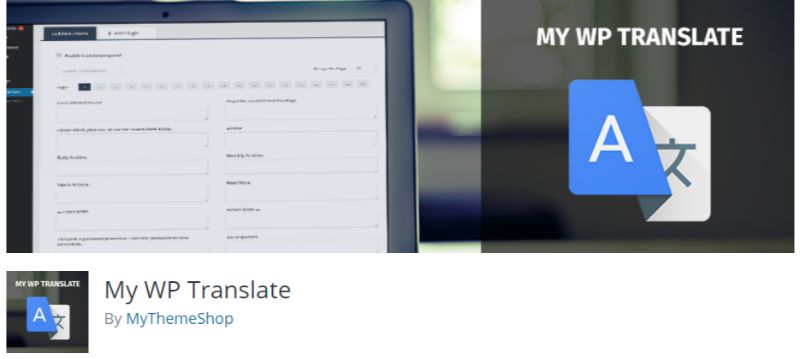 Google Website Translator, much like some of the other translation plugins on the list, brings you the power of the Google automatic translation service at your fingertips. It can help you translate all the web content on your site to over 100+ languages.
Needless to say, you are getting access to machine powered translations which makes the process fast but somewhat less accurate. With this in mind, it can help to translate your site content like headers, menus, tags, and categories, but translated posts and pages might be riddled with errors.
Features:
Access to simple settings with inline help to translate your website.
Includes 3 inline and 4 tabbed styles.
Support for widgets and shortcodes to activate translation.
And much more.
10. My WP Translate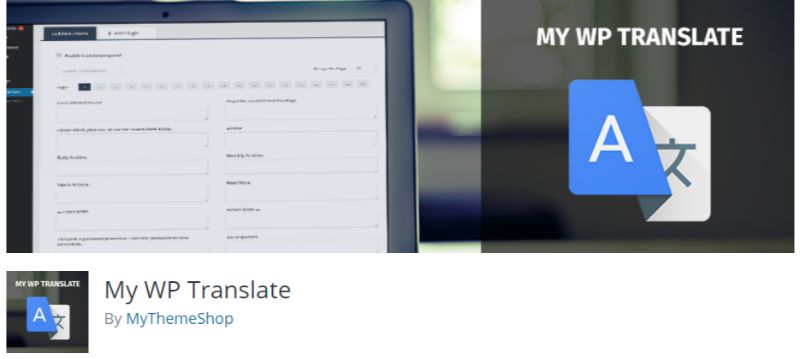 And now for the final translation plugin on the list, we have MY WP Translate. It is a simple and easy to use translation tool boasting a bunch of useful features to help your site reach multilingual status.
It is worth noting that it doesn't give you support for automatic translations. In exchange, you get access to an intuitive interface showcasing all the pages on your website. You can easily enter translations for each of these pages manually, and it will reflect on your website.
Features:
Backend interface to help you add translations for your website content manually.
Allows you to create custom .po files.
Support for importing/exporting translated strings.
And much more.
In Conclusion
So these were our picks for the top 10 translation plugins for WordPress. Do let us know if you found the read to be helpful. Also, if you have decided to use any of the plugin mentioned on the list, then tell us which ones you picked and why.
Veteran users are also encouraged to use the comment section and share their experience if and how translation plugins helped to increase their userbase and audience reach. Your insight will be highly appreciated and might even help out one of your fellow readers.
Now you are all set to create a multilingual WordPress website to reach a global audience.