Ads provide an excellent way to help users monetize their websites/blogs. And despite being the most popular CMS right now, WordPress lacks any native solutions for ads management. However, this is no problem that a simple WordPress plugin can't fix. Which is why we will be taking a look at some of the most powerful Ads manager plugins for WordPress.
The plugins listed here will help you create ad banners, manage ad display locations, sell ad spaces to advertisers, access statistical insights, and much more. So without further ado, here is our list of the top 10 ads manager plugins for WordPress to improve your site monetization.
Top 10 Ads Manager Plugins
1. Advanced Ads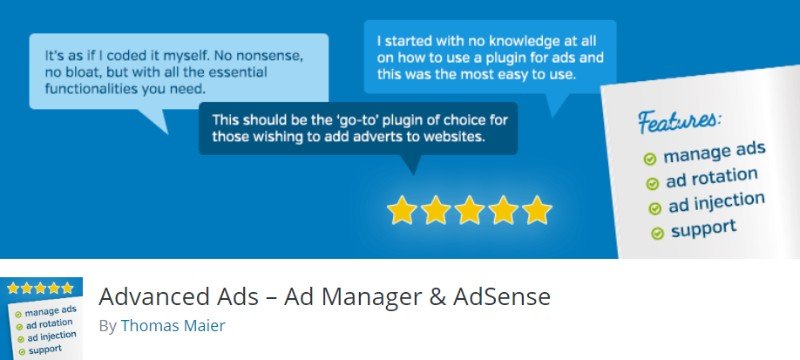 Advanced Ads is one of the most popular and powerful WordPress plugins to help you manage all your website ads. It comes packed with a laundry list of features and functionalities to help you create, display, and manage essentially unlimited ad units on your site. It has also helped users in publishing and ad optimization for over 10 years, which serves testimony to its potential.
Other reasons that give the ads manager plugin an edge over its competitors would be its Google AdSense Partnership, support for Gutenberg edtior, support for ads.txt file types, compatibility with all types of ads and networks, and much more. All these features are available for free, but if you want more advanced functionalities then a Pro version is available as well.
Features:
Option to create and display unlimited ads.
Each ad can have a start time and an expiration date.
Supports ads content and banners from different ad networks,including Google Adsense, Amazon, Chitika, and so on.
Supports custom CSS, HTML, JavaScript, as well as PHP.
Option to show ads based on conditions.
Ad-block detection
Support for premium add-ons to add extra functionalitieslike responsive ads, geo-targeting, and so on.
And much more.
2. Ad Inserter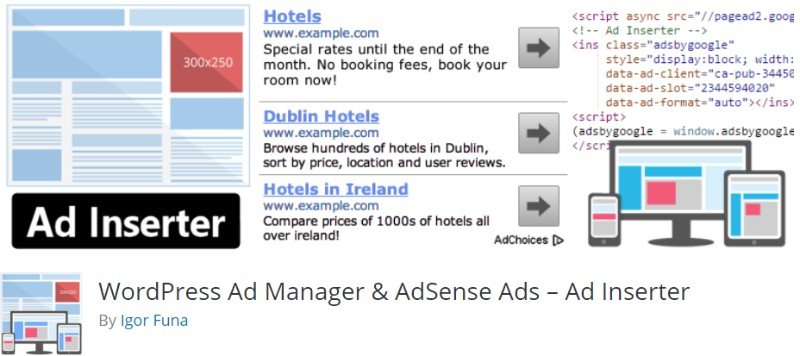 Ad Inserter, with over two hundred thousand active installations, is one of the most popular free ads manager plugins for WordPress. It is fitted with loads of useful features that can help you insert ads in places "where other plugins fail."  see our complete guide of inserting ads in WordPress using Ad Inserter.
The plugin is in fact endorsed by top ad networks like Google and Amazon. Its laundry list of features can help you out to resolve almost any issues related to ads on your website. Mostly all of these settings are found on the free version itself. You can also upgrade to a premium version to access more advanced functionalities.
Features:
Helps insert ads anywhere on your website.
Insert ads on AMP pages.
Code generator for banners, placeholders, and Adsense ads.
Support for Ad-block detection.
Supports Google Ad Manager.
Adsense integration.
And much more.
3. Advanced Ads for WPBakery Page Builder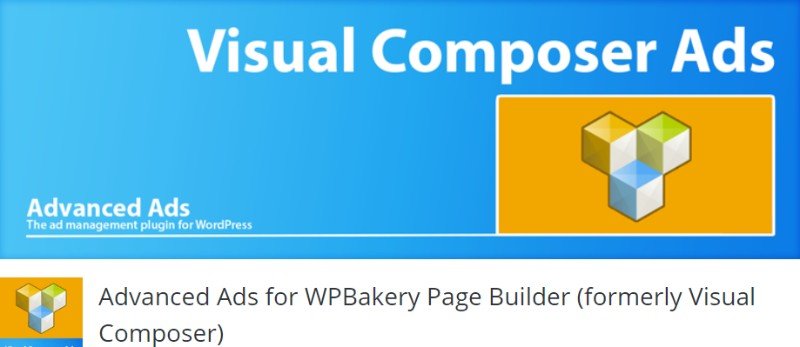 WPBakery is one of the most popular page builder plugins for WordPress thanks to its drag and drop enabled WYSIWYG (What You See Is What You Get) designing approach. And now with this plugin, you get to integrate the ads management system coming with the previously discussed Advanced Ads plugin, with WPBakery.
You will need to have this plugin along with Advanced Ads and WPBakery Page builder installed on your WordPress website. With the three plugins installed and activated on your WordPress website, you will notice three new WPBakery elements – ad, group, and placement, to create ads and manage them on your site.
Features:
Add-on for Advanced Ads plugin to make use with WPBakery Page Builder.
Shortcode
Adds new WPBakery elements – ad, group, and placement.
4. Ads by Datafeedr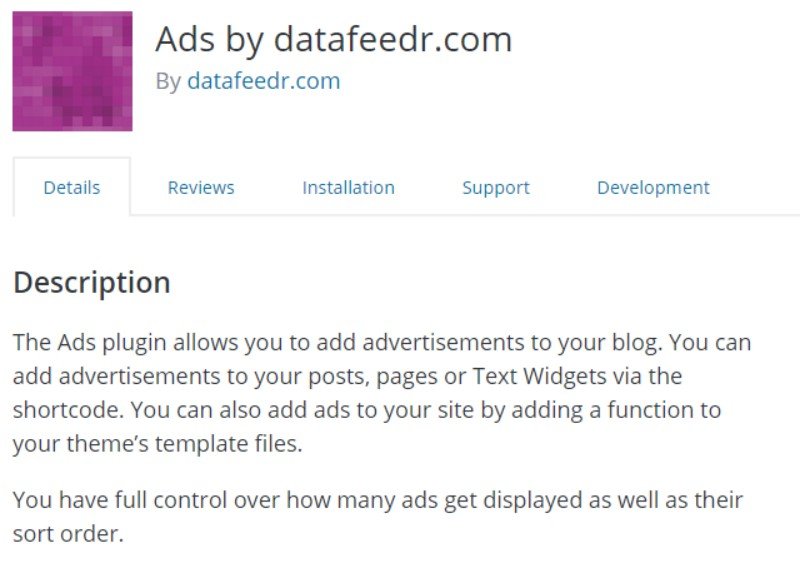 The above-mentioned ads manager plugins are riddled with a truckload of features that can have beginners overwhelmed. If you are just starting out with ads on your WordPress website, then you will fare better with the Ads by Datafeedr WordPress plugin.
It covers all the basic features to help you set up and manage ads on your website. However, not too many advanced functionalities are included that might leave you confused. All options are simply laid out in an easy to use interface which makes ad creation and management as simple as creating posts and pages.
Features:
Specify how many times you want ads to appear on the screen.
Ads can have a starting date and an expiration date.
PHP functionality allows you to enable ads in your template files.
Support for different ad types including Google Adsense, Banners, videos, and much more.
Option to set up ad groups for better management.
Caching
Shortcode
And much more.
5. AdRotate Banner Manager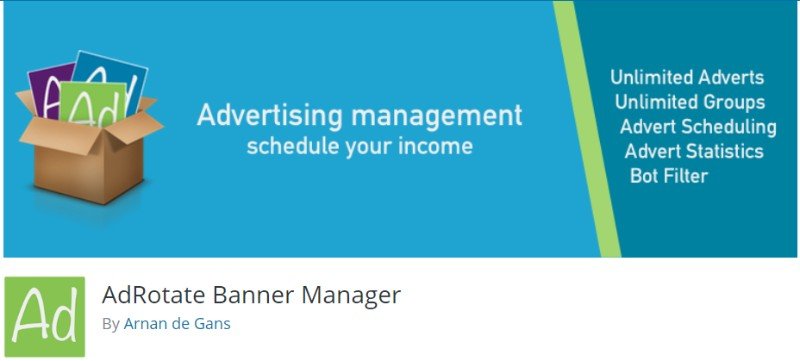 AdRotate Banner Manager WordPress plugin helps you to easily place advertisement banners almost anywhere on your WordPress website. All options are easily accessible and laid across an intuitive options panel from where you can control everything.
The plugin is compatible with all popular ads networks. It even allows you to create your own adverts using HTML or JavaScript. A Pro version of the plugin is also available which adds even more features into the mix.
Features:
Supports all popular ad networks.
Highly intuitive interface.
Easily create adverts and ad groups.
Automatic rotation of adverts with dynamic grouping.
Geo-targeting
Access ad performance statistics.
Shortcode
And much more.
6. Woody Ad Snippets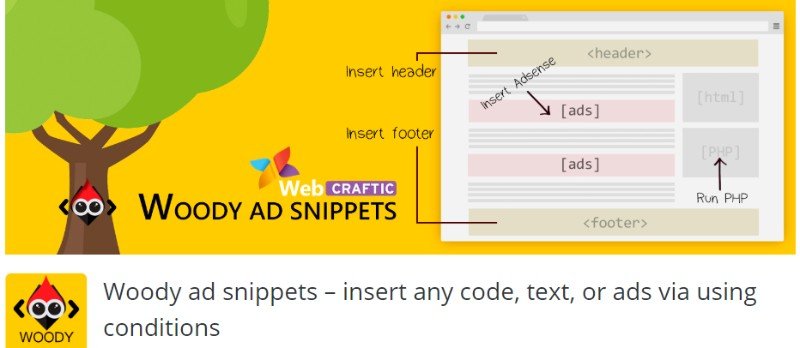 Woody Ad Snippets helps you to create, store, and add code snippets to your WordPress websites. This can be anything from simple text, PHP code, or even ad codes. All the code can also be easily accessed from a special library which will be added to your WordPress admin bar.
The plugin allows the use of shortcodes to add the code anywhere on your website. You also get access to options which allows you to conditional logic on when the snippet would show or hide. See our step-by-step guide of inserting PHP code to a WordPress website with Woody AD Snippets.
Features
Easily insert code into headers and footers.
Support for popular ads networks.
Option to insert Google Analytics tracking code.
Ability to insert PHP code snippet and execute it on your site.
Supports conditional logic to show/hide code snippets.
Special library to save all code snippets for easy access.
7. WPAdverts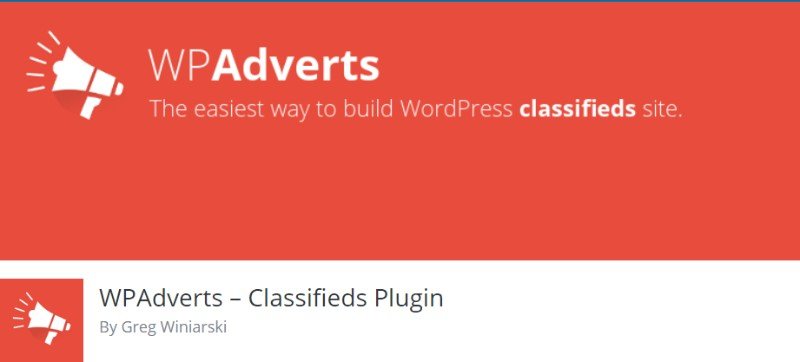 WPAdverts is a powerful yet lightweight ads manager plugin for WordPress. It comes with a useful set of features and functionalities that allows you to quickly create a professional classified site.
Now, the plugin is completely free to use and covers all necessary tools to help you get a classified site up and running. However, if you want access to more powerful features, then premium add-ons to the plugin are also available.
Features:
Intuitive interface for browsing and searching different classified ads.
Users can easily create, manage, and delete their classified ads.
Support for payment modules to track user payments.
Back transfer gateway
Drag and drop powered image upload.
Responsive mobile-friendly design for ads and ad layouts.
Shortcode
And much more.
8. Adsense Plugin WP Quads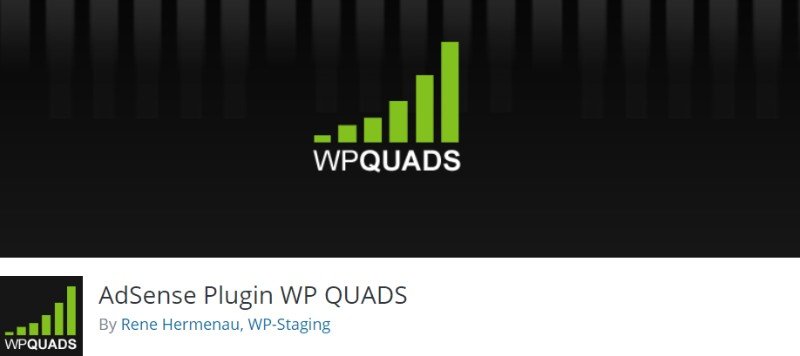 Adsense Plugin WP Quads is one of the more feature-rich ads manager plugins for WordPress. It is a fork of the super popular Quick Adsense plugin which had over 100,000 active installations but was dropped from development for over 3 years.
This plugin carries over all the beloved and useful features of Quick Adsense and includes many necessary improvements and updates necessary for working in today's day and age.
Features:
Support for Dynamic Adsense positioning.
Ability to insert Google Adsense ads specifically orrandomly on your website.
Supports a maximum of 10 ads that can be placed on a page, sidebar, or post
Option to specify visibility conditions on post type and user roles.
Shortcode
Easily import all settings from Quick Adsense (v. 1.9.2)
9. Meks Easy Ads Widget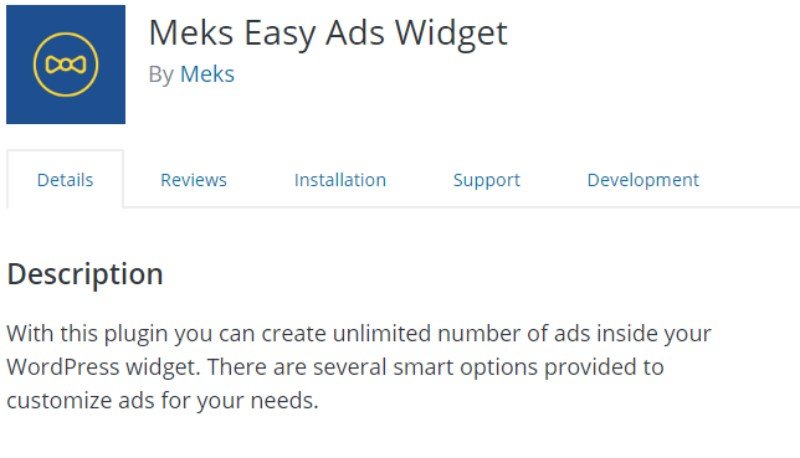 Unlike some of the other ads manager plugins on the list, the Meks Easy Ads Widget allows users to create ads inside WordPress widgets. Users will have complete freedom to create as many ad widgets as they want. A bunch of useful options is also provided to help customize the ad widgets.
Features:
Option to create unlimited ads widgets.
Control over the size and shape of the ads widget.
Supports both image ads as well as script-based ads.
Option to randomize ads orderingand autoplay rotate ads.
Limit the number of ads that show with each page load.
And much more.
10. Insert Post Ads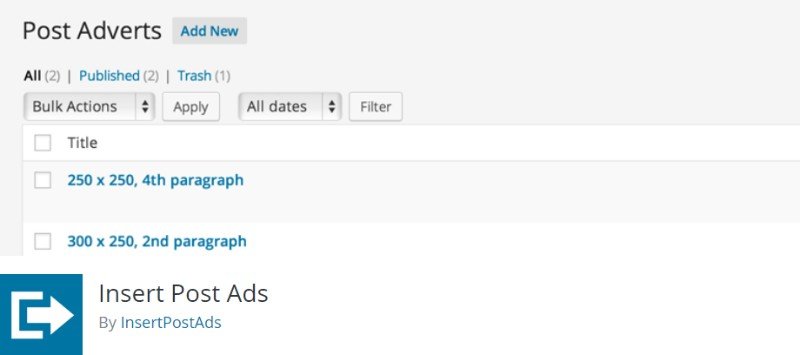 Insert Post Ads WordPress plugin allows users to automatically add ads onto their posts. According to statistics, in-post ads have the highest click-through rates and generates maximum Google AdSense revenue.
Once you have set up the plugin, it will automatically insert in-post ads after a specified number of paragraphs. This saves you the hassle of inserting the ads to your posts manually every single time.
Features:
Quick and easy
Automatic Google Adsense injection.
Supports WordPress posts, pages, and even custom post types.
Choose where to insert the ads – after post, before post, or after a specified number of paragraphs.
Option to insert ads using third-party advertising code.
Geo-targeting
Video intelligence
And much more.
In Conclusion
Now, these were our picks for the best ads manager plugins for WordPress. As you can see, by installing these plugins not only will you be able to create and manage ads, but also maximize your ad revenue in the process. So do let us know if you found this list helpful, and if you already have used any of the plugin listed here, then share your experience in the comments below. Your insight might help fellow readers with their own projects. We would also recommend you to read our step by step guide on how to insert ads to post content anywhere in WordPress.