If you are planning to build an online store to sell tangible as well as digital goods, then you also need to think about improving the overall user interface and user experience. The goal is to make the shopping experience as convenient and seamless as possible. One of the factors in making this possible is by installing a shopping cart plugin to help you create a carts page and an add-to-cart button on your ecommerce website.
Why You Need A Shopping Cart Plugin for WordPress?
WordPress was primarily built as a blogging platform. As such, most of the features you get by default aren't curated to help you manage and run an ecommerce website. This is where plugins come in. They can help add necessary features to help you sell products and earn money directly in doing so.
Now, a shopping cart is a much necessary feature for an ecommerce website. It allows users to add items to a virtual space where they have to visit for a single time to check out all the items. This adds a lot of convenience to the overall shopping experience.
And so, for the purpose of this read, we have put together a list of the best WordPress shopping cart plugins in the market. These will help you create a better ecommerce UX and UI for your website.
So without further ado, let's gets started:
Best Free WordPress Shopping Cart Plugins
1. WordPress Simple PayPal Shopping Cart

Starting off our list, we have the WordPress Simple PayPal Shopping Cart plugin. The plugin will help you embed an "Add to Cart" button on your posts or pages using shortcodes. Inside the shopping cart, users will be able to see what items they have selected, and can also change the quantity or remove items altogether.
Needless to say, you will also get full PayPal integration to help you accept payment coming from customers. The plugin will also help to generate a PayPal sandbox environment to help you try out if the payment system is working or not.
Features:
Easily create and embed "add to cart" buttons using shortcodes.
Option to add a dynamic "add to cart" button in the theme.
Support for selling tangible goods, services, as well as media files like audio, video, or images.
PayPal sandbox to help you test the payment system.
Create a custom email that will be sent to your customers on completing a purchase.
Option to create coupons and special discount offers.
A whole host of video tutorials to teach you how to use the plugin.
And much more.
2. Ecommerce by 10Web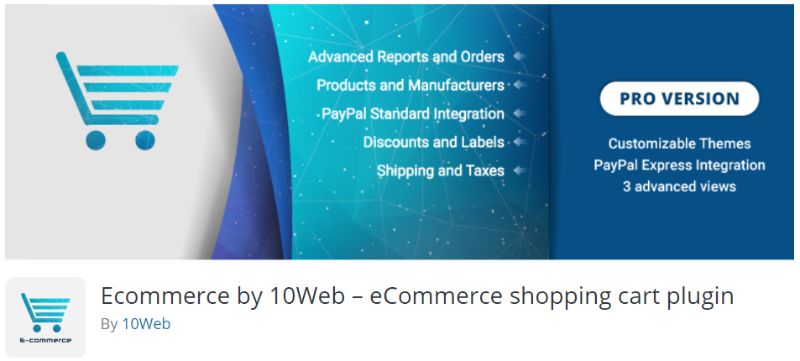 For the next shopping cart plugin, we have Ecommerce by 10Web. It is a feature rich, yet user-friendly tool boasting many useful options to help build online stores and shopping portals. You will be able to integrate different shipping methods and tax types for a single product or a group of products.
There is also the option to create whole new pages for the product manufacturers and categories to provide necessary information to your customers. However, one of the best features you get with the plugin would be the advanced search functionality, complete with advanced filtering, sorting, and product/service(whatever you are selling) comparison.
Features:
Advanced search functionality with options to filter and sort search results.
Option to include different shipping methods and tax types depending on the product/service being sold.
Create new pages for product categories and manufacturers to provide more information.
Customization freedom with access to plenty of design options and prebuilt templates.
Social media integration for quick user logins.
And much more.
3. WP EasyCart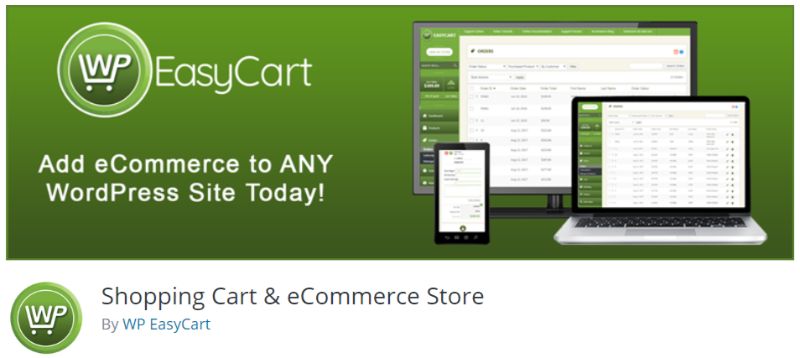 WP EasyCart is an eCommerce store and shopping cart plugin for WordPress websites. Once installed and activated, the plugin will help you set up a fully functional ecommerce shopping cart store ready in a matter of minutes.
Some of the notable features you get with the plugin includes the option to create a platform to sell potentially unlimited products and manage orders with all the necessary shipping and taxes procedure integrated. All these features are available for free with the option to go premium if you want to access more advanced functionalities.
Features:
Automatically creates 3 new customizable pages on your WordPress website – store, cart, and account.
Customers can purchase products using Square, Stripe, PayPal or offline.
Access over 30+ payment processors. (premium)
Support for coupons, promotional offers, and other marketing tools. (premium)
Social Media integration. (premium)
Widget support to showcase and sell products right from the sidebar.
Support for multi-currency and multi-languages.
And much more.
4. Save Abandoned Carts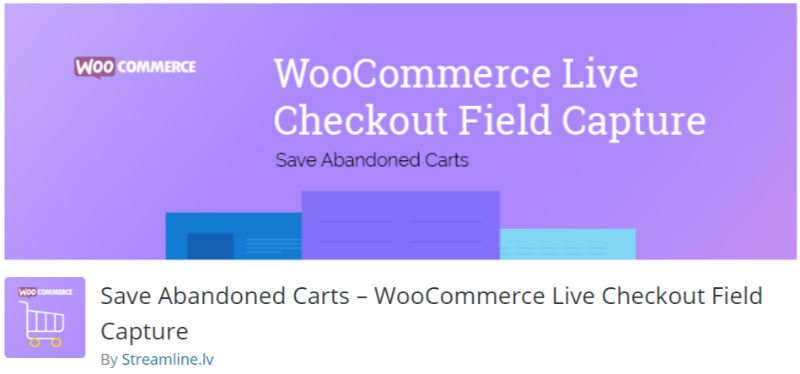 WooCommerce Live Checkout Field Capture is a WooCommerce add-on that saves all the activity in the WooCommerce checkout form. You will be able to see who abandons what products or services in their shopping cart so you can get in touch with them and try to complete the sale.
The plugin also provides an exit intent popup technology which can help you, by capturing user emails, to automatically remind them later about their abandoned shopping cart. Option to create discount coupons to persuade the users into completing the purchase is also possible.
Features:
Automatically captures all WooCommerce checkout fields before they are submitted to save abandoned carts.
For logged in users, the shopping cart will be instantly captured as soon as an item is added to the cart.
Option to activate exit-intent popups to capture user email and save their abandoned carts.
Generates a "Thank You" page for users who have not just completed purchase of all items in their cart.
And much more.
5. Abandoned Cart Lite For WooCommerce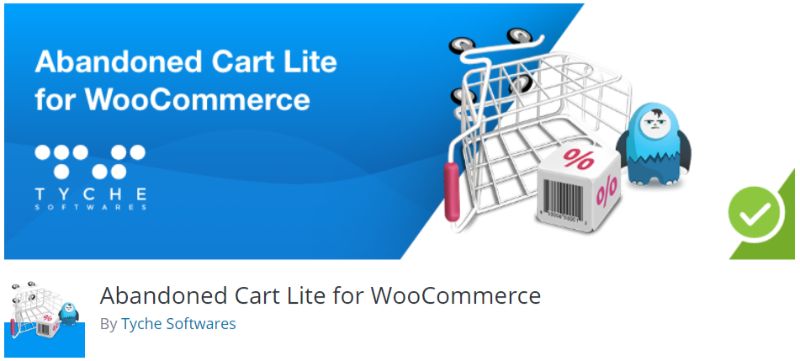 Abandoned Cart Lite for WooCommerce is another great WooCommerce add-on that can help you recover some of your abandoned carts and help in completing the sales. Once installed, the plugin starts to work in the background by sending email notifications to guests as well as logged in users, reminding them about items waiting for them in the carts.
You will have complete control over what message you want to write on the emails, as well as after what time interval you want to sell it to the user. Now all this is available for free, but a premium version of the plugin is available as well which introduces many more advanced features to further improve the conversion rates.
Features:
Easily identifies and collects abandoned orders information.
Option to create unlimited email templates with the option to set a time interval.
Email notification to admin when a cart has been recovered.
Will automatically stop sending email notifications when a customer completes a purchase.
Option to grab the users' attention using an Add to Cart Popup Modal. (premium)
3 default email templates. (premium)
Check to see if coupon expiration is causing cart abandonment. (premium)
And much more.
6. WP Menu Cart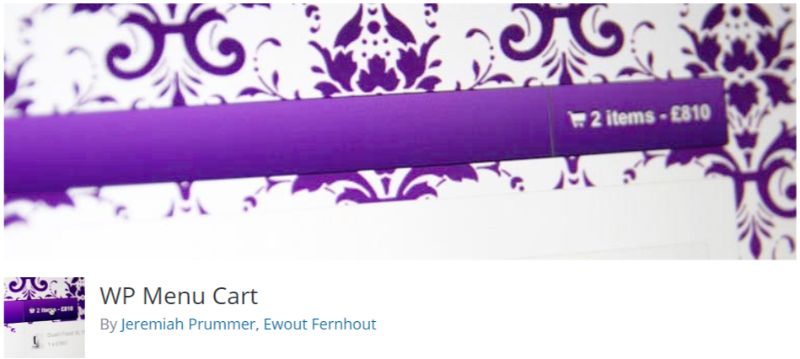 WP Menu Cart helps your ecommerce business by installing a shopping cart button straight into the navigation bar for easy access. It is highly configurable with options to set a cart icon, show items & prices when they are added to cart, alongside support for CSS customization.
You can access these basic features straight from the free version of the plugin. A premium version also exists with support for 10 different shopping cart icons, a cart details flyout, shortcode support, and much more.
Features:
Integrates a shopping cart straight into the navigation menu.
You can use it to simply display a cart icon, items included in the cart, and also their prices.
CSS customization supported.
10 different cart icons. (premium)
A cart details flyout. (premium)
Shortcode support to display the cart anywhere on your site. (premium)
And much more.
7. WordPress Ultra Simple PayPal Shopping Cart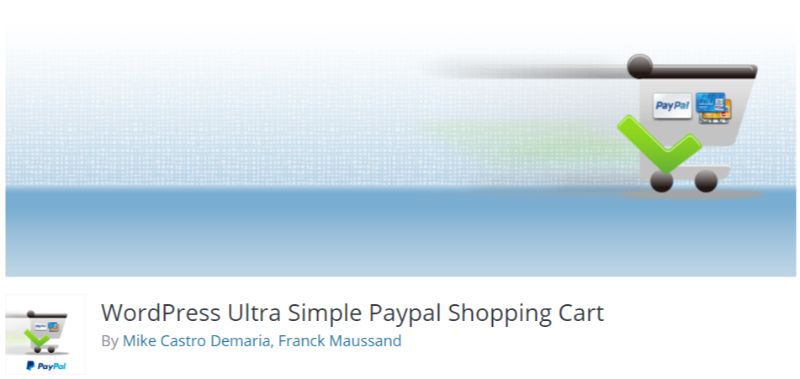 WordPress Ultra Simple PayPal Shopping Cart plugin allows you to add an "Add to Cart" button, almost anywhere on your WordPress website – including posts, pages, and sidebars. It will also create a cart page where users will be able to see what items they have added with option to remove items they are not interested in.
Now, as the name implies, the plugin allows you to sell items and accept payments using PayPal. You will even get access to a PayPal sandbox to test if everything is working perfectly. On top of this, the plugin also allows you to add a form between the shopping cart and PayPal checkout in case you want a 3 step purchase process.
Features:
Shortcode support to embed an "Add to Cart" button almost anywhere on your WordPress website.
Users can remove items they have added to the cart.
Supports all kinds of products from tangible to digital goods.
Dedicated PayPal sandbox environment to help you test if payment processes are properly configured.
And much more.
8. PayPal Shopping Cart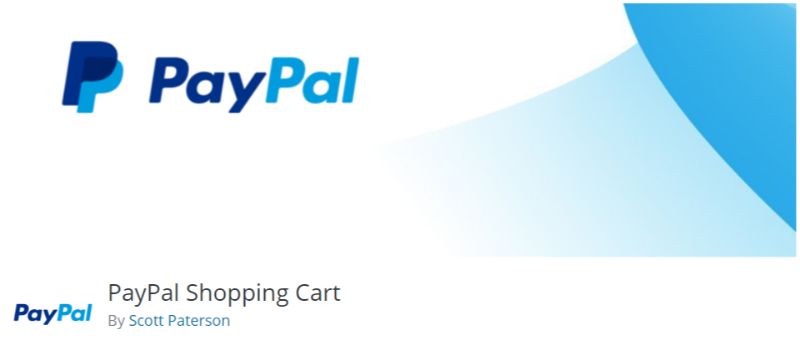 And now for the final entry on our list, we have the PayPal shopping cart plugin for WordPress. The plugin is hosted on PayPal and helps you to integrate an "Add to Cart" and "View Cart" button directly on your website. The best thing about the plugin is that it works out of the box and doesn't require an ecommerce platform to function properly.
With the plugin installed, you will be able to create a cart button for each of your products and insert them anywhere on your website. Users willing to purchase the item can click on it and complete the transaction using the debit card or credit card. There is also support for a PayPal sandbox environment to help you check if everything is working perfectly.
Features:
Easy to use button inserter. All you have to do is insert the item name and price, and it will create a cart button.
Support for over 25 currencies.
2 different PayPal button styles.
PayPal sandbox to test if the environment is working correctly.
A Pro version is available for business owners who need access to more features.
And much more.
In Conclusion
So these were our picks for the 8 best shopping cart plugins for WordPress websites. Do let us know if you found the list useful, and if it helped you in setting up your ecommerce store. Experienced users are encouraged to share insight into any of the plugins mentioned above if you have used them. This will help your fellow readers to find the right plugin for their own project.