A great live chat system in WordPress helps you instantly answer visitor questions and convert them into instant paying customers.
When you create a website the ultimate goal is to get a conversion for your business. This can be in the form of a purchase if you are running an ecommerce website or an email or call if you are looking for leads. If your website is not converting it is highly likely that you have not answered all the questions of your potential customer. Whilst you can try to answer some questions in an FAQ section it is not practical to have everything covered. One way to circumvent this situation is to have a live chat option on your website.
Benefits of Having Live Chat Plugins on Your Website
Easier to use – When was the last time you called a customer support line? Did they ask you to press 1 to use English or press 2 then 3, then 5, then 2 again and then 0 to talk to a customer rep? After you finally got to a customer rep was there a lot of background noise? Did you get worried about the line getting disconnected in the midst of the conversation? Would it not just be much easier if you clicked a button to start a live chat, type your question out and get an instant answer? All this without leaving the website or having to pick up your phone.
Builds Trust – Not many businesses recognize the value of having live chat support in creating customer trust. If you were in the market for a used car, would you rather buy from a friend or a stranger that you meet online? Live chat is a great way to build relationships. So how do you build relationships with live chat? Well just be as friendly as possible, never trick or coax a customer in to buying the product or service. Provide genuine answers to questions they have. You need to do much more than provide basic customer support and exceed expectations. Live chat can easily help you exceed expectations.
Cheaper – Phone support is tough to implement and pricey to get a good team. Whilst large businesses are able to outsource their customer support it's a terrible customer service experience. Smaller businesses might not have the capital to implement a robust phone support system. The best thing about live chat support plugins in WordPress is that most are free to use.
Before you put a live chat support system on your website it is important to have a strong back end in place.
Here are a few factors you should consider:
Clearly state your support hours – You don't want to end doing more harm than good with a live chat support by stating you are available 24/7 when in fact you are not. It's better to give them convenient times when they can reach you.
Customize your messenger to make it match with your brand – Easy to implement but often ignored. Take some time to customize your messenger with your brand logo and colours. It's an extra effort but sends a strong message to your customers that you are serious about it. This will help in creating trust with the clients.
Train your live chat support staff – This will eventually pay off in the long term. The better service your support staff offer, the more likely you are to get returning customers. Again comes down to the amount of trust you are able to build with your website visitors.
Have agents follow up with clients – If solving a customer's problem requires more than one interaction have your agents follow up with clients. It will create a sense of caring amongst your customers. Customers will see this as you making an extra effort for them.
There are many live chat plugins that you can use in WordPress. We will take a look at 5 popular live chat plugins that you can use and also cover how to install and setup pure chat, since the process is generally the same for the rest of the plugins as well.
Our collection of Live Chat Plugins
1.LiveChat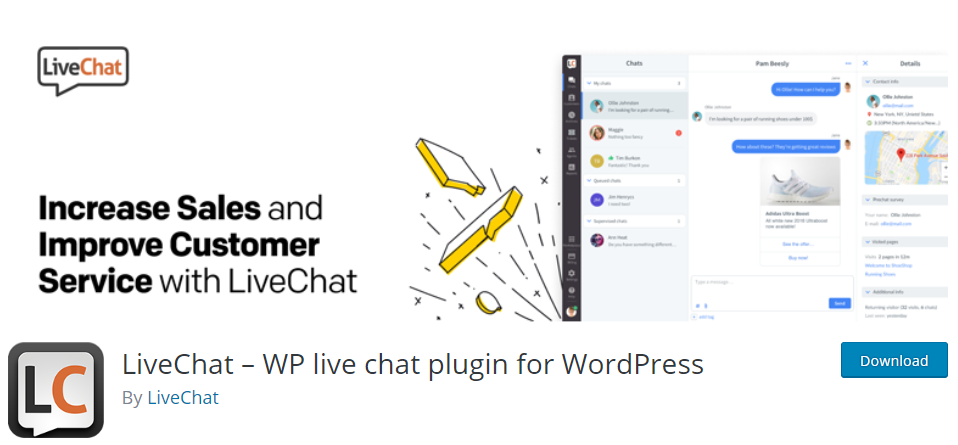 One of the most handy live chat solutions in the market. It's extremely easy to use for both your customers and support agents. Live chat is easy to integrate in to any WordPress website via a plugin. In the front end it will display a live chat button to visitors that is always visible at the bottom of the page. A simple click is all it will take to start a chat. After the visitors are done they can leave feedback for their experience with your agent. One of the downsides of this plugin is there is no free plan available. Paid plans start from $16 per month. That being said there are still a number of extremely useful features for you and your support agents.
You can start a conversation with website visitors instead of waiting for them to contact you. This increases the chances that a customer is going to have a good experience on your website.
Easy to customize the chat window and make it match with your brand
You also get a full history of previous chats
Want to learn more about LiveChat plugin, read our in-depth review of LiveChat.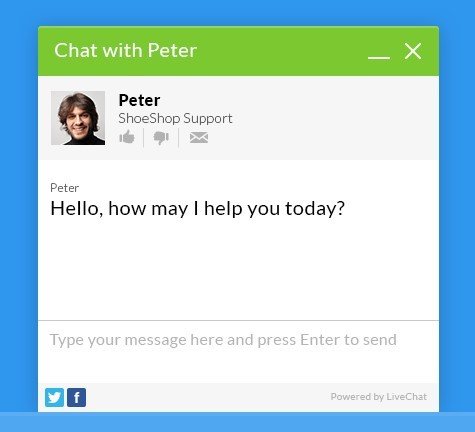 2.Zendesk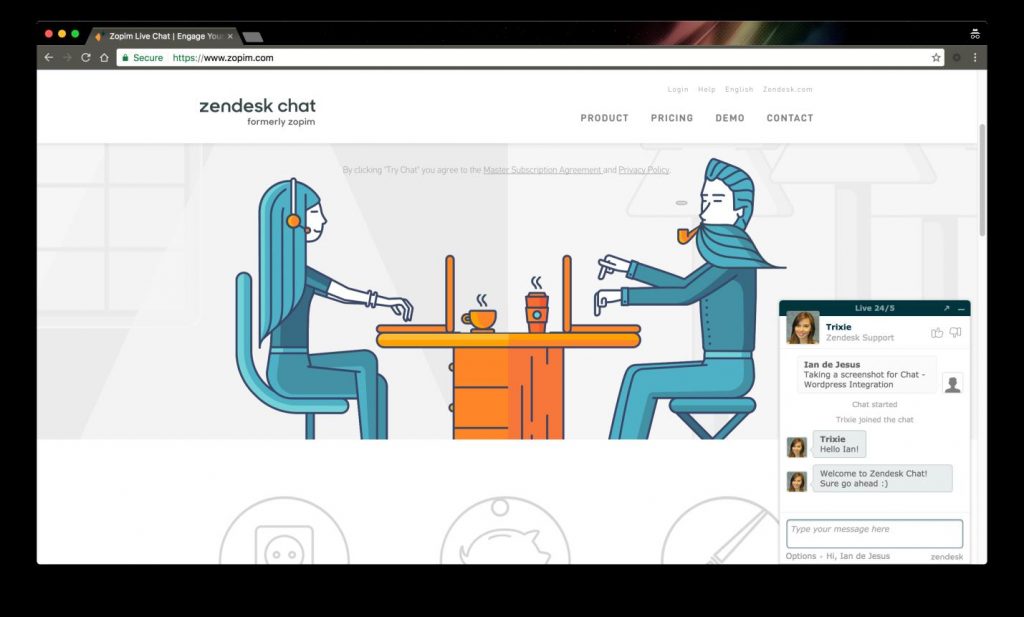 One of the most popular live chat plugins in the market. It is also easy to install and is available in over 40 languages. It's chat box is highly customizable, premade themes are also available. There is both a free and a premium plan available. The free plan allows one chat agent to handle multiple chats, though restricted to one at a time. If you are just starting out or have a small website the free plan can easily suffice. The paid plan starts at $11.20 per month and has a number of awesome features such as:
Chat triggers that auto launch a chat window upon meeting a certain condition. Example if a customer is stuck on one page for more than a minute.
It's also mobile responsive so you don't need to worry about not being able to chat with customers who might be on a mobile device rather than a pc or laptop.
Advanced analytics that help you monitor user flow, patterns and lets you intervene any time a customer needs help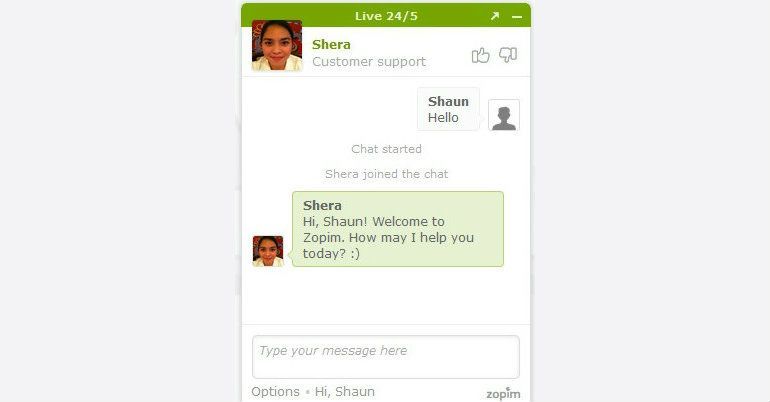 3.Facebook Messenger Live Chat for WordPress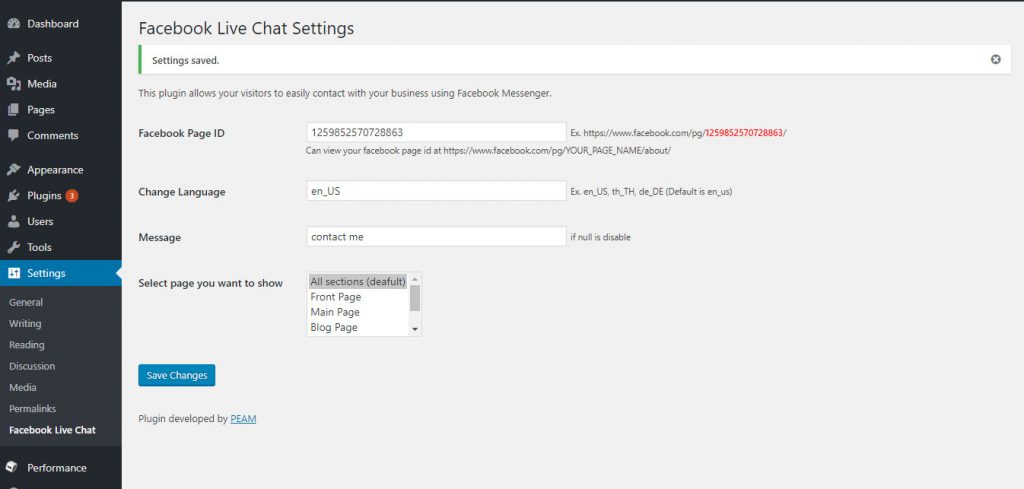 Social networks continue to be one of the most relevant marketing channels and Facebook does an exceptional job with the most advanced tools in the market. WordPress websites owners have the exclusive opportunities to connect Facebook brand pages and their websites in a matter of a few clicks.
The main objective of using Facebook Messenger over other live chat plugins would be other plugins don't connect you to your visitors only your visitors to you. They're coming to your turf to chat (which is still great), but when you have a Facebook Messenger on your site, you're on their phone, in their contacts, being a natural part of their lives. That is just not possible with other plugins.
Facebook Messenger Live Chat is a simple easy to install WordPress plugin that is convenient for your customers to use. The plugin is lightweight and does not slow down your website in any way. No need for API data to work on your website. It's compatible with your WooCommerce site which gives you a whole new dimension of opportunities. It's multi-language and can easily be customized to match with your branding.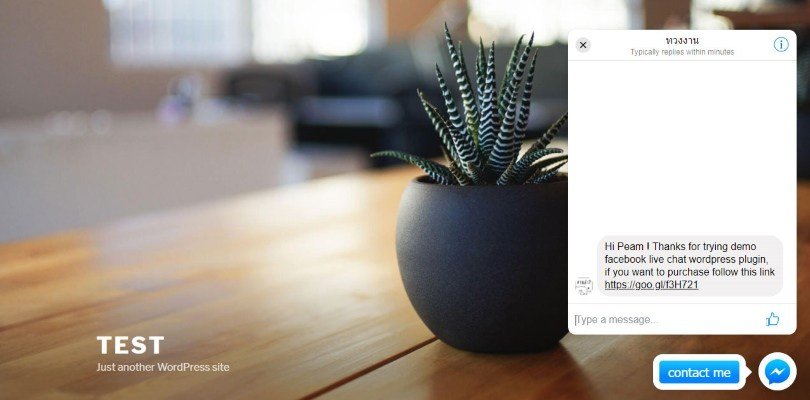 Unlike all the other plugins mentioned in our list this one is 100% free. It enables you to talk to multiple customers at the same time, it's ad free, retains transcript history, allows you to customize the appearance and lets you decide what to display when you are offline. You can also add triggers to open a chat box automatically. It also has an option for frequently asked questions to be automatically answered with pre made answers. It can also send SMS notifications and includes real time analytics and visitor tracking. After installation you do need to sign up for an account though. You can easily manage various settings from the Pure Chat dashboard. The plugin can also integrate with other tools and apps to help you improve customer management.
Other than standard features that come with most live chat plugins such as historical chat logs and multiple chat windows, customizability this plugin has a few neat tricks up its sleeve. The plugin can email chat history, can handle up to 100 chats and also allows more than one operator to enter the chat at the same time with the same customer. It also shows the geo location of the customer you are chatting with. You need to be slightly careful with this to ensure GDPR compliance. Customers can also fill out a contact form if you are offline. The plugin also has support for translation plugins.

Conclusion
About 67% of ecommerce users abandon their carts without checking out. The major reason for this is they have a number of unanswered questions. Live chat plugins are the perfect answer to businesses whether large or small to connect with their customers in a quick, reliable and efficient manner. They can enable businesses to close more sales and improve customer satisfaction. If your customers require you to constantly engage with them, then you should really try out these plugins. Since most plugins mentioned in this list have a free plan, you don't have a reason not to try them out to add a live chat support on you site.
But again, it would be extremely time-consuming and involve a lot of manual work if you are trying to reply to all the queries, in that case, you may want to enrich your FAQ section or add a calculated form, where the customer can input their required info and get an instant quote.