WordPress plugins and themes are updated often by their developers. Generally it is good practice to keep all the WordPress core, themes and plugins all up to date with the latest versions. Updates are usually rolled out either as security fixes, bug fixes or addition of new functionalities. At times you need to downgrade your WordPress version, theme or plugins.
While updating the themes and plugins there is always a likelihood of running in to problems. This is usually as a result of incompatibilities between installed themes, plugins or the WordPress core. This is one of the common reasons many people don't update their plugins and themes. Choosing not to perform regular WordPress updates can be a security risk.
If your site is powered by WordPress, you can easily roll back updated themes and plugins via the WP Rollback Plugin. It allows you to restore older versions of plugins and themes without any manual work.
Why You Need to Rollback WordPress Themes and Plugins?
It is highly recommended to always keep periodic backups of your entire site. However at times restoring a full backup can be time consuming especially when you're working with a large site. You might not even be able to do it on your own because of resource limits on your webhosting and may need to contact your hosting provider to help you restore one.
If you know which theme or plugin update has caused the issue you can easily roll back to an older version using this plugin. It eliminates the need of restoring full backups and saves time.
The plugin also saves you the time of taking plugin or theme backups via ftp before updating and then restoring them again via ftp in case something goes wrong. Often if you are doing a lot of manual work to perform a task it means you are not using the right tools. This plugin is the perfect solution in case you need to roll back a theme or a plugin to an older version.
Step by Step: How to Rollback WordPress Themes and Plugins?
Installing the Plugin
Login to your WordPress dashboard, navigate to plugins and click on add new. Search for WP Rollback, install and activate the plugin.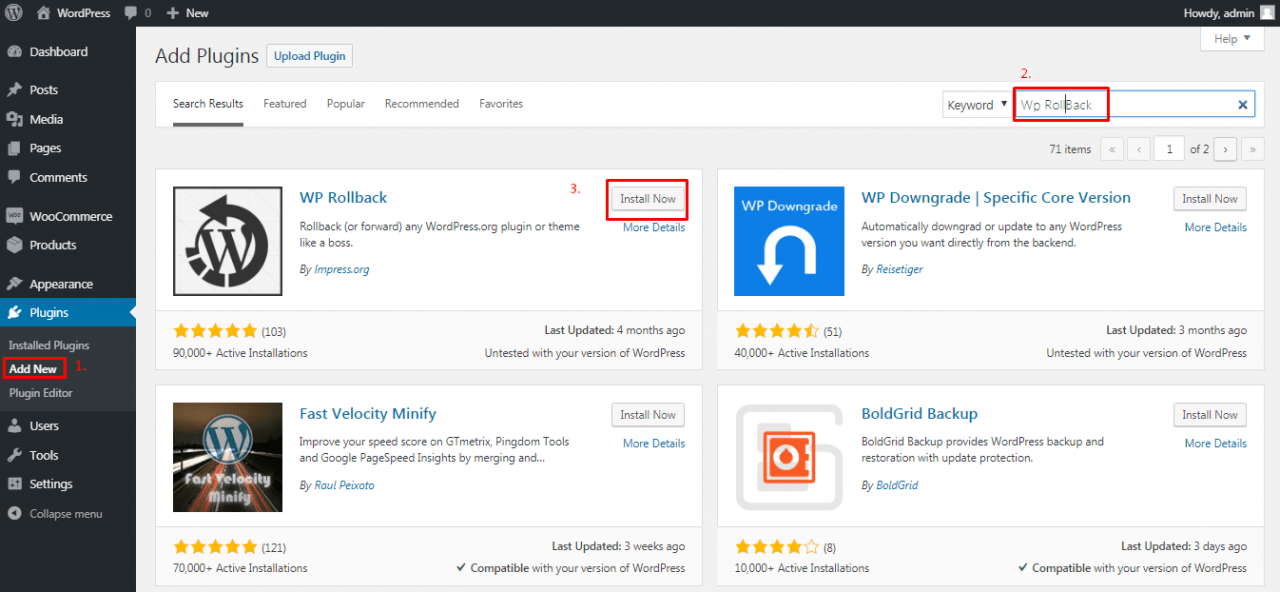 Rolling Back Plugins
If you wish to roll back any plugin visit the plugins page in your WordPress dashboard and you will see a new rollback link next to each plugin. We will Rollback Woocommerce plugin just for demonstration purposes.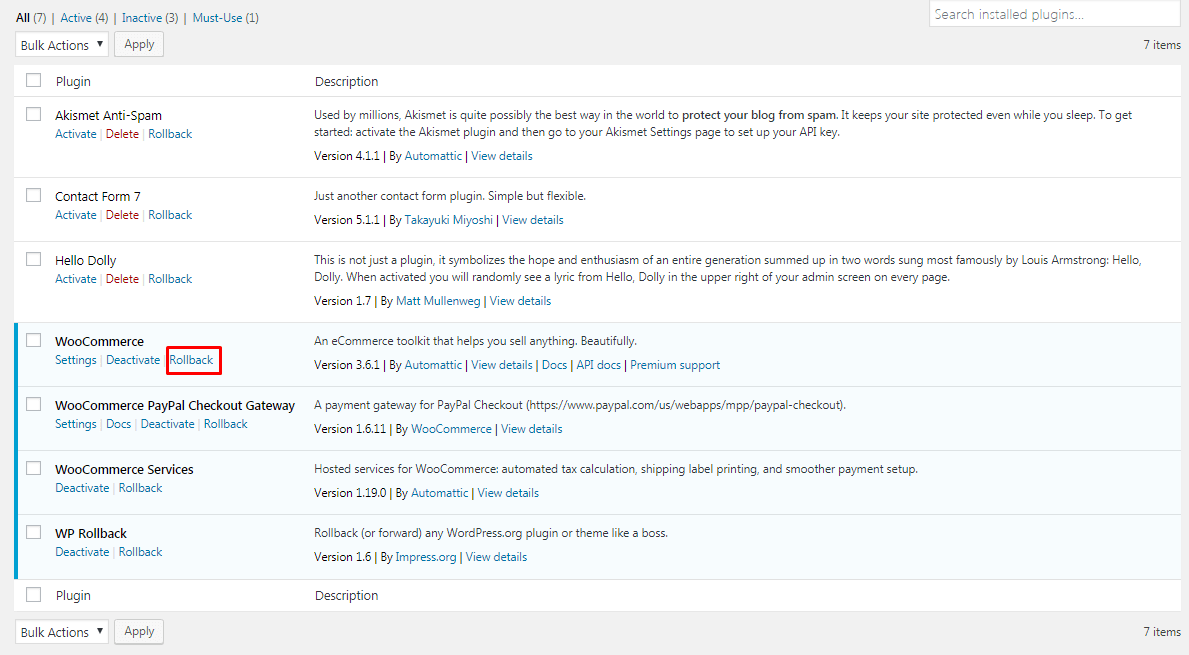 On the next page simply select the version of the plugin that you want to rollback to and click on Roll back. If you are not sure of the version that you want to roll back to it is advisable to check the changelog on the plugin page. It might just help you identify what is causing a problem.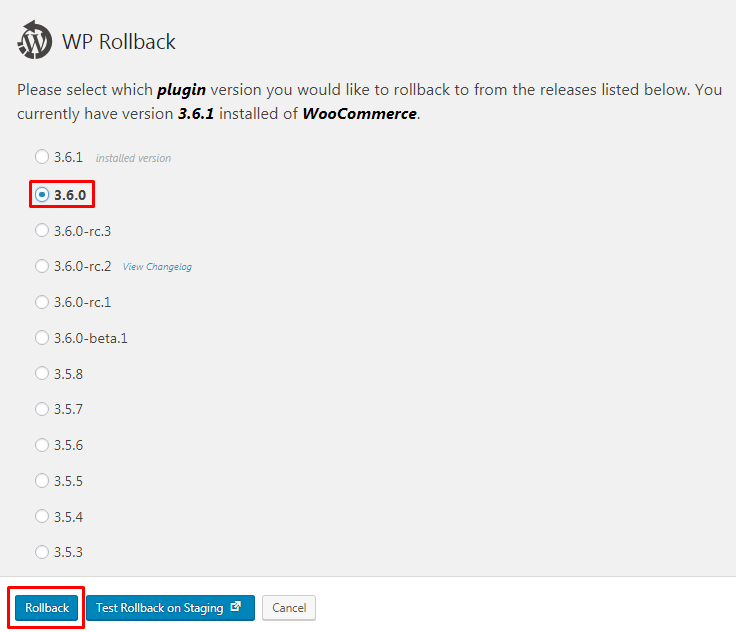 You will get a pop-up confirmation. Verify the current version of the plugin and the version that you want to roll back to and click on Rollback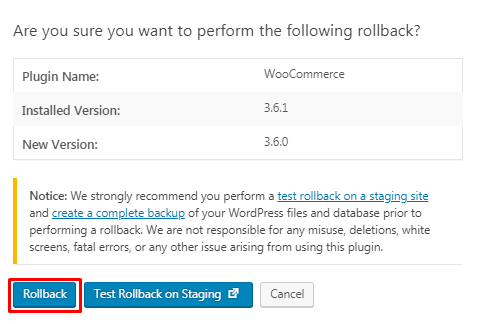 The plugin will download and replace the old version of the plugin that you have selected. Activate the plugin after rolling back.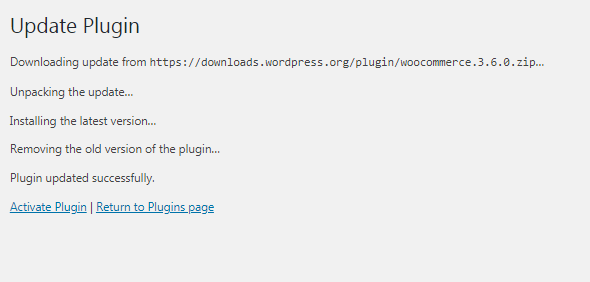 Rolling Back Themes
Navigate to Themes in your WordPress dashboard. Here you will find a list of themes that you currently have installed. Hover over the theme that you would like to Roll back and click on Theme Details.
In the theme details page in the bottom right corner click on Roll back.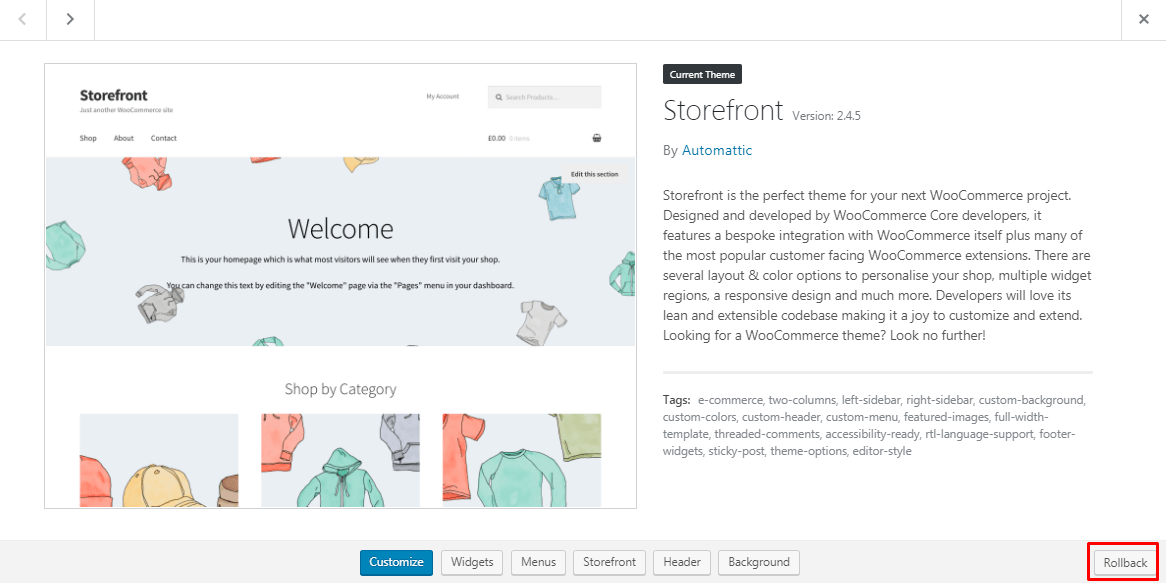 Select the version of the theme that you want to roll back to and click on Roll back.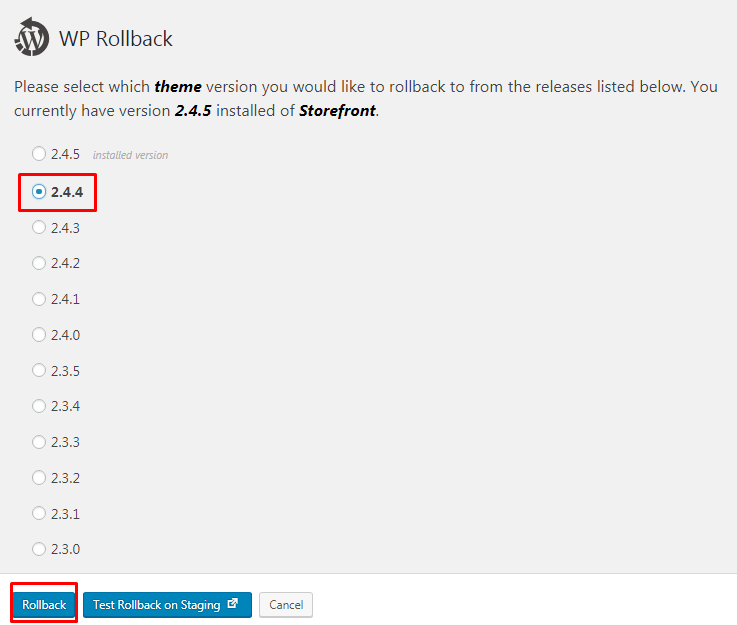 You will get the same popup confirmation. Verify your selections and click on Roll back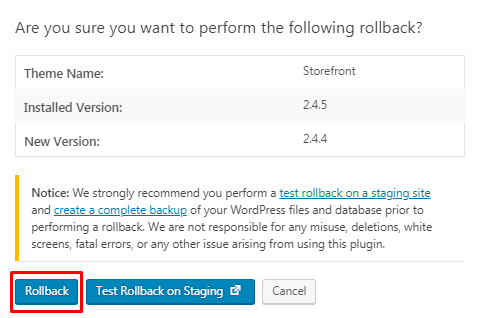 Once completed you will get a confirmation similar to what is shown below: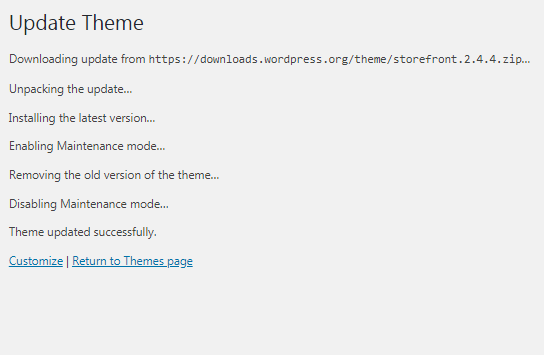 Conclusion
As you can see the plugin is a robust solution for anyone looking to roll back plugins and themes in WordPress. It makes the process as simple as updating the plugins and themes. It is also recommended to take a backup of your website any time before upgrading or downgrading any themes or plugins, I'd like to suggest use our WPvivid Backup Plugin.
Remember rolling back plugins and themes should be a temporary solution. You should get in touch with the plugin or theme developers to have the issue fixed. You can also wait for another updated version of the plugin or theme and update to it later.
You may also want to learn how to upgrade your WordPress site to the latest PHP version to improve your website performance and security