You are going to learn how to add keywords and meta descriptions in WordPress today.
That should be exciting, you've launched your blog with WordPress and now you start to seeking for the best SEO strategies to improve it's SEO ranking.
The foundation to a thriving and successful performance on search engine SERPs is laid with the on-page aspects of a website.
That would be the quality of content you have and how your content relates to each other based on how you interlink your site.
The next most important aspects are the keywords and meta descriptions.
If you are new to search engine optimization, aka SEO, then it is important you understand these big terms and why they are important to your SEO efforts.
Here is a super basic a definition that every blogger should understand.
A keyword, interchangeably use with focus keyword, is a word or words that someone enters in a search engine like Google or Bing when they are looking for something online.
If I can guess right, you got to this page by a Google search or a bing search, for the words "add keywords and meta description in WordPress" it may not be those exact words but something related to that. Right?
What you entered in the search engine, is what we call keywords. I hope it makes sense.
As a website owner or an entrepreneur, you have a product or service or solution, and you use your website to showcase that product, service or solution.
To be able to attract people through search engines to your website, then you've got to get into the mind of your potential customer,
Figure out what they would search for in a search engine and then use those words to optimize your website or content.
Next big word. Metadata.
The bots that search engines send to crawl the web to index pages to its huge database do not understand the human language; they understand what we call metadata.
This data is not visible the user, but if you view the source file of your webpage, you will see meta description,
You add that information to your website content to help the bots understand what your page or content is all about.
To, therefore, Add Keywords and Meta Description in WordPress
We shall use Yoast, one of the most popular and widely used SEO plugins for WordPress sites.

Step by Step: How to add keywords and meta description in WordPress.
Installing Yoast.
Search for Yoast SEO in your WordPress plugin area, Click Install Now and then Activate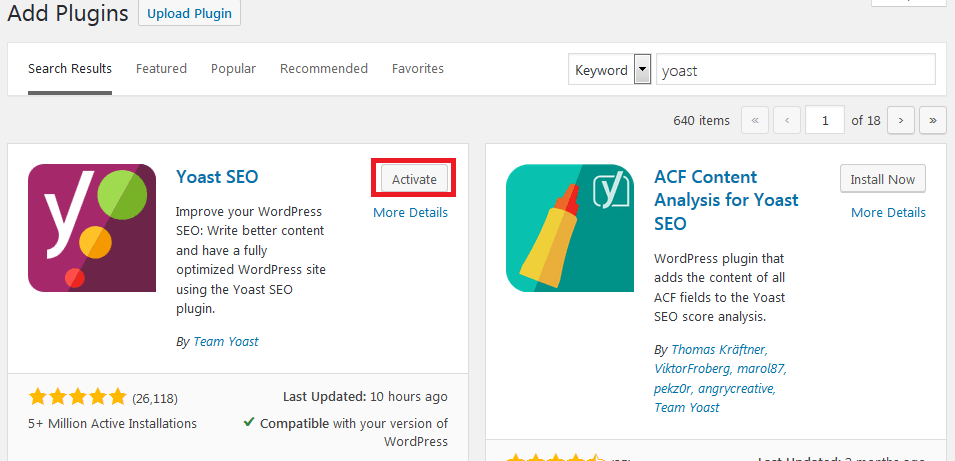 With Yoast SEO you can accomplish many tasks, but for this article, we are looking at how to use it to add keywords and meta descriptions to a page or a post.
Adding keywords and meta descriptions to a page or a post.
To do that, open an existing page or post that you want to add keywords and meta description to.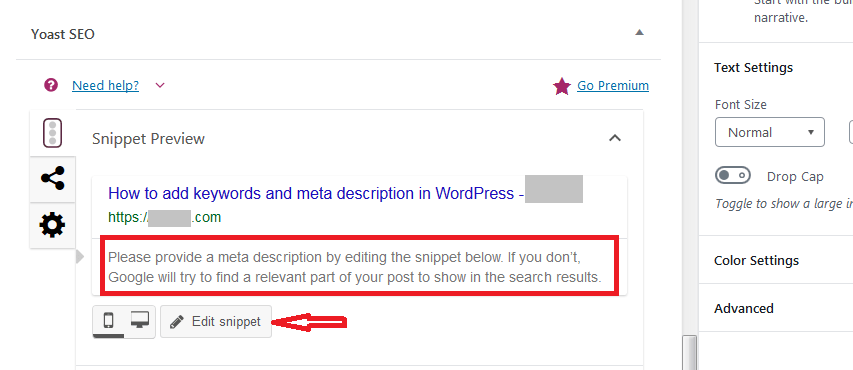 Just below your post, you should see Yoast SEO. The meta description is the highlight content section above.
Click Edit Snippet to add meta description to the page or post.

The rule of thumb when you are creating a meta description is that
it should be between 150-160 characters, that is about 28 words,
It should contain the keywords you want to rank high your post or page for.
Above all, it should be a thoughtful summary of your post or page, since this is the data that search engines will show on search results. Potential visitors from search engines will read this, so make it appealing to make them want to click the link.
For this post, we would enter a meta description like "A website owner cannot underscore the need to learn how to add keywords and meta descriptions in WordPress as it is one important metric search engines use."
Precise, to the point and appealing.
Note if you do not enter a meta description, the search engine will display any relevant portion of your content.
As you add the meta description, the Yoast indicator will move and then turn to green. Use it to guide you as you write your description.

When finish writing your meta description, click Close snippet editor.
Adding keywords to a page or a post with Yoast SEO
Click Focus Keyphrase, and enter your keywords in the provided text field

To get Yoast SEO to green light, then your keyword;
Should appear in the title
Appear in the meta description
Appear in the first paragraph of your post or page
If you can achieve that, then you should see a green smile beside the Focus Keyword.

Follow the guidance of Yoast SEO to add keywords and meta descriptions in WordPress.
Conclusion
If you can create valuable and relevant content and nail the basic on page aspects of Search Engine Optimization,  including adding keywords and meta descriptions in WordPress, then you will soon receive free traffic from search engines as your pages will start to rank high for relevant keywords.
There is nothing good for a website owner as free traffic, the best organic traffic is from search engines, and to get it you need to create content and format your content in a manner that search engines will love to rank high.
Above all and importantly, do not stuff your content with keywords to fool search engine bot. They may not be human, but over the years they have become intelligent to detect bullshit.
Write for your audience, not for bots.
Want to experiment with other SEO plugins?
Smartcrawl SEO by WPMU DEV, I've personally used it on some client websites that got to rank high very fast for the keywords we optimized their content for.
All in One SEO Pack –  one of the oldest and all-time great SEO plugin we have for WordPress.
More details and options in our top picks for the best SEO plugins to help improve your Google Ranking.