If you have an e-commerce store with Affiliate Manager WordPress plugin running your affiliate marketing program and are stuck or not sure how to manage it, then this article is for you.
Those shopping around for a viable WordPress affiliate marketing management solution are also. There is something for you to learn here too.
Managing your affiliates marketing program is as important as any other marketing effort.
Attracting the best internet marketers should go along with a clear and defined system, both in terms of policy and software.
Affiliates Manager, is one great software that will make managing your affiliate marketing program effortless. It's a great choice you made choosing it.

In this article, we shall get an overview of the different sections of this software, after reading this article you should be able to know what management tasks you will need to perform where.
Step by step: How to manage an affiliate marketing program using Affiliates Manager plugin.
Let's jump right in. If you are new to this and are just launching your affiliate marketing program and need to install Affiliate Manager, then grab the files from here.
Install, activate it and then follow along.
On the Admin menu, you should see Affiliates.

We shall follow the Menu Item positions.
My Affiliates
This is like the dashboard where you can view and manage all your affiliates in one place.

New Affiliate
Every once in a while you may need to add new marketers manually; it's from this section that you do that.
All you do here is supply details of the affiliate marketer.
The marketer is immediately activated. However they need to sign in to accept the terms

Manage ads/banners/creatives – My Creatives

Providing you affiliate marketers with great promotional materials is fundamental to the success of your affiliate marketing program. Create some banner ads, text ads, videos and any other materials you will use to promote your store.
Once you or marketing has come up with creatives, you add them from here.
With Affiliates Manager you can add two types, text and image creatives.
PayPal Mass Pay

Paypal payments makes it easy and convenient to pay your affiliates.  With the free version of Affiliates Manager, you can do that.
It's from here that you pay your affiliates.
You need to have connected your PayPal account in the settings section before you can use PayPal mass payments (This is done in the next step)

You can then process a new mass payment or view previous mass payments.
Settings

The first thing you would want to do the first time you install Affiliate Manager would be to configure its settings.
We have the general settings, where you set the minimum payout amount, cookie duration, the default email and name used in the transactional emails, currency, commission type – whether it is a fixed or a percentage share of sales made, and several other options.

The Affiliate Registration tab lets you select what payout methods your affiliate marketing program supports.

On registration, individuals will have the choice of what payment method they prefer for commissions earned.
Additionally, the registration form fields are set from here.
The next tab in settings is Messaging.
Compose the different messages affiliate marketers will be shown on your site or by email here.
To edit the default email, click the pencil icon beside the message you intend to modify.
The next stop is Payment. We mentioned earlier in the Paypal Mass payment Section that you need to configure your Paypal account in settings before you used the service.
It is from here that you do that.
Note, PayPal APIs are available to premier and business accounts only. To get your PayPal API settings, follow the guide on the developer's site.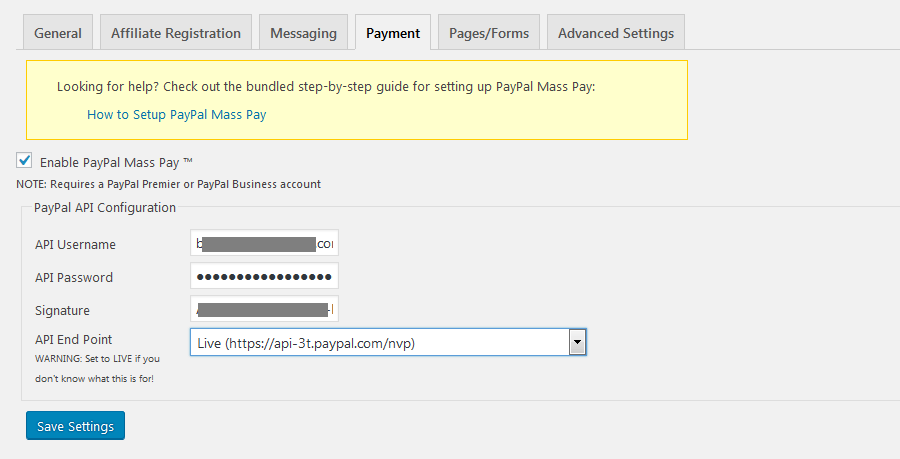 Next, we go to Pages/Forms. You will typically come here the first time you set up your affiliate marketing program.
Change the pages if you prefer to use unique slugs.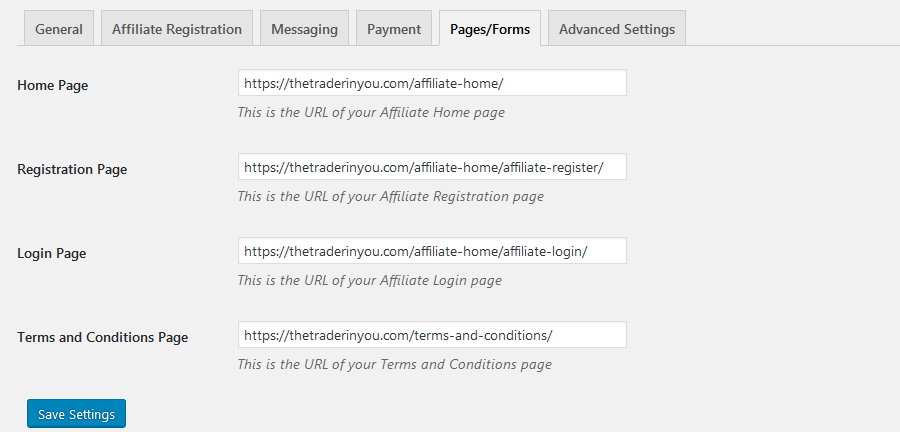 The final stop in Settings is Advanced settings.
Two things are accomplished here; By default your homepage is the landing page, if you have any other, then you need to set it here.
Secondly, affiliates can earn commissions from purchases they make – if your policy states otherwise, disable it from here, check the Disable Own Referrals check box.

Admin Functions

If you need to, you can delete click data from here. Enter your date range and then click Delete Clicks Data.

Manage Payouts

The Manage Payouts is going to be a section as an affiliate manager you will frequent.
To process payments manually, you would need a report. It is from here that you generate a report of the affiliates who need to be paid, create a payment report file that can be used directly in PayPal, once you have made payments, you would need to come back here and finish with step 3 where you click Mark as paid.

Click Tracking
As it says, you can monitor the activity of your affiliate marketers here.

Commissions

The Commissions areas of Affiliates Manager, helps you view total commissions earned by your affiliates and also allows you to credit an affiliate for sales generated that never came through their affiliate links. You do that from the Manual commission tab.

Add-Ons

Affiliate Manager has many add-ons, free and premium that you can make use of to extend the functionality of your affiliate marketing program. It is certainly worth exploring.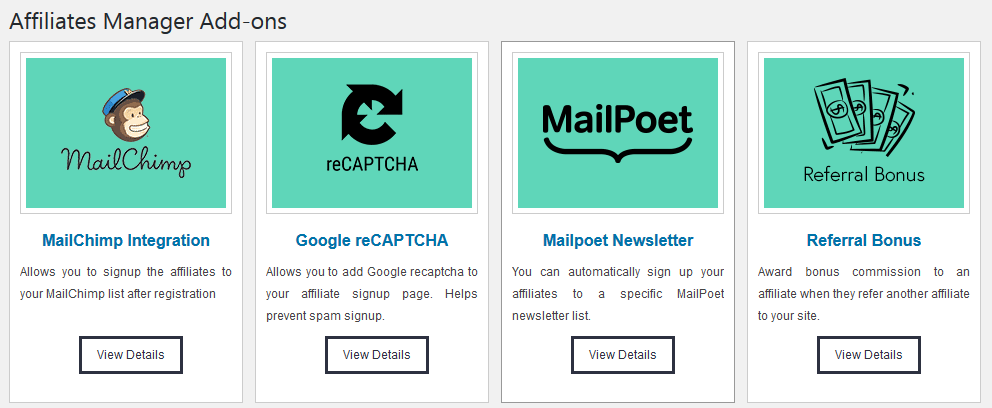 That's about what you can do, and where you need to do what as an affiliate manager using the Affiliate Manager WordPress plugin.
Affiliate Manager is a solid piece of software you can use to run a successful affiliate marketing program. The free features alone are more than enough for beginners.
It integrates seamlessly with over ten eCommerce store types, plus a host of other great features that an affiliate manager would need.
Final Thoughts
As you saw, in this article, we cover the administrative features of the software which is one part of the equation; it takes a lot more to create a successful affiliate marketing program than just this software.
Some management tasks like; creating compelling creatives, recruitment of affiliates, managing relationships with the affiliates, communication and more are crucially important.
You need to educate yourself in them if your affiliate marketing program is to see success.
If you are up for some more exploration, see our list of top affiliate program managing plugins.
Let us know your thoughts about Affiliate Manager and do not forget to follow us for the latest updates and articles.