If you are running a WordPress blog and are seeking growth in the online landscape, you need to be constantly searching for a qualitative measure as to where your business is standing. Access to precise data is crucial to understanding what is working best for your website so you can start taking actionable steps to your online success. This is why we have put together a list covering the best WordPress website analytics plugins to help you out.
Why You Need WordPress Website Analytics Plugins?
WordPress by default doesn't give you access to any useful metric of data which you can use to judge how your site is performing. This leaves you clueless as to which content is reeling in traffic to your website, and which content is increasing overall bounce rate. Of course, if you want to make it big, you want to increase your engagement level and at the same time, lower bounce rates. This will only be possible if you have access to certain metrics which gives you a qualitative understanding of your site's performance. Thankfully, the WordPress CMS houses thousands of such amazing plugins, with most of them being free to use. Now, it goes without saying that having website analytics plugins installed on your blog is a must. But which plugin to pick when there are so many. This is why we have covered some of the most popular and powerful plugins in the category so you can find the right one specific to your need. And so, without further ado, here is our list on the 9 Best Website Analytics Plugins To Gather Data & Insights:
Top Free Website Analytics Plugins for WordPress
1. Independent Analytics – Google Analytics Alternative
Starting off our list, we have Independent Analytics, it is a brand new analytics plugin for WordPress and an excellent alternative to Google Analytics. It offers a few benefits over traditional analytics tools.
First, you don't have to worry about adding the tracking code yourself. Independent Analytics starts tracking visits for you the moment it's installed. Additionally, the tracking script is less than 1/10th the size of the one in Google Analytics, so it loads much faster. It's also GDPR compliant out of the box.
Features
Beautiful analytics dashboard in your WP admin
Find your most popular pages
See your top traffic sources
Filter your analytics by page type, views, author, and more
Discover 404 errors, local search terms, and other WP insights
Overall, Independent Analytics is a unique analytics plugin and it's also totally free to use, so you can try it out and see what you think for yourself risk-free.
2. Google Analytics Dashboard By ExactMetrics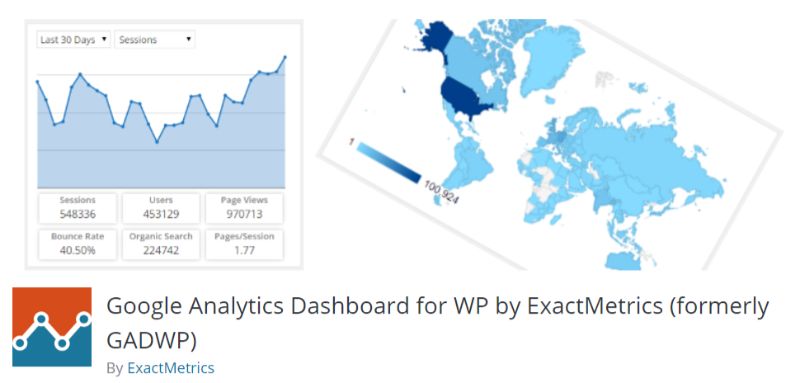 Google Analytics Dashboard for WP formerly went by the name GADWP. It is one of the most popular website analytics plugins with over 1 million active installations. Once installed on your WordPress website, the plugin will start analyzing your site using the latest Google Analytics code, give you access to insightful Google Analytics stats. Features:
Real-time stats straight on your dashboard interface.
Detailed reports on sessions, organic searches, page views, bounce rates, traffic channels, social networks, device categories, and so on.
Option to use Google Tag Manager to track and analyze your website performance.
Installs the latest Google Analytics code straight on your WordPress website.
The tracking code can be customized using options and hooks.
And much more.
3. Google Analytics By ShareThis
Next, we have Google Analytics, one of the simplest and easiest ways to add the GA tracking code on your WordPress website. With the plugin installed, all you have to do is log in to Google from your WP admin dashboard, pick the website you want to link, and you're done. It will give you access to all the useful data that Google Analytics is programmed to track, alongside showing you the trending content on your website. Note: The plugin hasn't been updated for the latest 3 major releases of WordPress and might not be compatible with your WordPress installation. Features:
The plugin adds the latest version of Google Analytics Javascript to every page on your website.
Shows a summary dashboard complete with page views, users, pages per session, and bounce rate.
Access to traffic sources so you can know how people are ending up on your website.
Configured to only track real visitors and avoid bots.
Helps you analyze your trending content by creating a list.
Slack integration.
And much more.
4. WP Statistics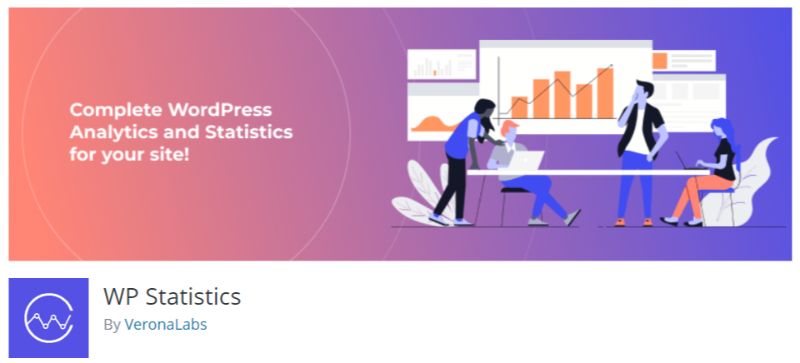 WP Statistics allows you to collect data on users coming to your website, and analyze them using beautiful charts and graphics. It gives you access to a comprehensive collection of information regarding referral websites, user IP, browser, search engines they use, OS of their devices and much more. Best of all, these stats are all available on your website and you don't have to send them anywhere. Features:
And much more.
5. GA Google Analytics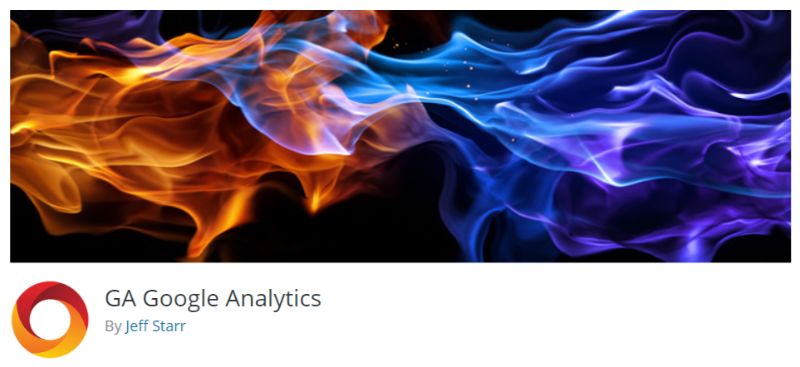 GA Google Analytics can help you embed the Google Analytics tracking code on every single page of your WordPress website. Apart from that, the plugin also supports universal analytics or analytics.js and Google site tag. This will help fetch you actionable information about the users coming into your website, so you can modify your content as well as marketing accordingly. Features:
Regularly updated with the latest version of the tracking code.
The tracking code can be customized as per your requirements.
Includes tracking code in all webpages on the header as well as the footer.
Option to add your own custom markup.
Visitor opt-out box. (premium)
Option to run multiple tracking codes. (premium)
Live preview of all your tracking codes. (premium)
And much more.
6. Slimstat Analytics

Slimstat Analytics is one of the few free website analytics plugins that gives you detailed insights regarding multiple events on your WordPress website. This includes everything from simple customer behavior tracking to javascript event monitoring, intrusion detection, email campaign analysis, and much more. Features:
Real-time access log with metrics like server latency, page events tracking, bounce rate monitoring, and much more.
Option to export data and reports using CSV, user heatmaps, and so on.
Shortcode and widget-ready.
Premium add-ons are also available if you want to access more advanced functionalities.
And much more.
7. Statify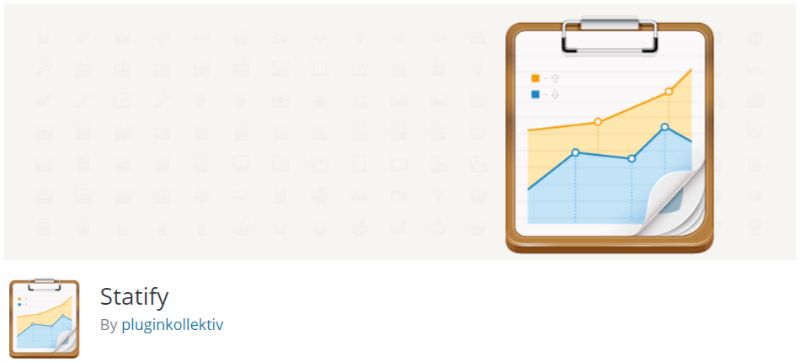 Stratify is a simple and straightforward analytics plugin for WordPress websites. It gives you access to a compact display to conveniently view and access all your site statistics from the comfort of your WordPress dashboard. You will even get access to the most common reference sources and target pages to help you optimize your marketing strategies. Features:
A simple and compact website analytics straight on your WordPress dashboard.
Doesn't use cookies or any third party tools and software to track your users.
Can help you learn about the reference sources for the traffic as well as the target pages.
An interactive chart to help you visualize all the data.
Support for dashboard widgets.
Configurable period to save user data. All data saved on local WordPress database.
And much more.
8. Analytify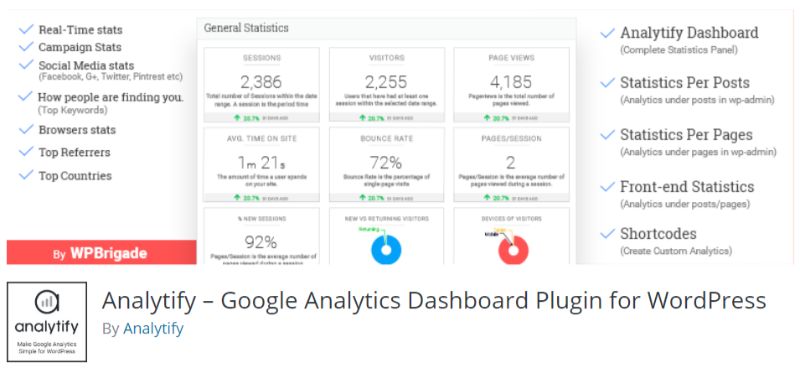 Analytify is a Google Analytics premium partner that can help you use Google Analytics to track all your posts, pages, and even custom post types. The plugin can help you present all the collected data beautifully under your WordPress posts/pages at the front-end as well as the backend. Features:
Full access to Google Analytics stats for each single posts, page, and custom post types. (premium)
Can help you with SEO optimization by giving you traffic data of each blog and page.
Real-time stats. (premium)
Shortcode and widget support. (premium)
Can help you track your WooCommerce performance and Digital Downloads. (premium)
A Google Analytics premium partner.
And much more.
9. WP Matomo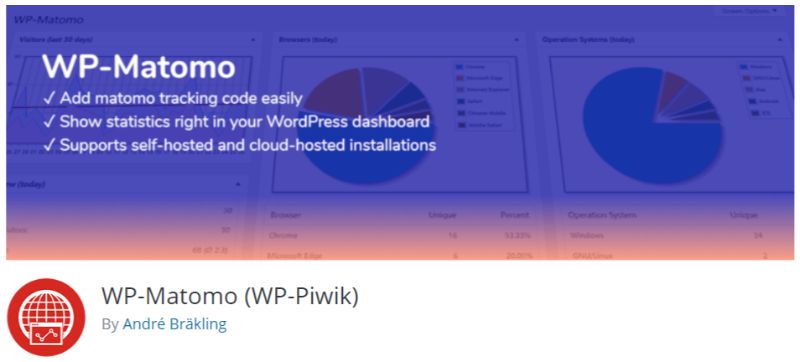 And now as the final entry in our list of the best website analytics plugins, we have WP-Matomo. As you might have guessed from the name, the plugin integrates the Matomo API into your WordPress website to give you access to Matomo statistics right on your WordPress dashboard. Features:
Integrates Matomo API on your WordPress website.
You need to set up the Matomo web analytics application for the plugin to work.
In Conclusion
So these were our picks for the top 9 website analytics plugins for WordPress. Do let us know if you found the read to be useful, and if it helped you find the right plugin that will give you all the necessary actionable data to better your website/blog. On a similar note, if you are a veteran user with experience with many such website analytics plugins, then please do write about which plugins you like to use (might not be included in the list) on your WordPress website. Your contribution will be highly appreciated, and it might even help a fellow reader better their own website or blog. Now, you are all set to integrate Google Analytic dashboard to your WordPress site.