Watermark your images on your WordPress site to constraint thieves from getting their hands on it.
You must have put in a lot of effort to make that astonishing image. But, you worry about its copyright. You don't want any image thief to steal your image and place it on its blog.
Don't worry; your worrying time is over!
All you need to do is to undergo a small procedure and achieve copyright of your images.
So, all those professional photographers and visual artists, showcase your skills is no more an issue, now, you can protect your hard work through adding watermark to your images.
With the help of WordPress Watermark Plugin, you are creating a security check on your images. No one can steal your picture. Hence, placing watermark will help you drive more traffic.
Want to know more?
Continue reading this article till the end….
This article is meant to resolve queries for those photographers', bloggers who put in a lot of efforts to create original, unique images. So if you want to secure your images, this guide is your essence.
So, let's head off and help you secure your image with STYLE!
Why Add Watermark To Your Images?
You can't lock up your images or can't stand against your pictures. Once you have uploaded it on the internet, it is going to be viewed by millions of viewers.
Isn't that what you want?
You want viewers to view your image. You want them to like your picture. You want to drive traffic on your site due to your image.
BUT, you don't want thieves to steal!
Adding watermark to your images will help you:
Protect your work.
Prevent people from using your image.
Attain copyright of your image.
Build a reputation as a photographer or visual artist.
Moreover, adding watermark to your images in WordPress is not a difficult task. It is a simple procedure and free; if you use a free WordPress plugin.
There are various watermark plugins available in the online world. Within this article, I am going to help you watermark your images in WordPress using Easy Watermark Plugin.
This step by step tutorial is excellent for newbies.
How To Watermark Your Images In WordPress Using Easy Watermark Plugin (Step-By-Step)
Easy watermark plugin helps photographers, bloggers, visual artists to add watermark to their original images automatically. With the help of this plugin, you can also add watermark to images, or text manually as well. But I am highlighting only the automatic procedure.
Let's get started!
Install The Easy Watermark Plugin
The first essential step is to install the plugin.
Log into WordPress> plugin> add plugin
And hit the button INSTALL NOW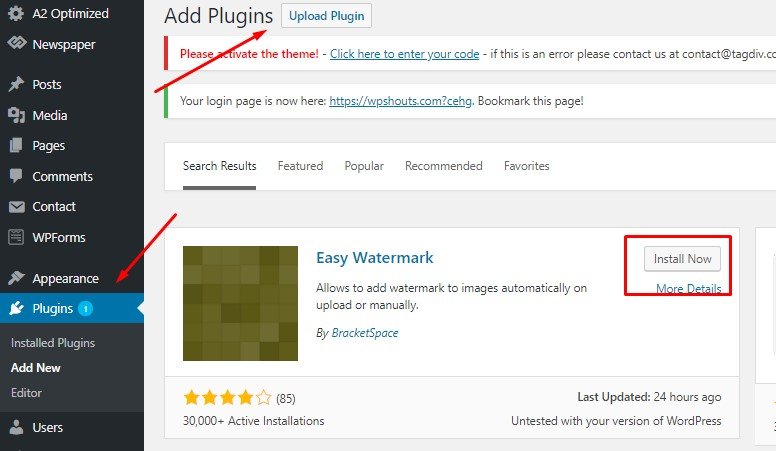 Once you have installed the plugin, now activate the plugin
Configure Plugin
Go to general setting> auto watermark
Check add watermark when uploading images if you want to upload any new image automatically.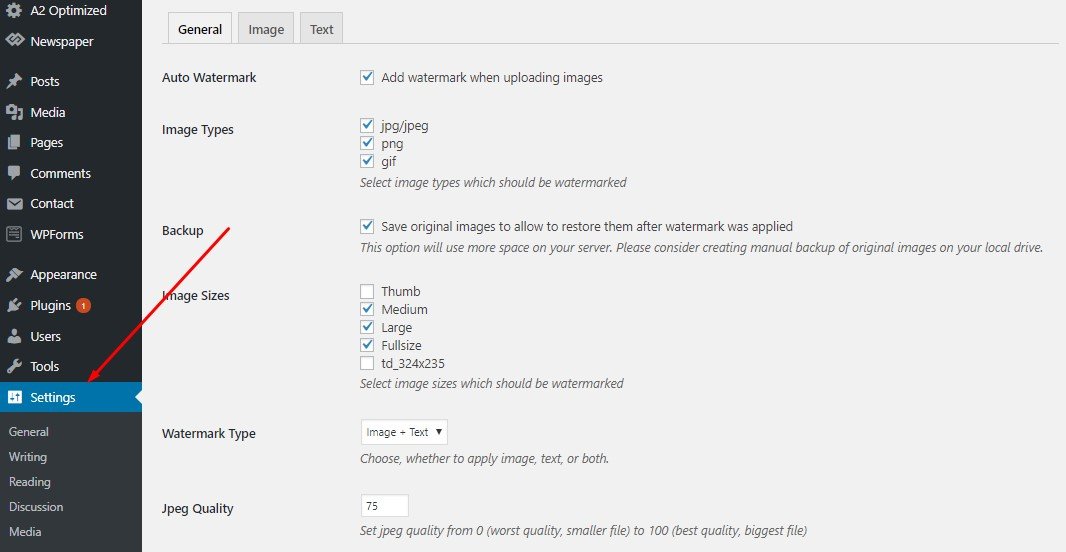 Setting> Image types
The image types include three options. I would recommend if you check all these three; JPG/JPEG, PNG, GIF.
Setting >Backup
Check this option too, since now you will be creating two versions of images: original and watermark applied.
Setting > Image Size
Select which image size you want to watermark. It is offering thumb, medium, large, full-size and post-thumbnail size.
Be careful of the size you choose! Full image size may add copyright but may destroy the beauty of the image. On the other hand, a thumbnail size at the side of your image could be cut off using a snipping tool. Thereby, terminating watermark functionality. So be vigilant in choosing the right size.
Setting>Watermark Type
You may choose:
Image
Text
Image and text
Setting> Jpeg Quality
You may pick jpeg quality from 0-100; from worst quality to best quality. I would suggest 80; high quality and reasonable file size.
Save Changes
Don't forget to save the changes.
Image settings
Easy WaterMark Setting> Image
Select the image and apply watermark on it. Now, before applying watermark have you thought what are you going to watermark your image with?

Watermark With Text
I prefer watermark your image with your logo or your brand name.
Now customize your watermark with the text the following options will appear:
Text alignment
Font
Text color
Text size
Text angle
Opacity ( I would suggest 40 % for text)
Watermark with Image
Whereas, if you watermark with an image, the following options will appear:
Watermark image
Image alignment
Scaling mode
Scale
Image offset
Opacity ( I would suggest 50 % for image)
Save changes
Don't forget the SAVE button. You don't want to ruin your effort.
Hit it hard and enjoy your image with your brand name.
Bulk Watermark/ Delete Watermark
Bulk watermark
Easy watermark also adds watermark to your existing images in bulk.
Media> Easy Watermark Tools > Bulk Watermark
Click Start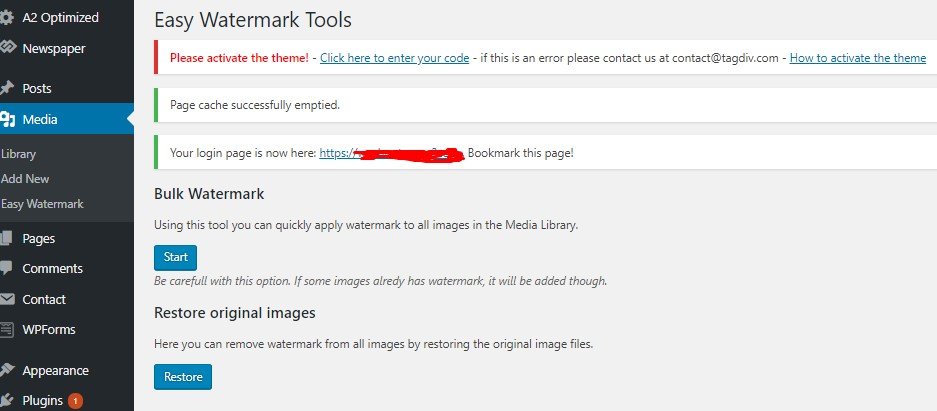 Enjoy! You have applied the watermark to all your images in the media library.
Delete Watermark
Easy watermark also restores your images by deleting watermark from all images.
Media> Easy Watermark Tools > Restore Original Images
Click Restore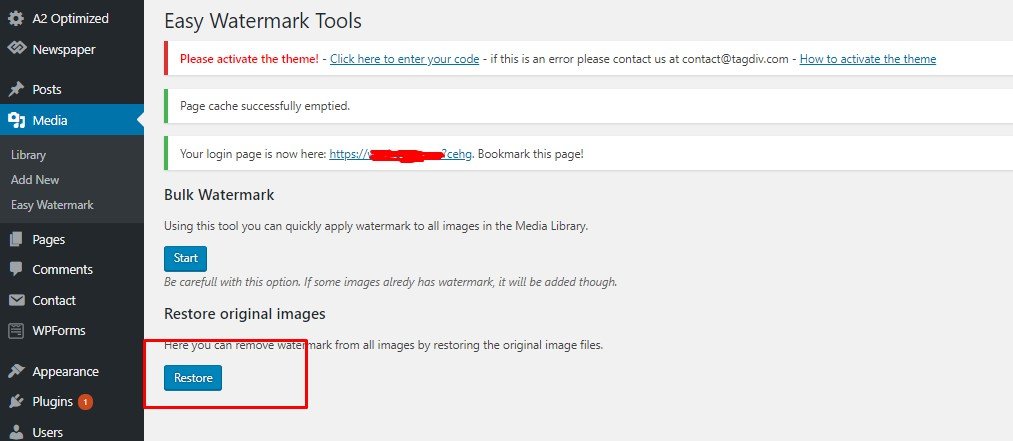 Final Thoughts
Protecting WordPress site images have become very easy. Just log onto WordPress and follow this tutorial. Within a short period, you will attain copyrights of all your images.
Remember! I am stating this again "Be Vigilant." Watermark can help you attain security from image theft but placing the right watermark, at the right place and of the right size is the crucial decision you have to make.
Easy Watermark Plugin is a free plugin; easy to use and easy to set up. But, if you want to opt for other watermark plugins, there is a variety to choose from.
Envira Gallery is a popular plugin that helps the photographer create a responsive image from scratch and help them protect their images as well.
Image Watermark is another WordPress watermark plugin where you can secure your images automatically, manually and in bulk.
WordPress Photo Seller Plugin is another known plugin that helps photographers showcase their images for parties, wedding and other formal events without worrying for its security. This plugin is best for social selling.
Which Watermark Plugin would you choose?
I hope this tutorial has helped you learned how to add water mark to your images. You may also want to see our picks for the best free image galley plugins to help your build beautiful galleries in WordPress.