When you start building your WordPress website and have a handful of posts or pages editing them may not seem like a daunting task. However as your website grows and you need to make changes on say a few hundred  pages or posts it can easily become a tedious task, requiring you to open up each page or post, make the changes and update each one individually. This can also take a toll on your server resources and eat up your bandwidth easily.
Many a times when you need to do a task and don't use the right tools it can easily become, boring, repetitive and tedious. Thankfully when it comes to bulk editing posts or pages in WordPress a number of efficient and easy to use plugins are available. One such plugin is Bulk Edit Posts and Products in Spreadsheet.
Why you need to use a bulk editing plugin.
Unless you are a pro at databases and MySQL then you may end up being stuck with editing post after post or page after page when you need to edit multiple pages or posts. Using a plugin such as Bulk Edit Posts and Products in Spreadsheet saves you time and makes your life easier.
There are a few bulk editing options built in to WordPress but are extremely limited in functionality.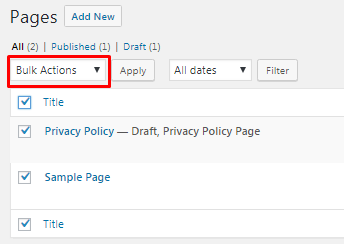 It only allows you to edit the Category, Author, Parent, Template, Comments and status. If you wanted to change the name or the slug for a number of pages at once, it would not be possible with this built in bulk editor.
Step by Step: How to bulk editing options all the information of any post type in WordPress.
Installing the Plugin
In your WordPress dashboard navigate to plugins and click on Add New. Search for Bulk Edit Posts and Products in Spreadsheet. Install and activate the plugin.

Setting up The Plugin
Once activated the plugin will take you through the initial setup. You will need to install the Redux Framework plugin and then select if you would like to edit Posts, Pages, Media or all 3. You will need the premium version of the plugin to edit media. If you have Woocommerce installed you will also be able to select products to edit them in bulk.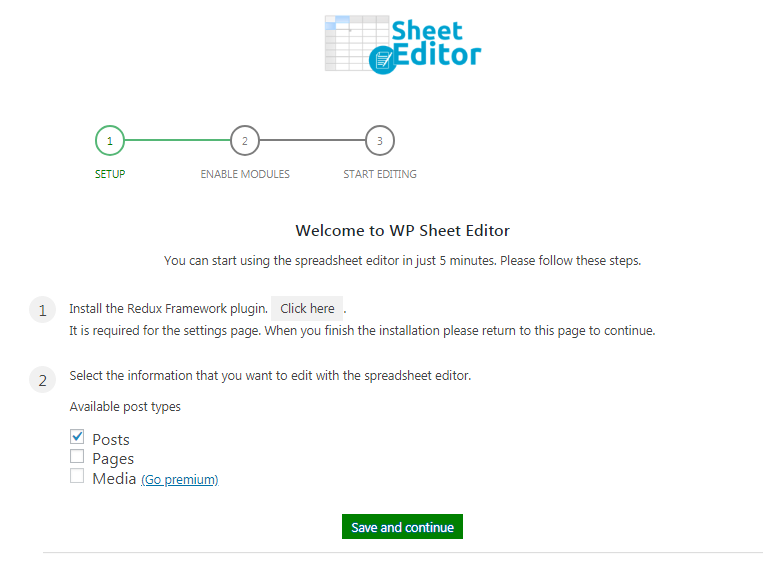 On the next page you can enable advanced spreadsheet features or continue with the basic spread sheet.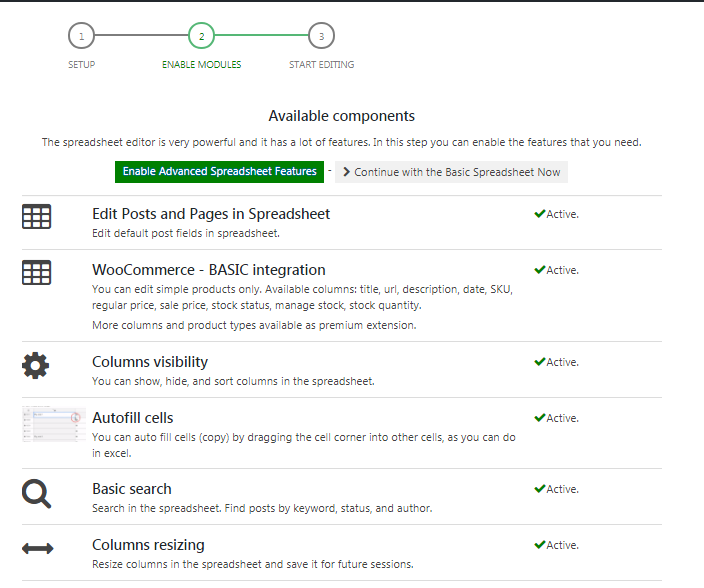 Some of the addons for this plugin are paid.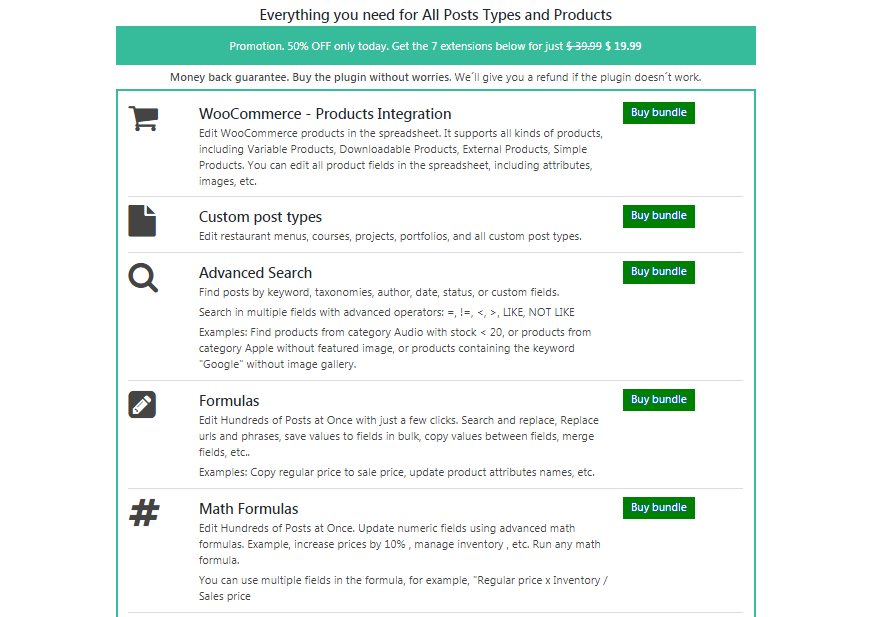 Once you are done selecting the addons you can now start bulk editing posts and pages.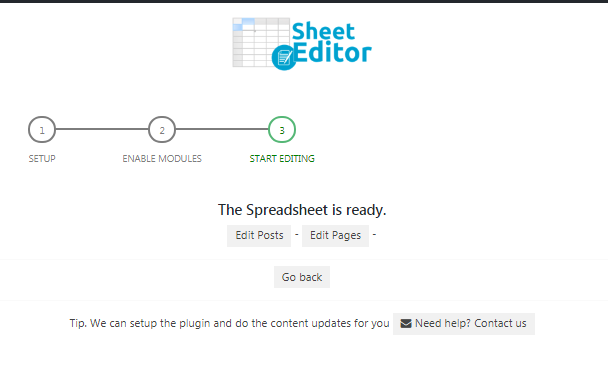 To edit pages or posts navigate to your WordPress dashboard. On the left hand menu you will find a new menu item: WP Sheet Editor, under it click on edit pages. This will take you to the following screen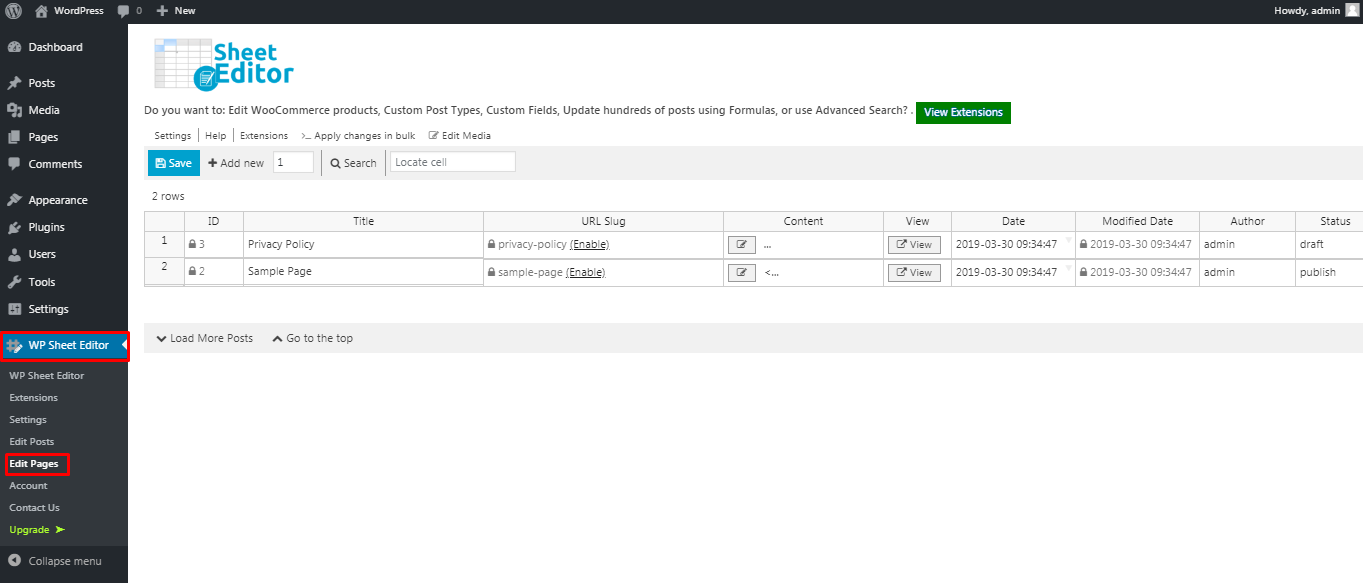 Here you will find a list of all the pages you have created. To edit the title or the URL slug simple double click on the title or URL slug to edit it.

Scrolling to the right will reveal a number of things you can edit.

You can edit the content by clicking on the button under content for the relevant page.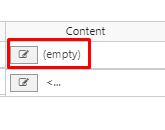 This will open up a pop up from which you can edit the content of the page or post. Once you are done editing the content click on save changes.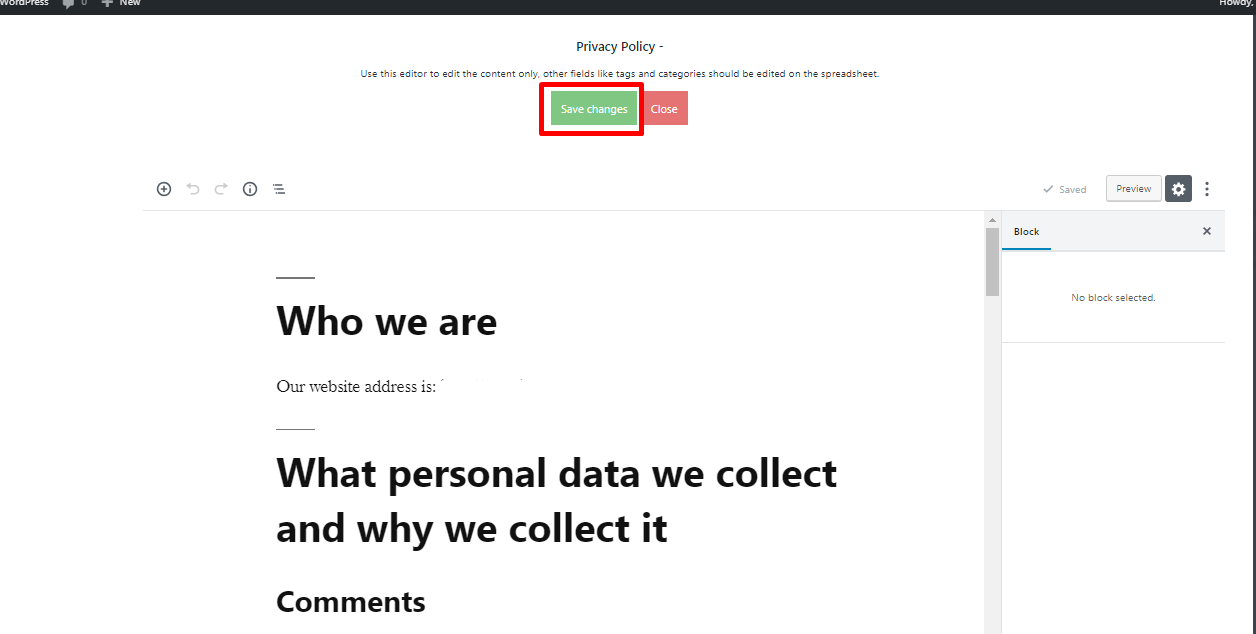 Other things you can edit here include: the creation date, modification date, the author, status of the page or post, enable or disable comments and set a featured image.
Once you have made your changes click on Save to save all the changes

Similarly you can edit posts and Woocommerce products using this plugin. The free version of the plugin is limited and only allows you to edit the title, status, regular price and sale price of products.
Conclusion
The free version of the plugin can do most of the basic functions of editing pages and posts in bulk. The premium version has a few extra tricks up its sleeve. It allows you to edit media files, edit Woocommerce products, edit custom post types, Yoast SEO fields.
Whether you need to edit, posts, pages, images or Woocommerce products, this plugin is a handy tool to have in your WordPress website. If you find yourself opening several tabs to edit several pages and are tired of wasting time waiting for each page editor to load and save post after post, then you must give this plugin a try.
Now you know how to bulk delete post types in WordPress, you may also want to learn how to bulk remove post comments on your site next.