Sitemaps are not necessary for the proper functioning of a website or a blog. However, having a sitemap is highly recommended especially if you want better SEO scores or better user experience for visitors.
You see, sitemaps are generally of two types:
There is the XML sitemap which helps web crawlers easily find and index all the pages and posts on your website so that they can show up in a search engine result page.
Similarly, there is the HTML sitemap which helps humans find a specific page/post on your site so that they can quickly navigate there. This improves your site's UX, which in turn will also boost your SEO score.
So yes, having a sitemap for your website is beneficial. With that being said, WordPress lacks any native solution for setting up a sitemap. However, that isn't a problem which a simple plugin can't fix.
And so, for the purpose of this read, we have put together a short list of some of the best WordPress HTML sitemap plugins in the market. So without further ado, let's get started:
Top HTML Sitemap Plugins for WordPress
Sitemap by click5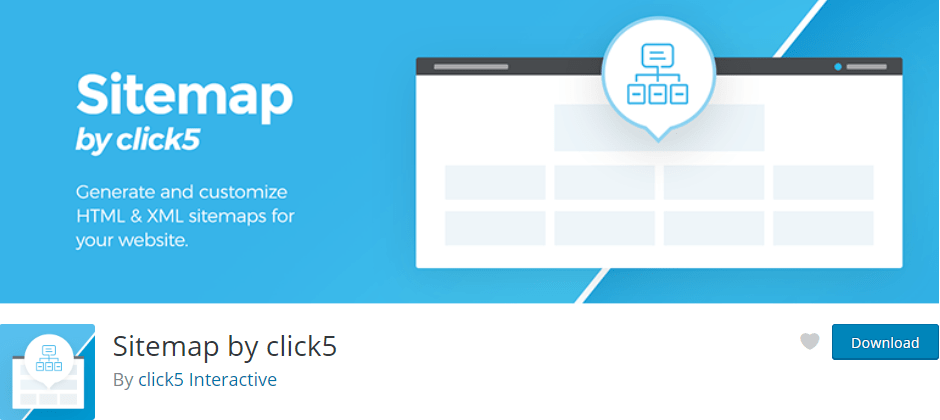 In addition to clean HTML sitemap, if you also want to generate a XML sitemaps for your WordPress website, then Sitemap by click5 plugin should be your number one choice without any doubt.
While XML sitemaps are helpful for search engines to crawl your entire website, HTML sitemaps are equally beneficial for visitors to navigate through the pages easily. This can not only help in increased user experience with the site but also increase in site's SEO performance indirectly.
Easy to use configuration page with tabbed layout allows you to customize your HTML & XML sitemaps to your needs. You can add an HTML sitemap on any page or post using a simple shortcode.
Main features of Sitemap by click5 plugin:
Clean HTML Sitemap
XML Sitemaps optimized for search engines
Custom Post Types & Custom Taxonomies support
Blacklist allowing to exclude specific posts/ pages, and custom sorting
Option to add custom links (ex. social profiles)
Generates robots.txt file
WooCommerce support
Translations to several languages (English, Spanish, French, German, Italian, Polish, …)
and much more great features you can find from click5's website.
Simple Sitemap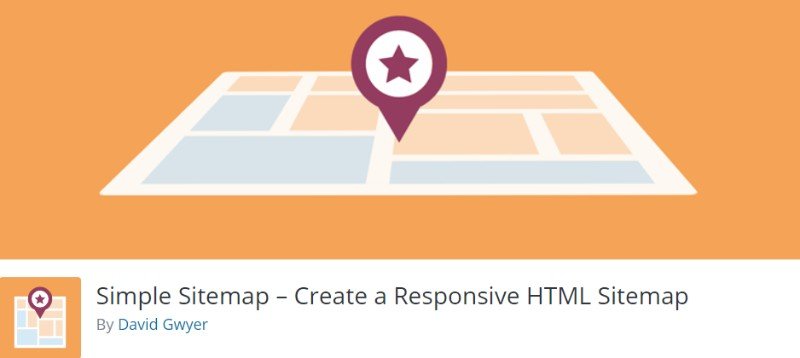 Once you install and activate the Simple Sitemap WordPress plugin on your website, it will start generating HTML sitemaps for all your posts and pages. Plenty of other options are also included to help you specify which content appears on the sitemap along with the format of the output.
However, the plugin doesn't demand any sort of further setup. Users will have access to the [simple-sitemap] shortcode, which they can simply paste on one of their pages. Once done, a dynamically generated sitemap will get automatically added to the page.
And the best part is, all this is available with the free version itself. There is a Pro version as well which you can install to access the below-listed features:
Display any nav menu as a sitemap.
Show/hide hierarchical parent pages as links or simple text.
Customization options for the sitemap titles in reference to specific pages.
Option to show sitemap as a horizontal list of posts/pages.
Support for tabbed layout for easy navigation through the sitemap.
Plenty of shortcode attributes to control sitemap functionality.
And much more.
Hierarchical HTML Sitemap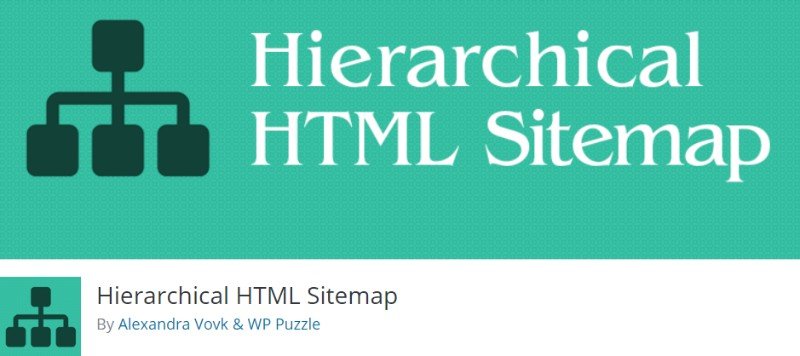 Hierarchical HTML Sitemap, as you can guess by the name, helps you set up an HTML sitemap for your WordPress website with all the posts and pages sorted hierarchically for easy navigation. You basically get access to shortcodes which you can use to practically add a sitemap almost anywhere on your website.
The sitemap plugin simply helps to add a raw HTML sitemap without any custom styling. There is no use of extra CSS or Javascript. This means you can add your own CSS/JavaScript into the mix to stylize the sitemap anyway you like.
Now, much like the previous plugin, here too you will get access to a free as well as paid version. Here is a comprehensive list of the different features included:
Use shortcode – [htmlmap] to add a sitemap anywhere on your site.
Option to exclude specific posts and pages from appearing in the sitemap.
Clean HTML sitemap without any inline style or script.
Easy customization with the option to add own custom style and script.
Extended sitemap settings. (premium)
Shortcode Generator. (Premium)
And much more.
HTML Page Sitemap

With HTML Page Sitemap plugin for WordPress, you will be able to set up HTML sitemaps for all the pages on your website. Do note, this will not create an XML sitemap, nor will it include any posts. You can use it to lay out all the different pages on your website so your users can navigate more easily.
Much similar to some of the other plugins on the list, here too, you will get to use shortcodes to plant the sitemap on your website. There is support for different shortcode attributes which you can use to configure the sitemap according to your preference. For example, you can assign a specific depth to your sitemap, include/exclude certain pages, and much more.
A more detailed list of all plugin features is laid out below:
Adds HTML sitemap on your WordPress website.
Can be used to display only the pages on your website.
Compatible with custom post types if they are laid out in a hierarchical structure.
Shortcode support.
Option to specify depth, exclude certain pages, display children of the parent page, add class attributes, and much more.
Simple WP Sitemap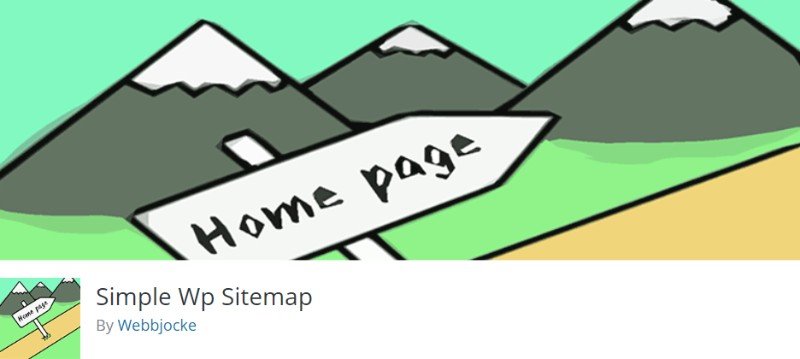 Simple WP Sitemap can help you generate an XML sitemap as well as an HTML sitemap for your WordPress websites. This helps you do both, satisfy search engine crawlers as well as the visitors on your website. However, the sitemaps are dynamically created and won't be stored in your system. They will be generated and updated on the go, each time a new user visits your website.
This helps the sitemap plugin to provide a much more convenient and reliable means of generating and maintain a sitemap. Now, you don't have to worry about updating the sitemap manually, nor do you have to break a sweat about creating and deleting the files. Adding to your comfort, the plugin is also designed to function automatically as soon as you have activated it on your website.
Here is a quick look at some of its notable features:
Sitemaps are responsive and mobile-friendly.
Automatically creates one HTML sitemap and one XML sitemap upon installation.
Sitemaps are created dynamically and don't store any files on your system.
Sitemaps accessible from the page – yourpage.com/sitemap.html
WP Sitemap Page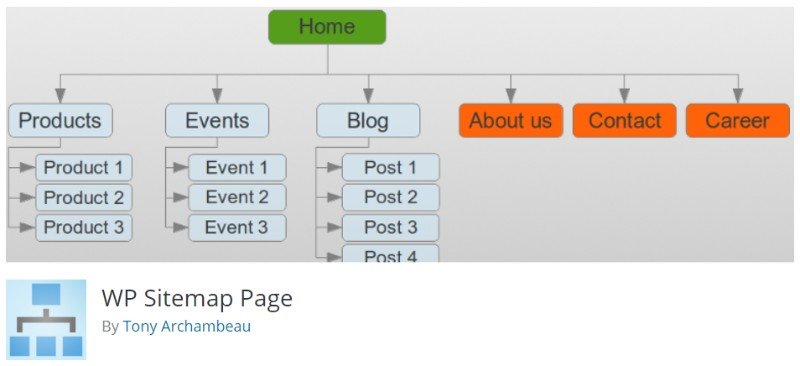 WP Sitemap Page is a shortcode powered sitemap plugin for WordPress websites. Once installed and activated on your site, all you have to do is paste the shortcode – [wp_sitemap_page] on any page of choice. The plugin will then automatically create an HTML sitemap of your website covering all pages and posts on your system.
It is worth noting that the plugin will not help you include an XML sitemap to your website. As such, it is only helpful to users who are looking to provide an intuitive navigation system for the convenience of their visitors.
Some other useful features are also included with the plugin as listed below:
Sitemap displays all your site's pages, posts, taxonomies, and categories.
Supports custom post types as well.
Posts and pages are categorized hierarchically.
Option to display content of only one attribute like page, category, or taxonomy.
Customization options stored away inside the admin panel to help you tweak the look and feel of the sitemap.
Support for custom CSS.
WP SEO HTML Sitemap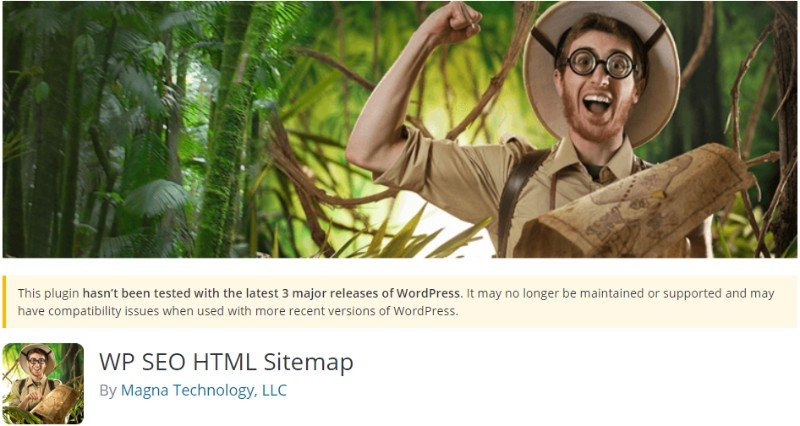 WordPress SEO by Yoast is a powerful SEO plugin for WordPress which comes with inbuilt support for creating an XML sitemap for your WordPress website. However, it does lack the functionality of creating an HTML sitemap which is where this plugin comes into play.
If you have SEO by Yoast installed, then WP SEO HTML Sitemap plugin will automatically use the existing XML sitemap settings to create an HTML sitemap. It also introduces a lot of useful options and settings which lets you tweak the way the sitemap will appear to the users.
Here is a list of all the features the plugin will add to your website:
Works on top of SEO by Yoast plugin.
HTML Sitemaps are responsive and mobile friendly.
Select the number of columns you want to display on your sitemap.
Supports the popular masonry layout.
Option to disable the plugin's CSS.
Option to link to your own xml file.
Note: The plugin is outdated and hasn't been tested with the latest 3 releases of WordPress.
In Conclusion
So these were our picks for the top 7 WordPress Sitemap plugins. Do let us know if you found the read to be helpful, and if you did, don't forget to share it along with your blogger friends who are yet to set up their sitemaps.
Furthermore, if you have used any of the plugin mentioned here or any other more feature-rich sitemap generators for that matter, then do write about your experience in the comments section below. Your valuable insight will be highly appreciated and it might even help one of your fellow readers.
We have also put together a list of the best free XML sitemap plugins to enable search engines to quickly find your websites pages.