Compliance is not an option today; in this article, we shall show you how to add a privacy policy – one of the requirements websites need to display on their websites to comply with regulation. Before we start, let's see:
Why Do You Need to Add A Privacy Policy to Your WordPress Site?
The web evolved from a static one-way push content distribution to a two-way push and pull relationship between content marketers or website owners and website visitors.
This ushered a new era of website development; users demand a more seamless and personalized user experience with the online properties they interact with while marketers are continually looking for ways to make the most of their investments.
The desire for a personalized recommendation for the trip vacation you are dreaming about or the convenience of shopping online and not having to remember your details every time you visit a website necessitates website owners to know more about you.
So, what information is actually collected? You would be surprised.
The level of interaction today online is unprecedented, if we look at your WordPress website, for instance; here is some information collected;
As you can see, a lot of data can be collected from users often without their knowledge; this kind of anonymity can be abused by some ethically challenged, and profit-minded individuals or businesses. In extreme cases, the data collected is shared with or sold to third parties.
To curb the increasing abuse of user trust and for transparency, regulators have to step in by passing laws in this case that requires a website not only to disclose the information they collect from their users but also what they do with that information.
That's where a privacy policy comes in.
All right enough of that, this article is to show you how to add a privacy policy, so let us do that.
Step by Step: How to Add A Privacy Policy to Your WordPress Site?
Without having to worry about creating the page or the legal content, or displaying the policy on our website, we shall use WP AutoTerms: GDPR Privacy Policy, Cookie Consent Banner, Terms & Conditions.
Step 1: Install and activate WP AutoTerms plugin
From the Plugins >> Add New Plugin – search for WP AutoTerms and then install and activate it.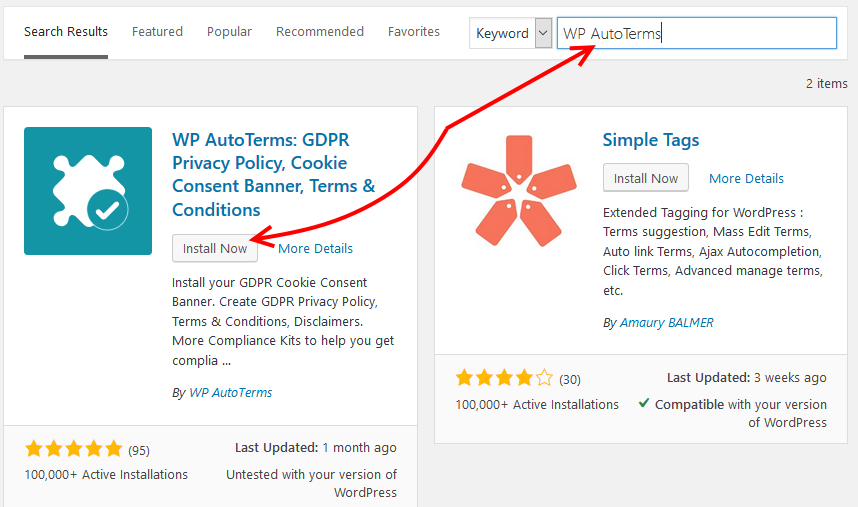 Step 2: Filled out your website's info
When you have installed and activated the plugin, the first thing you need to do is go to the navigation and find WP AutoTerms and click Settings.

Then supply the relevant information required, the Website Name, Website URL, and Company Name fields are prepopulated with the data from your website's general settings.
Save your settings when you are done.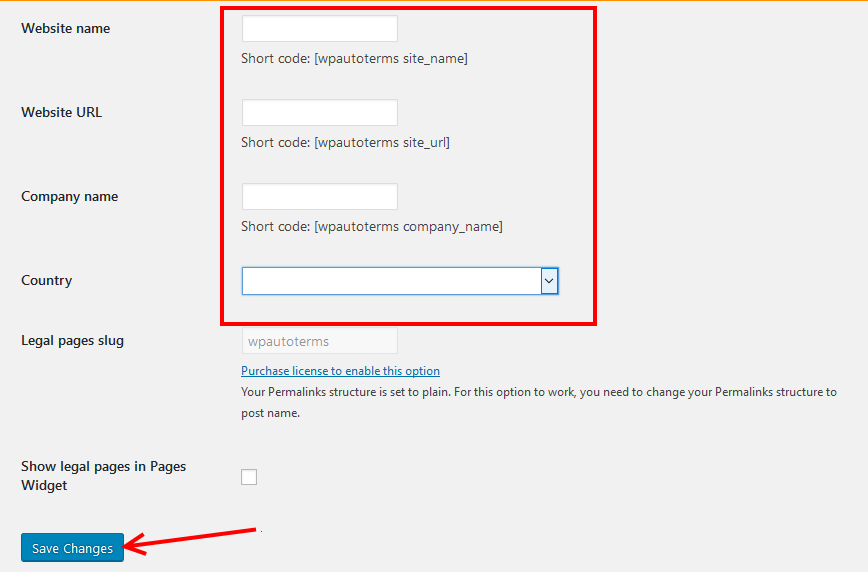 Step 3: Add Legal Pages
Now go to WP AutoTerms >> Add Legal Pages.
Before you add the legal pages, make sure that you have gone through the previous step.

Under Privacy Policy Click the Create button.
There is also the option of creating a GDPR compliant Privacy policy available for premium users.

Step 4: Add a privacy policy
Next, we add a privacy policy.
Confirm the information displayed reflects what you set in your settings page, then choose the appropriate fields in the following options.
You have the option to define if users can create an account on your website.
What personal information you collect from users
And finally, if you disclose personal information of users to law enforcement agents if required by law or subpoena.
When all looks good, click the Create button at the bottom.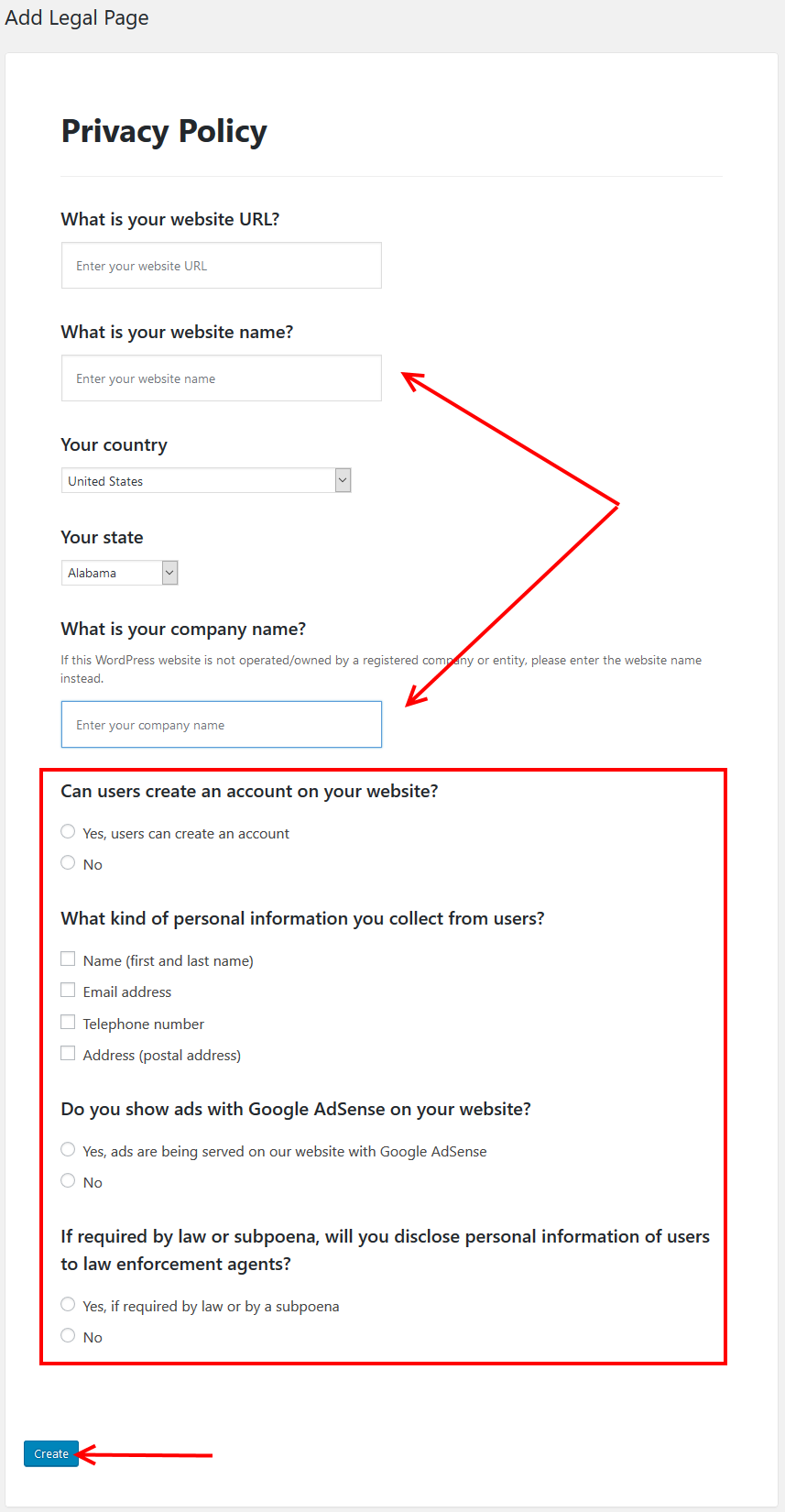 You are taken to the post; from here, you can publish your privacy policy.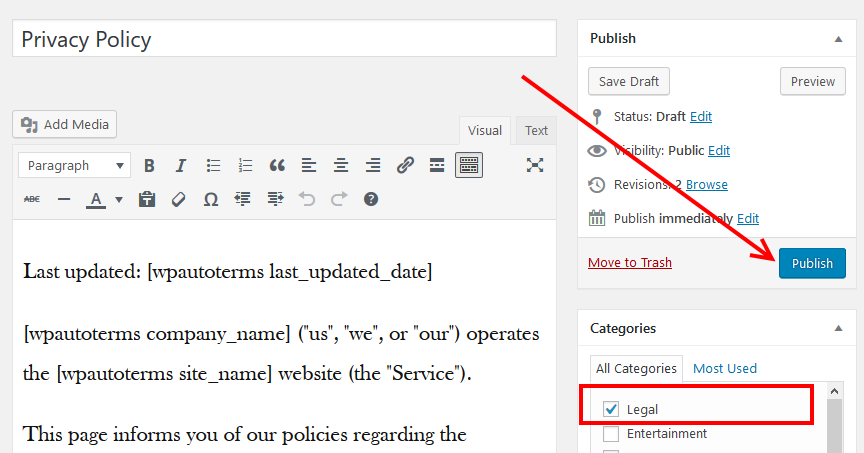 Note that since a post type is used for the page, I added the post to a category I called Legal – you don't have to create one, though it is a good practice to logically organize your content.
With that, you will have created a Privacy Policy that covers the significant aspects of a standard policy – a link to the policy is also added to the footer of your website.
Conclusion
Don't you just love WordPress? With so many amazing plugins like this, you can add a privacy policy to your website even extend more functionality of your sites without worrying about the hefty fees a lawyer would need or plagiarize another site.
In this article, we have added a Privacy Policy, but with WP AutoTerms you can add the Terms and Conditions page too in the free version.
Additionally you can add the cookie policy and a consent popup – unfortunately, this is only available with the premium version of the plugin which costs $39.00, there is however an alternative way you can create a cookie policy for your website.
Want more options and details? Check out our top picks of the best GDPR plugins for WordPress.