Something every affiliate marketer should know is how to add affiliates links to relevant keywords in their content automatically.
There was a time when contextual advertising was the major way of monetizing a blog or website. But, ask any blogger who started back in the day their view of it today, and they'll have a thing or to say about such services as Google AdSense.
Search Engine Marketing (SEM) is going to be around for as long as people are using search engines, but, as marketers, you can deny the fact there people earn way lower from displaying ads on their websites.
Then search around, and you will hear horror stories of the fickleness of these ad networks – Adsense in particular.
You wouldn't want to put all your eggs in one basket.
Why you need to add and manage affiliate links in an automated way.
Affiliate marketing provides a website owner higher commissions compared to any form of contextual advertising.
As your website grows into hundreds or thousands of posts, it gets harder if not impossible to keep up with your posts and affiliate links.
That is why; a bit of automation would go miles in improving the management of your affiliate links and eventually your revenue.
If your website is powered by WordPress, using a plugin like Auto Affiliate Links enables you to do that.
Marketers on Amazon, Clickbank, Ebay, Walmart, Shareasale, Commission Junction, Bestbuy, and Envato Marketplace can have product links pulled and inserted for them automatically. No more need for manually hunting for products to offer.
This feature is in their pro version starting at $27 per month
As an affiliate marketer or writer or publisher, you've got to love WordPress for this.
Focus your efforts to creating quality content for your website; time saved from adding and managing affiliate links, ultimately leading to increased revenue from affiliate marketing.
How to automatically add affiliate links into your content in WordPress using Auto Affiliate Links

Install and activate Auto Affiliate Links.
You can download the files from their WordPress plugin page here, or you can install it right within your WordPress backend.
Once it is installed and activated, you can start managing your affiliate links from the left Menu. Look for Auto Affiliate Links.

Upon installation, the first thing you will want to do is go to the General settings page.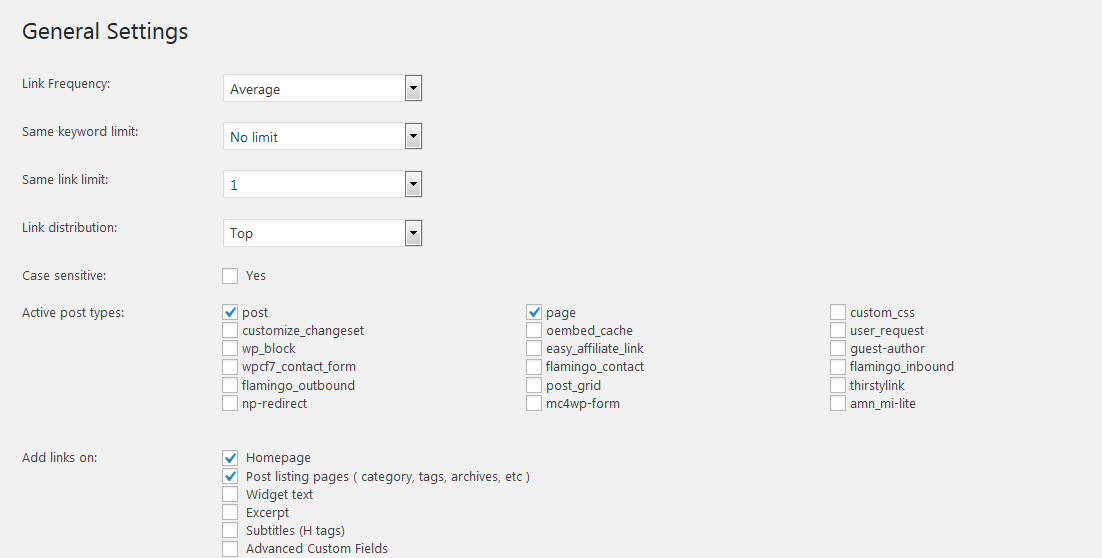 General Settings
From the general settings you can specify;
Link Frequency: How often you want to display a link on a post. You can define No links at all, Low frequency or High frequency or even set a custom value. The low-frequency defaults to one link displayed while the high frequency sets the links displayed to five.
Same link limit
Link distribution – you either have your links displayed on the top of a post or randomly displayed in any section of the page.
Choose the post types you want to be linked,
How the link will open once clicked – do you want it in a new window or the same.
Add Nofollow or dofollow attribute to your links. For search engine purposes we recommend you add a Nofollow attribute to your affiliate links.
Set the link cloaking if you wish – highly recommended.
And a couple more settings.

Save Changes once you are done with that.
The next stop is adding our affiliate links.
Adding our affiliate links
This is the meat of the article. Click Auto Affiliate Links from the submenu

From here you can manually add your links – providing the affiliate link and the keyword. Click Add Link when you are done.

You can also populate your keywords automatically by clicking – Click No Ideas? Show suggestions – the plugin analyses your content and picks out keywords.

Click Add>> next to the keywords from the suggestions.

The keywords section is then populated with the keyword/key words you added.
If you hadn't, add your affiliate link relevant to that keyword.

If you want to target multiple keywords, click as many as you need.

Affiliate links can also be grabbed and inserted automatically from Amazon, Clickbank, Ebay, Walmart, Shareasale, Commission Junction, Bestbuy, and Envato Marketplace – but you would need an API which is only available in the pro version of the plugin.
We can now go to our pages or posts that feature those keywords and see the results.

One of our keywords was trading, in our article; every word with that keyword is linked to our affiliate network.
Hovering over that keyword you can see it is points to our affiliate link.
Final Thoughts
There you go. You have learned how to automatically add affiliate links to your WordPress content with Auto Affiliate Links.
Now you can focus on creating great content for your audience. This plugin will worry about where to insert links.
If you care for variety and options, check out our 6 Top Picks Affiliate Link Plugins: that can also add and manage affiliate links into your WordPress website automatically;
Share with your views about this plugin or any other that you have used and is worth a mention in the comments section below.