If you thought running your affiliate network is for the big boys, well, think again.
In the next few minutes, you should be able to not only build and but to also run a robust affiliate network that drives traffic and grows your store sales.
If you have been an affiliate marketer, then you know how it works. If you have ever bought a product online, then the chance is you used an affiliate link from networks like eBay, Amazon, Clickbank and hundreds more.
What I am saying is, this is not a new thing, it's been around ever since the first online shops were born.
However, most store owners have the misconception that building and running one's affiliate network is complicated and hard; the truth is that it can be if you are building one from scratch.
Lucky for us, our online shop is powered by WordPress, so we get to enjoy the perks of its developer community.
If you are running a successful store or if you are struggling with your online shop, then it is time to consider recruiting an army of internet marketers to drive traffic that converts to sales to your website.
Why you need to build an affiliate network for your WordPress store?
You will access thousands of individual marketers who will promote your products — opening up your business and brand beyond your traditional domains. I bet you could make use of some free publicity.
The process is simple; you only pay an affiliate marketer when a sale or a subscription is made. Think of the commission based sales rep.
All the big brands you know like eBay, Amazon, Google, Airbnb and thousands more have some sort of affiliate marketing programmes. It could be in-house or outsourced. Why, because they know the value affiliate marketers bring on board. They can in a way directly attribute their success to the success of their affiliate programmes.
So, why wouldn't you?
Let us build one, right within our WordPress website.
What do you need to build an affiliate network in WordPress?
First, and obviously, you should be running on hosted WordPress – I can't assume.
Secondly, your store runs on WooCommerce.
Thirdly, we will need a plugin called Affiliates installed
And lastly, Affiliates WooCommerce Light – in this article we shall use the free version.
All these are plugins freely downloadable from the WordPress plugin repository.
Step by step: How to build an affiliate network in WordPress?
Install the required plugins
First, install and activate the required plugins
I would assume by the time you are interested in building an affiliate network on your WordPress store; you already have a store running, WooCommerce for WordPress in particular.
If you are building a new store altogether, you are still welcome to follow along.
The Affiliates Plugin the files are downloadable here.
And here are those for Affiliates WooCommerce Light
Install and activate them and then head to the Menu, Affiliates and then Settings.

Settings
In settings, I will need you to go through the tabs.
From here you will;
Define your General Settings

Enable Affiliate registration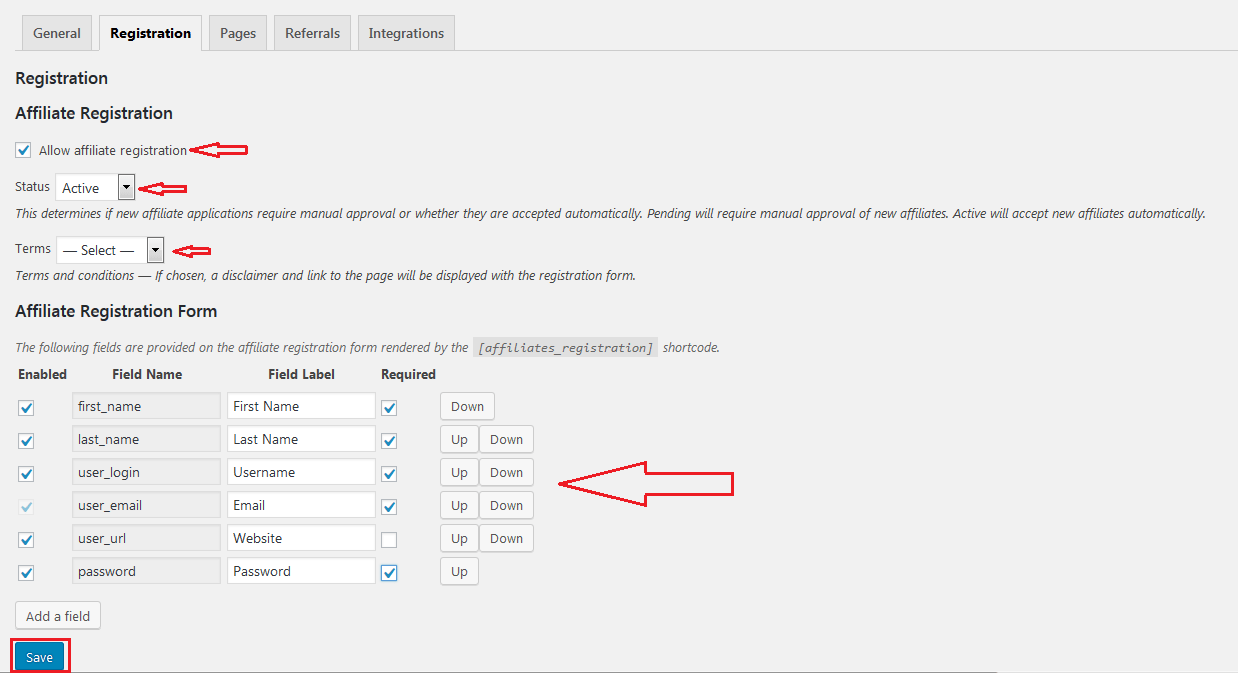 From the affiliate registration tab, allow affiliate registration by checking the checkbox beside it.
From the Status drop-down, set if affiliate applications are automatically or manually approved on registration. Active for automatic approval and Pending for manual approval.

Next, select the page for the affiliate terms and conditions from the Terms, drop down. You must have prior created the page.
This is accomplished from the Pages tab.

You can click Generate the default area – which creates a new page and adds the shortcode automatically. The default page created takes the format – https://yoursite.com/affiliate-area/
You may as well, build your page and insert the shortcode.

The app we needed to integrate was Affiliate WooCommerce Light, but since we did that earlier, there is nothing more to do here for this article. Affiliates can be integrated into several other plugins that you can learn about on their page.
To do this, under Affiliates, click, WooCommerce Integration Light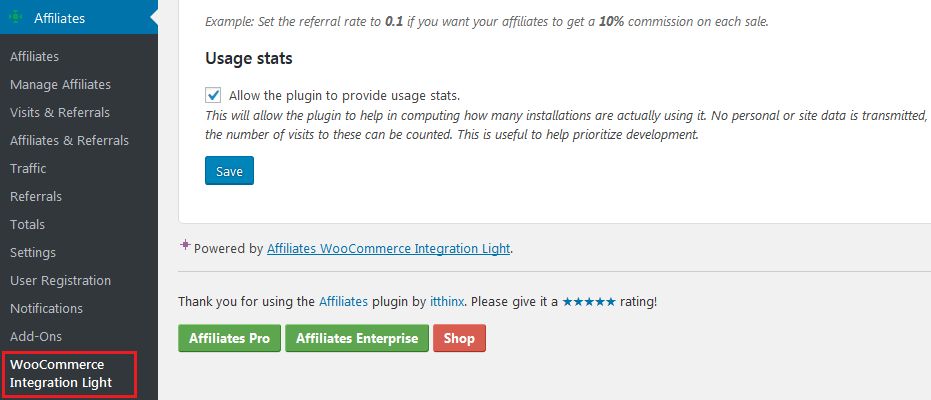 Set the referral rate here. If affiliates are to earn 10% per net sell, then set it to 0.1, for 40% set it to 0.4. Do not forget to hit the Save button once you have input the referral rate.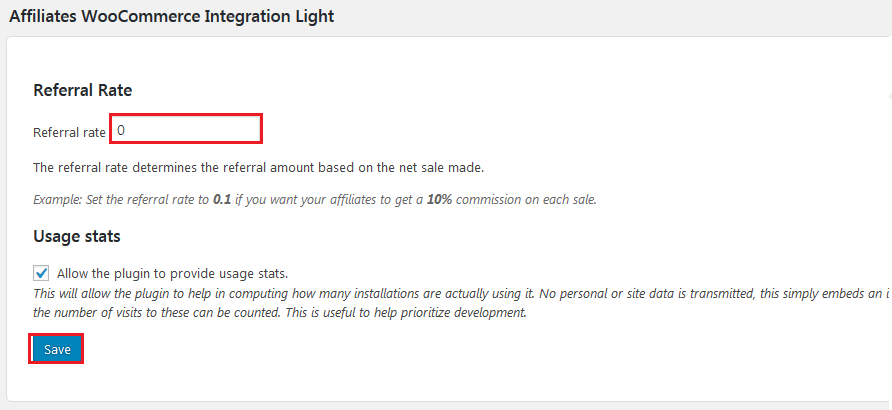 That covers the important aspects of building your own affiliates Network using Affiliates and Affiliates WooCommerce Light.
Your affiliate network is now ready to accept registrations.
Let's go check it out.
Check out the new affiliate network
Using a different browser, or logout from your current session and enter the address of your affiliate area.
Note: if you automatically generated your affiliate area, the link should be something like this; https://yoursite.com/affiliate-area/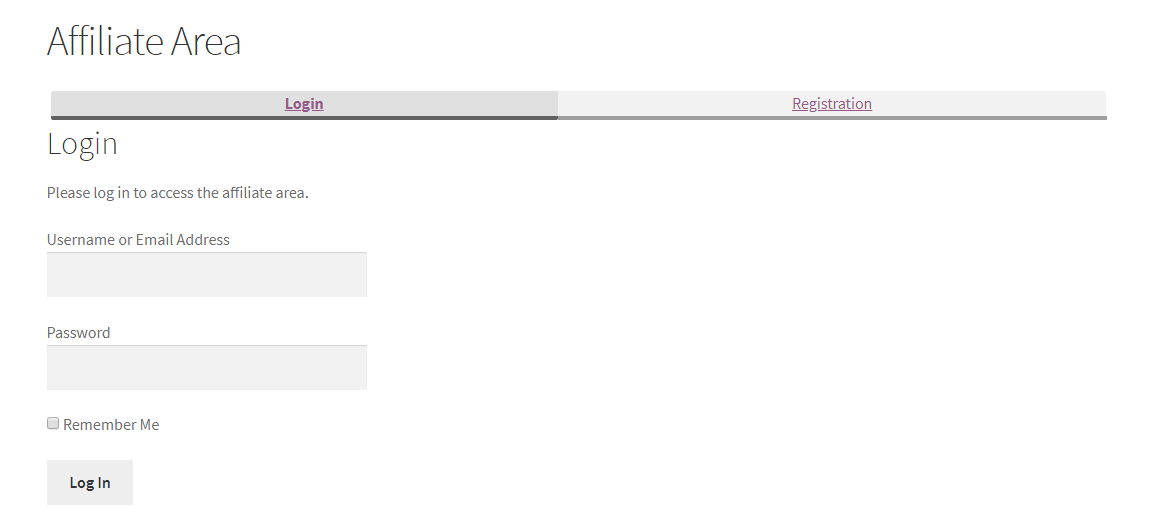 And here is our registration form.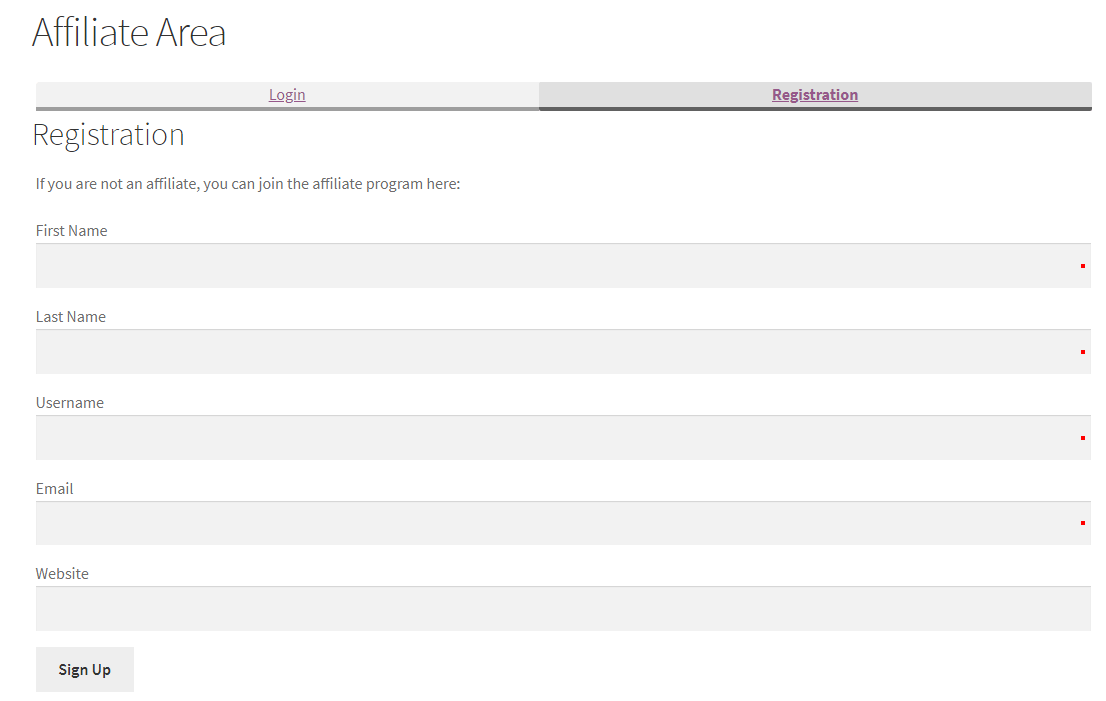 You can customize and design this page to your liking, if need be.
When someone signs up to your affiliate network, they will see this;
They should then receive an email from your store.

This gives them access to the affiliate areas, where they can get their affiliate links and monitor their performance.

Managing your affiliate network
Under Affiliates, you have several places to manage the different aspects of your affiliate network.
Manage affiliates, Visits & referrals, Affiliates &Referrals, and more.

When you click Manage Affiliates, you can manually add new affiliates and also view and administrate over the existing affiliates.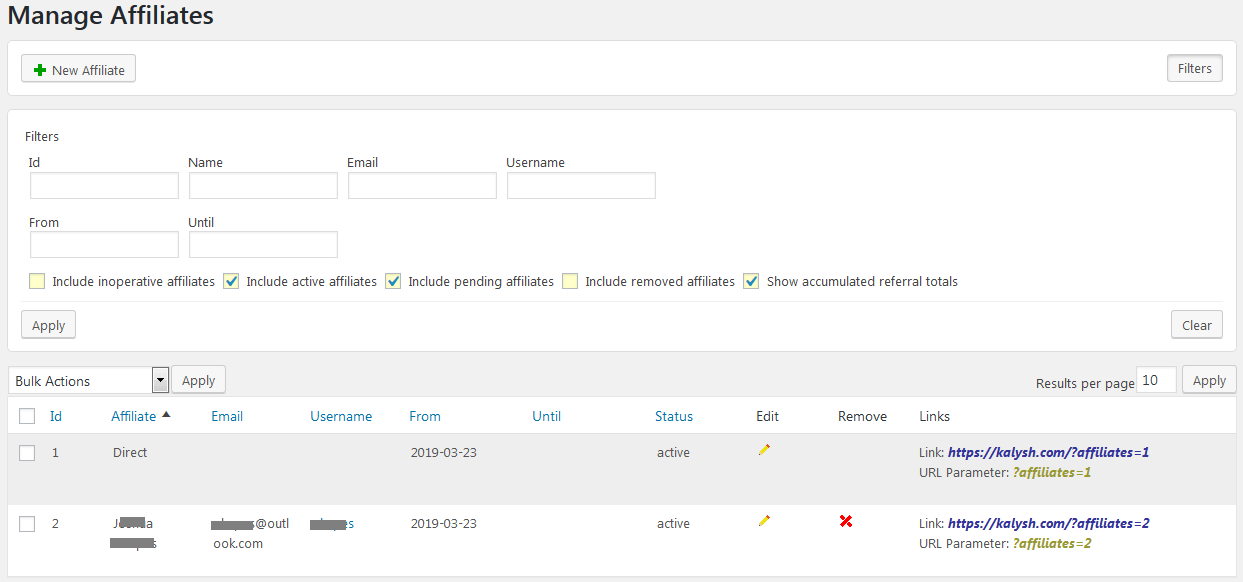 Congratulations, you have been able to build your affiliate network and are ready to recruit marketers to promote your store.
Final Thoughts
Building your affiliate network is easy, as you have learned, all you need is 5 minutes to configure the required plugins.
Running a successful affiliate network, on the other hand, is something different. A journey that can be learned and mastered, for this, you can follow our step-by-step guide on how to manage an affiliate program in WordPress.
This is all with free plugins and tools available to anyone with a WordPress website.
If you need extra features or if your store grows, you should consider supporting the developer by purchasing the pro version of the plugin.
A worthwhile mention, here is our list of the best 4 affiliate membership plugins you could consider as solid alternative plugins.
Alright, thanks for sticking around to the end. Don't forget to leave your feedback in the comments section below.