Pricing table plugins is an effective solution for businesses that can help them increase their sales and sell fast. These plugins help to display businesses products, price, features, pros, and cons effectively and enticingly. Thereby, attracting customers and provoking them to attain their product or service.
Imagine a site that provides a snapshot of its businesses price, features, pros cons, and discounts in a chronological way. On the other hand, another website all these relevant details are enlisted in a non-sequential form.
Which one would you be attracted too?
If you ask my opinion, I will opt for the first option. No one likes clutter, it only creates ambiguity. Moreover, information that is presented in a presentable manner not only attracts and resents itself better but helps to sell fast.
Let's look into some more details
Within this article, I have enlisted the best 8 pricing table plugins. Look into them and choose the right one for your site.
Why You Need Pricing Table Plugins For Your Site?
Pricing table plugins are essential for a business site, especially if you are selling any product or service on your website. With the help of this plugin, you can display your packages with ease, and also create different packages for a single product. Moreover, you can enlist features and present any information you want that can entice your customer to make the purchase.
Pricing tables are gaining popularity because they are helping businesses sell fast. All the information is presented in a productive manner side by side helps the user take a decision. It is also a useful tool to compare price offering with other tier sites.
No one has the time to search for package details. Customers require fast, efficient and handy offerings that are simple to understand.
Thus, for your convenience, I have presented the best 8 pricing table plugins. Choose the one that suits you best. The enlisted pricing table plugins are a combination of free and premium plugins.
8 Best Pricing Table Plugins
1. Pricing Tables WordPress Plugin – Easy Pricing Table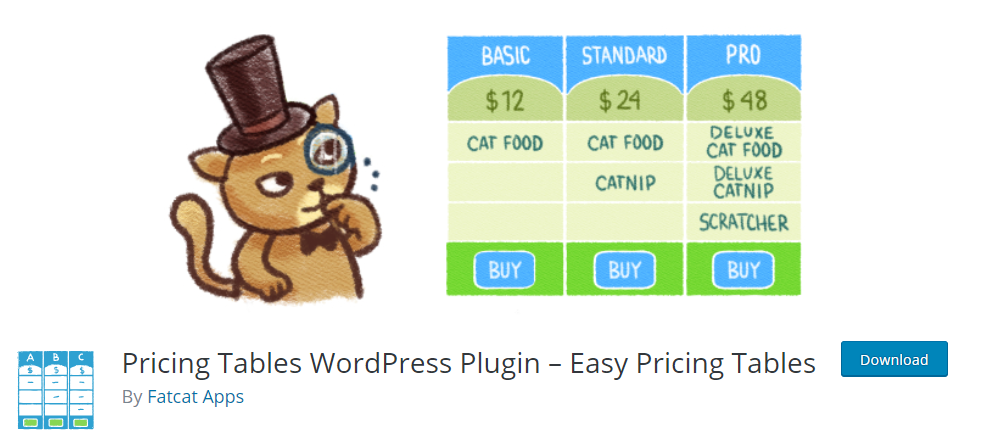 Easy Pricing Table Plugin is a popular pricing table plugin that can help you display detail information about your product or service within two minutes. It offers 10 fully responsive pricing tables that will help you save from clutter and beautifully present your offerings. Moreover, it will save you from hassle; you don't need to know coding language or any complicated configurations. Just log on to Easy Pricing Table, install the plugin and avail its features.
Features Of Easy Pricing Table
Limitation Of Easy Pricing Plugin
Customization options are limited to only a few choices. However, if you want to avail extra features with more customization option, you can opt for their premium version. It starts at $29. Easy pricing table premium not only offers ten stylish pricing table designs but offers email support, Google analytical integration and pricing toggles too.
2. Pricing Tables By Supsystic
Pricing Tables is another known WordPress pricing table plugin that has created its niche due to its pricing table solutions. It offers a drag and drop table builder option and an option to modify your pricing blocks with ease. With the help of this plugin, you can add images, and videos and add unlimited of columns and rows and a select number of button styles.
Whereas, it's premium version comes up with a bundle of extensive features.
Features Of Pricing Tables
Fully responsive pricing tables
Offers users to create comparison tables
Option to export and import tables
Offers hover animation option
Limitation Of Pricing Table
Its free version does not allow users to integrate role restriction functionality on its tables. Thus, you make all the effort, and any visitor can avail information about your table. You make all the effort but have no control. But its paid premium version comes up with role restriction functionality and bundle of other premium template options.
3. Pricing Tables By PickPlugins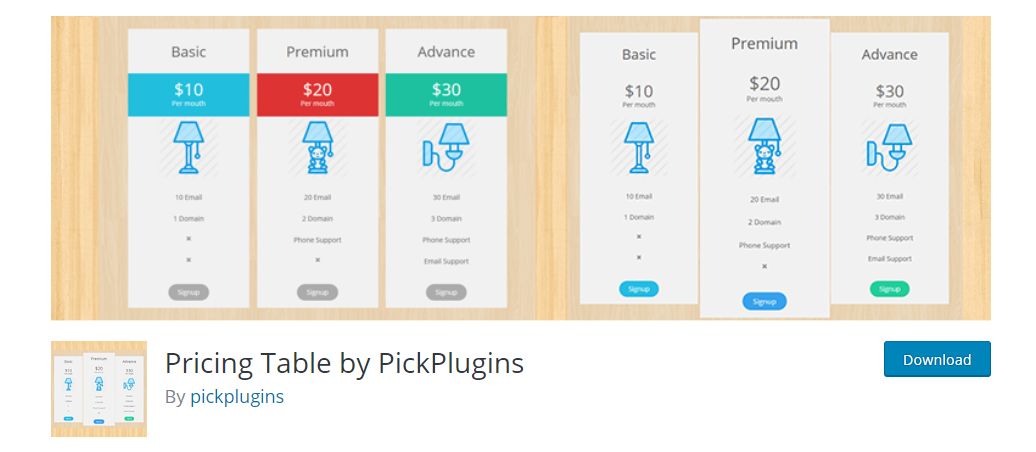 Pricing Tables By PickPlugins is a flexible and versatile WordPress pricing plugin that helps users display pricing grid on their WordPress site. This plugin is a more professional pricing table plugin as it generates pure HTML and CSS3 grid to display pricing table area. Moreover, this plugin allows users to incorporate tables within a WordPress site using shortcodes.
Features Of PickPlugin Pricing Tables
Offers unlimited column, rows, and ribbons
Users can place unlimited pricing table anywhere
Display YouTube, Vimeo video on any column or every column
Offers an option to change the background color of column price and column header
The user can customize the background image for the table area and a display image for each column.
Limitation of PickPlugin Pricing Table
This plugin incorporates shortcodes, HTML and CSS3 grid to display pricing table data. Thus, it may not be convenient for most of the newbies. They may find obstacles and ambiguity for generating hosting style pricing table grid, flat grid, and others. Whereas, if you are a developer, you may find this plugin more appealing and enticing.
4. Responsive Pricing Table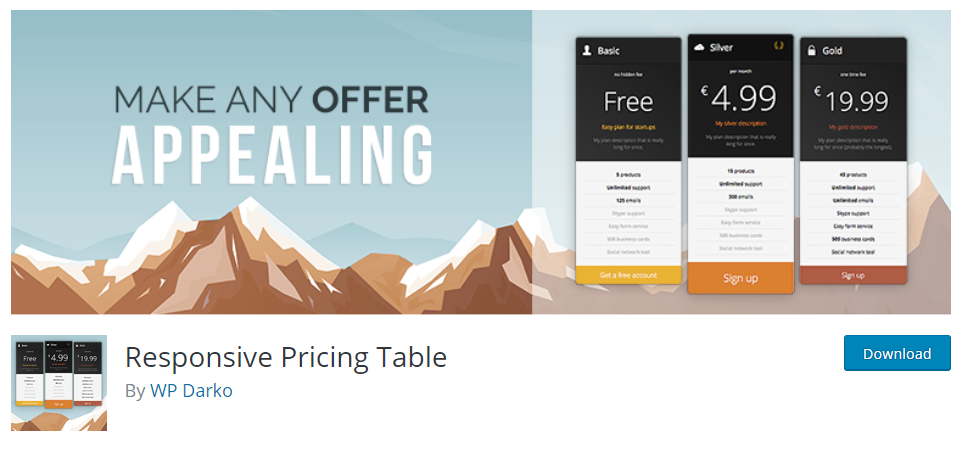 Responsive Pricing Table allows users to create a pricing table easily. It has an easy interface, and users can access its features, choose color and display price and create a beautiful pricing table within a couple of minutes.
Features Of Responsive Pricing Table
Simple and easy table creation process; best for newbies
Helps user highlight specific plans
Easily insert tables into a WordPress site using shortcodes
Offers a wide range of field and settings
 Limitation Of Responsive Pricing Table
It has a free simple and easy interface, thus only assists in providing simple designs. It does not offer a wide range of customization options, themes or designs which are only limited to one table design.
5. WRC Pricing Table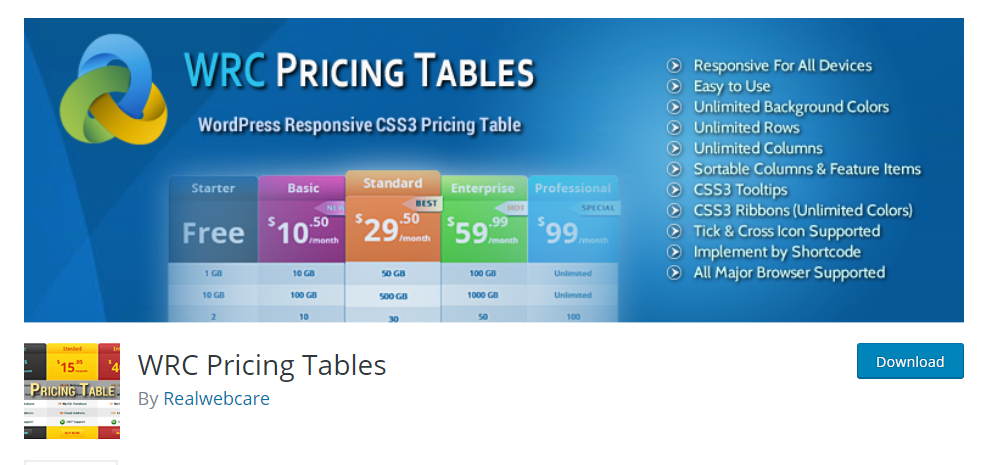 WRC Pricing Table is an incredible WordPress pricing plugin that offers a wide range of customizable options. So, if you want to create a table your way, you just have it. It will help you customize every single option in your table.
Features of WRC Pricing Table
Responsive for all devices
Users have access to unlimited background colors, rows, columns
Enables users with tooltips for every feature listed for their package
Handle pricing table using simple shortcodes
Offers ticks and crosses icons for listing feature tables
Offers simple animations; enlarging columns and disabling shadows
It is supported by all major browsers
Limitations of WRC Pricing Table
WRC Pricing Table provides a wide range of customizable options. Thus, it would take a lot of time and effort to create a single table. No doubt, it would genuinely depict your sense of style, but it would require a lot of time. So, if you need to make numerous pricing tables in a row; get yourself free from other things.
6. TC Pricing Table By themesCode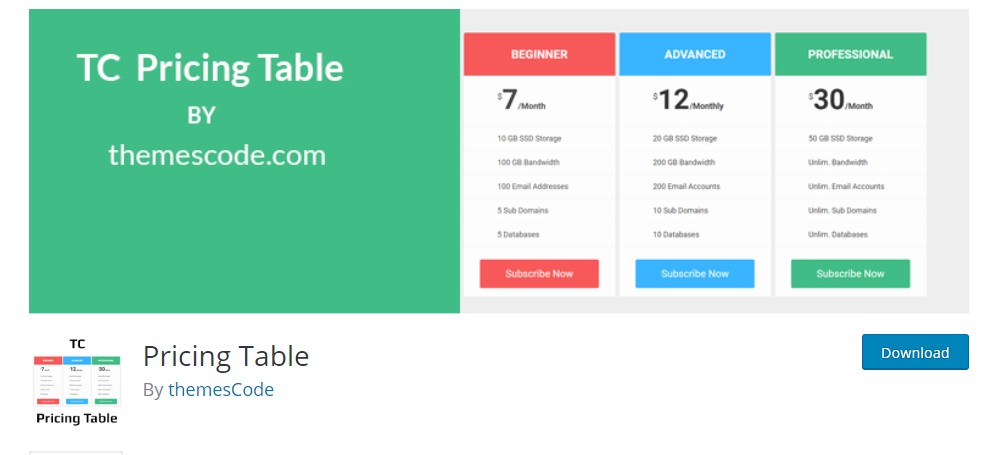 TC Pricing Table is another responsive pricing table that offers users with unlimited clean and flat designs. It provides a wide range of unlimited packages with unlimited features.
Features Of TC Pricing Table
Users can customize features rows and table
Allows the user to change table header row and column, and body background text color
Automatically Generates a shortcode for every table
Responsive simple and light weighted.
Limitation of TC Pricing Table
It does not offer a wide range of customizable option and a variety of themes. But, if you want to avail extra features, TC pricing table pro features are just killing it. They are offering 10 different beautiful, attractive flat themes starting from $7 per month.
7. Ninja Tables – WP Data Table Plugin For WordPress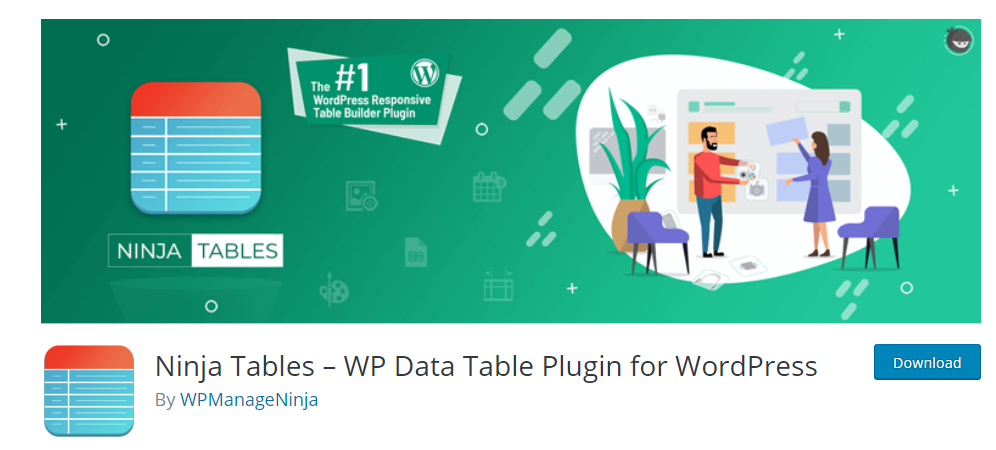 Ninja Tables in another free responsive pricing table plugin that helps users add tables on their WordPress sites without a single code. It will help you create, manage and customize your tables from the admin panel quickly, effectively, and without making your site slow. Want to know its features?
Features On Ninja Tables
Offers more than 100 table styles
Import and export table option
Supported by RTL
Offers 3 CSS libraries with unlimited color schema
Quickly build a wide range of tables; data table, pricing table, amazon affiliate product table, product comparison table and many more.
Users can access a wide range of options; hover rows, bordered table, inverse table, strip rows, compact table and much more.
Limitations Of Ninja Tables
Its free version does not offer custom CSS option. So, if you want your table design to look even better, you need to go for a pro-add-on for applying custom styling with CSS module. However, this option is available by its competitors for free.
8. Pricing Table – Drag & Drop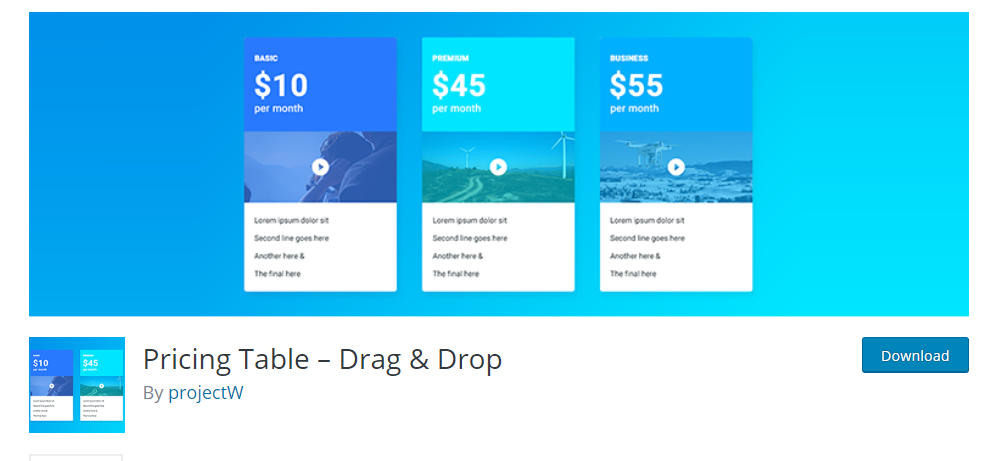 Pricing Table –Drag And Drop as known by the name offers users to easily create pricing tables by drag and drop row column feature. Let's look into some of the other features:
Features Of Pricing Table
Offers unlimited row column option
Create tables using any Google font
Offers 19 ready column ribbons
Offers 12 ready background color pack and 7 ready text color pack.
Allow users to customize the background image for the table area.
Limitations Of Pricing Table
Offers limited configuration settings, so users do not have full control over their table style.
Wrapping Up
There are loads of pricing table plugins available in the WordPress repository, but the list mentioned above is based on its unique, excellent features. They hold a complete balance between designs, templates, and usability.
Now you've found the best handful table pricing plugin for your site, time to put it into practice, follow our guide and add a table pricing plugin on your WordPress site.