Add a business address to your WordPress website with search engine friendly schema markup, and you could be amazed at how this one thing could lead to increased calls or in-store visitors of your shop from the free traffic originating from search engines.
Isn't this what we all want?
You could be wondering, well, I already have my business address on my contact page or a widget in the footer or sidebar of my website, what's unique to this one?
Schema.org is a joint project by the top search engines, created to provide developers and website owners means to format their content in a way that search engines can easily make sense of.
What's vital for you to have in mind is that as long as your business depends on organic traffic or traffic from search engines, then you have to learn to play by their rules.
For this article, we shall use the Business Profile WordPress plugin to add a business address.
This plugin collects the following information which you can then use to use to add an address to your website;
How to Add A Business Address in WordPress?
Installing Business Profile
From your admin dashboard, on the menu go to plugins then click Add new.
In the search, box enter, "Business Profile."
When the search results are populated, click Install now and then Activate Business Profile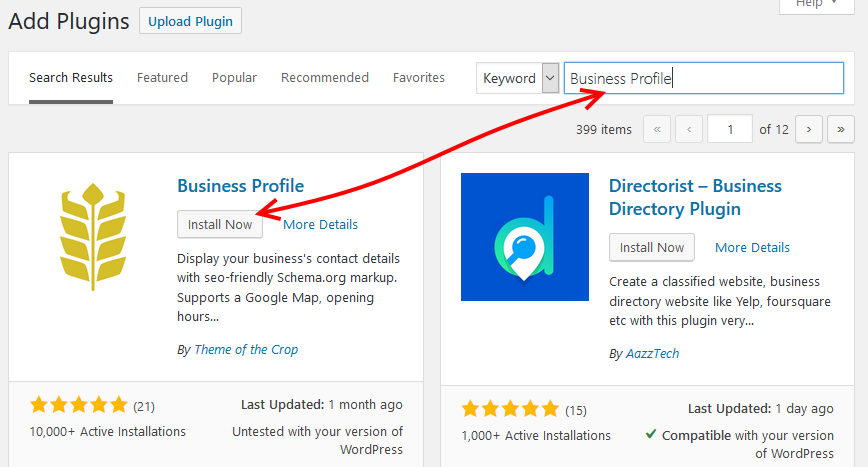 Once activated, a Business Profile menu item is added to your dashboard menu.

2. Configure/add the business information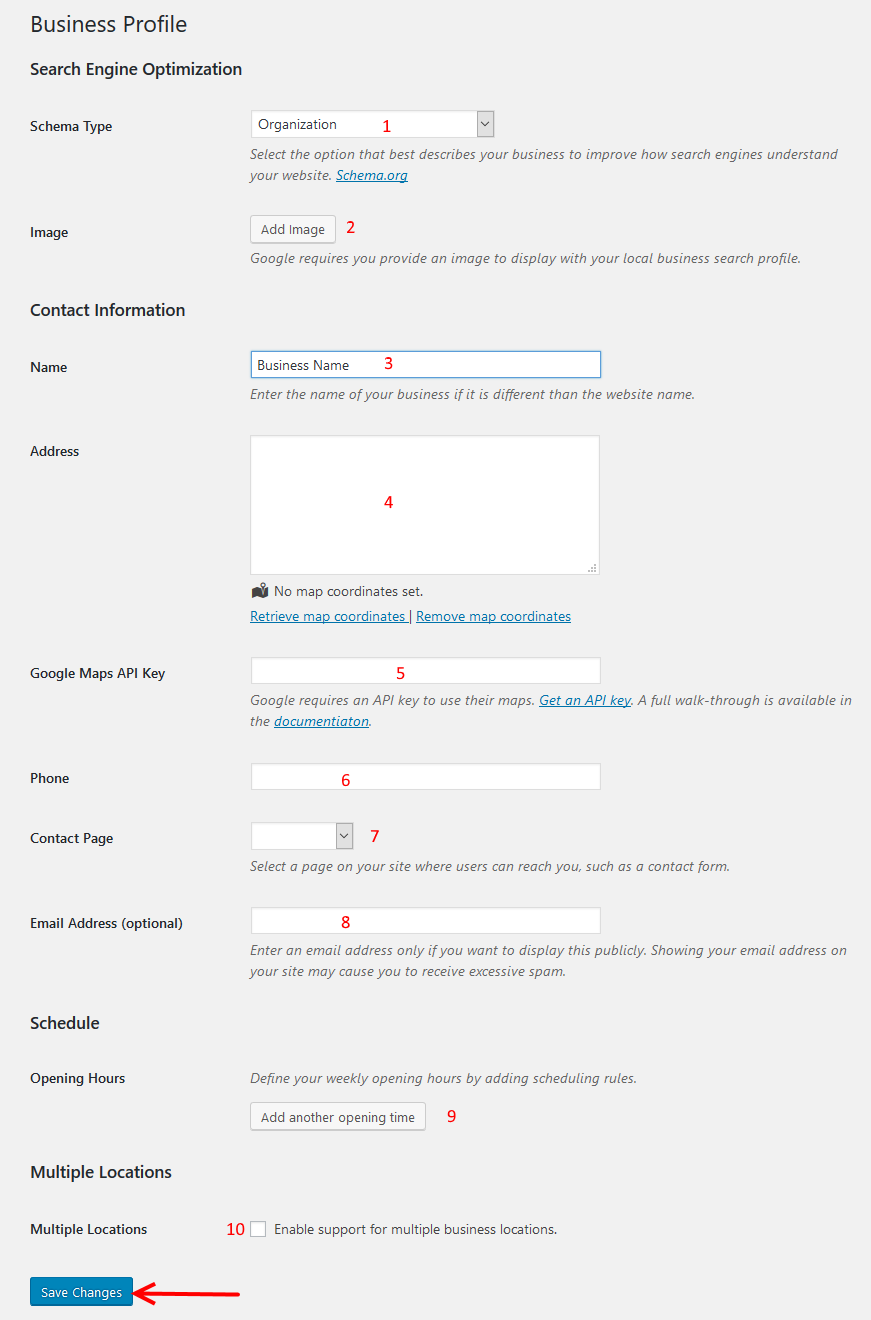 Select the schema type.
From the drop-down menu select the schema that best represents your business.
This helps search engines better understand your website.

For more information about schema markup go to the official website schema.org
Add an image to your business address
Images are displayed on local search results; it is therefore required that you add an image to your business address.
Click the Add Image button to add an image.
Enter your business name in this field, by default your website name is pre-populated to this field.
Add your business address
In the text, area add the details of your
Retrieve the Google maps coordinates.
This will retrieve the google maps coordinates from your business address information
Insert the Google Maps API
To use Google maps, you will need a Google Maps API – Get an API key here.
Provide your business telephone number
Select your contact page – from the drop-down menu select your contact page.
Add an email address if you want it to be publicly visible
Add your business schedule or opening hours by clicking Add another opening time.

If you need to, enable multiple locations by checking the selecting the checkbox beside it.
When you are done with all that, click the Save Changes button at the bottom of the page.
Add a business address on the website
You can now display your business address to any section of your website by copying the shortcode of the address.
Go to your widgets under Appearance.
When you find contact card, click the icon, then choose the where you want to display your business address, and then click Add widget

Next, provide a title for your widget, then choose the contact information from your business profile that is to be displayed with the widget.
Then click the save button.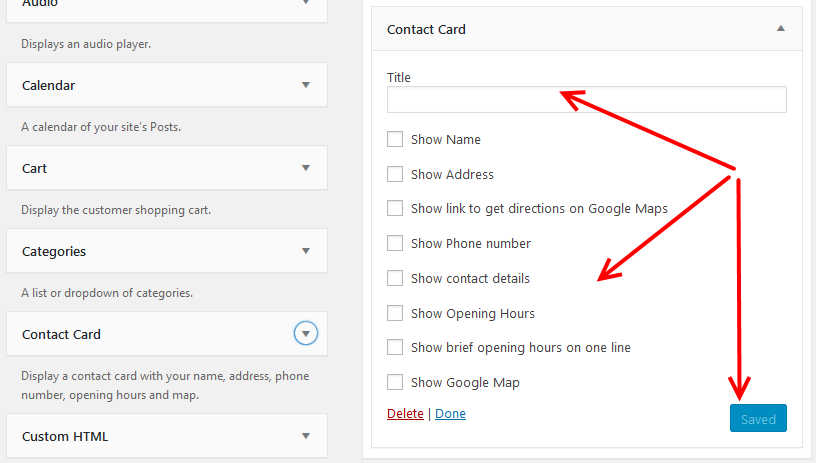 Once added you could go to your posts or pages to view your business address.
Note that, it takes up on the default styling of your theme.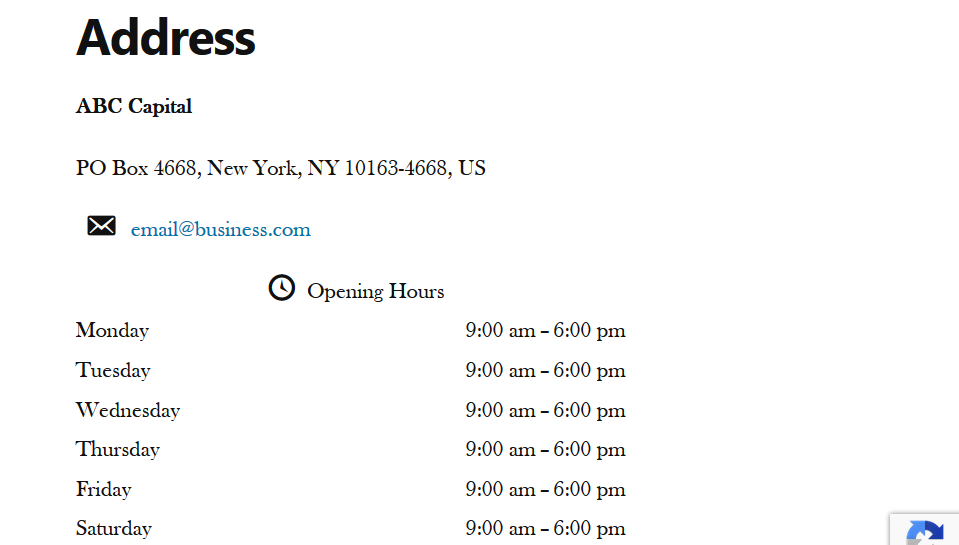 Conclusion
The Business Profile WordPress plugin is straightforward to configure and use on any WordPress website to add a business address.
The great benefit of using this plugin other than just typing out your address in a text widget is that it is built on the standards of schema.org that makes it easy for search engines like Google to gain perspective about your website and would, therefore, display your contact information on local search results.
Schema markup is an interesting and probably intriguing topic.
If you are up for it, a while back we wrote an article on how to add schema markup to a WordPress website, it could be of interest to peruse through it.
With the business profile WordPress plugin, you can only add a business address, in that article we write about another plugin that does much more.