A WordPress site by default lack a dedicated rating system. However, it is extremely necessary if you want to learn what type of content your users are liking the most. Besides this, an in-built rating system can also increase user engagement and interaction which can lead to higher SERP. With all these reasons in mind, we have put together a list of the top 9 rating system plugins for WordPress.
Once installed, the plugins can help you integrate different types of rating systems, be it start based or number based. Users can come in and rate their favorite articles or any other content on your site. This will not only give you insight as to what users like but also act as an incentive or reward for all the effort you put into your work.
Now with all that being said, let's dive into our list of the top 9 rating system plugins for WordPress.
Top Rating System Plugins
1. YASR – Yet Another Stars Rating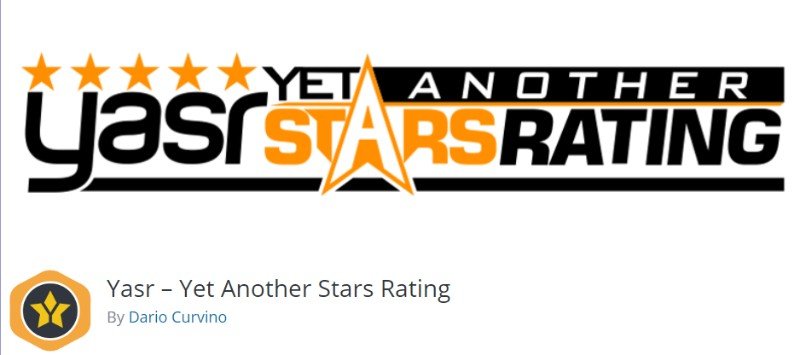 YASR WordPress plugin helps to include a reviewer voting system as well as a visitor voting system on your website. It is one of the easier to use star-based rating system plugins and functions based on shortcodes.
The reviewers have the option to directly enter their ratings on a particular review or content directly from the post editor. You can also use the post editor or use shortcodes to embed the visitor rating area anywhere on your post.
A third option called MULTISET is also available which allows users to score different aspects of each review. For example, if you are reviewing a phone, this feature allows you to rate its display, battery life, camera, and so on.
Features:
Reviewers can directly give a star rating on reviews from the back-end.
Visitors can also voice their own overview with astar rating from the front-end.
Option to score different aspects throughout each review.
Option to enter star rating system with shortcode.
Supports both – the Classic editor as well as new Gutenberg Editor.
And much more.
2. WP-PostRating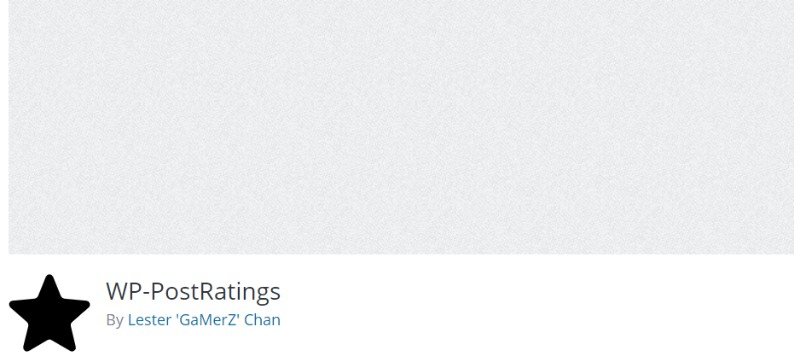 WP-PostRating is one of the most popular free rating system plugins for WordPress with over a hundred thousand active installations. The plugin can help you integrate a star-based rating system on each and every post and page on your website. But in order to do this, you need to make some tweaks to the core WordPress theme file.
Alternatively, you also have the option to specify individual posts or a group of posts where the star rating system will appear. This can be easily handled with the use of shortcodes.
Features:
Helps integrate a star rating systemon each and every posts and page.
You can alsospecify the rating system to a few specific posts and page.
Shortcode
And much more.
3. Multi Rating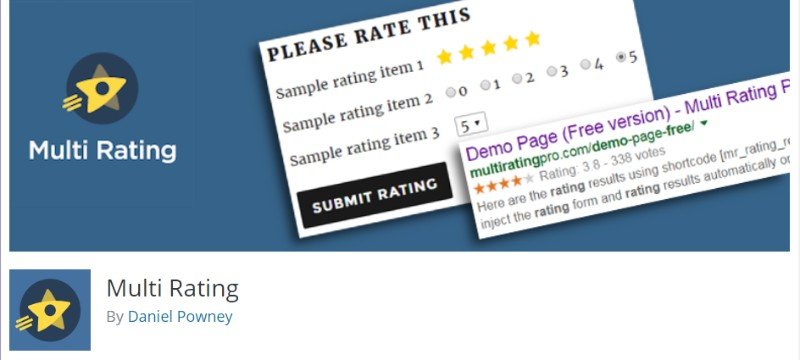 Multi Rating is a feature-rich rating and review system plugin for WordPress. Besides using it to gather user ratings on your posts and pages, the plugin can also be used for polls, quizzes, voting, and surveys. You can also showcase the overall rating score as an average out of 5 stars, percentage, and even as an aggregate score.
You will also get a built-in templating system to help you customize the rating system. Shortcode support is provided to help you embed the rating system. Option to automatically place the rating on selected post types can also be easily managed.
Now, all these options are available with the free version of the plugin. There is also a paid version for the plugin with far more advanced functionalities.
Features:
Option to create multiple rating forms. (premium)
Multiple rating criteria with start ratings, radio buttons, and drop-down menus.
org integration for SEO optimization.
Comprehensive options panel from WP-admin.
Google reCAPTCHAto fight spam. (premium)
Rating moderation. (premium)
Widget supported(premium)
Shortcode support with different parameter controls.
And much more.
4. GD Rating System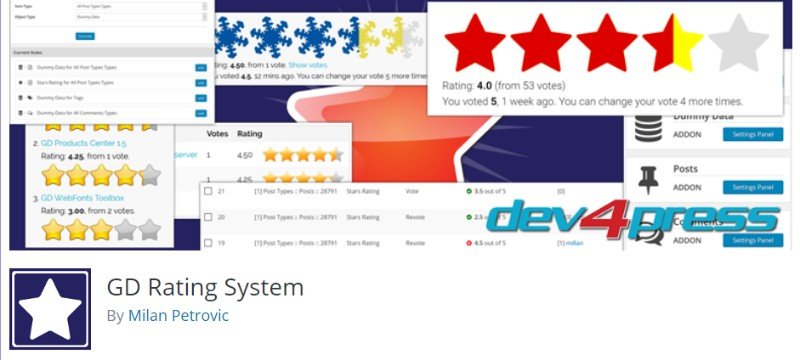 GD Rating System is the updated version of the popular GD Star Rating plugin. It uses a module structure to help you integrate a feature-rich rating system on your WordPress website. You will even get your hands on a dedicated templating system to play around with how the front-end display of rating system looks and feels.
The plugin also supports a plethora of different basic rating entities so you have something for different rating types. This also includes posts that belong to different default and custom post types, comments, users, custom taxonomies, and so on.
Features:
Stars based rating system.
Modular structure. Add necessary features by installing add-ons.
Pro-version with different rating methods like slider rating, emoticon rating, like buttons, and so on. (premium)
bbPress and BuddyPress integeration (premium)
Shortcode
A bunch of premium add-ons for more advanced features.
And much more.
5. Rating-Widget: Star Review System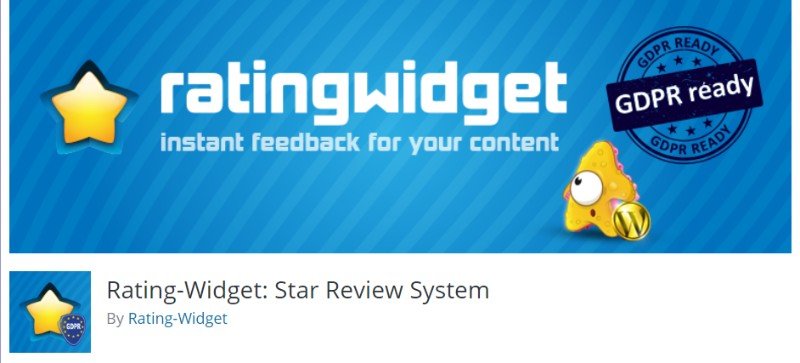 As you can guess by the name, Rating Widget helps to incorporate a five-star rating widget on your WordPress website. Once installed, you will be able to embed the rating system directly on your posts, pages, comment section, and much more. It is also fully compatible with WooCommerce, BuddyPress, and bbPress forums.
Furthermore, the plugin will not only help you take in user ratings but also enable authors to leave a rating on their posts as well. This is absolutely crucial for announcing the final verdict after a review.
Only one thing to note here is that the plugin only supports 1 million page views a month and comes with a RatingWidget branding. If you don't want these handicaps, then you can upgrade to the premium version which comes with more advanced features.
Features:
And much more.
6. Site Reviews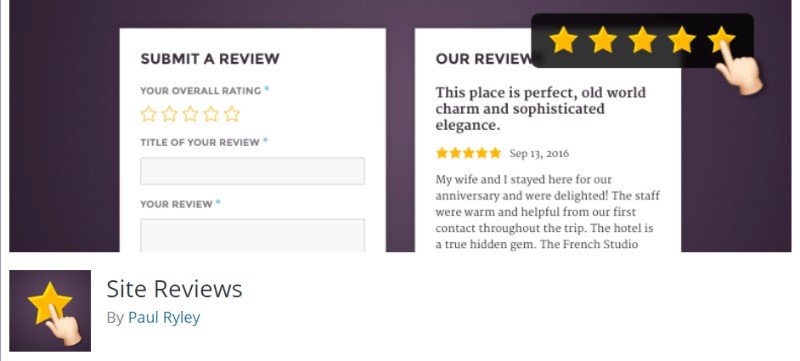 Site Reviews WordPress plugin enables a rating system on your site where users can come in and provide a quantitative verdict about their opinions. It is similar to the rating system you see on sites like TripAdvisor and Yelp.
You will get access to different options to enable the rating system on your site, including blocks, shortcodes, and widgets. Other notable features include the option to pin best reviews, an approval system before new users can submit ratings, custom notification on new submissions, and many more.
Features:
Users can give a star rating and submit a concise review on a topic.
Ajax powered pagination to browse through different reviews.
An intuitive interface to control all plugin settings.
Honeypot spam trap to fight spams on your site.
org integration.
Gravatar integration for reviewers.
Shortcode, widget, and block support to embed review system in posts and pages.
And much more.
7. KK Star Ratings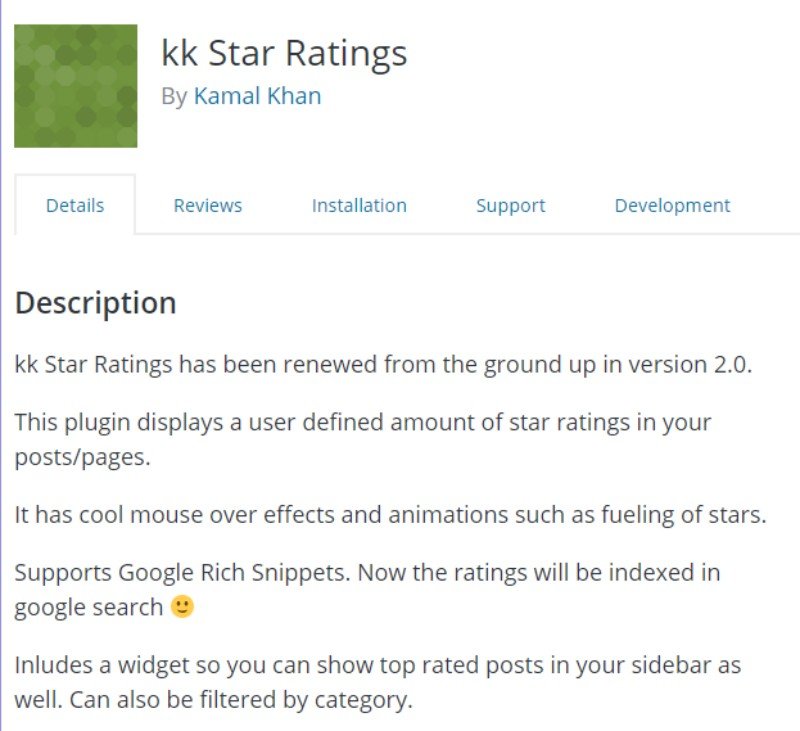 KK Star Ratings is amongst the list of popular and powerful rating system plugins for WordPress. With it installed on your website, users will be able to display a user defined amount of star ratings in your posts/pages.
On top of that, there is also an option to add a cool hover effect/animation on to make the rating experience richer. Customization support is also included in the form of a templating system.
Features:
Option to embed the star rating system on your homepage, archives, posts, and pages, or even manually.
Backend support for placing the rating system anywhere on your site by a push of a button.
org support.
Access rating statistics from the backend.
Option to change the max amounts of stars in the rating system.
And much more.
8. Universal Star Rating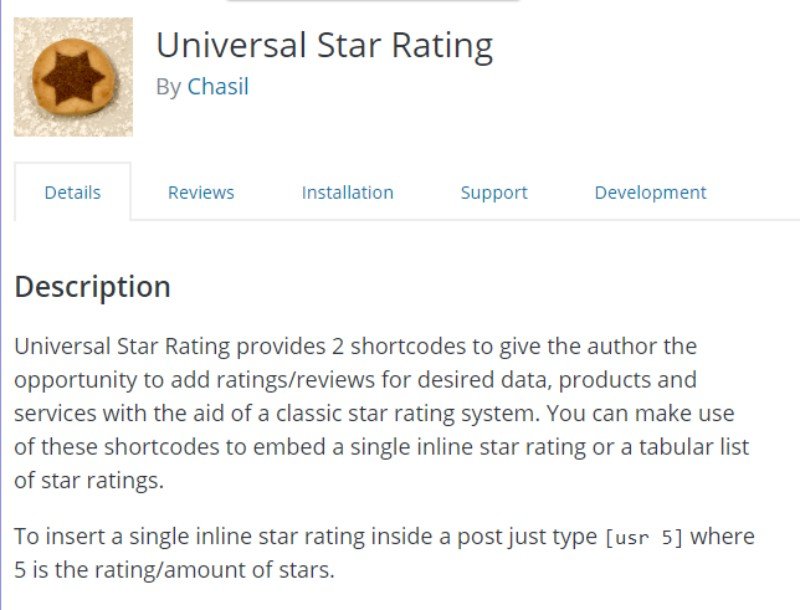 Universal Star Rating is a simple and easy to use WordPress plugin that allows you to set up a rating system on your website. You will get access to 2 shortcodes which the author can use to add a rating/review on a particular product or service review.
You will also have the option to insert a single inline star rating inside any post type using a simple shortcode. A tabular list of star ratings can also be included by tweaking the shortcode parameters.
Features:
Star rating system for the author to embed into posts and pages.
Supports custom posts.
2 shortcodes for implementing a star rating system or a tabular list of star ratings.
And much more.
9. LikeBTN – Like Button Rating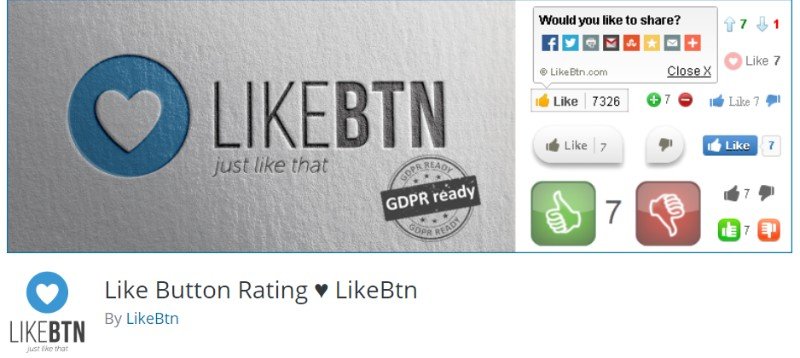 Unlike the other rating system plugins on the list, here, instead of stars, you will be able to enter a like button rating system on your WordPress site. The button can also be customized according to your preference and can be placed almost anywhere on your site via shortcodes.
The plugin is also compatible with WooCommerce, BuddyPress, bbPress, and UltimateMembers plugin for maximizing the user experience on your website. Apart from maximizing user engagement and interaction, the plugin will also give you access to voting statistics so that you better understand what your users like.
Features:
Insert like button rating system into your WordPress website.
Compatible with WooCommerce, BuddyPress, bbPress, and Ultimate members.
Rich customization options with support for over 41 themes, 80 parameters.
Shortcode
Voting
And much more.
Conclusion
So these were our picks for the 9 best rating system plugins for WordPress. Do let us know if you found this read to be helpful. Also, if you picked any one of the plugins mentioned here for your own personal projects, then don't forget to write about your experience using them.
Similarly, users with experience with other rating system plugins, not mentioned in the list, are also encouraged to share their insight. Our comment section is open, and your fellow readers are eager for helpful user opinions.
Similarly,if you also want to take input from users about your products and services, you may also consider learning and use these top review plugins for WordPress.