Do you know newsletter plugins is the best marketing strategy to enhance your emails, subscribers, marketing and newsletters campaign? A newsletter plugin is one of essential plugins for personal and business environment and help you achieve online success.
So do you want to attract customers and create awareness about your product offerings?
If yes, then you need reliable and powerful newspaper/subscriber plugins. They will help you build an email list of all your users and help you grow online. Moreover, you will get hooked with a large number of subscribers. Lastly, these WordPress plugins are free, easy to use and will help you sent automated email updates to your users based on their relevant activities.
Want to achieve all this?
Check out the list of our 10 best free newsletter/ subscribe plugins. With the help of our recommended plugin list, you can send the newsletter to your visitors and convert them into loyal subscribers.
Top Free Newsletter/Subscribe Plugins for WordPress
1. MailOptin – Grow and Engage Your Email List

MailOptin convert your website visitors into email subscribers and customers, nurture and engage them with beautifully designed event triggered emails.
It grows your email list by displaying targeted opt-in forms across your WordPress website with popups, slide ins, notification bars, before & after post subscription forms, sidebar widgets and lots more.
MailOptin has a number of display triggers. Exit intent and slide-ins trigger convert abandoning visitors into subscribers by your optin campaign at the precise moment they are about leaving your website. If your opt-in displays too early, your reader might not yet be willing to subscribe and waiting too long will make you lose out on new lead. MailOptin's pageviews and time-on-site triggers give you fine-grained control over the display of your optin campaigns. The scroll trigger display optin forms or messages only after a visitor scrolls down a specific percentage of your page.
Never lose customers and subscribers that took you a lot of effort and money to build. MailOptin helps keep them engaged by sending them event-triggered emails such as new post notification and email digest. You don't have to leave WordPress to craft newsletters to your email subscribers.
2. MailChimp for WordPress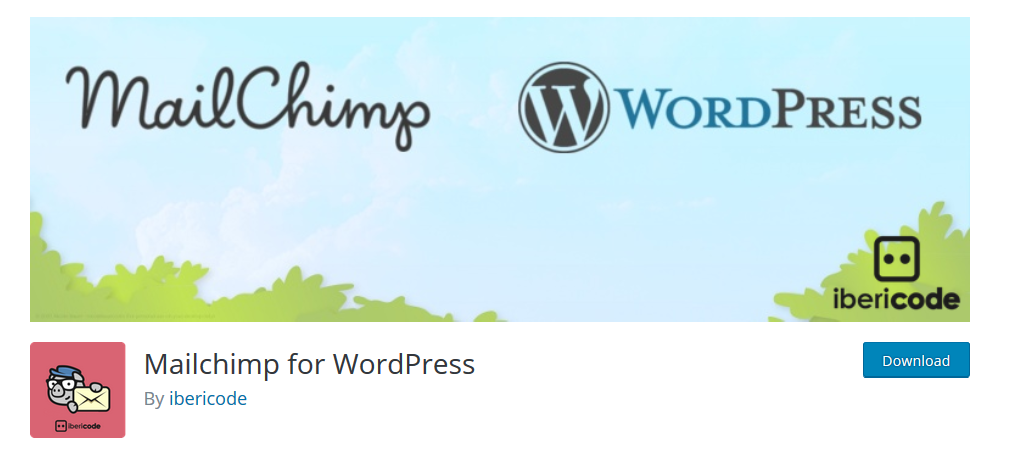 MailChimp for WordPress is one of the most popular plugins available in the WordPress repository. Are you in search of a profound newsletter plugin that offers compelling sign-up techniques? This plugin can help you grow your MailChimp lists, and write better newsletters within minutes. Then MailChimp is your ultimate choice. You can connect with your MailChimp account in seconds. Want to know more?
Key features of MailChimp for WordPress
Helps users create useful looking opt-in forms
Users can integrate with any existing form on-site; comments form, contact form or check out form
Sign-up forms are attractive, user-friendly, and mobile optimized
Offers a wide range of add-on plugins and integrations
Users can avail the free list of 2000 subscribers
Easily integrate your WordPress site with your MailChimp account
Most importantly, more than 1 million active installers are attracted towards this plugin and have given them a 4.9-star rating. Is it worth trying, especially when it is free? However, their premium version is also available with additional features. Various forms, advanced e-commerce integration with WooCommerce, email notification system, detailed reports and statistics are some of the premium version features.
3. Newsletter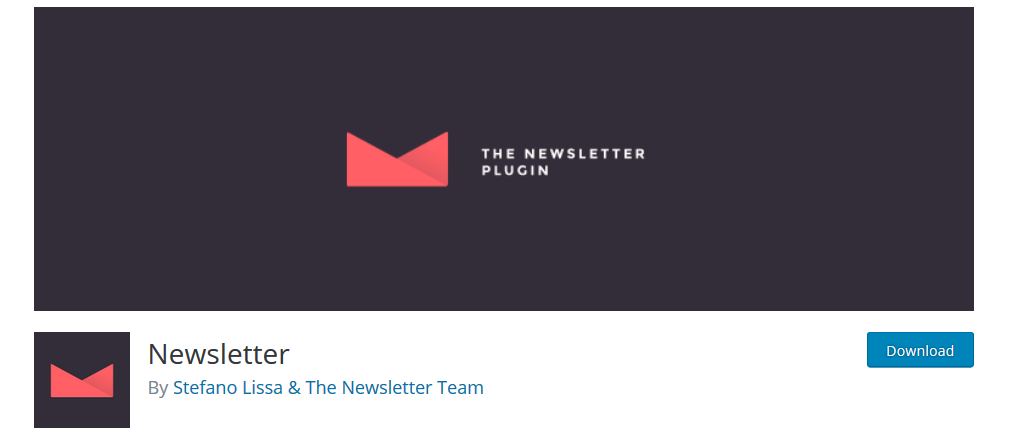 The newsletter is another robust newsletter plugin offers a complete email marketing system for your WordPress blog. With the help of this plugin, you can create, send, and track email and build a list as you desire. Newsletter offers unlimited subscriber option with statistics and unlimited newsletters with tracking option. Can't wait to tell you more…
Key features of Newsletter
That's not all! It offers a wide range of other features as well.
Moreover, if you want to avail additional outstanding features; you may avail their free add-ons and professional add-ons. Still not impressed? What if we say that more than 300,000 active installers attain its features and have given it a 4.4 star out of 5-star rating? Would you opt for it now?
4. MailPoet – Emails and Newsletters in WordPress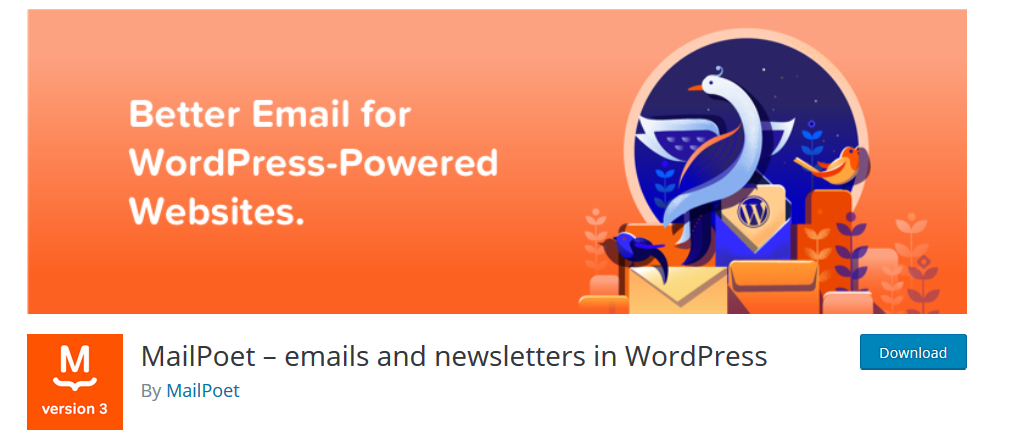 Do you want your visitors to sign up to newsletter subscriber with ease and build your mailing list without leaving your WordPress admin? If yes, then MailPoet is a popular, reliable and powerful newsletter plugin you need. More than 100,000 active installers believed in their remarkable offering and feature; therefore gave it a 4.4 out of 5-star rating. Want to know its robust features?
Key features of MailPoet
Easy to use newsletter builder interface
Offers beautiful, unique, and, responsive templates
Users can send a free plan to 2000 subscribers
Allow users to easily create, add and manage newsletter subscription form and subscriber list within minutes.
Provides an option to send automatic signup welcome emails to its visitors
Users can create automated emails to send new post notifications.
All the above is for free. However, if you want additional features; look over their premium offerings. Here is a short video of the premium servicee. Else if you're going to stick to their free plan; click below.
5. WP Subscribe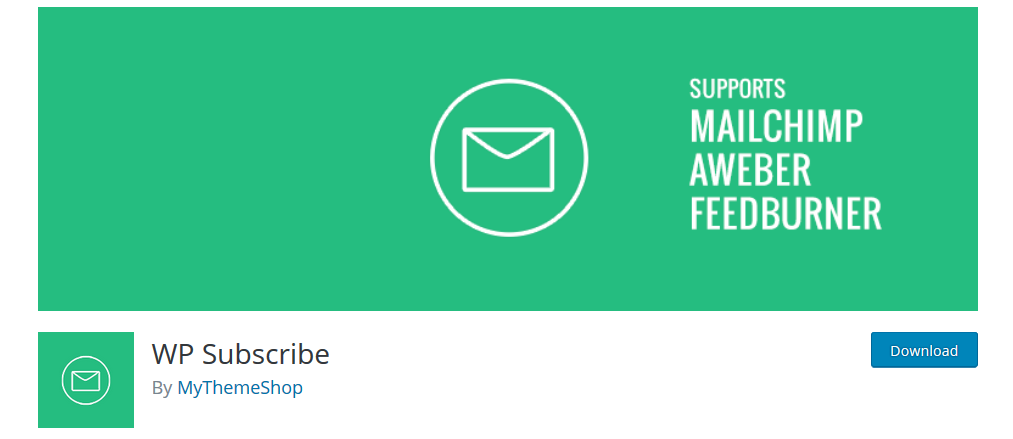 WP Subscribe is another remarkable plugin developed by MyThemeShop. This subscribe plugin can help you get the best subscription forms on your site quickly. It is a lightweight plugin that offers Aweber, MailChimp and Feed Burner within its package.
Moreover, it provides an easy to use interface along with optimized codes; so you can create email lists and convert your visitors into loyal subscribers. You can achieve all this within friction of time and their free package. Want to know more?
Key features of WP Subscribe
6. Contact Form 7 MailChimp Extension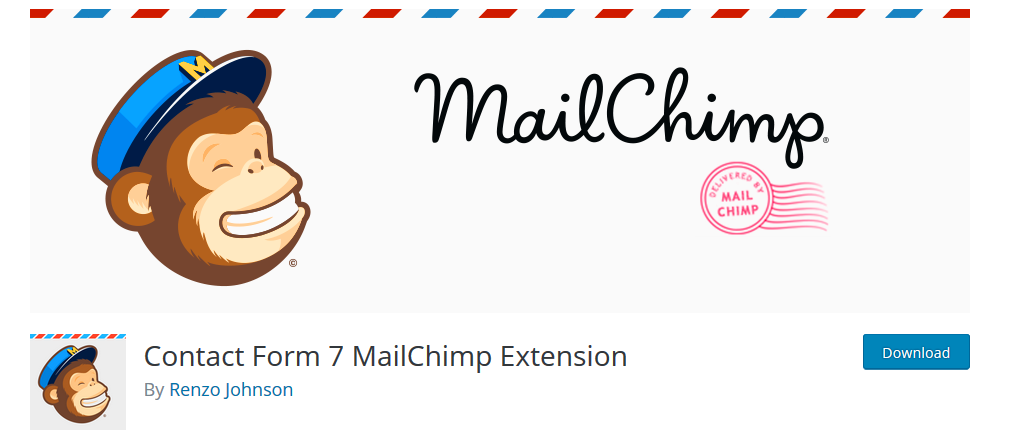 We have already revealed all the features of the plugin; MailChimp for WordPress. This plugin is an extension of the plugin that has integrated with contact form 7. So if you were impressed with MailChimp for WordPress then; Contact Form 7 MailChimp Extension is a buzzer! Want to know its features?
Key features of Contact Form 7 MailChimp Extension:
Offers an easy to use interface
Users can use a different mailing list per contact form
Offers single opt-in and double opt-in option or its users
Enables an opt-in checkbox option; where users can add opt-in/opt-out option
It offers support for various custom fields
Compatible with latest MailChimp APIV3
However, if you want to use Contact Form 7 MailChimp Extension; you must equip yourself with self-hosted wordpress.org installation 4.0 or higher, contact form 7 (4.2) and a MailChimp account. Once you have attained all the above requirements, you may attain the benefits of this remarkable free subscribe plugin.
Download Contact Form 7 MailChimp Extension
7. MailMunch – Grow Your Email List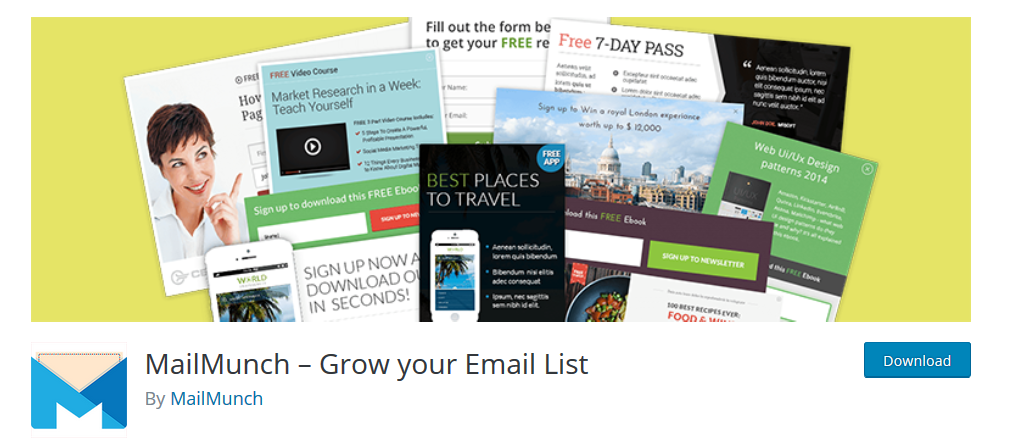 MailMunch, as evident from the name, is a WordPress plugin that can help you grow your email list. However, do you want to know is it worth installing? Look into its features and then decide on your own. For us it's a must GO!
Key features of MailMunch
Offers wide range of opt-in forms; popup, embedded, top bar, scroll box and sidebar
Users can sync their newsletter subscribers to MailChimp, Constant Contact, Aweber, GetResponse, Campaign Monitor, InfusionSoft and any other email marketing service.
Offers a wide range of attractive and fully customizable themes
Users can avail A/B testing technique and test among different content and templates.
Offers analytical reports where users can figure out the most effective and efficient pages, posts and option forms.
That's not all! With the help of this plugin; users can integrate the offerings of MailChimp, Constant Contact and Aweber. Is there anything else you can get for free?
8. Email Subscribers & Newsletter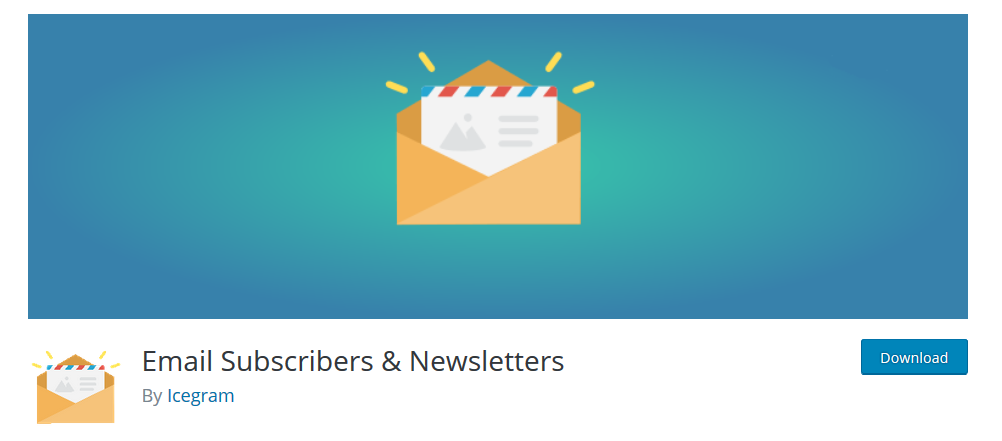 Have you heard about IceGram? If yes, then it won't be of surprise to you that Email Subscribers & Newsletters developed by IceGram. Therefore, due to its remarkable features; more than 100,000 active installers rely on and install this plugin. They have also given it 4.4 out of 5-star rating. Impressed? Want to know more about this plugin?
Key features of Email Subscribers & Newsletters
When a new post is published; it sends notification emails to contacts
Easily collect leads anywhere on your site; through a shortcode for any posts or page, widget option, or directly add in the theme.
Offers easy integration with IceGram and Rain Maker
Allows users to add unsubscribe link in their emails automatically.
Enable import/ export contact email option.
Download Email Subscribers & Newsletter Today
9. SendinBlue Subscribe Form And WP SMTP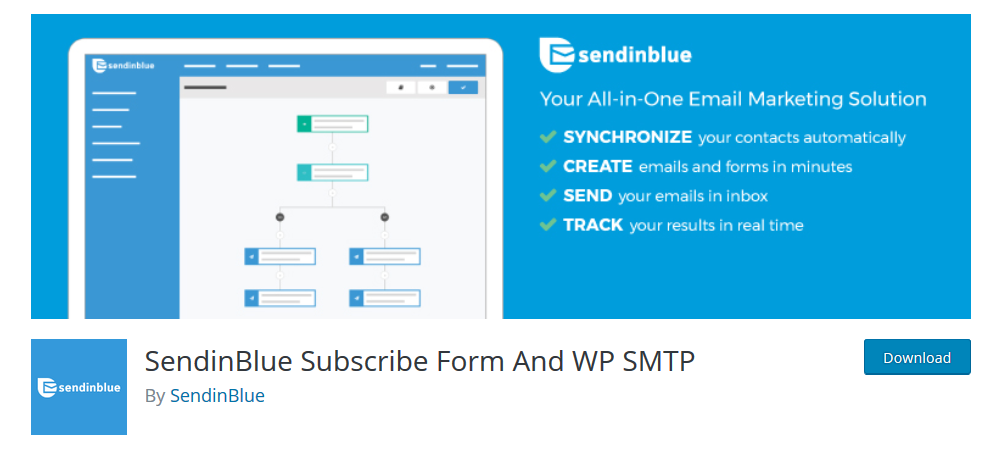 SendinBlue is another all-in-one email marketing plugin that can help users create subscription forms and increase their contact lists. With the help of this plugin, you can easily create beautiful, mobile-friendly newsletter and subscription forms; thereby, enhancing your marketing campaign. Want to know more?
Key features of SendinBlue
Their design templates are mobile friendly, easy-to-use interface and do not require any technical knowledge
It also offers a wp_mail function that automatically uses its SMTP for enhanced deliverability and tracking purpose.
Customers receive a welcome SMS, order confirmation messages, shipping and delivery information tracking and all essential alerts.
Allows users to create an automated workflow channel easily; so the user can create multi-step and multi-channel campaign with unlimited variables
They offer smart retargeting function; enables users to track and engage visitors on landing pages.
10. Newsletter Sign-Up

Newsletter Sign-Up is another versatile newsletter plugin that offers various signup methods for your WordPress site. With the help of this plugin, you can assign signup checkboxes in your comment form and shoe signup form in post pages and widget areas. It works with all third party email marketing services, such as MailChimp, CampaignMonitor, ConstantContact, YMLP, Aweber, iContact, PHPList and Feedblitz.
Key features of Newsletter Sign-Up
Offers an easy customizable newsletter signup form widget
Users can add a sign-up top their newsletter checkbox to their comment form or registration form.
Allows users to embed a sign-up form in their posts with a simple shortcode
Compatible with BuddyPress, WordPress Multisite and bbPress forum plugin.
Wrapping Up
All the above email subscription and newsletter plugin is popular, reliable for one of the other reasons. It just depends on your needs; it might work for you best. If you want something simple, opt for mail subscribe list. On the other hand, if you fancy something lavish and rich-built plugin then opt for MailChimp, MailPoet or others above on my list.
Is there any other plugin that we missed? Do let us know which plugin are you using to grow your email subscribers. Comment in the section below.
Now, you are all set to create a newsletter widget on your own project and start your email marketing campaign.