Do you want to display recent posts on your WordPress site in the sidebar and other widgeted areas? Then you can easily do using a recent post WordPress plugin.
WordPress is a lifesaver; it's Content Management System is not only comfortable, but it offers solutions to all. So, those of you who run their site on WordPress is equipped with numerous themes and plugins. Using these plugins can make your life easy, productive and will help improve the performance of your website, generate traffic to your site, and help you achieve conversion rate. Most importantly, it enables you to create a stance in the online world.
Similarly, WordPress offers a variety of plugins with recent posts widget that can help you display featured images, custom post types, filter posts, category as well as display recent posts from other sites to your own network.
This article entails a list of the most popular, reliable and noteworthy plugins that can help you display your piece of content faster in a faster way.
Top Thumbnails Generating Plugins
1. Recent Posts Widget With Thumbnails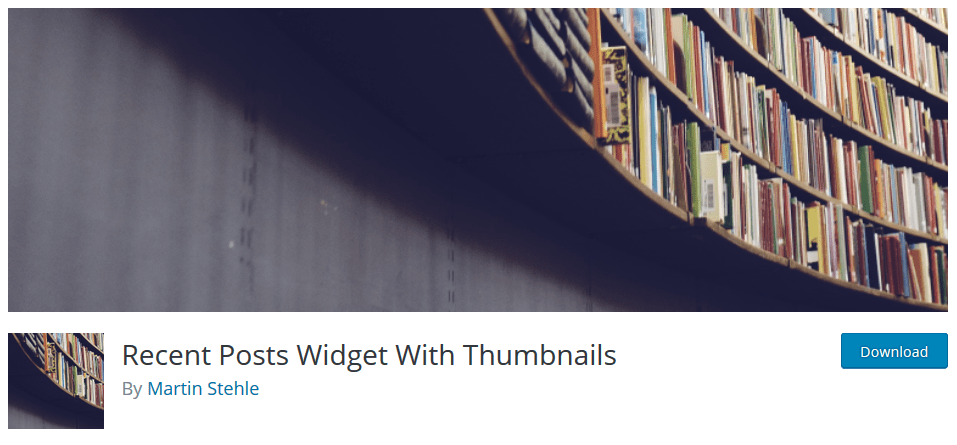 Recent post widget with thumbnails is one of the most preferable, popular and reliable WordPress plugin downloaded by than 100,000 users. It has attained a 4.8-star rating and is enriched with various features.  This plugin helps you list the most recent posts with post titles, thumbnails, excerpts, authors, categories, dates and offers much more.
Reasons To Choose
Let's see some of the reasons this plugin is a preferable choice for many:
You may have heard that this plugin is created only for widgets areas users and it does not collect any personal data. But have you also heard that it works in Elementor and is ready for GDPR compliance as a solution to these problems? So, if you want to increase the ways you want to display your content in the sidebar and other widget areas of your site, you need an efficient and useful plugin. If you're going to avail the services of Recent post widget with thumbnails, log on to Recent post widget with thumbnails. Do lets us know in the comment section how you experienced this plugin.
2. Recent Posts Widget Extended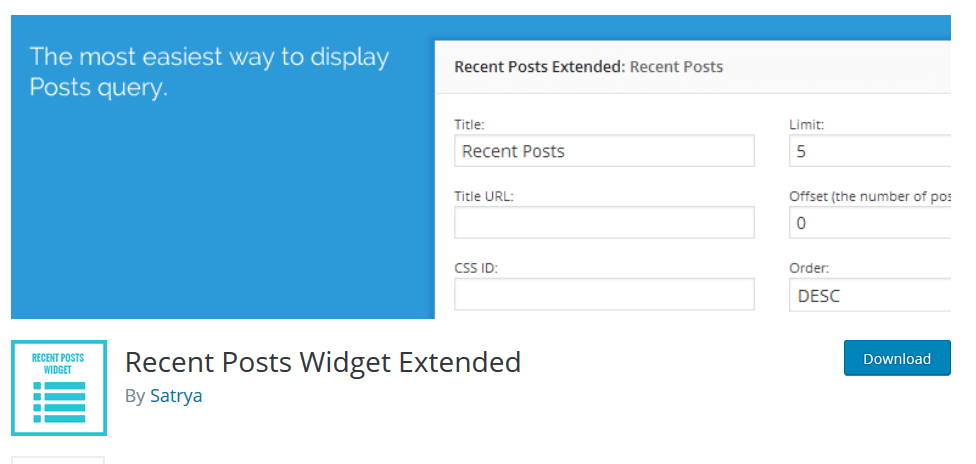 Recent Post Widget Extended is another remarkable and popular plugin that has attained a 4.8-star rating and enjoys more than 200,000 active installations. This plugin is known to add recent post widget to your site. So, you may experience a more powerful set of control on your site, and you may display content in your sidebar and widget areas with the stance. This plugin also allows you to view your list of recent posts in your post and pages using a shortcode.
Reasons To Choose
Let's see some of the reasons this plugin is the right choice for many:
It allows it's users, to display a list of most recent post with thumbnail, excerpts and post date
Users can also display from a specific taxonomy, multiple taxonomies or post types.
Allows the user to enable a custom, flexible, super advanced recent post and display it via shortcode and widget.
Allows better image cropping
Offers its users the option to set the title URL itself
Offers read more and post type options to its users.
Display postdate, modification date, comment count
You can display from all, specific or multiple tag or categories.
Allows you to display thumbnails excerpts with customizable sizes and lengths.
Multilingual: available in English, France, and Brazilian Portuguese
Offers excellent customer support.
The setting and control option of this plugin allows its users to build the recent post they want according to their needs. So, if you wish for flexibility for your WordPress site, log on to Recent post widget extended.  You may attain all the information and services you desire.
3. Magic Post Thumbnail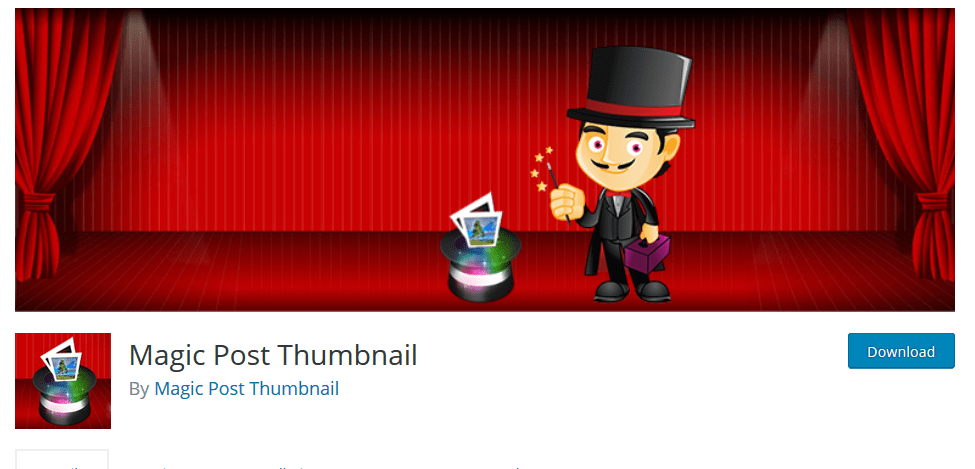 If you want to generate thumbnails for your posts automatically, Magic post thumbnail plugin is another popular plugin. Magic post thumbnail is another free WordPress plugin that has attained a 4.5-star ranking with more than 5000 active installations. Finding that right image, sifting through them and choosing the right one is definitely a crucial part to play. Save yourself from all the hassle and install magic post thumbnail plugin. This plugin will find the right image for you keeping in mind your title and load it into your media library. Moreover, it also creates thumbnails for your post or pages. So what do you say?
Reasons To Choose
Let's look into some reasons you may install and activate it:
Generate thumbnails for one post, page or custom type
Automatically generate thumbnails for chosen posts
It is compatible with WPeMatico, Cyber-Syn, Rss Post Importer, Feed WordPress & WP All Import.
Helps you retrieve the first image on Google images, Flickr or Pixabay
Allows its users to configure settings for automatic images; image bank, language search, post types chosen, image type, free-to-use and much more.
Magic post thumbnail is an open source software that is improving drastically. Its premium version offers more advanced features and options for its users to configure options to image banks and customizable crons. If you want to avail its services, log on to Magic post thumbnail.
4. PE Recent Posts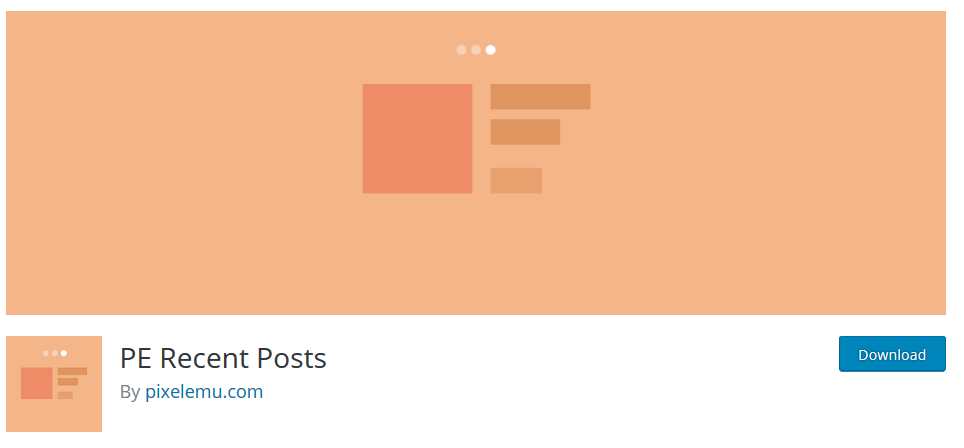 PE recent posts is a simple, popular and a free WordPress plugin that enjoys 5-star rating and has more than 3000 active installations. This plugin will help you display image slides including a slide title, description and read more button. PE recent post is an incredible plugin that links posts from a specific category, but that category can be selected by plugin user. Moreover,  it can display items in all categories as well.
This remarkable plugin offers unlimited no of slides option. However many are limited to some slides visible in each column. Most importantly, the title and description of each slide appear with slide-in animation effect. Isn't that astonishing?
Reasons To Choose
Let's look into some of the other reasons PE recent posts is gaining popularity:
It allows the user to select a specific category or display items of all categories
Various Image size available from the list that is determined at media settings of WordPress
This plugin is WCAG2.0 /section 508 compliant; thus follow WCAG requirements and offers keyboard navigation support.
It is a responsive plugin that is compatible with all mobile devices.
Offers various configuration settings from widget title, post type, post type taxonomy, taxonomy, to force display sticky posts.
Allows its users to customize the number of rows, number of slides, order direction, ordering type, description limit and much more.
PE recent post is an excellent plugin that helps you showcase your visitors' image slides with title and description. So, if you want to attract your audience and reduce bounce rate; this easy to use WordPress plugin is just perfect for this slot. Take advantage of this free WordPress plugin and avail its renowned services. Install and activate it today with a simple process and attain unlimited benefits. Want to discover more about PE recent posts, log on to PE recent posts.
5. WP Responsive Recent Post Slider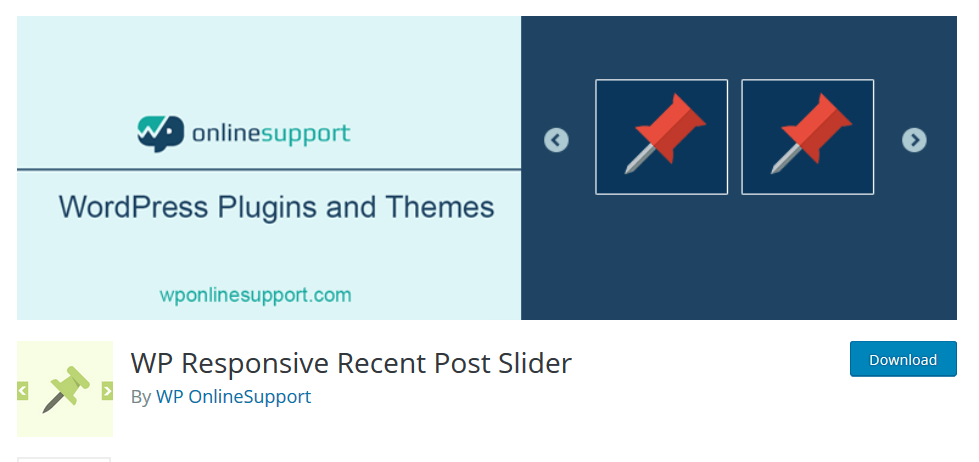 WP responsive recent post slider is a free, a responsive WordPress plugin that helps you display posts in a beautiful slide show. So, if you want to create an eye-catching experience for your visitor, this is the best choice where you can display your latest posts most unforgettable.
WP responsive recent post slider plugin allows its users to display their recent posts by using four designs with enchanting sliders. It also comes up with a premium version which is more additional features.
Reasons To Choose
Let's look into some reasons why users favor this plugin:
It displays an unlimited number of WordPress post slider in a single page or post
Offers a different set of the option; category, limit, and navigation type.
It is compatible with Gutenberg shortcode block.
Offers various media size; thumbnail, medium, medium-large, large and full.
Offers responsive touch slider
Users can also exclude post with their ID's if they do not want to display.
Whereas, it's premium version is just incredible, want to know its features:
Its recent post slider offers 25 designs
Its current post carousel presents 30 designs.
Recent post grid box slider comes up with 8 designs
Offers shortcode facility
It is supported by V1.3.4 WordPress default post and custom post type and taxonomy.
So what do you say? Will you avail their free version or a premium one?
Log on to WP responsive recent post slider and avail their services today. Let us know in the comment section, which version you chose.
6. WP Latest Post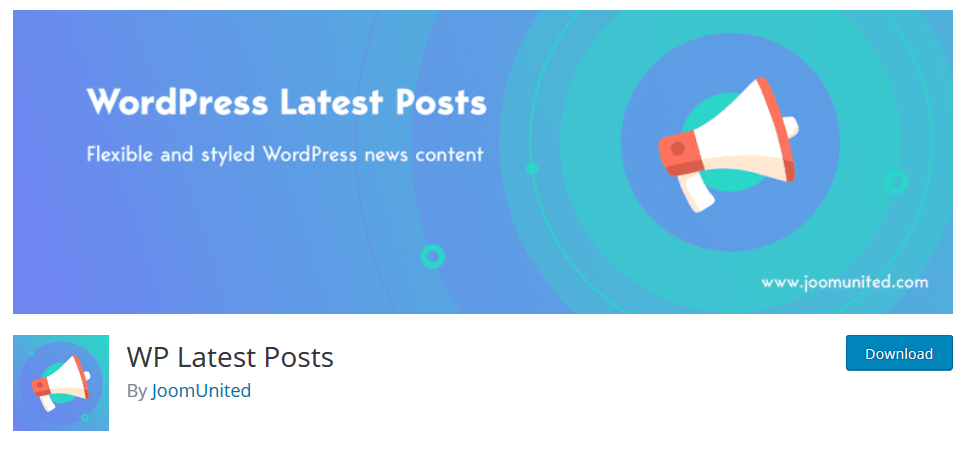 Do you want your latest or custom content like WordPress post, pages, tagged content or custom post type content displayed in a slider?
If yes, then WP Latest Posts is the best WordPress plugin you are searching for. This notable WordPress plugin requires no coding. So, now you can easily build your news layout with ease. So, if you want to avail their services, you just have to undergo 4 main configuration tabs. Select your content source (post category, page selection, custom post type or tagged content), select your display options (number of rows, columns number, text colors and others), select your image source and set advance facilities (date format and custom CSS). Yes! That s all.
Let's unroll some of the features they are offering:
Unlimited latest posts
Offers selection criteria for; number of columns, number of elements, categories of selected content, and image source
With a few clicks the users can create carrousel sliding news displays
Supported by WordPress default theme
Integrate by WPML and Polylang.
And much much more…..
Want to know more about WP latest posts? click here.
Wrapping Up
If you want to increase the overall look of your WordPress site, these plugins will help you create a stance. They will display the link to content on your website, filter content by post type and custom taxonomy, and help you attain more control over your posts that are shown in your widgetized areas.
This article enlists the best six plugins for generating thumbnails for recent posts in WordPress.
Let us in know the comment section which one suited you the most.
After you choose a desired recent post plugin, follow our guide on how to display recent posts in WordPress and use it on your own site.