GDPR, short for General Data Protection Regulation, is a new EU law on data protection and privacy, applicable as of 25 May 2018. This new set of rules and regulations applies to all online businesses and entities that collect and process user data, which also includes your WordPress blog/website. And so, for the purpose of this read, we will be looking at some of the best GDPR plugins to help make your site compliant with the new policies.
But first, let's see
Why Do You Need A GDPR Plugin On Your WordPress Website?
The new GDPR directives demand website owners and online businesses to offer a discrete message regarding the type of user data they collect and how it is used. The websites are also required to incorporate a means to delete the user data if the user demands it.
All these functionalities aren't available with vanilla WordPress. In addition, there is another important GDPR requirement – websites should ask specific and informed consent. Non-functional cookies and scripts should be blocked before consent is provided, which is really a difficult thing to do for website owners. And even for privacy plugin developers.
Fortunately, things are quite easy if you're running a site on WordPress. All you need to do is to choose and set up a dedicated GDPR plugin on your site.
Top Free GDPR Plugins for Your WordPress Site
1. Cookiebot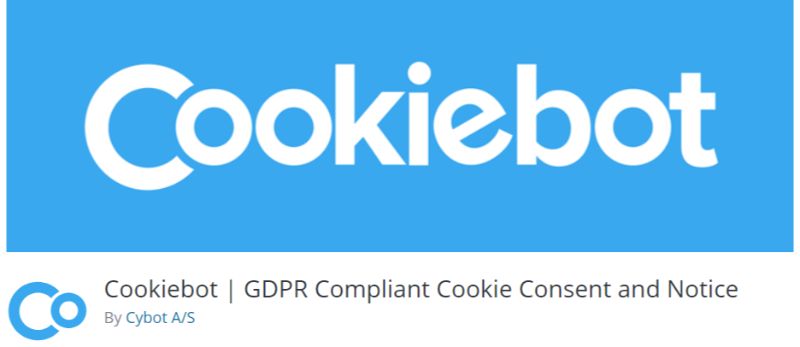 Number one free GDPR plugin on our list is Cookiebot. Cookiebot WordPress plugin is a cloud-based solution to help your site become fully compliant with the new Cookie Consent policies and GDPR guidelines. Once the plugin gets installed, it automatically scans the site to find all cookies being set on the site.
Now, by and large, most of the plugin functionalities are provided for free. However, if you want access to advanced options then there is room to include premium add-ons.
Features:
Add a fully customizable cookie consent banner with support for selective opt-in and opt-out.
Integrate a dedicated cookie policy and declaration page.
Support for cookie categorization in terms of "strictly necessary", "preference", "statistics", "marketing", and so on.
An intuitive means for users to change or withdraw cookie consent.
All user-consent gets stored in the cloud.
And much more.
2. Complianz | GDPR/CCPA Cookie Consent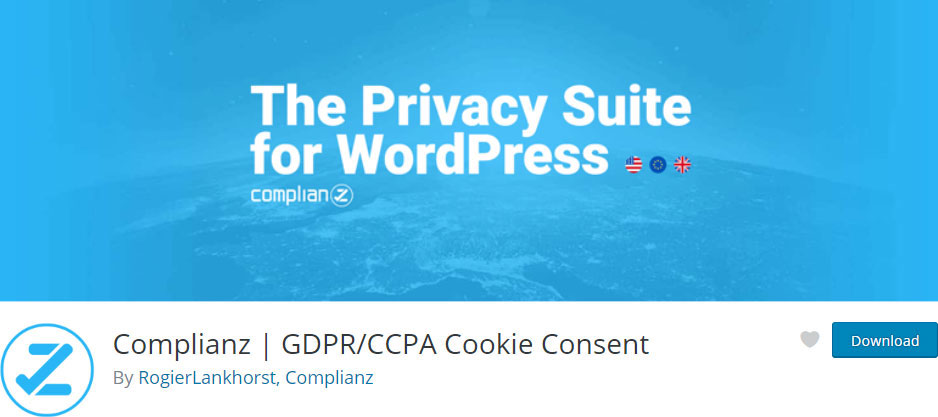 For next, we have Complianz GDPR/CCPA Cookie Consent. It is the only plugin that provides you with everything you need to comply with the GDPR and ePrivacy directive, all for free.
The plugin provides a weekly updated website scan and blocks statistics and marketing cookies before consent. If a page contains embedded content like iFrames or a YouTube video, the content is automatically replaced with a placeholder asking website visitors for consent. By going through an extensive but understandable wizard, you can generate a Cookie Policy, which is automatically kept up to date with the weekly website scan. Making your website GDPR compliant could not be easier.
Features:
A fully customizable Cookie Banner
Auto-generated Cookie Policy, with extensive cookie information from cookiedatabase.org
Weekly website cookie scan and synchronization.
Full coverage for EU (GDPR/ePrivacy, US (CCPA) or Canada (PIPEDA) privacy legislations.
A bunch of integrations for Google Tag Manager, Analytics, iFrames, Youtube and more.
With the premium version, you can generate a variety of extra legal documents (e.g. Privacy Statement) and comply with all the above-mentioned privacy legislations using Geo IP. Along with a lot of extra features.
And much more on Complianz website.
3. GDPR Cookie Compliance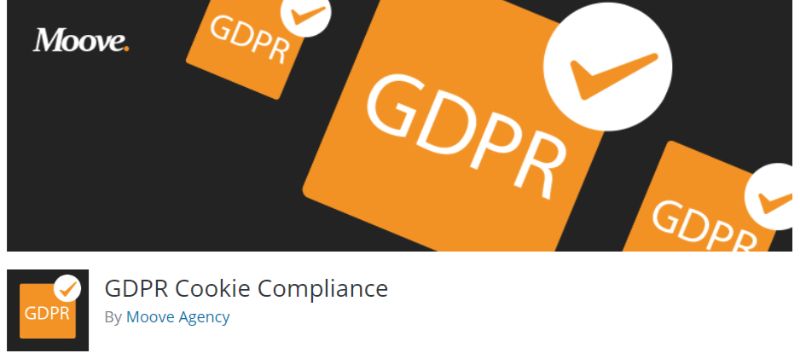 GDPR Cookie Compliance allows you to embed a cookie compliance notice directly on your website in accordance with the new internet privacy regulations. As far as design is concerned, you will get access to your a beautiful and intuitive UI with full customization control. You can upload your own logo, tweak the colors, and even change the font.
Whereas on the feature front the GDPR plugin also gives your users complete control over the cookies stored on their computer including the option to revoke their consent, if they so choose.
Features:
Adds a customizable cookie compliance notice to your website.
Option to edit and change the text shown in the notice.
Specify certain scripts that will load by default or only when the user gives consent.
Animation support to enhance UI/UX.
Option to display cookie banner in full-screen mode. (premium)
Geolocation support to show cookie banners to EU visitors only. (premium)
Shortcode support to allow users the option to manage their cookies and even revoke consent. (premium)
And much more.
4. Cookie Notice for GDPR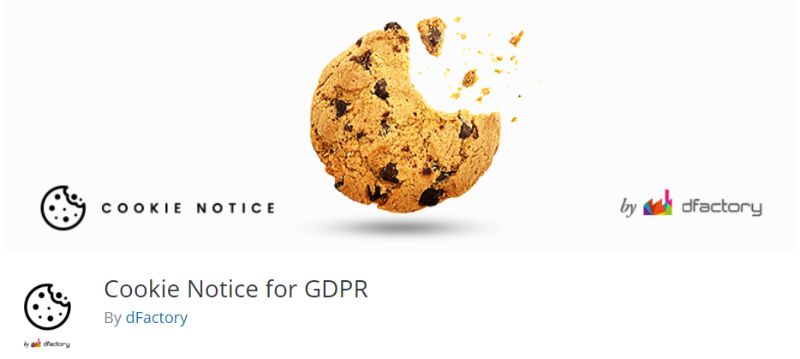 Cookie Notice for GDPR plugin allows you to set up a simple message to inform users and take consent on the use of cookies. Not only will you be able to set up a custom message to inform users on the fact that your site uses cookies, but you will also be able to redirect users to specific pages and sections on your site – including the privacy policy page to offer them more information.
The plugin also grants a bunch of extra customization options, including support for auto-accept on scrolling, and animated message boxes for better UI/UX.
Features:
Option to create a custom cookie notice message.
Add a "more info" to let users learn about how you use cookies on your site.
Give users the option to refuse the use of third-party non-functional cookies.
Auto-accept cookie notice when users scroll on your website.
Customization support in terms of notice positioning, animations, button style, and text & bar color.
And much more.
5. WP GDPR Compliance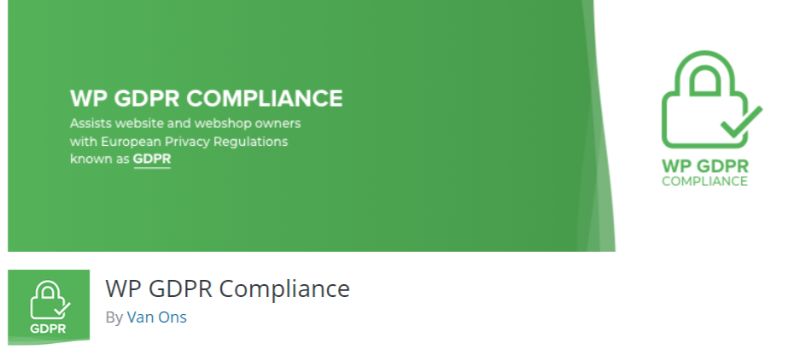 WP GDPR Compliance introduces a number of useful features to help your site comply with the new GDPR rules and regulation guidelines. Not only will you be able to showcase a cookie compliance message/notice, but also maintain a consent log of all users who have accepted cookie use on your website.
On top of this, the GDPR plugin also introduces an option to take explicit visitor consent for other plugins that accept user data, including Contact Form 7, Gravity Forms, WordPress default comment section, and even WooCommerce.
Features:
Adds a cookie compliance notice on your website.
Gives users full control on whether they want to keep or delete cookies on your site.
Option to add checkboxes asking for explicit visitor consent.
Support for encrypted audit logs to help users securely access their cookies.
Support for the "right to be forgotten" clause by using anonymous user data.
And much more.
6. WP AutoTerms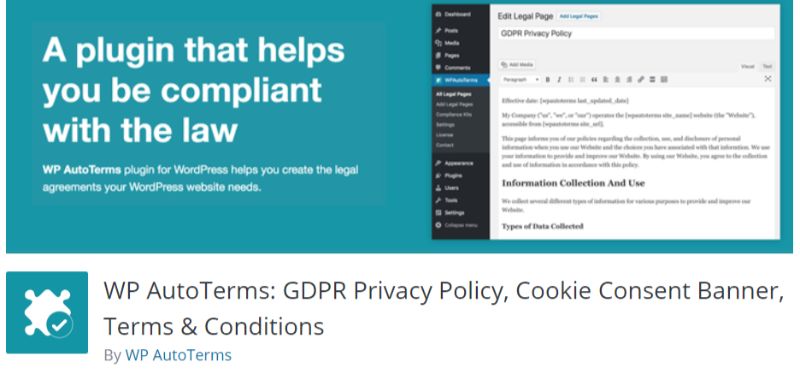 WP AutoTerms isn't particularly a GDPR plugin but can help you with the same, and also comply with many more legal requirements. It can help you create three of the most important legal pages on your site – cookies policy page, privacy policy page, and the terms & condition agreement page.
You will also get access to a bunch of useful tools and functionalities to help you create any custom legal page on your site as well. All these pages can be easily accessed and managed through the WP AutoTerms plugin.
Features:
Easily add links to your legal pages in the footer section.
Option to create an announcement bar to show users that you have updated your legal pages.
Create GDPR privacy policy page using precise GDPR wordings. (premium)
Add an announcement bar that your site complies to GDPR cookie directives. (premium)
Include a disclaimer at the end of your posts to mention the use of affiliate links. (premium)
And much more.
7. WP DSGVO Tools (GDPR)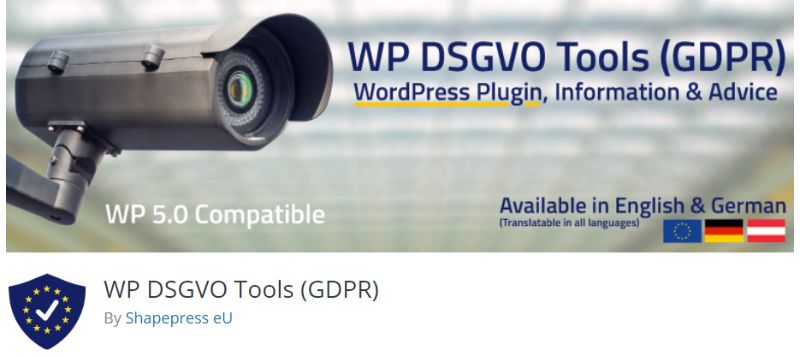 WP DSGVO Tools – a GDPR plugin for WordPress has been developed in cooperation with lawyers and a professional legal team. It includes dozens of useful features to ensure your website or online store adheres to the strict guidelines laid forward by the European Union, so you don't end up in any sort of trouble.
The plugin is available in both a free version as well as a paid version. The free version covers loads of useful features, but if you want the full suite of functionalities, you will have to go pro.
Features:
And much more.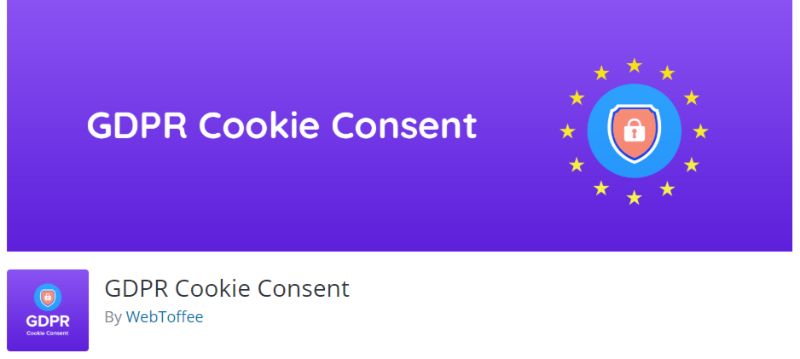 GDPR Cookie Consent WordPress plugin adds a subtle banner to your site's header or footer area to help you display your compliance status as per the new EU law.
The GDPR plugin also adds a number of customization options to help you change the fonts, style, color, and position of the banner on your site. You even get to control what happens after the user clicks on the "accept" button.
Features:
Adds a cookie compliance banner to your WordPress website.
Customization options to tweak the look, feel, and position of the banner.
Auto-accept cookie policy if the user scrolls.
Automatically closes cookie bar after a few seconds.
Add a "show again" button for users to dismiss or access the cookie compliance banner.
Cookie audit module to see what cookies the site uses.
A Pro version is available with plenty more advanced functionalities.
And much more.
9. iubenda Cookie Solution for GDPR
iubenda Cookie Solution for GDPR plugin for WordPress websites gives you an all-in-one approach to help your site become GDPR compliant. Not only will it help you with integrating a cookie banner on your site, but also help generate a privacy policy page, and even blocking management of cookies.
As you might have guessed by the name, the plugin works in accordance with the iubenda Cookie Law solution which allows you to block most of the common widgets and third-party cookies on your site, to help you comply with all modern cookie laws.
Features:
Automatically inserts the iubenda code in the header of every page of your WordPress website.
Integrates a cookie banner on your site and also sets up a cookie policy page.
Option to save user preferences about their use of cookies on your site.
Can easily detect bots and spiders, and provide them with a clean page for seamless indexing.
And much more.
In Conclusion
So these were our picks for the best GDPR plugins for WordPress. We hope you found the list useful.
With this in context, veteran users are welcome to share their insight and knowledge on the GDPR  guidelines and how to ensure that a website complies with its rules and regulations.
Now you are all set to create a GDPR compliant website of your own.