Do you know CRM plugins can help you manage and capture your leads on your WordPress website?  It can help you boost your sales and maintain a healthy relationship with your customers.
If you are searching for the best WordPress CRM plugins to maintain relationship with your customers effectively? Then this article is for you.
Within this article, we have picked out the best CRM plugins with detailed insights on their features and fame. However, before we get to into details, let's see the reasons why you need CRM plugins.
Reasons for Installing A CRM Plugin
WordPress CRM plugins is a growing need for small business owners; so they can create a robust online presence. It will help them manage and grow their business affordably. They maintain your leads and contacts, capture new leads so you can grow your business at heightened levels.
CRM plugins help you manage your customer information under one roof; i.e. under one location.
Helps you attain valuable information of your business history with your potential clients
They help users capture leads, gain web insights and boost sales.
Want to get hooked with one of the best WordPress CRM plugins? Here's the list….
Top Free CRM WordPress Plugins
1. Capture and Convert

Starting from our list of the best free CRM WordPress plugins, we have Capture & Convert. As the name implies, this plugin helps you  capture and convert leads using the power of forms. It provides the ability to create beautiful and engaging WordPress forms based on it's 5 premade widgets: Subscribe to Unlock widget, Follow to Unlock widget, Share to Unlock widget, Call to Action widget, Floating widget. You also get access loads of customization options giving your full control over look and feel of your forms.
Top features:
Comes with a pre-designed templates library.
Rich customization options.
Shortcodes support.
Gutenberg block editor support.
Easy to use with no coding required.
2. UPI CRM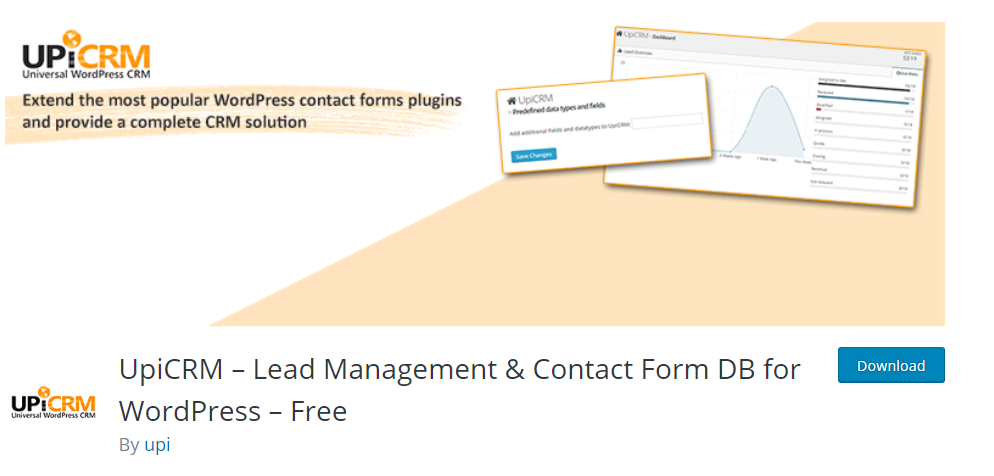 UPI CRM is a free WordPress CRM and a lead solution. It is a comparatively new plugin, but due to its essential features, it has over 1000 active installs with a 4.8 out of 5-star rating. It is compatible with various contact form plugins; contact form 7, gravity forms and ninja forms.
Want to know more? Let's look into its features:
It helps users track leads and sources to the closing process.
Allows users to assign leads to any member of the team.
It can track traffic sources for leads; custom UTM parameters.
It offers a beautiful dashboard and KPIs.
Most importantly, it offers an import process that helps users map their existing database/form field and create a single, central and unified database for all the leads for WordPress dashboard.
So, do you want to install UPI CRM?
3. Zero BS WordPress CRM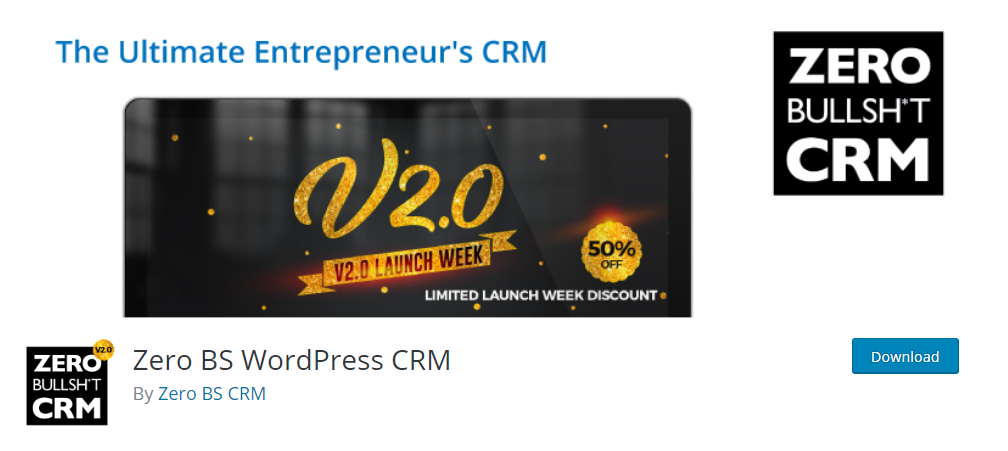 Zero BS WordPress CRM developed by Zero BS CRM is one of the quickest WordPress CRM plugins within this list. With the help of this plugin, you can manage customers, and add custom fields. Moreover, you can also provide front-end lead forms to online invoicing, clients' portal and integration with Zapier. It currently has over 1000 active installation with a 4.4 out of 5-star rating. Want to know its features?
It is compatible with computers, phones and tablets.
It allows the user to enable additional options such as quotes, invoices, forms, and many more options.
Additional extensions offer necessities such as email campaigns.
Most importantly, it has an easy to use interface and dashboard. Users can quickly access anything from customer data, quotes invoices, transactions, and many others. However, it also offers advanced options on its setting panel. So, if you are looking for something extra look into their hidden options and create custom fields, change the order of the fields, create invoices and much more with Zero BS CRM.
4. CRM WordPress Leads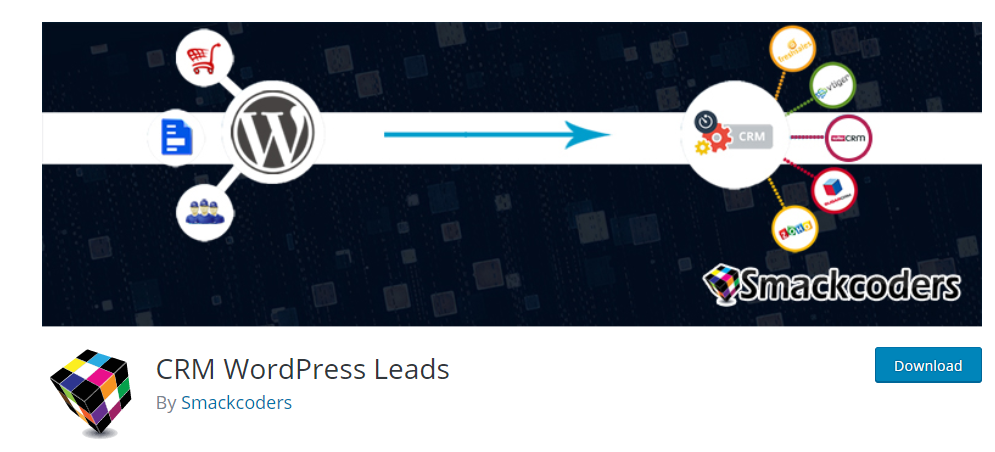 CRM WordPress Leads developed by Smackcoders is another useful WordPress CRM solution. It currently has over 1000 active installs with a 4 out of 5-star rating. It allows users to capture leads from WordPress to CRM where all the data can be collected using a form embedded to their WordPress site. You can enable workflow and sync your WordPress users to their CRM as contact and place the shortcode in a post, page or widget.  It offers a wide range of additional features:
Easily convert new users as CRM contacts
Notifies users on the success and failure of lead capture
Users can create forms with or without 3rdparty web forms
Most importantly, it supports and, capture leads to Zoho CRM, Salesforce, Zoho CRM Plus, Freshsales, SuiteCRM, Vtiger CRM, and SugarCRM. Know more and download CRM WordPress Leads quickly.
5. Brilliant Web- To- Lead For Salesforce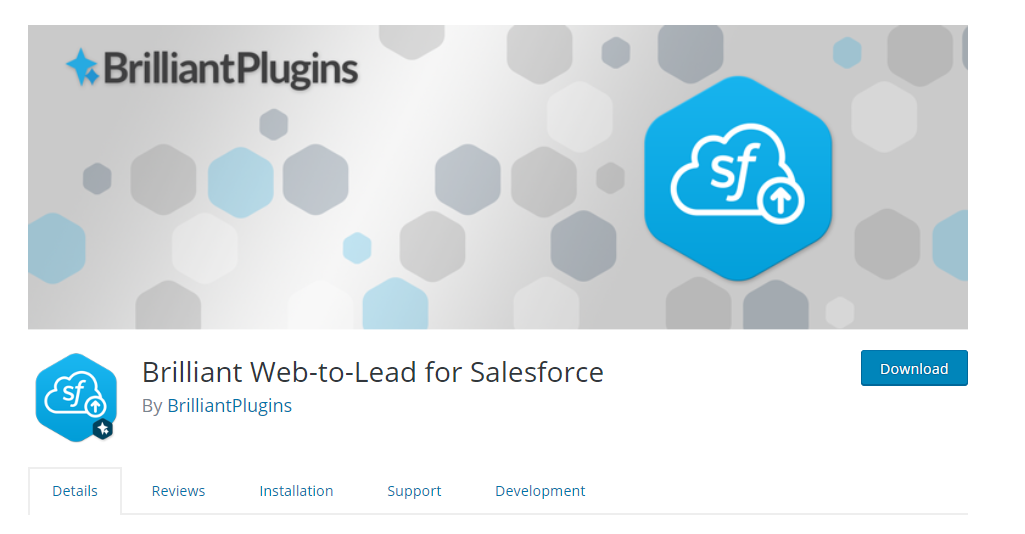 Brilliant Web- To- Lead For Salesforce developed by Brilliant Plugins can help you create a robust integration between your WordPress install and your Salesforce CRM account. So, no more copy pasting lead info, no more missing leads. Every lead goes straight to the salesForce.com so you may follow it with ease. It currently enjoys more than 8000 active installations with a 4.4-star rating out of 5-star rating.
Features of Brilliant web:
It has an easy to use interface and allows users to start importing leads once the installation is complete
Offers salesforce account to its users
Users are provided with additional knowledge of how to integrate extra tools into WordPress.
Form settings are fully configurable; where forms can be inserted into page or widget using a simple code.
Most importantly, Brilliant Web offers a wide range of filters and hook that can help even beginners ease the process.
6. Agile CRM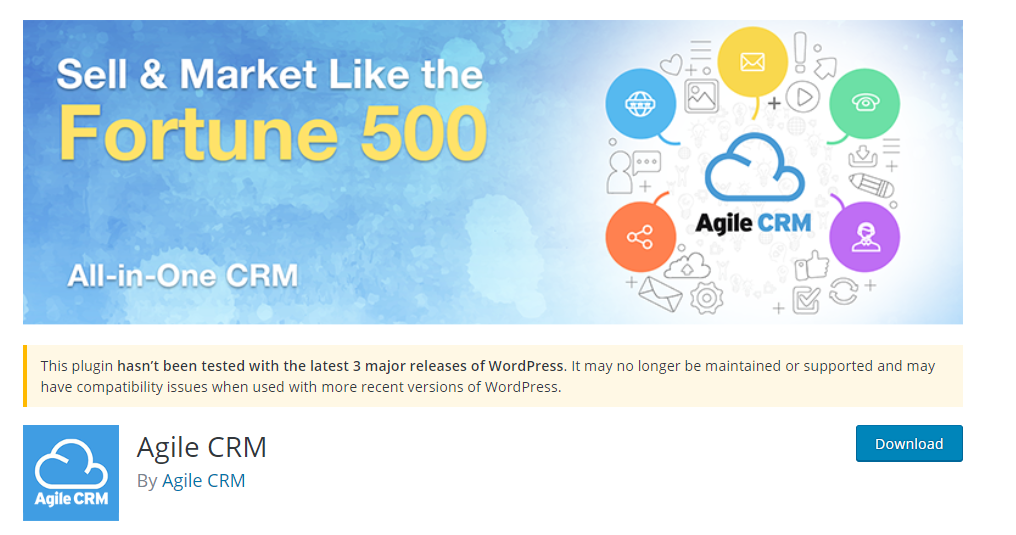 Agile CRM is a multiservice CRM that offers sales, marketing and service automation under a single platform.  It enables users with a wide range of services such as; sales tracking, contact management, marketing automation, web analytics, two-way emails, telephony and helpdesk. It currently has over 3000 active installs and 3 out of 5-star rating.
Features of Agile CRM:
It offers simple and powerful drag and drop editor option
Helps users convert visitors into leads in CRM
Allows users to monitor customer behaviour and acquire alerts for customer activity.
View chronologically sorted record of customer details and communication history in a single page.
Most importantly, users can easily integrate attractive custom landing pages and customized web forms to their websites. Besides you can achieve all this with no coding knowledge. It is simple to integrate.
7. WP ERP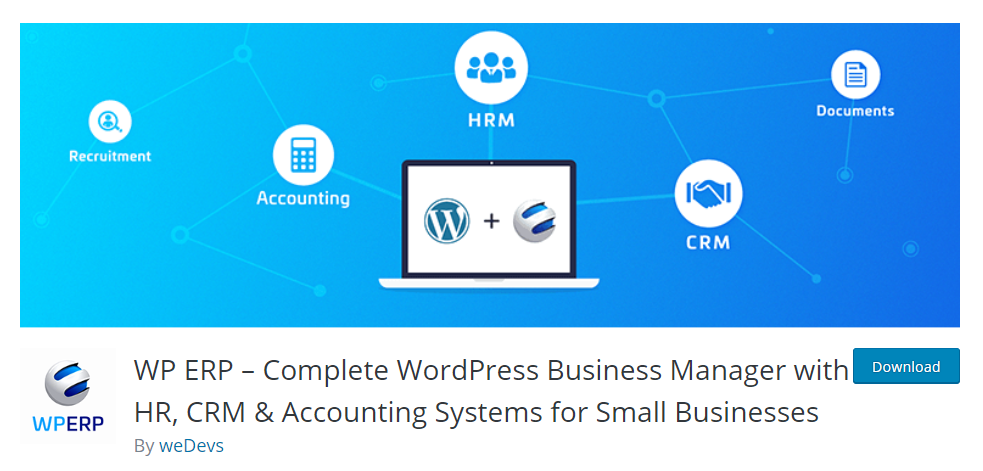 WP ERP is another free WordPress plugin that offers CRM, HRM and accounting solutions for small and large enterprises. With the help of this plugin, users can manage their customers by maintaining at different levels. They can manage their content, schedule their meeting, keep notes of the meetings and provide essential support to everyone. It has attained more than 10,000 active installs with 4.4 out of 5-star rating. Want to know its features?
Most importantly, there is no limit defined within WP ERP. You can create unlimited entries in all the modules.
Wrapping up
WordPress CRM plugins help business owners capture and manage leads. It is not only suitable for small businesses but provides a positive impact on large organizations too. The above WordPress CRM plugins are affordable, easy to use and offer robust lead capture and management capabilities. However, I chose the one that suits your needs best. However, don't forget; affordability, easy installation, support and lead management or capture are the crucial elements that make the WordPress CRM Plugins noteworthy.
Do you know any other WordPress CRM plugin that we missed? Don't forget to let us know which WordPress CRM plugin you chose for your site. Comment in the section below!
We hope this article helped, you may also want to setup a helpdesk system in WordPress to offer fabulous support.