RSS, short for Rich Site Summary is a type of web feed which you can use to broadcast updates regarding online content to your users and site visitors. If you are running a blog with WordPress, it gives you access to plenty of powerful RSS reader plugins which lets you import RSS feed into your website. And for the purpose of this read, we will take a look at the top 10 WordPress plugins in this category.
But first,
Why Do You Need a RSS Reader On Your WordPress Website In 2019?
The use of RSS readers has dropped in popularity, especially with the discontinuation of Google Reader. However, with that being said, it is still an active technology and can be utilized to deliver a unique user experience to your site visitors.
For example, an RSS aggregator on your site can offer your visitors a comprehensive platform for discovering all related news on a particular topic. This can increase the time users spend on your site, decrease bounce rates, and help improve SEO scores.
So, you see, integrating an RSS reader on your site can still serve your different manners, and enhance the overall value of your website. And now that you understand the benefits you can reap from these tools, let's dive into our list of the top 10 RSS reader aggregator plugins for WordPress:
Top RSS Reader Aggregator Plugins
1. WP RSS Aggregator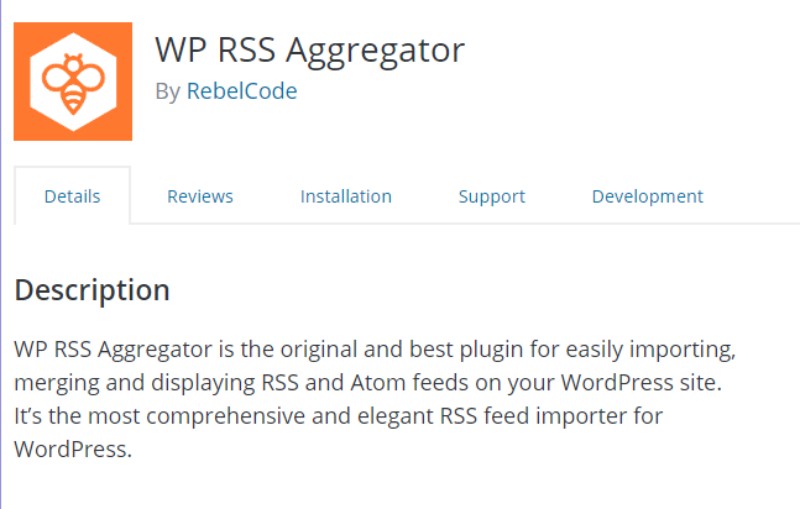 WP RSS Aggregator is one of the most popular and powerful RSS aggregator plugins for WordPress. The plugin can not only help you import RSS feeds, but also merge different sources into a single feed. The plugin is also compatible with Atom feeds.
This the perfect plugin if you are planning to work with multiple feeds at the same time. This is thanks to its super intuitive options panel that allows for easy management of all your different feeds. On top of that, you will also get access to a lot of useful management options for each individual feed.
Features:
Option to import an unlimited number of items for unlimited sources.
Automate each import according to your own schedule.
Extremely user-friendly with powerful management options.
Ability to merge different sources into a single feed.
And much more.
2. Feedzy RSS Feeds
Feedzy RSS Feeds comes for the talented team of developers over at Themeisle. It is an easy to use RSS aggregator plugin for WordPress with in-built auto-blogging functionality. The plugin is available in both a free and pro version. The free version can help you set up a basic RSS feed on your site, whereas you can use the pro version to incorporate more advanced features.
Based on the different types of options the plugin brings to the table, it is perfect for business based websites looking to automate their work. Furthermore, all of the plugin's features are laid out inside an intuitive and lightweight interface for easy access. Features:
And much more.
3. WordPress RSS Feed Retriever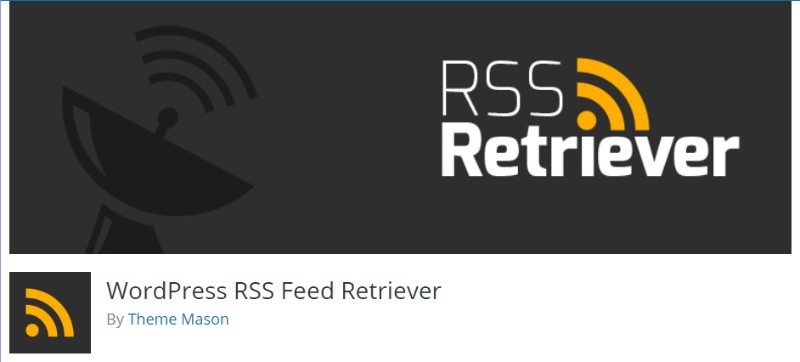 WordPress RSS Feed Retriever helps you to showcase different RSS feeds from different sources on your website. The plugin supports shortcode use, and you have the option to showcase an unordered list of multiple feeds on any post or page on your website.
Now, the plugin is completely free to use but adds a lot of advanced functionalities that makes managing your RSS feeds a breeze. For example, you can set up multiple feeds in a single list, choose to showcase entire RSS feed content or just an excerpt, and so on.
Features:
Fetch unlimited RSS feeds.
Display RSS feeds using shortcodes.
Option to choose between showing entire RSS feed content or just an excerpt.
Supports multiple feeds in a single list.
Control how much RSS feed content you want to show.
And much more.
4. WPeMatico RSS Feed Fetcher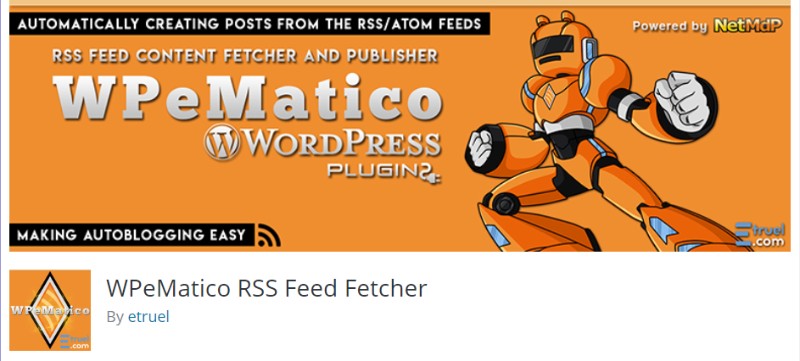 WPeMatico RSS Feed Fetcher is basically an auto-blogging plugin for WordPress that allows you to fetch and display RSS and Atom feeds on your website. All options are conveniently tucked away inside an intuitive interface from where you can manage all the different RSS feeds you have set up on your website.
You get granular control over how the RSS feed fetcher functions on your site. For example, you can specify how many feeds it should update each time. You can also specify whether or not you want the RSS feeds to be published as posts, or pages, and even as attachments.
Features:
Support for multiple feeds, categories, and tags.
Automatically adds categories from source posts.
Option to integrate with Simplepie library.
Option to limit the number of items per fetch.
Image caching integration.
Supports different premium add-ons for extending its functionality.
And much more.
5. RSS Post Importer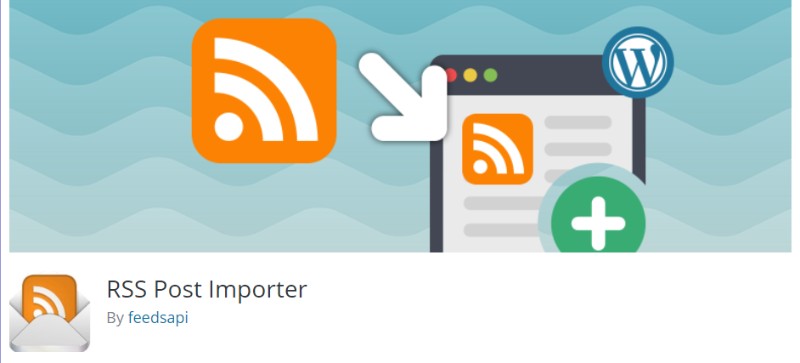 RSS Post Importer is one of the best RSS aggregator plugins for WordPress that can not only help you in importing feeds from different sources, but also handle curation, merging, syndication, and of course, displaying them on your website.
The plugin is perfect for importing entire articles from external RSS feeds and adding them directly to your posts collection. Naturally, for anybody looking for an auto-blogging solution, this is exceptionally good at the task.
Note: The plugin has not received an updated form its developers in over 2 years and is tested up to WordPress v. 4.7.13.
Features:
Uses CRON for automatic feed importing.
Option to display the full content of each article.
You can specify how many posts and categories you want on each feed.
A simple template to help you with formatting.
Keyword-based filters and curation. (premium)
Option to import static website content. (premium)
And much more.
6. Import XML and RSS Feeds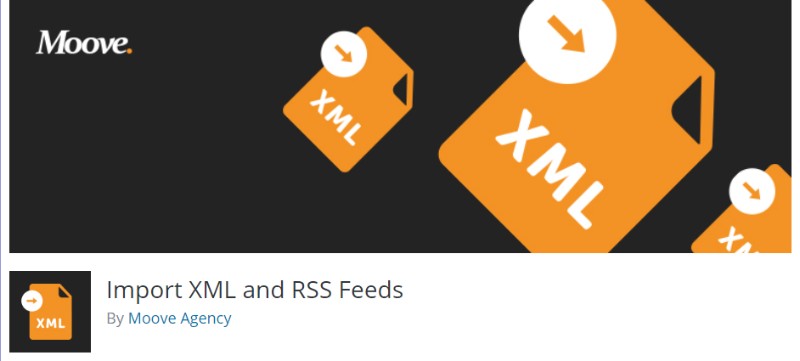 Import XML and RSS feeds allow you to import external content from XML and RSS files. Similarly, you can also use it to fetch data from an uploaded XML and RSS file. Regardless of what you aim to do, the plugin is super easy and offers a lot of useful options, like the option to add taxonomies to each feed.
Features:
XML previewafter fetching/importing data.
Option to link taxonomies to posts.
Set a limit to importing posts.
Save and upload templates. (premium)
Support for tag attributes. (premium)
Support for custom fields and ACF. (premium)
7. Category Specific RSS Feed Subscription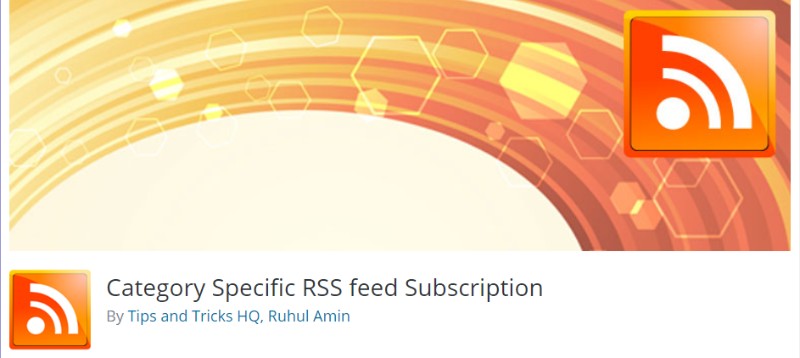 Category Specific RSS Feed Subscription is an excellent lead generation plugin for WordPress that utilizes RSS feeds. The plugin will integrate a menu on your site with the option to subscribe to multiple RSS feeds.
The plugin also divides the different RSS feeds into individual categories for better organization.
Features:
Option tocreate RSS feed menus using the plugin.
Create tags for different RSS feedsfor categorization.
Shortcode
Widget
8. RSS Feed Widget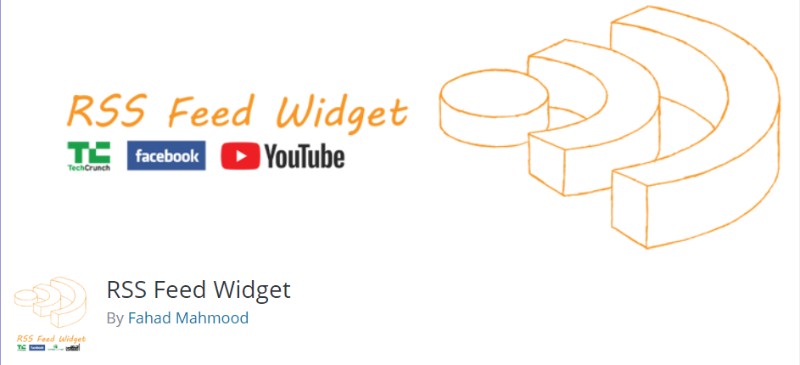 RSS Feed Widget, as you can guess by the name, helps integrate an RSS feed widget in your WordPress website. The plugin follows a simple UI and provides access to all basic features and functionalities making it ideal for users just starting out using RSS feeds.
Features:
Option to attach a custom title to RSS feed content.
Option to specify how many feeds you want to show on the widget.
Option to specify how many words each feed will display.
Option to set caching limit.
9. Super RSS Reader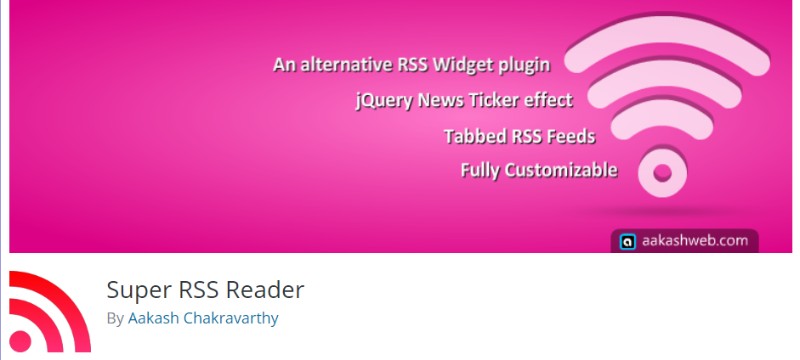 Super RSS Reader plugin for WordPress helps integrate a jQuery powered RSS reader on your website. The plugin also comes with the jQuery easy ticker option which helps add a news ticker effect to your RSS feed.
You can potentially add as many RSS feeds you want in a single widget or you can separate them using tabs. Customization options are also plentiful including support for custom CSS.
Features:
Supports both RSS and ATOM feeds.
Enable/Disable a jQuery powered News ticker on your site.
Select different ticker speeds.
Fetch different feeds from different sources and showcase them in multiple tabs.
Showcase feeds using widgets.
Plenty of customization options including custom CSS support.
Option to not show title and description text of each feed.
And much more.
10. WP Pipes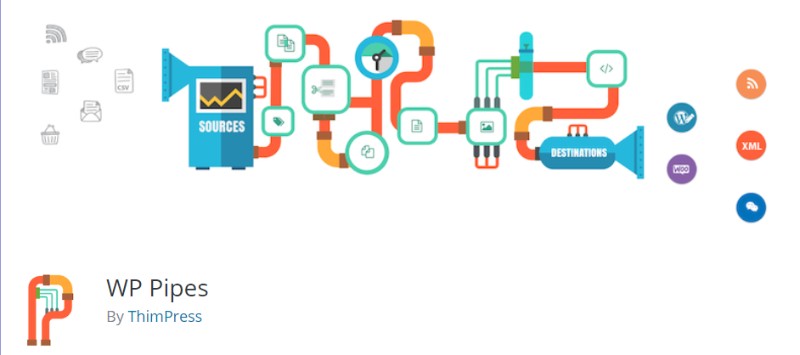 WP Pipes WordPress plugin can not only help you fetch RSS feeds, but also generate RSS feeds out of your WordPress post types. The plugin functions as a pipeline for data similar to Zapier or Yahoo Pipes.
You can potentially create an unlimited number of these pipes, give them the appropriate input, and get output accordingly. This works exceptionally well if you are run a news website or online magazine.
Features:
A powerful RSS feed to posts
Option to create RSS feeds.
iTunes Podcast creator.
And much more.
In Conclusion
So these were our picks for the 10 best RSS reader plugins for WordPress websites. Before you start using one of them on your own projects, you can read our guide on how to import RSS feeds and share with your readers in WordPress.