Multisite is a native feature of the WordPress which allows users to create a network of sites through a single WordPress installation. And even though the CMS gives you the tools to create a multisite network, you still get the crucial features to easily manage all these sites, especially if the number is really high. Luckily, the problem can be easily handled by using multisite management plugins.
Why Do You Need Multisite Management Plugins?
A multisite management plugin gives you access to a single dashboard interface from where you can conveniently control all your WordPress websites. It gives you a singular hub to monitor activity on different sites, manage theme and plugin updates, and much more.
As you can imagine, this simple functionality can be a real timesaver, and boost your overall productivity. And so, for the purpose of this read, we have put together a list of the best WordPress Multisite Management Plugins in the market.
So without further ado, let's get started:
Best WordPress Multisite Management Plugins
1. ManageWP Worker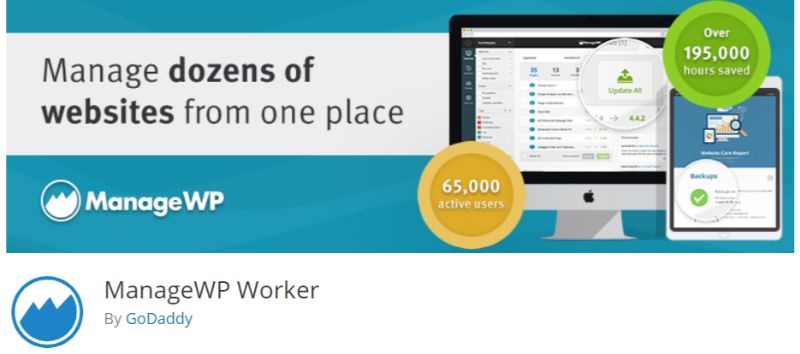 Starting off our list of multisite management plugins for WordPress, we have ManageWP Worker. Once installed and activated, the plugin enables a dedicated dashboard to help you manage potentially unlimited WordPress websites. It will compile all data onto a single hub for an easy seamless access.
Feature-wise, the plugin enables support for bulk action throughout all your websites, cloud-based backups, safe updates of all your themes & plugins, performance & security checks, detailed report generation, Google analytics integration, and much more. And if this seems somewhat limiting, then you can expand its feature list with more powerful and advanced functionalities by installing add-ons.
Features:
And much more.
2. MainWP Dashboard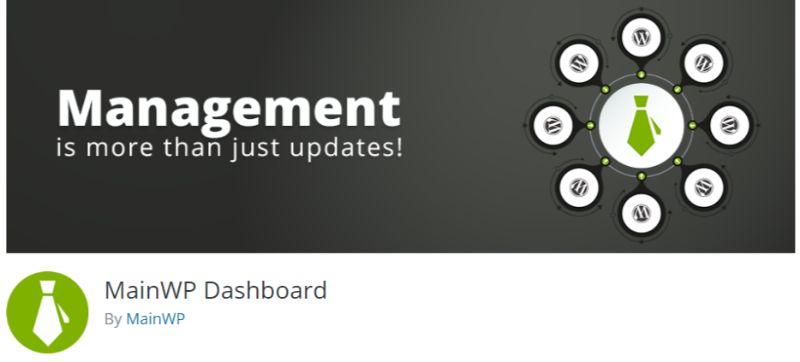 MainWP Dashboard is a free-to-use, open source, and completely self-hosted multisite management plugin for WordPress. Despite its free price tag, the plugin is filled out to the brim with awesome and powerful functionalities that will make managing numerous websites a walk in the park. However, getting the plugin to function is a bit of a tricky mess. You need to activate the MainWP Dashboard on a separate WordPress installation, alongside having MainWP Child plugin running on all your other sites.
Once you are complete with the setup part, the remaining aspect of connecting with your different sites and controlling through a single dashboard are quite simple. And to help better manage your sites, you get access to powerful features including effortless automatic updates, one-click access to all your sites, abandoned plugin and theme alert, automatic backups, multisite content manager, and much more.
Features:
Get access to a super-intuitive hub to help you manage all your WordPress websites.
Option to upgrade your WordPress installation to the latest version, or install new theme & plugin updates on all your sites from a single dashboard.
Option to add extra features and functionalities to the dashboard by using extensions.
Completely self-hosted solution.
Powerful discovery protection tools to safeguard you against prying eyes of competitors as well as search engines.
And much more.
3. InfiniteWP Client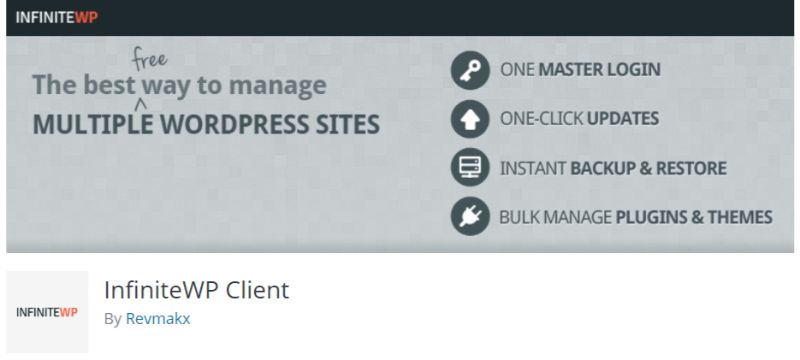 InfiniteWP Client is another one of the free yet powerful multisite management plugins for WordPress. Here you get access to a comprehensive set of tools that allows you to control and manage all your websites, potentially unlimited of them, from a single dashboard interface. The plugin allows for a single master login to a designated area from where you can keep an eye on all your different WordPress websites.
Feature-wise, you will get tools and options to instantly upgrade your WordPress installation as well as update themes & plugins with the push of a button. You can even install new themes and plugins to your different websites in an individualistic manner, or all at once. Backup and restore options are also available to help you out if something goes wrong.
Features:
A completely self-hosted system where every piece of data is loaded onto your server.
Access to one-click updates/upgrades to your WordPress installation, as well as all themes & plugins installed on each individual website.
Option to take regular backups of all your WordPress websites, or simply just your databases.
Option to install, activate, and deactivate themes & plugins on all your different websites simultaneously.
And much more.
4. iControlWP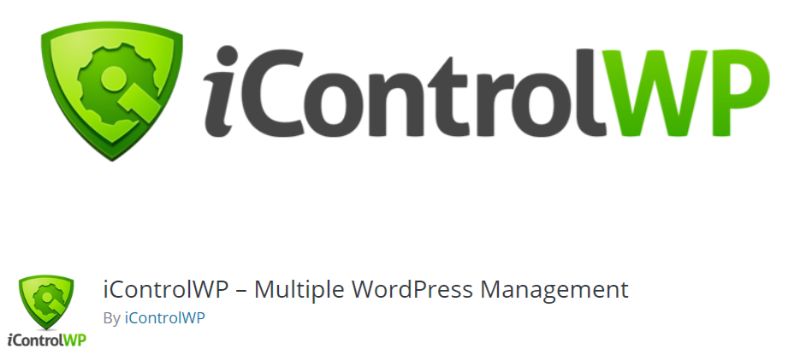 iControlWP is an all-in-one multisite management plugin for WordPress websites. Not only will it enable a single dashboard interface to manage all your different WordPress websites, but have access to powerful features to help secure your websites and ensure maximum performance.
On the feature front, the plugin can help enforce better security, take backups, monitor uptime, and even optimize your database. And that's not even the end of it. You can also use the plugin for Google Analytics integration, update plugins & themes on all your sites from a single hub, and even delete old drafts, comments, as well as post revisions.
Features:
Integrates a single hub to manage and control multiple WordPress websites.
Option to update plugins and themes on your different websites, conveniently from a single panel.
Google Analytics integration.
Manage WordPress security across all your different websites.
Option to backup your WordPress websites.
CloudFlare integration allows for a dedicated CloudFlare settings panel to manage everything from a single place.
And much more.
5. CMS Commander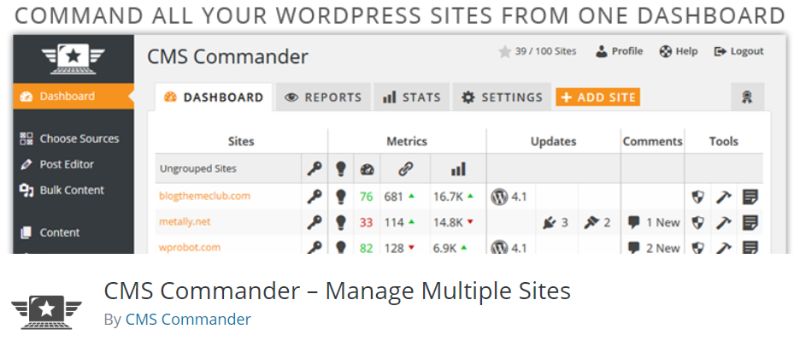 CMS Commander multisite management plugin helps user control, monitor, and take backups of all their WordPress websites from the convenience of a single dashboard.  The plugin also implements secure channels to maintain communication between all your individual websites and the CMS dashboard. However, all these seem very similar to what the other plugins on the list have to offer. The differentiating aspect with this plugin is that, apart from helping you manage multisite installations, it is also equipped with a number of marketing tools for content optimization and monetization.
Now the plugin is only available for free as a 14-day trial. After which you need to subscribe to one of their premium pricing plans. But considering all the advanced functionalities it has in store, getting it all for free would have been too good to be true.
Features:
Manage all your WordPress websites from a single dashboard.
Update plugins, themes, and even the WordPress installation across all your websites.
Google analytics integration.
Uptime monitoring.
Integration with different APIs to provide you with better affiliate ads, images, videos, and other content.
Option to take full backups of your site and store it on Dropbox, Google Drive, or Amazon S3.
And much more.
6. The WP Remote WordPress Plugin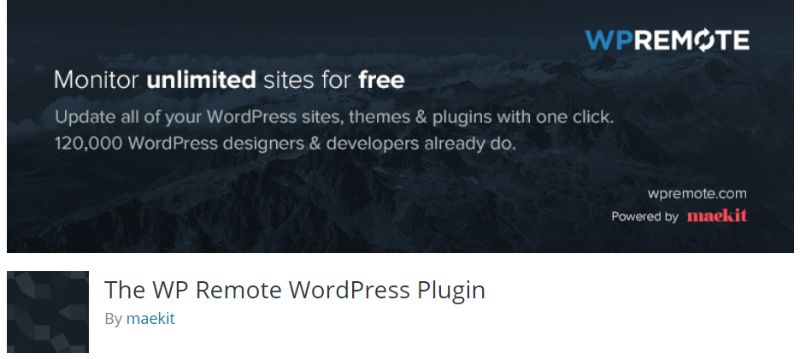 And now for the final entry in our list of multisite management plugins for WordPress, we have The WP Remote WordPress plugin. Once installed and activated, you will get access to a dedicated hub where you can list all your WordPress websites and manage it from a single interface. This includes monitoring and updating the themes, plugins, and even upgrading the WordPress installation.
Other than this, the plugin can also help you backup your sites, either manually or automatically. You can even use the interface to install plugins as well as themes to your sites individually. Maekit integration is also provided to help you not only manage your websites, but also clients, invoices, domains, and even hostings.
Features:
Monitor and update all your websites from a single interface.
Option to upgrade your WordPress installation, and even update your different WordPress plugins and themes.
Can help you take automatic backups of your site to AWS, SFTP, and FTP.
Ability to install plugins and themes to all your different sites individually from a single hub.
Maekit integration enabled to help you manage clients, invoices, domains, and even hostings.
And much more.
In Conclusion
So these were our picks for the top multisite management plugins for WordPress. We hope you found the list to be helpful, and that it can help you better manage your online empire.
Veteran users who already have multiple websites are welcome to share their tips and tricks for better management of all things at once. Also, if you have used any of the plugins mentioned on the list, then don't forget to write about your experience using them in the comments below. Your fellow readers will definitely find your insight really helpful in finding the perfect plugin for their project.
In case you may need, here is our detailed guide on how to set up a WordPress multisite network.