Are you planning to sell an online course on your WordPress site? Learning Management Systems or LMS plugins will help you sell faster and will make your process more efficient.
Today, various websites are selling online tutorials, presentations, lectures, quizzes as well as online classes on their WordPress websites. This trend is accelerating and getting efficient with the help of LMS plugins.
Yes, you are right, WordPress educational themes and plugins are also serving the purpose well. However. Integrating LMS plugins on your WordPress site will help you create an edge in your niche area.
Now, the most crucial part; which LMS plugin is the best?
Don't worry! We are enlisting the best Learning Management System WordPress plugins along with their features. Before that, we will check out:
Why Do You Need WordPress LMS Plugins?
If you are planning to fully self-host your WordPress site and take full control over your course earnings, management, and promotions. Then, you need a reliable, comprehensive and efficient Learning Management System (LMS) WordPress plugins. A practical and reliable LMS plugin is equipped with all the features and functionalities to run an online course.  The LMS plugin will not only help you spread the knowledge but help you sell online faster. However, make sure the plugin you chose is equipped with the following features:
Course Building Tools
Course Progress Information
Student Enrollment Management
Content Dripping
Quizzes And Tests
BuddyPress Integration.
Moreover, financial marketing tools, automated emails service, excellent payment gateway support, gamification and, certification and homework option is a plus.
Installing a WordPress LMS plugins with the above features will help you create an engaging learning experience for your enrolled students. Various gamification methods will not only entice them to get hooked with your membership quickly but make the learning process easy and fun. LMS plugins are famous for attracting and retaining students on the platform for a more extended period.
So what do you say? Want to attract and retain your students on your WordPress site?
Lest look into the best plugins…
Top WordPress LMS Plugins
1. LearnPress – WordPress LMS Plugin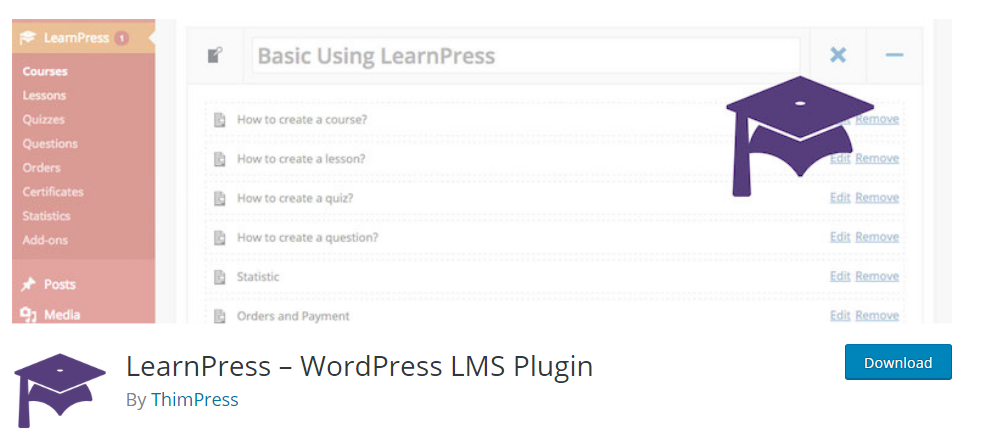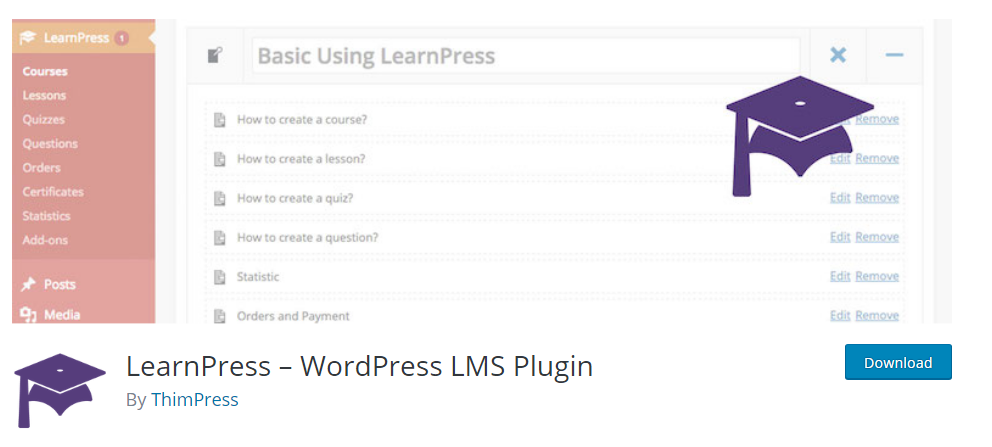 LearnPress is a comprehensive WordPress LMS plugin that helps you easily create and sell online courses. LearnPress is a free WordPress plugin that has attained more than 60,000 active installations. Quite a number! Right?
The best thing about this plugin is that you can easily and quickly create an education, online course website and start selling your knowledge with an easy to use interface. This plugin requires no coding experience. So, all the newbies out there; your worrying time is over.
LearnPress is a light-weighted plugin that is offering a wide range of features. Lest look into some of its features and see why they are creating a hype in the online market
Features of LearnPress:
It is compatible with any WordPress theme
Supports WordPress multisite
Helps users create, manage and sell course with ease
Offers a WordPress forum where students can communicate with their instructor.
Offers Couse management options
Includes drag and drop builder
Enrollment control option
Frequent updates
LearnPress is offering a wide range of free add-ons; such as wish list, course review, import/export, prerequisite courses, bbPress integration, BuddyPress integration, offline payment and fill in the blank option. Its free version is competent enough and serves the purpose well. However, if you want to integrate further features; get hooked with their premium version.
2. MasterStudy LMS – Free Learning Management System WordPress Plugin For Online Courses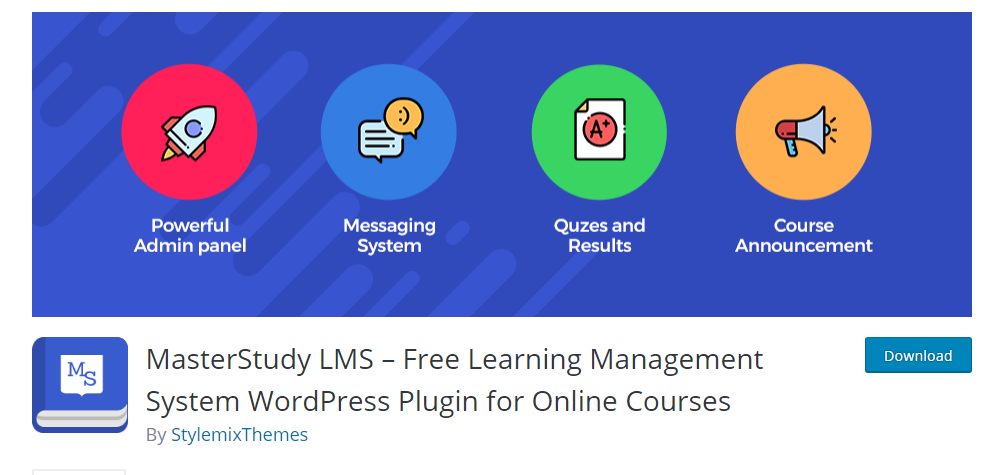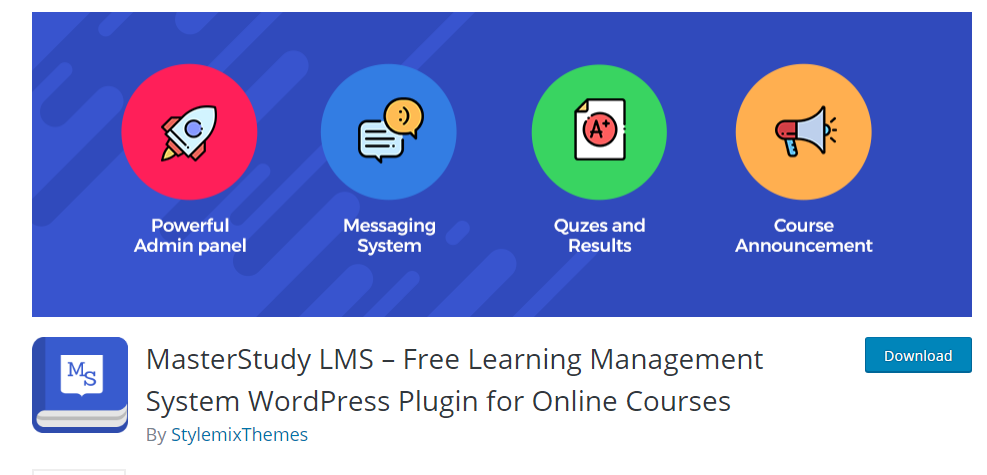 MasterStudy LMS is another powerful and rich-featured online education, course and Learning Management System Plugin. It provides a hassle-free platform. So, if you want to build, customize, and manage your online education WordPress site with ease and flexibility. You are looking at the right plugin. With the help of this plugin, you can create lessons with videos, graphs, images, slides and other attachments.
Features of MasterStudy LMS:
It has a simple and easy to use interface
Helps users easily set payments for recurring subscriptions with PayPal and stripe integration
Offers a message board; a platform for communication between students, and instructors
Offers quizzes, real-time questions and answers, and countdown timers
Built-in course ratings
Provides certification for students.
Most importantly, it is built with Vue.js that offers its users fast page loads and smooth page transitions. So what do you say? Ready to hit the install button. MasterStudy LMS is a free WordPress plugin but to attain extra features get hooked with their premium version. It is just rocking it.
3. Namaste! LMS

Namaste LMS is another free remarkable WordPress plugin. Even though it is not very popular, but it offers a wide range of features which are just awesome for a free package.
Features of Namaste LMS:
Offers an unlimited number of courses, lessons, assignments, students and much more
Helps users create various rules for courses and lesson access and completeness based on assignments, test results, and manual admin approval.
Offer certificates after completing courses
Create a grade and point system
Offers a quick tour and detailed documentation for its users
It is compatible with WooComerce, MoolaMojo, WP Experience API, Watu, and myCRED.
Namaste is a simple LMS plugin that offers essential features and an easy platform for beginners. Whereas, if you want to add more features to your WordPress LMS site, integrate into their premium version. It's pro option offers awards and badges, file and course protection and a shopping cart facility.
To know more Log on to Namaste LMS and compare its free and premium version. Don't forget to let us know, which version did you like the best?
4. CoursePress Learning Management System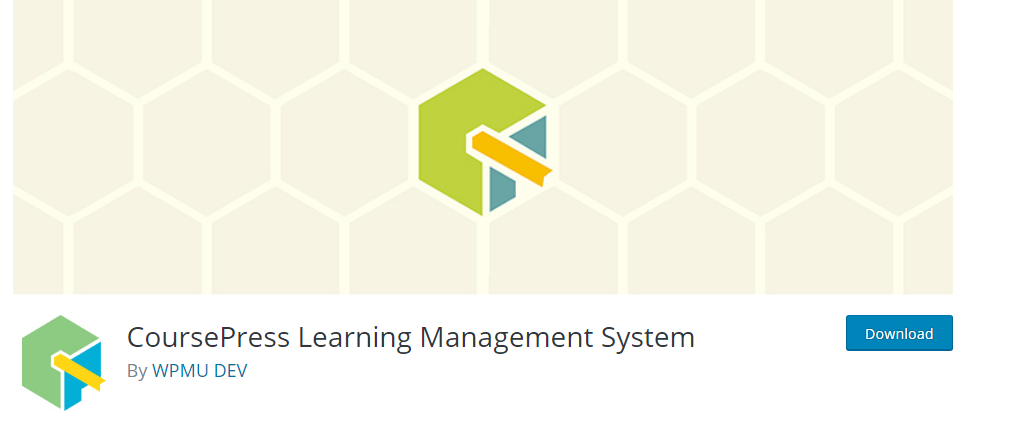 CoursePress Learning Management System is a new LMS WordPress plugin that has not yet gained immense popularity among its peers. However, it is a powerful and light-weighted plugin that makes learning easy for users. With the help of this plugin, you can sell, share tutorials, lectures and online courses with ease. You can exhibit video training, quizzes, automated assessments, file sharing and completing certificates within your LSM.
Features Of CoursePress Learning Management System
It offers unlimited course creation options
Offers tools for promotion and marketing
Entice new students with course teaser
Offers drip release unit
Provides an interactive discussion board
Assign multiple instructors and course facilitators
Allows students to download and upload files
Most importantly, it provides unlimited course creation from grading, marketing, assessments, reporting, and automatic grading with ease. So, what are waiting for? Get hooked and use any marketplace or WooCommerce payment option and start earning straight away from your online course.
5. LifterLMS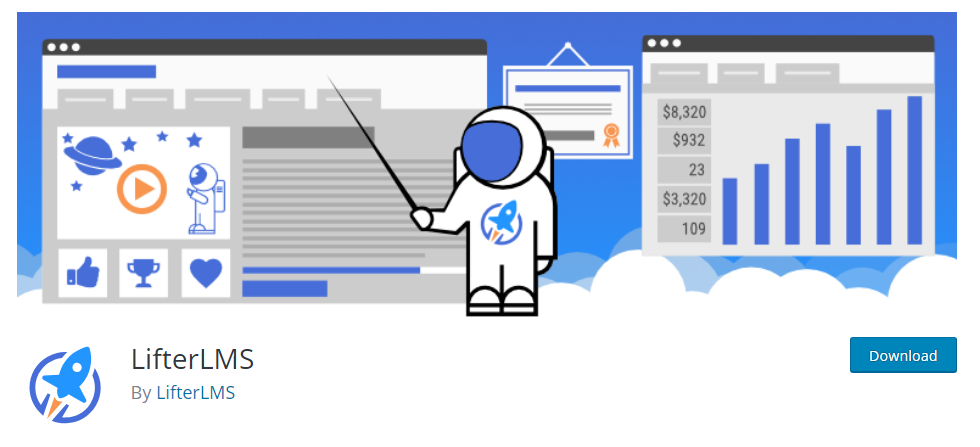 LifterLMS is my last free Learning Management System Plugin recommendation that has created hype in the WordPress community. Recently, WP101 shifted its courses to LifterLMS and guess what? They are least regretting their decision.
This plugin is a powerful plugin for learning websites. LifterLMS helps you create numerous interactive courses so you can engage with your students. Moreover, it also offers a membership option; thus providing your learners with regular updates.
Features of LifterLMS
Easily create courses; multimedia lessons, quizzes, course builder, drip content multi-instructor, course tracks, course reviews and much more.
Offers a student dashboard where it can communicate with the course instructor and its peers
It is an education bases business that offers various payment options
Engages students with achievement badges, certificates, personalized emails, social learning, private coaching, and text messaging.
Offer a wide range of membership to students; Sitewide membership, course bundles, traditional memberships, automatic course enrollment, bulk course enrollment and much more.
Most importantly, it protects and secures your content. Hence, if you want to lock down content for your website users and learners. It's simple you can apply a course protection password, or apply user account management and registration, member-only content, restricted access, password management or self-hosted option on the content.
Isn't it amazing?
Wrapping Up
We have equipped you with in-depth knowledge of the best Five Learning Management System Plugins Of WordPress.
All the five plugins we mentioned above are equipped with features and functionalities that will ease the process of creating and selling online courses. All these plugins are easy to use and support core LMS functionality that is your essential need. With the help of these plugins, you can create courses, manage them, sell and make money with the stance.
However, every plugin mentioned above holds additional features that make them competent within their own circle. Chose that suits you best because your need might vary with others. But before you decided, Don't forget to check their add-ons and extensive features. They might tempt you more and change your perception and decision.
Which LSM plugin did you like the best? Share your thoughts in the comment section below. If you have any queries, we will be more than happy to assist you.