Download manager plugins will help you track your file downloads and provide secure access to your files. So, do you want to choose the best download manager plugin for your WordPress site?
WordPress is a full content management system (CMS) that is equipped with a wide variety of plugins that offer numerous features. Among others; WordPress offers powerful, robust and free download manager plugins that can manage file downloads effectively and efficiently. Every plugin holds a unique, distinct characteristic that makes it competitive among others. WordPress is bombarded with download manager plugins; therefore, choosing the right one is crucial yet challenging.
Consequently, for your convenience, we have enlisted the 7 best free download manager plugins. So, before further delaying, let's look at them in detail and then you may choose the right one that suits your need.
Top Free Download Manager Plugins for WordPress
1. WordPress Download Manager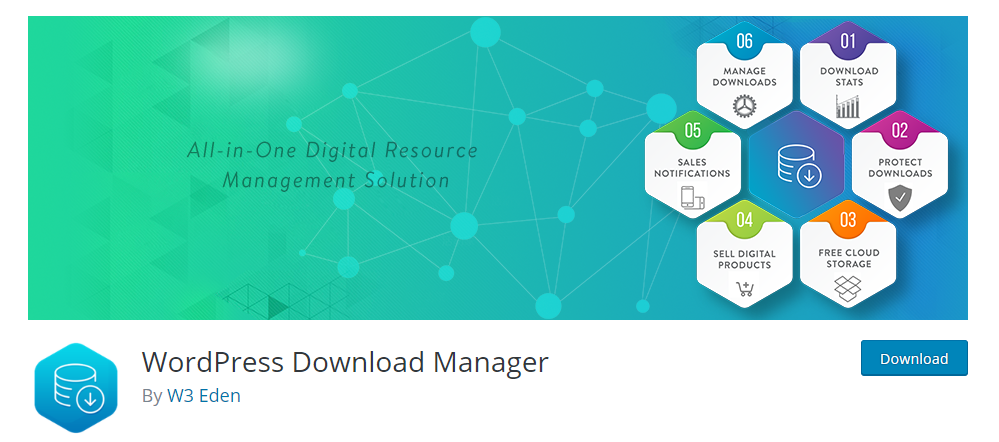 WordPress Download Manager is a simple and easy to use download manager plugin that gives access to your clients to the confidential files without affecting their security level. Your clients can log in and download the assigned files. It not only offers multiple domains for its clients but also provides password protection and limited viewing option. Want to know more?
Key Features of WordPress Download Manager:
Offers custom post type and taxonomy option
Drag and drop file upload
Supports drop control and Dropbox, box.com and one drive to store files
Offers category level access and download speed control
Video file download protection that allows visitors to play but block download.
Offers searching and sorting option.
Offers password and captcha protection
Users can use the widget for new files, top download and for searching downloads
And much much more….
Most importantly, it also offers a complete digital store solution within their premium package. So, if you want to convert your site into a digital store; it's now really simple. Within just a few clicks, you can avail their numerous add-ons. So what are you thinking? Free WordPress Download Manager or WordPress Digital Store Solution?
2. Download Monitor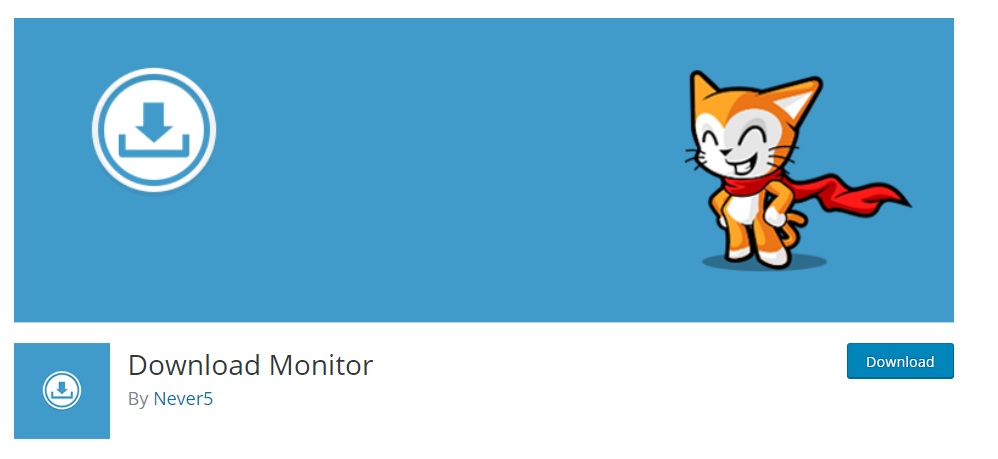 Download Monitor is another popular download manager plugin on our recommended list. It is equipped with an interface to upload and manage downloadable files effectively. It is also known for inserting downloads links into posts, logging downloads and selling downloads.
Key features of Download Monitor:
Provides a quick add panel for users where they can add files while editing posts
Offers track download counts and log users download attempts
Display download links on the front end using short codes
Allow users to add multiple file versions to their downloads with a unique data download count and file link.
Allows users to categorize, tag, or add other meta to their downloads
Fully compatible with Gutenberg
Offers customizable endpoints for showing pretty download links
Most importantly, it provides a platform for users where they can keep their files organized. They can also assist them in a way where they can track their files easily. If you want to avail more; get hooked with their premium extensions. Page add-ons, email lock, CSV importer, and gravity forms lock are some of their extensions. Want to know more about Download Monitor or its extensions?
3. WP – DownloadManager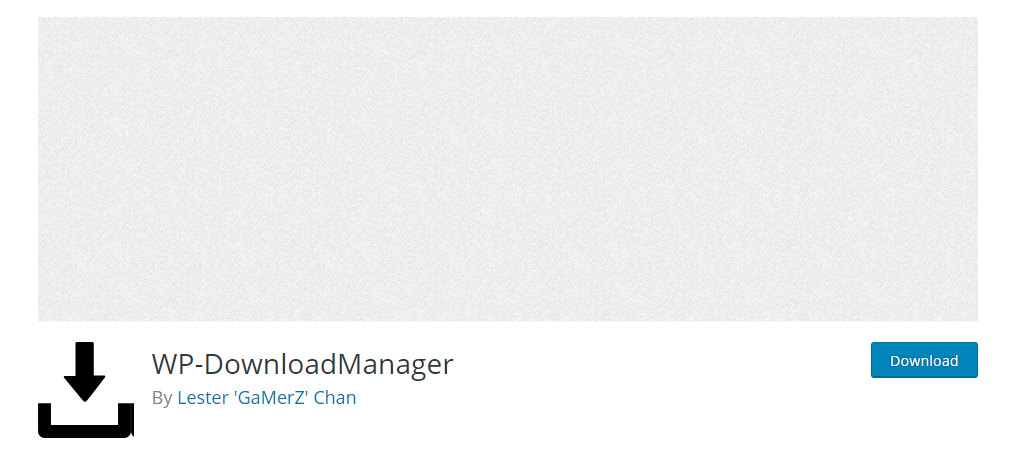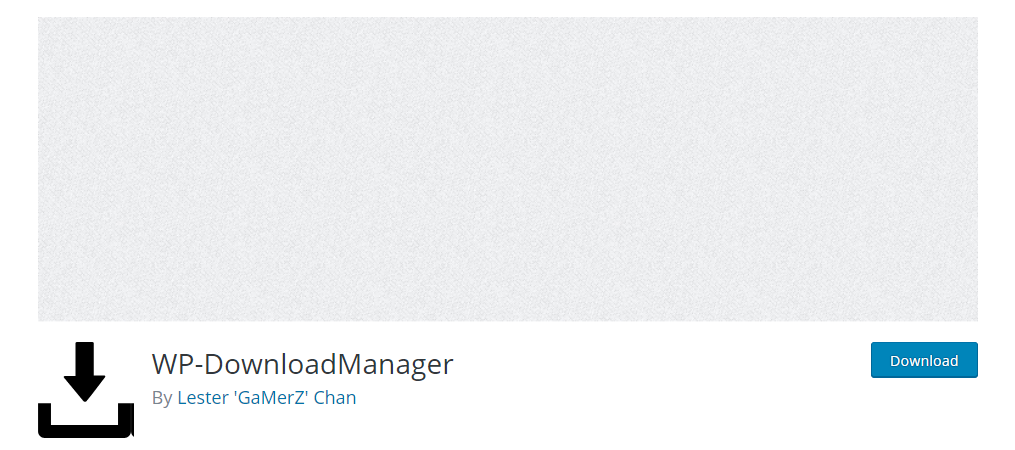 WP – Download Manager developed by Lester 'GaMerz' Chan is simple and easy to use download manager plugin that has gained popularity due to its simple features. It currently has more than 8000 active installs. Impressed? Let's look into its features.
Key features of WP – Download Manager
Allows users to embed specific and multiple files to download into a post/page
Offers wide range of embed download options
Enables users to integrate fields as categories
Most importantly, it provides a shortcode for various acts; embed fields to be downloaded, display the embed files, embed files as categories and to configure download templates. It does not offer a wide range of features but is still rocking among WordPress download plugins. Install WP – Download Manager today!
4. Easy Digital Downloads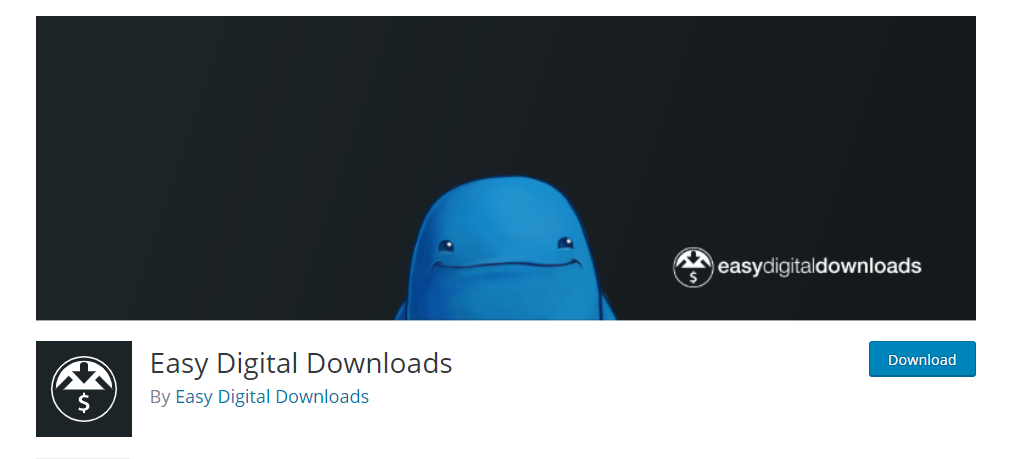 Easy Digital Downloads is another highly recommendable WordPress download plugin that offers a complete e-commerce solution for selling digital products.  It helps users track books, photos, documents, songs and anything else the user would want within its e-commerce digital download solution. This plugin also allows users to manage multiple file downloads per downloaded products option. Want to know more?
Key features of Easy Digital Downloads:
Offers a cart system where users can purchase multiple downloads
Clients have access to view users purchase history
Available in more two dozen languages
Payment gateways support PayPal and Amazon payments
However, if you want to avail further benefits, payment gateways or add-on extensions, you need to avail their premium extensions. They are offering licensing software key, frontend submission, free downloads, reviews, content restriction and much more. Download and learn more about Easy Digital Downloads offerings.
5. Lana Downloads Manager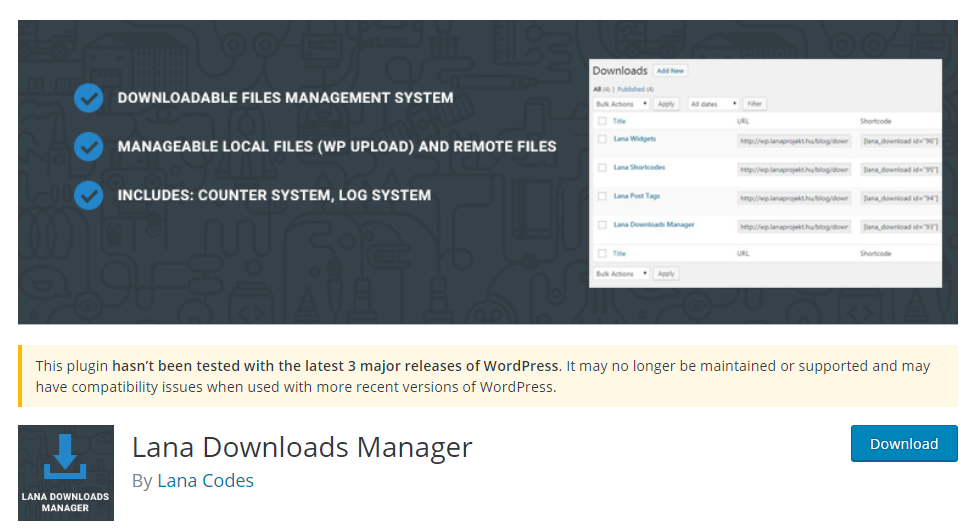 Lana Downloads Manager developed by Lana Codes is a simple, easy and lightweight download manager plugin best for newbies and beginners. So, if you don't want any whistles and bells and opt for a simple download file management system, then Lana Downloads Manager plugin is your ultimate choice. It does not offer a wide range of features but provides an excellent counter and log system. Moreover, with the help of this plugin, you can easily manage local files and remote files easily and quickly.
Key Features of Lana Downloads Manager:
It has a simple and easy to use interface
Offers lightweight solutions
Offers counter and log system
Note: This plugin hasn't been tested with the latest 3 major releases of WordPress.
6. Delightful Downloads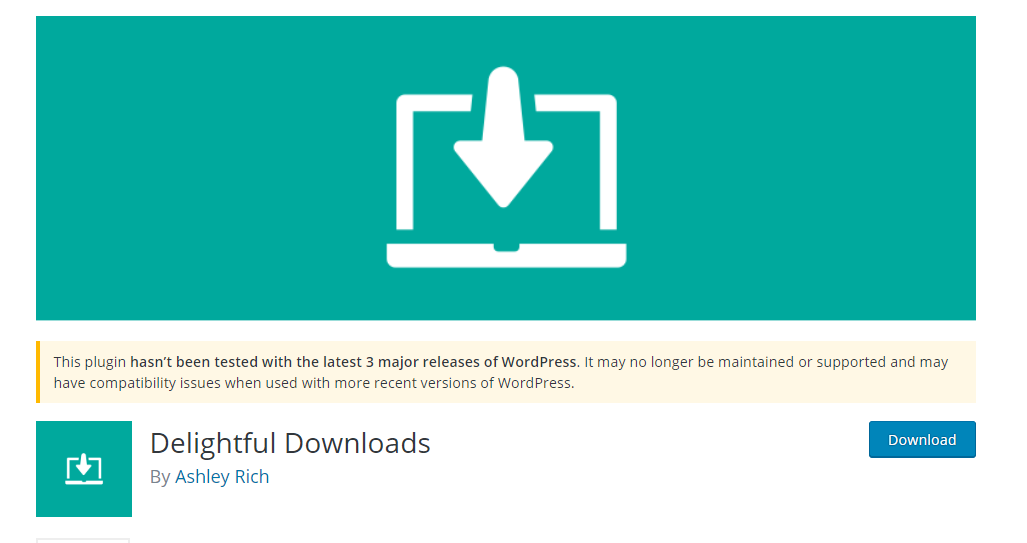 Delightful Downloads developed by Ashley Rich allows the user to download links, buttons easily, and download information to their posts, pages and widget areas. With the help of this plugin, users can track their download statistics on their WordPress dashboard. That's not all; it offers a wide range of features.
Key features of Delightful Downloads
Allows users to upload file via the WordPress admin area
It is developer friendly
Offers members only downloads with page redirect for non-logged users
Provides password protection for files
Allow users to open files such as PDFs and movies in the browser window directly and likewise track download statistics.
Delete logs automatically after a specific number of day has passed.
Offers various button styles and also the ability to add custom buttons.
Users are allowed to avail their categorize and tag download option.
It is also offering a wide range of shortcodes that help users display download links, buttons, and downloads the information within posts, pages and widget areas.  They also provide shortcodes to list downloads, optionally filtered by categories and tags. Most importantly, it offers an editor button that helps them automatically generate shortcodes. However, if you want to avail further features; look into their add-ons; Customizer and MailChimp.
Note: This plugin hasn't been tested with the latest 3 major releases of WordPress.
7. CM Download Manager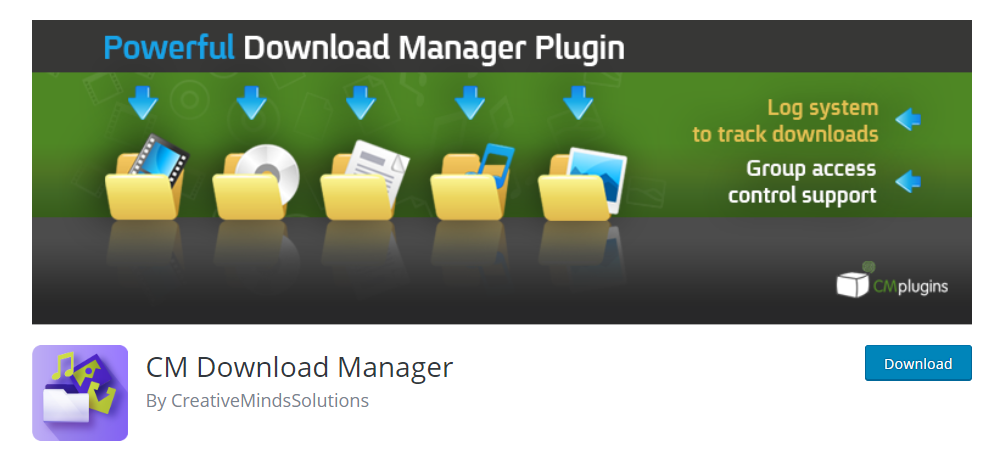 CM Download Manager developed by Creative Mind Solutions is a file sharing WordPress plugin that allows users to upload, manage, track and support documents, media files and much more.  With the help of this plugin, you can organize content in your directory listing structure, allowing others to use and comment. It offers a unique landing page, file preview, support form and much more.
Key features of CM Download Manager:
Offers download counter where users can count the number of downloads for each download with ease
Users receive an email notification on every submitted support question
Provides a filter download option that is built with an internal search engine
Offers image preview for every download
Allows users to customize the template
Administrators manage the downloads their own way.
Users can track their downloads for their user profile area.
Offers built-in support forum for every download
Moreover, if you want to avail their additional features; get hooked with their PRO version. They offer multiple file upload, micropayments, social media registration integration shortcodes/widgets options and much more. Want to view the CM Download Manager pro version detailed feature list or want to stick with CM Download Manager free version?
Wrapping Up
Download manager plugins will help you collect leads, provide supportive documents and help you generate high leads. From simple file organization to group collaborations; these plugins will help you ease your process. All the above-enlisted WordPress download manager plugins are all free. However, if you want to get hooked with additional features, some are also offering their premium version.
We hope this article helped you discover the best WordPress download manager plugins. Do let us know which download manager plugin did you choose for your WordPress site. Did you opt for the free version or the premium one? Comment in the section below!